Global Bioprocess Bags Market Overview
The global bioprocess bags market is poised to embark on a positive growth trajectory, registering a CAGR of 9% over the forecast period (2020-2030). Growth is attributed to surging demand for bioprocess bags from the biotechnology industry. Growing concerns regarding purity levels in biotech firms and ever-increasing scrutiny from regulatory bodies have surged the demand for bioprocess bags across the whole production process of biopharmaceuticals. Bioprocess bags are compatible against a wide temperature range, and can operate without being negatively affected, making them suitable for high temperature applications to frozen applications. These factors are set to drive the expansion of the global bioprocess bags market size over the next ten years.
Bioprocess Bags Market Insights by Application
Bioprocess bags are able to maintain their mechanical properties across a wide range of process temperatures, which reduces assembly breakage. In result, they have become the ideal choice for bioprocessing and transport applications. Increasing demand for bioprocessing bags from applications such as media preparation & storage, cell culture, cell harvesting, buffer preparation & storage, and others are set to drive this segment at a leading growth rate of 7% during the forecast period.
Apart from this, bioprocess bags are gaining traction in the pharmaceutical industry for applications such as bulk API transport & storage, cold storage applications, sampling etc. Attributed to this, the pharmaceutical end-use industry in the bioprocess bags market is poised to expand at a CAGR of over 5% during the forecast period.
Regional Outlook of Bioprocess Bags Market
Rapid growth of biotechnology firms and growing demand for biopharmaceuticals from the United States has made it a biotech hub in the world. United States biotech firms were responsible for over three-fourth of new biopharmaceutical drugs approved by the U.S. Food and Drug Administration in 2018 and 2019. Heart disease and cancer are leading causes of death in the United States, and in response, several investments have been made towards cell therapy and cell culture. The United States is a market leader in the development of cell therapy which has driven the consumption of bioprocess bags in the region during the historical period. The scenario is projected to continue, as cellular- and gene therapy related research & development is advancing rapidly in the country.
Increasing research & development activities in biotech sectors and initiatives by the Chinese Government are set to drive the biotech market in the country at a leading growth rate of 10% through 2030.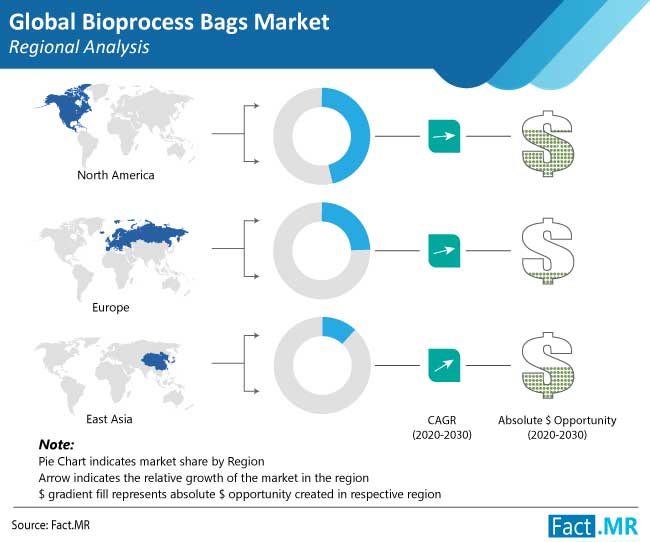 Bioprocess Bags Market Manufacturers
The global bioprocess bags market is highly consolidated in nature, where top players currently account for over half of global sales. Currently, Saint Gobain, Sartorius AG, Thermo Fisher Scientific, Merck, and Danaher Corporation are prominent suppliers of bioprocess bags. Numerous organic and inorganic strategies such as acquisitions and collaborations by these manufacturers will allow them to maintain their dominance over the coming years.
For instance, in 2019, Saint-Gobain's Life Sciences partnered with Samsung BioLogics to construct industrial installation of single-use systems for bioprocesses in Seoul. With this strategic partnership, the company will strengthen its presence in Asia Pacific.
In 2019, Sartorius completed its new Cell Culture Technology Center. With this strategic approach, the company forward-integrated itself, which will create high profit margins for itself.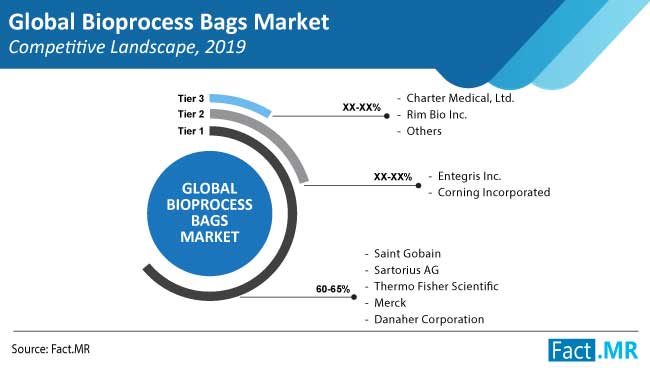 COVID-19 Impact on Bioprocess Bags Market
The spread of coronavirus has contracted the global economy into an all-time great recession. In response to this pandemic crisis, nearly all countries have been under lockdowns for nearly two quarters. Even after the easing of lockdowns, strict social distancing measures have been implemented across the world. This has forced a decrease in the numbers of workers across production plants, which is preventing plants from operating at full efficiency. The scenario is projected to continue if no significant cure is found by researchers soon. Attributed to these factors and according to the IMF (International Monetary Fund), the COVID-19 outbreak is set to leave a permanent scar on the global economy, which may recover by 2022.
However, global healthcare and biotechnology industries are some of the least affected sectors, and are set to rebound early over other business segments. Further, failure of pharmaceutical drugs has attracted numerous investments in the biotech industry, which is poised to create a positive scenario for manufacturers in the bioprocess bags market space. Also, biotech firms have claimed that, there has been no significant impact on the biotech supply chain. But the dire situation in the United States and European region, coupled with the fear of lockdowns in phase two, may change the scenario by the end of 2020.
The Analyst's Viewpoint
"Efficacy to withstand temperature range up to -196° Celsius is set to surge demand in ultra-frozen storage and transport applications, creating ample opportunities for players in the bioprocess bags market."
Bioprocess Bags Market: About the Report
Fact.MR published an exclusive forecast report on the bioprocess bags market for 2020 and 2030. The foremost objective of this report is to pitch spearhead insights on the market scenario, demand generators, and technological advancements in the bioprocess bags market. Also, the study on the bioprocess bags market addresses key dynamics that are expected to diversify the sales and future prominence of the bioprocess bags market.
The report on the bioprocess bags market begins with an executive overview, in which, product definition has been provided. The report further proceeds with the taxonomy of the bioprocess bags market, elaborating on key segments. Also, the report outlines visionary insights on the dynamics of the bioprocess bags market, including the drivers, restraints, opportunities, trends, and pricing analysis, along with the key buying factors for bioprocess bags. Supply chain analysis and pricing analysis of the bioprocess bags market along with the difference between bioprocess bags used as per application has also been included in the report, to help readers clearly understand the product framework map in the bioprocess bags market.
Bioprocess Bags Market - Scope of the Report
The bioprocess bags market study done by Fact.MR gives exclusive information about how the market will grow during the forecast period of 2020 – 2030. The study identifies crucial trends that are determining the growth of the bioprocess bags market. This newly published report sheds light on vital dynamics, such as the drivers, restraints, and opportunities for key market players as well as emerging players associated with the production and supply of bioprocess bags. The report primarily conveys a summary of the market, considering present and upcoming biotechnology, biopharmaceutical, biosimilars, and cell therapy industry developments, to reveal striking sides relating to the adoption of bioprocess bags across prominent regional markets.
A detailed assessment of market supply chain analysis, business execution, and value chain analysis across regional markets has been provided in the report. A list of prominent companies operating in the bioprocess bags market enhances the reliability of this comprehensive research study.
Bioprocess Bags Market: Report Summary
The study offers an inclusive analysis on diverse features, including demand, revenue generation, and sales by key players in the bioprocess bags market across the globe. A comprehensive study on the market has been done through optimistic and conservative scenarios. Analysis and estimation of price point comparison by region with the global average price has been included in this study.
Bioprocess Bags Market: Segmentation
Fact.MR has segmented the bioprocess bags market on the basis of type, capacity, application, end-use industry, and region.
| | | | | |
| --- | --- | --- | --- | --- |
| Type | Capacity | Application | End-use Industry | Region |
| 2D | Small | Buffer & Media Storage | Biotechnology | North America |
| 3D | Medium | Cell Culture | Pharmaceuticals | Latin America |
| | Large | Cell Separation & Harvest | | Europe |
| | Extra Large | Chromatography Feed & Collection | | East Asia |
| | | Ultrafiltration & Diafiltration | | South Asia & Oceania |
| | | Intermediate & Final Product Hold | | Middle East & Africa |
| | | Others | | |
"This Table of Contents prepared is confidential and intended exclusively for the individual or entity with whom it is being shared. Reading, disseminating, distributing, or copying this to any party other than addressee(s) is unauthorized and prohibited."
Bioprocess Bags Market: Analysis on Market Size Evaluation
Existing predictions of the bioprocess bags market, encompassing current as well as forthcoming values estimates, analysis on region-wise demand trends, and price index have been assimilated in the report.
Market estimation at the regional and global scale of bioprocess bags is available in terms of value (US$ Mn) and in terms volume ('000 Units). A Y-o-Y growth contrast of prominent bioprocess bags market segments, along with market attractiveness valuation computes have been incorporated in the report. Metrics mentioned above are also based on bioprocess bags types, where bioprocess bags witness steady demand.
Bioprocess Bags Market: Scrutinized Assessment on Regional Segments
Weighted sections have been elaborated in the report of the bioprocess bags market, which deliver projections on regional markets. These chapters highlight regional macros (political economic and business environment outlook), which are expected to have a momentous influence on the growth of the bioprocess bags market during the forecast period.
Country-specific valuation on the demand for bioprocess bags has been offered for each regional market, along with market scope estimates and forecasts, price index, price point assessment, and impact analysis of dynamics in regions and countries. For all regional markets, Y-o-Y growth estimates have also been incorporated in the report.
Bioprocess Bags Market: In-depth Analysis on Competitive Landscape
The report offers the competitive scenario of the bioprocess bags market, along with the profiles of prominent companies contributing to market expansion. Essential and up-to-date data as well as information correlated to market performers who are principally engaged in the production and supply of bioprocess bags has been presented with the help of a detailed dashboard view. Market share analysis and comparison of prominent players provided in the report permits readers to take preemptive steps in advancing their businesses.
Company profiles have been combined in the report, which exert essentials such as form portfolio, along with all-inclusive SWOT analysis on each player. Company presence is mapped and presented through a matrix for all prominent players functioning in the bioprocess bags market. It offers actionable insights to readers, which helps in thoughtfully presenting market status, and predicting the competition levels in the bioprocess bags market. Prominent companies operating in the global bioprocess bags market include Corning Incorporated, Charter Medical, Ltd., Danaher Corporation, Entegris Inc, Merck, Rim Bio Inc, and Saint Gobain.
Fact.MR offers custom research services that help clients to get specific research solutions
We are committed towards customer satisfaction and quality service.
---
Our Clients

Bioprocess Bags Market Forecast, Trend, Analysis & Competition Tracking - Global Market Insights 2020 to 2030