3D Audio Market
3D Audio Market Analysis By Component (Hardware [Speakers, Headphones, Soundbars, Amplifiers], Software, Services), By Sound Type (Binaural, Ambisonics), By End Use (Commercial [Theaters, Automotive, Music Studios, Concerts], Residential [Gaming, AR/VR, Mobile Devices]) & By Region – Global Market Insights 2023 to 2033
Analysis of 3D Audio Market Covering 30+ Countries Including Analysis of US, Canada, UK, Germany, France, Nordics, GCC countries, Japan, Korea and many more
3D Audio Market Outlook (2023 to 2033)
The global 3D audio market is valued at US$ 7.5 billion in 2023 and is predicted to expand swiftly at a CAGR of 16% to reach US$ 32 billion by 2033-end, according to the latest market study by Fact.MR.
3D audio, also known as spatial audio, is an advanced audio technology that aims to create a more immersive and realistic auditory experience for listeners. Unlike traditional stereo sound, which is limited to left and right channels, 3D audio uses additional audio channels and processing techniques to replicate the way sound is perceived in the real world. It attempts to reproduce sounds from all directions, including above and below the listener, creating a sense of space and depth.
The primary goal of 3D audio is to place sound sources in a three-dimensional space, allowing listeners to perceive the direction, distance, and movement of individual sound elements, which leads to an immersive sound experience. In movies, 3D audio enhances the cinematic experience by making viewers feel like they are part of the scene, with sounds coming from all directions, providing a more immersive experience. 3D audio plays a crucial role in gaming, especially in virtual reality (VR) and augmented reality (AR) environments, as it enhances the realism and immersiveness of the gaming world.
China and the United States are set to be key markets for 3D audio technology providers over the coming years.
In music production, 3D audio can be used to create spatial effects, making the listener feel surrounded by the music and giving a more natural and enveloping listening experience. In online meetings and conferences, 3D audio can be employed to recreate a sense of being present in a physical room, improving communication and collaboration. There are various techniques used to achieve 3D audio, including binaural audio, ambisonics, object-based audio, and sound field synthesis. These methods use different algorithms and speaker configurations to deliver the spatial audio effect.
With the increasing popularity of smartphones and wearables, 3D audio technology has been integrated into these devices to offer users a more enjoyable and realistic audio experience. Spatial audio solutions enhance content consumption and gaming experiences on mobile devices. Hardware manufacturers seek to differentiate their products in the market. By incorporating advanced 3D audio capabilities, they can offer unique features that appeal to consumers who value high-quality audio experiences.
Report Attributes
Details

3D Audio Market Size (2022)

US$ 6.5 Billion

Estimated Market Value (2023E)

US$ 7.5 Billion

Forecasted Market Value (2033F)

US$ 32 Billion

Global Market Growth Rate (2023 to 2033)

16% CAGR

Hardware Segment Growth Rate (2023 to 2033)

15% CAGR

China Market Growth Rate (2023 to 2033)

15.5% CAGR

Germany Market Growth Rate (2023 to 2033)

11.5% CAGR

Key Companies Profiled

Auro Technologies
Harman International Industries, Inc.
CEVA, Inc.
OSSIC Corporation
Sony Corporation
Audeze LLC
Dolby Laboratories
Qualcomm
Sennheiser
Don't Need a Global Report?
save 40%! on Country & Region specific reports
What are the Reasons Behind the Rapid Increase in 3D Audio Adoption?
"Growing Demand for High Quality Audio for Gaming and Virtual Reality-based Applications"
3D audio technology provides a more realistic and immersive auditory experience for users. This heightened level of immersion is particularly appealing in applications such as gaming, virtual reality, and entertainment, as it allows users to feel more engaged and connected to the content.
As consumers increasingly seek high-quality audio experiences, demand for 3D audio solutions has risen that provide an immersive sound experience. People want to enjoy music, movies, and games with spatial audio that replicates real-world soundscapes, contributing to the market's growth.
Continuous advancements in audio processing and rendering technologies have significantly improved the feasibility and affordability of 3D audio solutions. These technological developments have made it more accessible to integrate 3D audio into various applications and devices.
"Rapid Expansion of Entertainment and Gaming Industries and Rising Use of Wearables"
The entertainment and gaming industries have embraced 3D audio technology to enhance user experiences. Video game developers, movie studios, and content creators are actively incorporating spatial audio to earn a competitive edge and attract more audiences.
Increasing adoption of virtual reality (VR) and augmented reality (AR) technologies has fueled the demand for 3D audio. Immersive experiences in VR and AR heavily rely on realistic audio to create a complete sense of presence, thus contributing to market growth.
Proliferation of smartphones, tablets, and wearable devices has created new opportunities for 3D sound technology. As these devices become more powerful and capable of processing spatial audio, demand for enhanced audio experiences and audio localization is expected to be on the rise.
What are the Main Challenges Associated with the Implementation of 3D Audio?
"High Deployment Cost, Limited Content Availability, and Compatibility Issues"
One of the primary restraints for 3D audio technology is the initial investment required for its implementation. Adopting 3D audio systems often involves upgrading existing audio setups or investing in audio and video editing software, which can be expensive for both consumers and businesses. This cost barrier can limit the adoption of 3D audio processing in some applications, especially in price-sensitive markets.
The full potential of 3D audio can only be realized when there is a substantial amount of compatible content available. Creating high-quality 3D audio content requires specialized production techniques and expertise, which might not be readily accessible to all content creators. As a result, the limited availability of 3D audio content can hinder the widespread adoption of the technology.
Ensuring seamless integration and compatibility of 3D sound technology with various devices and platforms can be a challenge. Different audio formats, software standards, and hardware configurations can lead to compatibility issues, making it difficult for consumers to access 3D audio content across different devices.
"Limited Consumer Awareness about 3D Audio, Complexity of Audio Production, and Bandwidth Constraints"
Despite growing interest in 3D audio, many consumers are still not fully aware of its capabilities and benefits. Lack of awareness can lead to a reluctance to invest in 3D audio systems, especially when traditional stereo audio solutions are perceived as sufficient for their needs.
Producing high-quality 3D audio content requires specialized skills and tools. Sound engineers and content creators need to understand spatial audio techniques and workflows to create immersive experiences. This complexity can be a barrier for some content creators who may prefer simpler audio production methods.
Streaming or downloading high-fidelity 3D audio content requires more bandwidth and storage compared to traditional audio formats. In regions with limited internet connectivity or data restrictions, accessing and distributing large 3D audio files can be challenging.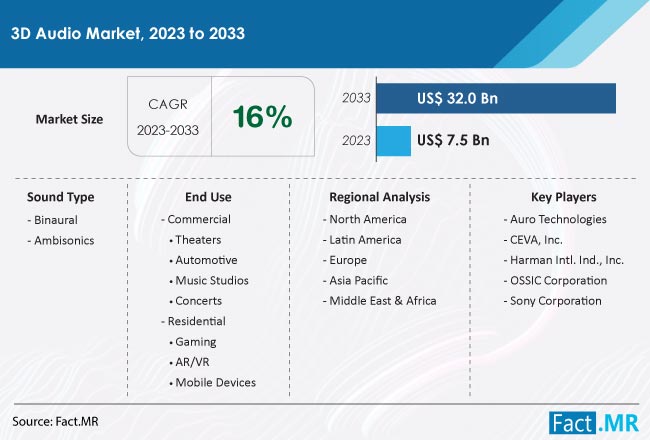 Country-wise Insights
Why is Demand for 3D Audio High in the United States?
"Extensive Adoption of 3D Audio in Film & Music Production"
The United States film and music production industries have been actively adopting 3D audio to create captivating content and offer audiences more engaging experiences. Immersive audio formats are becoming more prevalent in movie theaters and music studios, contributing to the market's growth.
Major consumer electronics companies are incorporating 3D audio technology into their products, such as 3D audio smartphones, 3D audio headphones, virtual reality audio, and home entertainment systems. This trend is further boosting the accessibility of 3D audio to the general public. Advancements in audio processing and rendering technologies are making 3D audio solutions more sophisticated. As a result, consumers are increasingly exposed to high-quality spatial audio experiences.
What Makes China an Attractive Market with Significant Opportunities for 3D Audio Producers?
"Booming Digital Entertainment Industry, Rising Disposable Income, and Favourable Government Initiatives"
The market for 3D audio in China is forecasted to expand at 15.5% CAGR between 2023 and 2033.
China's entertainment industry, including gaming, virtual reality, and online streaming platforms, is witnessing significant growth. Demand for immersive and realistic audio experiences with digital audio workstations is driving the adoption of 3D audio technology.
As China's urbanization continues, there is an increase in disposable income among the urban population. This trend has led to a growing demand for high-quality entertainment experiences, including immersive audio and surround sound technology, driving the market for 3D audio production companies.
The Chinese government's focus on promoting technological innovation and digital development is also influencing the growth of the 3D audio market. Supportive policies and initiatives are encouraging companies to invest in and adopt advanced audio technologies.
More Insights, Lesser Cost (-50% off)
Insights on import/export production,
pricing analysis, and more – Only @ Fact.MR
Category-wise Insights
Which Sector Accounts for High Use of 3D Audio?
"Widespread Application of 3D Audio in Museums, Healthcare, and Therapy"
The 3D audio market in the commercial segment is exhibiting growth and garnering attention from diverse industries. This sector encompasses applications extending beyond entertainment and gaming, encompassing corporate settings, educational institutions, retail, hospitality, and more. Within the commercial domain, exploration of 3D audio spans retail environments and advertising campaigns, leveraging immersive audio to allure customers, foster distinctive brand encounters, and amplify brand engagement.
Museums and exhibition centers employ 3D audio technology to elevate visitor experiences, infusing exhibits with life and delivering informative and captivating encounters. The commercial healthcare sphere harnesses 3D audio for relaxation and therapeutic pursuits, forging spatial audio realms to alleviate stress, enhance mental well-being, and enrich the overall patient journey.
Why is Revenue from Hardware Devices High in the Market for 3D Audio?
"Enhancing Virtual Communication and Audio Production with Immersive 3D Audio Technology in Hardware Devices"
In this market, the hardware segment is predicted to lead and expand at a CAGR of 15% through 2033.
3D audio technology is extensively utilized in hardware devices, including headphones, speakers, smartphones, gaming consoles, and home theater systems, due to its ability to provide a more immersive and realistic auditory experience for users. By incorporating 3D audio capabilities into hardware devices, manufacturers can enhance the overall audio quality and deliver a more captivating audio experience for consumers.
In hardware devices used for virtual meetings and conferencing, 3D audio helps create a more natural and lifelike communication experience. Spatial audio technology can simulate a sense of being in the same physical space as other participants, improving the overall meeting quality through augmented reality sound.
Audio professionals often rely on 3D audio technology in hardware devices for precise audio production and mixing. It allows them to position sound elements accurately in the virtual sound space, resulting in more immersive and spatially accurate audio content.
Competitive Landscape
The competitive landscape of the 3D audio market is relatively diverse and dynamic, with several global and regional players vying for market share. The market's competitive nature is driven by the increasing demand for immersive audio experiences, 360-degree audio, and the adoption of 3D audio technology across various industries.
Creative Technology is known for its audio products, including sound cards and headphones. The company has developed Super X-Fi, a technology that creates personalized 3D audio profiles for users.
The JBL CMX6000 series column sound system was unveiled in June 2021 by HARMAN Professional Solutions, a pioneer in audio, video, lighting, and control systems. The CMX6000 series is made to meet the demands of those searching for a portable, affordable PA column speaker that offers JBL sound quality and clarity together with simple operation.
Know thy Competitors
Competitive landscape highlights only certain players
Complete list available upon request
Key Segments of 3D Audio Industry Research
By Component :

Hardware

Speakers
Headphones
Soundbars
Amplifiers

Software
Services

By Sound Type :

By End Use :

Commercial

Theaters
Automotive
Music Studios
Concerts

Residential

Gaming
AR/VR
Mobile Devices

By Region :

North America
Latin America
Europe
Asia Pacific
Middle East & Africa
- FAQs -
The global 3D audio market stands at US$ 7.5 billion in 2023.
Worldwide sales of 3D audio are predicted to rise at a CAGR of 16% from 2023 to 2033.
Demand for 3D audio is anticipated to reach a market value of US$ 32 billion by 2033.
The market in China is forecasted to expand at a CAGR of 15.5% through 2033.
The market in Germany is predicted to advance at a CAGR of 11.5% from 2023 to 2033.