3D Through-Silicon-Via (TSV) Devices Market
3D Through-Silicon-Via (TSV) Devices Market Analysis By Product (3D TSV Memory, 3D TSV Advanced LED Packaging, 3D TSV CMOS Image Sensors, 3D TSV Imaging & Opto-Electronics, 3D TSV MEMS), By Process Realization (First Process Realization, Middle Process Realization, Last Process Realization), By Application (Consumer Electronics, Automotive, IT & Telecom, Healthcare, Military, Aerospace & Defense) & By Region - Global Market Insights 2023 to 2033
Analysis of 3D Through-Silicon-Via (TSV) Devices Market Covering 30+ Countries Including Analysis of US, Canada, UK, Germany, France, Nordics, GCC countries, Japan, Korea and many more
3D Through-Silicon-Via (TSV) Devices Market Outlook (2023 to 2033)
The global 3D through-silicon-via (TSV) devices market has reached a value of US$ 8.3 billion in 2023. According to Fact.MR, worldwide sales of 3D through-silicon-via devices are projected to reach US$ 44.93 billion by 2033, increasing at a significant CAGR of 18.4%.
3D TSV solutions are a type of packaging technology used in the semiconductor industry to vertically stack and interconnect multiple integrated circuit (IC) chips. TSV technology is a crucial advancement that enables the integration of three-dimensional (3D) silicon and 3D integrated circuits (ICs). It facilitates the shortest interconnections between chips and allows for the interconnection of smaller pad sizes and pitches. The stacking of chips in a three-dimensional arrangement using TSV technology has become an emerging and advanced packaging solution for memories, CMOS imagers, and MEMS.
Compared to traditional interconnection techniques, 3D TSV technologies offer several significant advantages. It contributes to lower power consumption, higher density, wider data width, improved electrical performance, high bandwidth, and reduced weight. These benefits make 3D TSV technology highly desirable in various industries and applications.
The 3D TSV devices market is experiencing rapid growth due to the expanding application of semiconductor chips in diverse industries such as power, automobiles, medical, energy, electric vehicles, motor control, aerospace, and defense. The high adoption of light-emitting diodes (LEDs) in various products is further fueling the demand for higher-capacity, lower-cost, and denser devices.
3D TSV memory, 3D TSV advanced LED packaging, 3D TSV CMOS image sensors, 3D TSV imaging & opto-electronics, and 3D TSV MEMS are some 3D TSV products.
Demand for 3D TSV advanced LED packaging is foreseen to increase at a CAGR of 18.7% from 2023 to 2033.
Unlike traditional 2D packaging methods, use of three-dimensional (3D) packaging in TSV technology enables a higher density of vertical interconnections. This advancement allows for more efficient utilization of space and facilitates the integration of multiple chips in a compact form factor. The ability to achieve a higher density of interconnections in TSV technology meets the growing demand for high performance and functionality in modern electronic devices.
3D TSV integrated circuits offer several advantages, including reduced connection lengths, leading to smaller inductance, parasitic capacitance, and resistance. This efficient combination of monolithic and multifunctional integration enables the creation of low-power, high-speed interconnections.
By employing thin silicon membranes at the bottom, embedded designs optimize thermal contact and minimize thermal resistance. TSV technology establishes electrical contact with surface-mounted devices, while mirrored sidewalls enhance package reflectivity and improve light efficiency.
Report Attributes
Details

3D TSV Devices Size (2023E)

US$ 8.30 Billion

Forecasted Market Value (2033F)

US$ 44.93 Billion

Global Market Growth Rate (2023 to 2033)

18.4% CAGR

Germany Market Growth Rate (2023 to 2033)

19.2% CAGR

United States Market Growth Rate (2023 to 2033)

18.9% CAGR

United Kingdom Market Value (2033F)

US$ 2.74 Billion

China Market Value (2033F)

US$ 8.13 Billion

India Market Value (2033F)

US$ 3.68 Billion

Key Companies Profiled

Amkor Technology, Inc.
Broadcom Ltd.
Pure Storage, Inc.
STATS ChipPAC Ltd.
SK Hynix Inc.
Invensas Corporation
Samsung Electronics Co., Ltd.
ASE Technology Holding, Co., Ltd.
Taiwan Semiconductor Manufacturing Co., Ltd. (TSMC)
United Microelectronics Corporation
Sony Corporation
Teledyne DALSA Inc.
Xilinx Inc.
Intel Corporation
Don't Need a Global Report?
save 40%! on Country & Region specific reports
How is Demand for 3D TSV Devices Evolving Across the World?
"Increased Adoption of 3D TSV Technology in Semiconductor Manufacturing Driven by Space-Saving Needs"
To address the space-saving requirements of next-generation products and cater to the needs of edge computing applications, semiconductor manufacturers are increasingly adopting silicon via (TSV) techniques for chip stacking. This allows for more efficient use of space within the package and enables shorter response times and alternative structures.
Growing demand for miniaturization in electronic devices is a key driver for the growth of the 3D through-silicon-via devices market. Advanced packaging solutions achieved through hetero system integration offer high reliability. By incorporating extremely small MEMS sensors and 3D-packaged electronics, it becomes possible to place sensors in various locations, even in harsh environments. Real-time monitoring of equipment in such conditions can significantly enhance reliability and uptime.
Utilization of 3D TSV in dynamic random-access memory (DRAM), where data is stored in separate tiny capacitors within an integrated circuit, is a notable factor propelling the growth of the 3D through-silicon-via devices market.
Companies such as Micron have developed re-architected DRAM with 3D TSV technology, leading to significant improvements in power efficiency and timing. This progress aids in the development of advanced thermal modeling and contributes to the advancement of the overall industry.
"Incorporation of AI & IoT for Enhanced Data Exchange and Processing Necessitating Use of 3D TSV Devices"
High-performance computing and artificial intelligence (AI) applications require faster data transfer and processing capabilities. TSV technology facilitates efficient interconnections and higher bandwidth, making it suitable for these demanding applications.
Demand for IoT solutions is rising rapidly, and this requires interconnected devices with high-performance capabilities. TSV technology supports the integration of multiple chips and sensors, enabling efficient data exchange and processing in IoT applications.
Which are the Challenges Faced by 3D TSV Device Manufacturers?
"High Cost and Expertise Gap Hindering 3D TSV Technology Adoption"
Implementation of 3D TSV technology involves complex manufacturing processes, such as deep reactive ion etching and wafer bonding. These processes can be expensive, leading to higher production costs for 3D TSV devices compared to traditional 2D packaging methods. The cost of equipment and materials required for TSV fabrication can also contribute to the overall manufacturing expenses. Thus, the high overall cost may reduce sales of 3D TSV technologies during the projected period.
Designing and optimizing 3D TSV devices can be technically challenging. Integration of multiple chips and the routing of interconnects through TSVs require careful planning and design considerations. Ensuring signal integrity, thermal management, and reliability in such complex designs can be demanding and may require specialized expertise. Thus, a lack of expertise is expected to slow down the demand for 3D TSV devices during the forecast period.
More Insights, Lesser Cost (-50% off)
Insights on import/export production,
pricing analysis, and more – Only @ Fact.MR
What are the Opportunities for New Companies in This Space?
"Focus on Innovations & Collaborations for Process Optimization"
The 3D through-silicon-via devices market has opportunities for newcomers, but there are some challenges that start-ups should overcome to earn more and achieve a dominant position.
Fabrication of TSVs involves precise etching and filling processes. Achieving high yields in TSV manufacturing can be challenging due to issues such as defects, voids, and misalignment during the etching and filling stages. New entrants should engage in collaborations and partnerships with established players in the industry.
Collaborative efforts can help newcomers gain access to expertise, knowledge, and best practices in yield improvement techniques, process optimization, and scaling. Sharing experiences and learning from industry leaders can significantly enhance manufacturing capabilities and yield rates.
Newcomers may also allocate resources to research and development activities focused on addressing yield and manufacturing challenges, TSV scaling, and reliability. Investing in exploring new materials, process improvements, and testing methodologies is expected to help newcomers enhance their manufacturing techniques and ensure higher reliability. Adopting a proactive approach enables new entrants to stay updated with the latest advancements in the field and apply them effectively.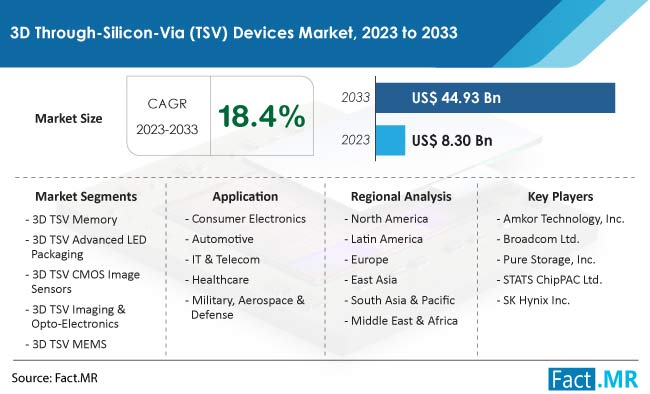 Country-wise Analysis
Why is Demand for 3D TSV Devices High in the United States?
"Rapid Technological Advancements Boosting Demand for 3D TSV Devices in Data Centers"
Demand for 3D TSV devices in the United States is foreseen to increase at a CAGR of 18.9% from 2023 to 2033.
The United States market is driven by continuous technological advancements in various sectors, including consumer electronics, telecommunications, and automotive. Need for high performance, miniaturization, and improved functionality in these industries is fueling demand for 3D TSV devices.
The country is also known for its robust R&D ecosystem, with leading universities, research institutes, and technology companies constantly innovating in semiconductor manufacturing. This has resulted in the development of advanced 3D TSV technologies, attracting both domestic and international buyers.
Increasing demand for data centers to support cloud computing, artificial intelligence, and big data analytics is also driving sales of 3D TSV devices in the United States. These devices enable efficient interconnects, high bandwidth, and reduced power consumption, making them essential for data-intensive applications.
What are the Factors Making Germany a Profitable Market for Manufacturers of 3D TSV Devices?
"Focus on Industrial Automation and Rising Implementation of Industry 4.0"
The German market for 3D TSV devices is valued at US$ 614.1 million in 2023.
Germany, being a key player in the automotive industry, is experiencing a transformation towards electric vehicles (EVs) and autonomous driving. 3D TSV devices are crucial in these applications for improved connectivity, sensor integration, and power efficiency, thereby boosting their sales in the country.
Germany's focus on industrial automation and the implementation of Industry 4.0 principles is driving the demand for 3D TSV devices. These devices enable high-performance sensing, advanced robotics, and reliable communication, supporting the development of smart factories and efficient manufacturing processes.
How are Sales of 3D TSV Devices Progressing in China?
"Increasing Investments in Semiconductor Manufacturing Initiatives"
Sales of 3D TSV devices in China are projected to reach US$ 8.13 billion by 2033.
China's thriving consumer electronics market, driven by a large population and increasing disposable income, is a significant driver for 3D TSV device sales. These devices enable slim and compact designs, enhanced functionality, and improved performance in smartphones, tablets, wearables, and other electronic gadgets.
The Chinese government's initiatives and investments in semiconductor manufacturing are stimulating the growth of the industry, including the production of 3D TSV devices. Policies promoting domestic innovation, research collaborations, and infrastructure development are creating a conducive environment for the sales of 3D TSV devices.
China's rapid deployment of 5G networks and expansion of IoT applications are boosting the demand for high-performance semiconductor devices. 3D TSV technology enables faster data transfer, low-latency communication, and efficient power management, making it a preferred choice for 5G-enabled devices and IoT deployments.
Know thy Competitors
Competitive landscape highlights only certain players
Complete list available upon request
Category-wise Analysis
Which Sector is a Key End User of 3D TSV Devices?
"Widespread Utilization of 3D TSV Technologies in Consumer Electronics Industry for Enhancing Miniaturization & Expanding Functionalities"
Utilization of 3D TSV devices in consumer electronics is projected to rise at a CAGR of 18.6% during the next 10 years.
Consumer electronics manufacturers strive to create smaller, slimmer, and more compact devices. 3D TSV technology allows for vertical integration of components, enabling higher device density and reduced footprint. By eliminating the need for traditional wire bonding or flip-chip interconnects, TSV devices enable significant size reduction, making them ideal for portable devices such as smartphones, tablets, wearables, and other electronic gadgets.
Consumers increasingly expect their electronic devices to offer advanced features and capabilities. 3D TSV devices facilitate improved functionality by enabling the integration of diverse components, such as processors, memory chips, sensors, and communication modules, into a single package. This integration enhances device performance, enables multi-functional capabilities, and supports seamless user experiences.
Competitive Landscape
Key players are focusing on developing new and improved 3D TSV technologies, such as advanced packaging solutions, higher interconnect densities, and enhanced power efficiency. These innovations are helping them stay ahead of the competition, attract customers, and earn more revenue.
Leading companies in the 3D TSV devices market are also engaging in strategic partnerships and collaborations with other companies, including semiconductor manufacturers, system integrators, and device manufacturers.
In a significant development in June 2022, Intel made strides in power management for chiplets within the 3D stacked system in package (SIP) designs. The company introduced fully integrated voltage regulators (FIVRs) featuring embedded inductors. Leveraging a self-trimmed, digitally controlled ON-Time Discontinuous Conduction Mode (DCM) architecture, the 3D-TSV-stacked SIP is constructed using a 22nm CMOS process and incorporates an active silicon interposer.
Key Segments of 3D TSV Devices Industry Research
By Product :

3D TSV Memory
3D TSV Advanced LED Packaging
3D TSV CMOS Image Sensors
3D TSV Imaging & Opto-Electronics
3D TSV MEMS

By Process Realization :

First Process Realization
Middle Process Realization
Last Process Realization

By Application :

Consumer Electronics
Automotive
IT & Telecom
Healthcare
Military, Aerospace, & Defense

By Region :

North America
Latin America
Europe
East Asia
South Asia & Oceania
MEA
- FAQs -
The global 3D through-silicon-via devices market is valued at US$ 8.3 billion in 2023.
The market for 3D through-silicon-via devices is projected to reach US$ 44.93 billion by 2033.
The global market is predicted to expand at a CAGR of 18.4% from 2023 to 2033.
Sales of 3D TSV devices in the United Kingdom are forecasted to reach US$ 2.74 billion by 2033.
Sales of 3D TSV devices for consumer electronics are set to rise at 18.6% CAGR through 2033.