Audio Codec Market
Audio CODEC Market Analysis, By Function (With DSP, Without DSP), By Component (Hardware, Software), By End Use (Computers, Phones, Tablets, Over-Ear Headphones, TWS, Home Entertainment, Commercial, Automotive, Portable, Others) & Region – Global Market Insights 2023 to 2033
Analysis of Audio Codec Market Covering 30+ Countries Including Analysis of US, Canada, UK, Germany, France, Nordics, GCC countries, Japan, Korea and many more
Audio CODEC Market Outlook (2023 to 2033)
The global audio CODEC market is estimated to progress at a CAGR of 5.2%, growing from its current valuation of US$ 6 billion to US$ 10 billion by the end of 2033.
An audio codec (coder/decoder) is an integrated circuit (IC) and computer-based application that compresses and decompresses data streams and digital acoustic signals. Its software-based system utilizes a variety of techniques for data encoding, decoding, and compressing. It also has an analog-to-digital converter (ADC) and digital-to-analog converter (DAC) capabilities.
Audio codec aids in lowering audio file size without compromising data quality and keeping high-quality audio signals in a small amount of storage space. It also has simple multichannel interface properties, allows low noise distortion, and cuts the bandwidth needed to transfer acoustic signals. Based on these characteristics, audio codecs are widely used to provide an immersive experience in soundbars, automotive infotainment systems, consumer electronic devices, and home theaters.
Increasing demand for energy-efficient audio devices is boosting the sales of audio codecs. Demand for energy-efficient electronic equipment has skyrocketed in recent decades as energy prices have risen. The technological advancements in consumer devices and the automobile industry encourage entertainment and other businesses to use energy-efficient audio equipment such as 6-layer Multi Col conventional speakers.
Moreover, the high popularity of OTT platforms such as Amazon, Netflix, and Hotstar has started a new trend in home theaters, enabling the deployment of energy-efficient audio systems and raising the demand for audio codecs.
Furthermore, the growing usage of augmented reality (AR) and virtual reality (VR) is increasing the adoption of audio codec devices. Virtual reality has been used by medical and defense firms, such as the United States and United Kingdom militaries, to help treat PTSD (Post-traumatic Stress Disorder) and provide recruits with a boot camp experience, allowing them to adjust swiftly to military life. Medical personnel can also watch field operations to better understand their patients.
Virtual reality's use in the military, education, and hospitals have increased the demand for audio codec products, which give users a more realistic and reliable audio experience.
Audio codec technologies are becoming increasingly important in gaming and supporting systems. The demand for virtual reality-based 3D video gaming pushed the gaming console industry to new peaks. As a result, the demand for audio codec-based audio systems in game consoles is expanding. Additionally, full 4k and VR gaming consoles are in high demand, fueling the growth in the HDTV, FHDTV, and UHDTV industries and boosting usage of surround sound audio systems used in console gaming.
Due to such aspects, Fact.MR, a market research and competitive intelligence provider, predicts that the global demand for audio codecs will increase considerably over the next ten years.
Report Attributes

Details

Audio CODEC Market Size in 2023

US$ 6 Billion

Projected Market Value (2033)

US$ 10 Billion

Global Market Growth Rate (2023 to 2033)

5.2% CAGR

Asia Pacific Market Share (2022)

41%

Phones Segment Growth Rate (2023 to 2033)

3.9% CAGR

Key Companies Profiled

Cirrus Logic Inc
Dialog Semiconductor
CML Microelectronics
Qualcomm Inc
DSP Group Inc
Texas Instruments
Analog Devices Inc
Realtek Semiconductor Corp
ROHM Co. Ltd.
Which Factor is Presenting Revenue Generation Opportunities for Audio Codec Suppliers?
"Growing Smartphone Usage across the World"
The smartphone market is rapidly developing and is projected to continue in the foreseeable future. Smartphones are multifunctional mobile devices that have a variety of features.
According to the Consumers International Organization, the global smartphone user base reached 3 billion in 2020.
Audio codecs are one of the most important components utilized in the manufacture of smartphones. Smartphone companies use audio codec technologies such as advanced audio coding (AAC) and Apple lossless audio codec (ALAC) to provide smooth voice and audio communication performance. Moreover, due to the rising demand for 5G networks in developing markets, the use of voice and audio devices based on audio codecs is expanding significantly.
What Can the Limit the Sales Growth of Audio Codecs?
"Emergence of Audio SoC"
The emergence of new audio enterprises is resulting in the development of SoC (system-on-chip) and related devices that have increased speaker performance.
Companies such as ROHM, Qualcomm Technologies, and Microsoft, are releasing new SoC-designed equipment such as USB DACs (digital to analog converters), Bluetooth speakers, and micro/mini components, as well as a suite of software that enables OEMs to develop optimized smart speakers in a range of categories. As a consequence, it has become a competitor of audio codec software, which can limit sales growth.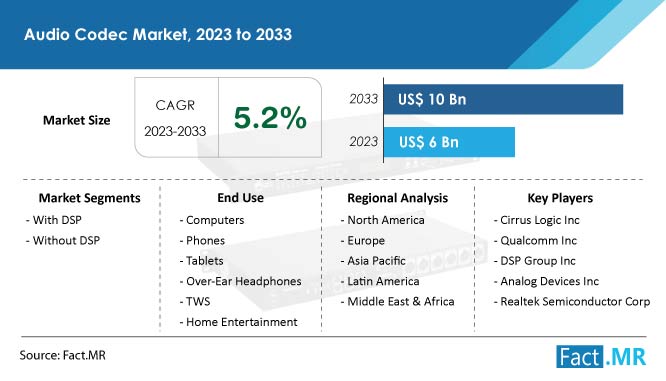 Country-wise Insights
What Makes Japan and South Korea Prominent Markets in Asia Pacific?
"Evolving Technology Culture in Japan and South Korea"
Asia Pacific is leading the worldwide market. Asia Pacific held 41% of the global market for audio codecs in 2022. The arrival of 5G technology is boosting the usage of consumer gadgets such as smart speakers, tablets, and smartphones across Asia Pacific.
Moreover, strong economic development in the region's emerging nations, the advent of the Industrial Internet of Things (IIoT), and increasing per capita income are key factors driving the regional market growth.
Japanese and South Korean markets are growing at a considerable pace. Japan and South Korea are among the major producers of consumer electronics such as smartphones, televisions, and laptops. In addition, voice recognition and other technologies are widely used in public places in Japan and South Korea. This evolving technology culture is providing new opportunities for the audio codec industry in these countries.
What is the Demand Outlook for Audio Codecs in the United States?
"United States to Witness High Demand for Audio Codecs"
North America has seen substantial growth in the adoption of audio codecs in recent years. This growth can be ascribed to the increased usage of smart home technologies, smartphones, and 5G technology.
Another factor driving the regional market expansion is the rising usage of audio codecs in wearables such as smart bands. Furthermore, the expansion of OTT services such as Amazon, Netflix, HBO Max, and others is increasing the use of audio codecs.
The United States is among the leading users of new technologies due to substantial R&D endeavors by prominent corporations. Smartphone adoption has skyrocketed in recent years across the country. Moreover, wearables shipments increased dramatically in 2020. As a result, many corporations have expanded their manufacturing activities to acquire a competitive advantage.
For example, HP and Dell have boosted manufacturing to match rising demand, which has raised the demand of audio codecs.
Which European Country's Market is Growing Swiftly?
"Market in German to Exhibit Rapid Growth"
The European market is experiencing massive growth. The German market is expanding speedily. The growing popularity of smartphones, together with the partnership with entertainment platforms, is encouraging the inclusion of audio codecs in devices. Furthermore, the increasing usage of technology, such as portable devices and wearables, has underlined the need for improved connectivity and high-resolution products. As a result, the rising demand for connected devices is raising the need for audio codecs.
Moreover, the usage of software and hardware audio codecs has achieved significant traction in Germany. This is primarily due to the increased popularity of media streaming services, smart homes, and smartphone adoption.
Category-wise Insights
Why is Audio Codec Technology So Prevalent in Phones?
"Advent of 5G Technology"
The demand for audio codec-based phones is anticipated to progress at 3.9% CAGR over the next ten years. The emergence of 5G technology, which allows more data to be transferred over wireless networks to give high-quality video and audio experiences, has resulted in a growth in the range of devices, like phones, leading to the increasing usage of audio codec technology.
Competitive Landscape
Key players in the audio codec market are focusing on strategies such as collaborations, new developments, investments, and acquisitions to maintain and expand their international presence. In addition, several start-ups are sprouting in the global market.
Analog Devices, Inc. released a millimeter-wave (mmW) 5G front-end chipset in March 2022 that meets required frequency ranges, allowing designers to decrease complexities and deliver smaller, more adaptable radios to market faster.
Qualcomm introduced Qualcomm aptX, an audio Bluetooth codec, in September 2021. The device can send CD-quality audio across the wireless connection established by Bluetooth, thus boosting overall audio quality. It also has an audio resolution of 16 bit/44.1kHz and a bit rate of 1mbps.
Qualcomm Technologies released the WCD9341, which is intended to decode audio formats of up to 32 bits, in September 2021. This new aptX codec is intended to seamlessly switch between a high-bit rate mode (for the optimum audio quality when listening to music) and a low-latency mode (while gaming).
In June 2021, Cirrus Logic unveiled a low-power voice recording development kit for Alexa Voice Service (AVS), which includes the CS7250B digital MEMS microphone, the CS47L24 smart codec, and the SoundClear algorithm for noise suppression, echo cancellation, and voice control. The smart codec employs an on-chip, effective DAC (digital-to-analog converter) and a two-watt mono speaker driver to allow high audio playback.
Key Segments of Audio Codec Industry Research
By Function :

By Component :

By End Use :

Computers
Phones
Tablets
Over-Ear Headphones
TWS
Home Entertainment
Commercial
Automotive
Portable
Smart Homes
IoT
Wearables
AR/VR

By Region :

North America
Latin America
Europe
Asia Pacific & China
Middle East & Africa
- FAQs -
The global audio codec market stands at US$ 6 billion in 2023.
Global demand for audio codecs is predicted to evolve at a CAGR of 5.2% during the forecast period (2023 to 2033).
The market for audio codecs is forecasted to reach US$ 10 billion by 2033.
Demand for audio codec-based phones is set to increase at a CAGR of 3.9% from 2023 to 2033.
Asia Pacific accounted for 41% share of the global market in 2022.
Cirrus Logic Inc, Dialog Semiconductor, CML Microelectronics, Qualcomm Inc, DSP Group Inc., Texas Instruments, Analog Devices Inc, Realtek Semiconductor Corp, and ROHM Co. Ltd are leading players in the market.