Rapid Adoption of Therapeutic Drugs to Augment Demand of Synthetic Cannabinoids
Synthetic cannabinoids have emerged as a novel therapeutic drug for epilepsy, spasticity, inflammation etc. Synthetic cannabinoids for medical purposes have been commercialized since 2016 and are showing rapid adoption for different medical ailments. Synthetic cannabinoid market is projected to grow at an astounding CAGR of more than 16% during forecast period 2019 – 2029 showcasing a dexterous growth as per Fact.MR's latest report. Synthetic cannabinoids to treat nausea and anxiety caused by cancer chemotherapy are projected to open new growth avenues for synthetic cannabinoids manufacturers. Moreover, synthetic cannabinoid therapies for diseases such as arthritis, acute and chronic pain will bolster demand of synthetic cannabinoids during forecast period.
Synthetic Cannabinoids Sales to Soar as Dronabinol Maintains its Lead
Dronabinol is a prominent synthetic cannabinoids which holds more than two third market share in global market. Dronabinol for medical use is being manufactured by almost all prominent market players. Moreover, Dronabinol is an emerging suitable therapeutic compound which binds to cannabinoid (CBR) receptor giveing desired results during disease treatment.
Novel Techniques Such as Biosynthesis to Increase Foothold of Market Leaders
Earlier manufacturers of synthetic cannabinoids were using naïve techniques of production with help of specialized strains of yeast. Companies such as Librede, Inc. and Hyasynth Biologicals Inc. are actively producing synthetic cannabinoids by using bioengineered yeast strains. Other manufactures of synthetic cannabinoids such as Renew Biopharma have been innovating the production process of synthetic cannabinoids with help of bioengineered microorganisms. The use of bioengineered microorganisms for synthesis of synthetic cannabinoids instead of conventional processes help enhance purity of compound.
Legalization in Potential Markets to Generate New Revenue Streams for Synthetic Cannabinoids
Cannabinoids have been legalized in many countries and this number is expected to increase in the forecast period. Synthetic cannabinoids will benefit from authorization for medical usage. Countries such as China and India are prominent drug and pharmaceutical markets where synthetic cannabinoid legalization for pharmaceutical applications may play a vital role in boosting sales of synthetic cannabinoids in countries. By region Latin America is projected to grow 6.8X during the forecast period as countries in Latin America are embracing legalization of synthetic cannabinoids in a big way. North America on the other hand will continue to maintain its hegemony in terms of market share.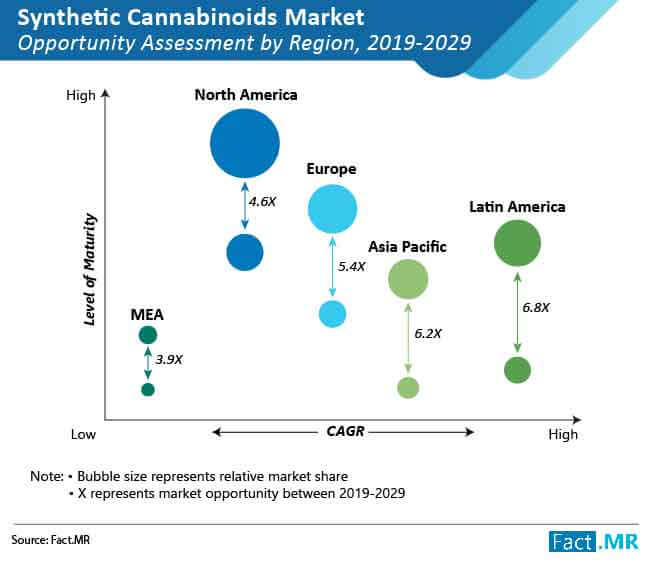 To get exhaustive regional insights on synthetic cannabinoids market, ask an analyst here
New Pipeline of Synthetic Cannabinoid Drugs Projected to Proliferate Market Growth
Manufacturers of synthetic cannabinoid drugs are running clinical trials and phase studies for different drugs which are likely to hit the market in the next two to three years. This will significantly escalate the demand for synthetic cannabinoids. Some of the companies such as CV Sciences, Inc. are focused on carrying out all phase clinical trials of the initial drug candidate (CVSI-007) in the foreseeable future. Moreover, Insys Therapeutics, Inc. has synthetic cannabinoids compounds under the development phase. The company is developing Dronabinol inhalation for agitation in Alzheimer's disease and cancer induced anorexia. Manufacturers are thus escalating demand for synthetic cannabinoid in the near future.
Leading Players to Expand Production Capacity of Synthetic Cannabinoids
Synthetic cannabinoid market players are partnering with research associations and organizations to carry out potential research in synthetic cannabinoids. Few pharma giants are investing in startup companies to push research on synesthetic cannabinoids and expand production capacities of synthetic cannabinoids. For instance, in 2019, Noramco announced that its cannabinoids business division will become a separate company named Purisys, LLC and is expanding its production capacity of Dronabinol and cannabidiol in its production facility based in Athens, United Sates.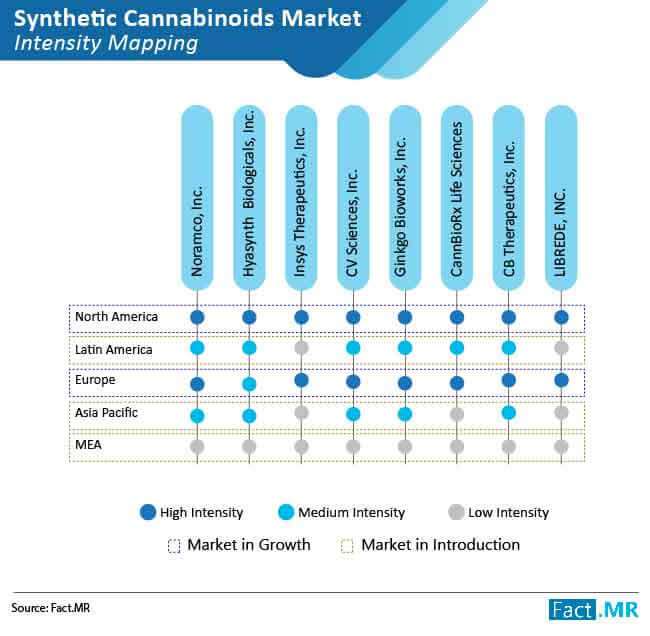 To attain a formidable edge on your competition in the synthetic cannabinoids market, request for a report sample here
Synthetic cannabinoids market is anticipated to witness a notable upsurge during the forecast period 2019 to 2029, conferring to a new Fact.MR study. The study promotes crucial trends that are presently determining the growth of synthetic cannabinoids market. This newly published and perceptive report sheds light on vital dynamics, which are likely to convert the future of synthetic cannabinoids market, in turn generating worthwhile opportunities for key companies as well as evolving players who are interested in the production of synthetic cannabinoids.
Synthetic cannabinoids market study is a detailed market intellect on key revenue progression factors, challenges, industry trends, and opportunities, which will eventually influence the growth of synthetic cannabinoids market. The report primarily conveys a summary of the synthetic cannabinoids market, considering present and upcoming cannabis industry scenarios, to reveal striking sides relating to the acceptance of synthetic cannabinoids across prominent regional markets.
A detailed assessment on few of synthetic cannabinoids manufacturers and suppliers accessible in the report allows the report readers to obtain detailed findings that have resulted from synthetic cannabinoids supply chain analysis, business execution, and value chain analysis across the regional markets incorporated in the report. A list of prominent companies functioning in synthetic cannabinoids market provided in the report enhances reliability of this ample research study.
Synthetic Cannabinoids Market: Report Summary and Scope
Study offers a comprehensive overview on diverse features that are inducing demand, revenue generation and sales in synthetic cannabinoids market across the globe.
A comprehensive estimate on synthetic cannabinoids market has also been made accessible by the experts, who have considered the market estimates on the basis of a likely scenario, an optimistic scenario, and a conservative scenario regarding sales of synthetic cannabinoids during the forecast period. Analysis and estimation of price point comparison by region and by type with the global average price has been included in this study.
Synthetic Cannabinoids Market: Segmentation
FactMR's study has done the segmentation of synthetic cannabinoids market on the basis of type, and region.
Type

Region

Dronabinol

Nabilone

North America

Latin America

Europe

Asia Pacific

MEA
Synthetic Cannabinoids Market: Analysis on Market Size Evaluation
Predictions of synthetic cannabinoids market, encompassing current as well as forthcoming projected values estimate and analysis on region-wise demand trends and price index have been assimilated in the report.
Market estimates at the regional and global scale for synthetic cannabinoids are available in terms of "US$ Mn." A Y-o-Y growth contrast on prominent synthetic cannabinoids market segments, along with the market attractiveness valuation computes understandings brought in the report. Metrics mentioned above are also followed based on synthetic cannabinoids applications where synthetic cannabinoids witness a steady demand.
Synthetic Cannabinoids Market: Scrutinized Assessment on Regional Segments
Weighted sections have been elaborated in the report on synthetic cannabinoids market, which delivers projection on the regional markets. These chapters brighten the regional macros (political economic, and business environment outlook), which are expected to have a significant impact on the growth of synthetic cannabinoids market during period of forecast.
Country-specific valuation on demand for synthetic cannabinoids has been offered for each regional market, along with the market scope estimate and forecast, price index, price point assessment, and impact analysis of dynamics of prominent regions and countries. For all regional markets Y-o-Y growth estimates have also been incorporated in the report.
Synthetic Cannabinoids Market: In-depth Analysis on Competitive Landscape
The report ends with a section on the competition scenario of synthetic cannabinoids market, along with the profiles of major companies contributing to the market expansion. Essential and up-to-date data as well as information correlated to the market performers, who principally engage in the production and supply of synthetic cannabinoids, has been brought with the help of a detailed dashboard view. Market share analysis and comparison of prominent players provided in the report permits the report readers to plan preemptive steps to advance their businesses.
Company profiles have been shared with report, which exerts essentials such as product portfolio, along with an all-inclusive SWOT analysis on each player recognized along with the company policies identification and analysis. The company presence has been mapped and presented through the matrix for all the prominent players of the market functioning in synthetic cannabinoids market which offers readers with actionable intellect. This helps in thoughtfully presenting the market status, and making decisive predictions on the competition levels in synthetic cannabinoids market. Major companies operating in global synthetic cannabinoids market, include Noramco, Inc., Hyasynth Biologicals, Inc., Insys Therapeutics, Inc., CV Sciences, Inc., Ginkgo Bioworks, Inc., CannBioRx Life Sciences, CB Therapeutics, Inc., Librede, Inc. and others.
Fact.MR offers custom research services that help clients to get specific research solutions
We are committed towards customer satisfaction and quality service.
---
Our Clients

Synthetic Cannabinoids Market Forecast, Trend Analysis & Competition Tracking - Global Market Insights 2019 to 2029