Reactor Thermoplastic Polyolefin Elastomer (TPO) Market
Reactor Thermoplastic Polyolefin Elastomer (TPO) Market Report By Resin (Flexible, Rigid), By Application (Reactor TPOs for Automotive, Reactor TPOs for Flexible Profiles, Reactor TPOs for Packaging, Medical Reactor TPOs), By Region - Global Insights 2021 to 2031
FACT4250MR
Oct-2021

List of Tables : 79

List of Figures : 214

170 Pages
Market Outlook for Reactor Thermoplastic Polyolefin Elastomer (TPO)
According to a new industry analysis on reactor thermoplastic polyolefin elastomers, or reactor TPOs, demand volume is anticipated to rise at a CAGR of 4% over 2021 to 2031. Overall consumption is set to reach around 700 KT by 2031, mainly due to continuous investments in the development of reactor TPOs for diversification in the market.
Reactor thermoplastic polyolefin elastomers are also traded as reactor TPO/in-situ TPOs in the market, defined as polyolefin material (usually PP) containing 10-40% of ethylene, which is added while the propylene is under catalytic reaction with hydrogen. Moreover, precursors such as butene-1 or octane-1 are also added to provide functional properties for utilization in specific applications.
Unlike other TPOs, production technology is held only by a handful of top producers of RTPOs such as LyondellBasell (Catalloy, Spheripol), Japan Polypropylene (JPP Horizone Technology), and Borealis (Borstar). This shrinks the overall risk of mass scaling of the product and maintains price points above the threshold floor price. Further, difference between production of RTPOs and demand is considerably low, which also lowers the overall inventory cost of manufacturers.
Demand side point of view provides an image of strong market reach of the product under the umbrella of economies of agglomeration and collaborative stance of automakers and reactor thermoplastic polyolefin elastomer manufacturers across regions. This not only strengthens collective growth but also provides an impetus to strong product pricing.
Avail customized purchase options for your needs
Key Points Covered in Reactor Thermoplastic Polyolefin Elastomer Industry Survey:
Market Estimates and Forecasts (2016-2031)
Production Capacity Analysis of Prominent Manufacturers
Reactor Thermoplastic Polyolefin Elastomer Pricing Analysis
Product Pricing Optimization Strategy
Demand for Reactor TPO
Sales of RTPO Resins
Demand for Reactor TPOs in Automotive Sector
Demand for Reactor TPOs in Medical Sector
Key Drivers and Restraints Shaping Market Growth
Segment-wise, Country-wise, and Region-wise Analysis
Competition Mapping and Benchmarking
Assessment by Product Grade / Purity / Formulation Standards
Assessment of Import Price, Bulk Price, Contractual Price, Producer / Distributor Price
Market Share Analysis
COVID-19 Impact on Reactor Thermoplastic Polyolefin Elastomer Demand and How to Navigate
Recommendation on Key Winning Strategies
Consumption Analysis of Reactor TPOs from 2016 to 2020 Vs. Market Outlook for 2021 to 2031
As per Fact.MR, a market research and competitive intelligence provider, over the past half-decade, strong automotive production and sales has assisted market growth, and increase in demand for reactor TPOs can be largely correlated with changing automotive emission standards and rate of automotive production.
Apart from automotive production, advancements in the packaging industry over utilization of lightweight and sturdy materials to hold shipments intact have also shaped market growth.
In 2020, COVID-19 hit industries at a macro scale and a prominent impact was observed on the automotive industry with a slowdown of sales and production, which cascaded the effect to reactor TPO manufacturers across the globe. Moreover, reactor TPO supply, being highly concentrated to the automotive industry, faced a strong blow.
On the other side of the coin, medical application of reactor TPOs such as films, tubes, and injected parts, among others, gained strong market traction over the period of Q2 2020 to Q2 of 2021. This reduced the overall impact on the market by 2% points over the same period.
Over the forecast period, the market is set to recuperate as follows, divided in 3 comprehendible periods:
Short-run: Over this period, demand for reactor TPOs is anticipated to grow at a much faster pace, assisting market recovery by Q4 of FY2021.
Medium-run: Over this term, it is anticipated that reactor TPO manufacturers would enhance their investments in product development for diversification across industries
Long-run: Evolution of inexpensive substitutes of reactor TPOs and strong sustenance of LyondellBasell's Catalloy is anticipated to be observed over the long-run forecast period
Below points summarize the reactor TPO market over the long-term forecast period:
Currently, exterior application in automotive captures nearly 87% market share and is anticipated to hold dominance through 2031.
Medical is the most prominent application with projected market growth of 5.3% through 2031.
LyondellBasell holds market exclusivity in terms of chanelling premium reactor TPO products to industries, ranging from automotive, packaging, construction to medical.
An Adaptive Approach to Modern-day Research Needs
Why is Economies of Agglomeration a Prominent Driving Factor for Reactor TPOs?
Economies of agglomeration acts as a foundation to enhance the sales of a majority of products across the globe. In terms of reactor TPOs, over the past two decades, prominent manufacturers such as SABIC, LyondellBasell, Formosa Plastics, and Borealis, among others, have placed their production plants in proximity to automotive production clusters.
For instance, Borealis and Borouge have located their novel production lines of TPOs and short glass fibre-reinforced compounds in Southwest United States. Southwest United States includes states such as Alabama, Florida, Georgia, Kentucky, Maryland, Mississippi, North Carolina, South Carolina, Tennessee, Virginia, and West Virginia, which have a presence of tier-1 automakers such as Honda, Hyundai, Mercedes, Toyota, Navistar, and Mazda, to name a few.
Formosa Plastics established a plant in Point Comfort, Texas, United States, which is in proximity to prominent automakers such as General Motors (GM) and Toyota.
Thus, manufacturers are establishing plants in proximity to automakers to ensure higher margins through product sales.
How is the Automotive Sector Influencing the Growth of Reactor TPO Sales?
Over the past decade, the automotive sector has taken shape on the back of technological and design progress. Moreover, the sector has heavily invested in research & development to reduce vehicle body weight and enhance mileage.
To reduce weight, automakers have invested in adopting materials such as aluminum, carbon fiber, plastics, and others. Despite plastics having much lower share compared to HSS and AHSS used in automotive applications, demand for plastics in the automotive sector is anticipated to expand at 7% CAGR over the forecast period.
Currently produced performance polymers have considerably different applications, such as bumper facia, side beams, and others, which are not comparable to AHSS, HSS, and CFRP on multiple grounds. Therefore, automakers are collaborating with polymer/plastic manufacturers to produce a plastic that could act as a key contender to HSS and AHSS, thus reducing overall weight of automobiles and reaching emission standards much faster than currently set by policymakers across the globe.
Automotive sector growth, not only in terms of valuation but also in technological terms, will bolster demand for reactor TPOs over the coming years.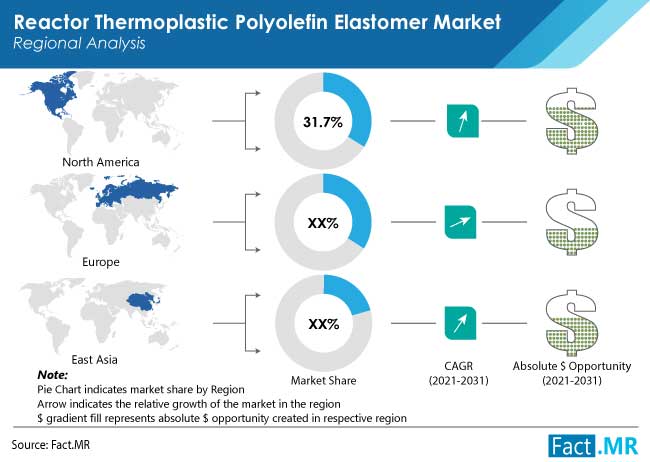 Country-wise Analysis
Does Growth of EVs Provide an Edge to Producers of Reactor TPOs in China?
In 2020, consumption of reactor TPOs in China mounted to 44 KT, which is anticipated to reach 71 KT by 2031.
Currently, China dominates the demand and supply of electric vehicles across the globe. It is anticipated that, with subsidy support provided by the government, demand is anticipated to bolster over the medium term.
This boost in demand is set to enhance the sense of competition among EV automakers in the country to reduce the weight of automobiles and enhance efficiency, which is set to drive demand for performance polymers, including demand for reactor TPOs for electric vehicles.
Growing application of RTPO for bumper fascia coupled with gradual diversification of auto part manufacturers for sales of reactor-TPO exterior trim parts will enhance application of RTPOs in EVs in the future.
With this boost, key manufacturers in the country - SINOPEC and North Huajin Chemical Industries Co., Ltd - will benefit owing to economies of agglomeration and support from the regional government providing an ease of market access
What Makes the U.S. a Prominent Market for Reactor Thermoplastic Polyolefin Elastomers?
Over the period of 2016-2020, the United States reactor thermoplastic polyolefin elastomers market grew at a pace of 3.3% CAGR and reached the mark of 162 KT in terms of consumption. Reactor TPO consumption is anticipated to reach 278 KT by 2031 at 5.3% CAGR.
Key manufacturers positioned in the United States are Formosa Plastics, LyondellBasell, and Borealis, with production capacities of around 40 KT, 100 KT, and 20 KT, respectively. These manufacturers channel reactor TPOs especially to automakers through the in-house compounding process. This has strengthened the supply chain of reactor TPO with strong price points and minimum variations across the country.
Southeast United States is currently under the spotlight of reactor TPO suppliers across the globe. Over the past half-decade, Southeast U.S. has observed potential growth in terms of auto-production and sales. Of the states in this region, Alabama, followed by Carolina, is densely populated with tier-1 and tier-2 automakers such as Hyundai, Mercedes Benz, Toyota, Honda, Mazda, VW, GM and others. These companies are strengthening the procurement of reactor TPOs and other TPO compounds under a collaborative sales channel.
On the macro side, the region is the 2nd largest and fastest-growing auto-market, and is a potential market with unexplored economies of agglomeration in the U.S. In addition to this, stringent vehicle emission standards adopted by the U.S. under CAFÉ standards are driving demand for lightweight materials, including reactor TPOs.
How is Reactor TPO Demand Shaping Up across Established & Evolving Markets?
South Korea: The South Korean economy relies heavily on key companies such as Samsung, Hyundai, Hyosung, LOTTE, etc. These companies have a strong bond with regional industries, ranging from automotive, medical to packaging. This provides an extensive support for Korean makers to channel products locally without added cost of exporting the product to other countries.
This factor is expected to drive demand for RTPO resins in South Korea, expected to increase 1.4X over the decade.
Japan: Japan Polypropylene is a prominent manufacturer of reactor TPOs in the country, with its proprietary renowned technologies used by prominent manufacturers such as Sumitomo chemicals, Formosa Plastics, and others.
In 2020, demand for advanced reactor TPOs reached nearly 70% of overall sales of advanced reactor TPOs in Japan, which is anticipated to gain 30 BPS over the decade.
On the demand side, Japan automakers such as Toyota, Mitsubishi, Subaru, Isuzu, Kawasaki, Yamaha, Nissan, and Suzuki are key consumers of reactor TPOs.
Germany: Germany is known for its excellence in the automotive sector with outstanding engineering capabilities. Prominent reactor TPO manufacturers positioned in the country, such as Borealis and LyondellBasell, serve key automakers such as Mercedes-Benz, Audi, BMW, and Volkswagen.
Strong collaborative approach among automakers and manufacturers of reactor TPOs is set to bolster demand for reactor TPOs from the automotive sector in Germany over the coming years.
Interested to Procure The Data
Category-wise Analysis
Why is the Medical Sector Anticipated to Hold Strong Market Position in the Reactor TPO Space?
Over the past-half decade, prominent manufacturers of reactor TPOs such as LyondellBasell, Japan Polypropylene, and Borealis, among others, have developed and introduced product line of reactor TPOs for medical applications.
Production capacity of medical grade RTPO resins by these companies is 5%-6% of the overall reactor TPO production capacity held by these companies.
COVID-19 has changed the demand scenario for medical equipment across the globe. In Q3 and Q4 of 2020, prominent developed and developing countries were suffering from essential medical equipment deficits at hospitals. This has not only driven the price of the equipment, but has also boosted demand for compatible plastic materials such as RTPO, TPO, PEKK, and PEEK, among others.
Recently, prominent reactor TPO and TPO manufacturers such as Trisneo, SABIC, LyondellBasell, and Borealis have shifted their short-term strategic focus towards the medical sector from the automotive sector.
Rising demand for plastics from medical equipment manufacturers will act as a cushion for TPO manufacturers across the globe. Consumption of reactor TPOs for medical application is anticipated to gain 1.7X market valuation over the period of 2021 to 2031.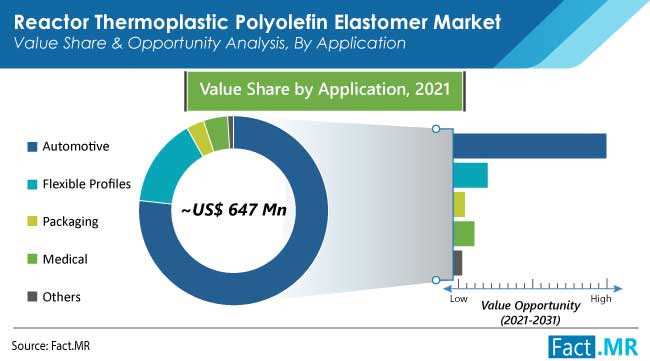 How is Rise in EV Production Opening Doors for Reactor TPO Producers?
According to IEA, over the past half-decade, growth of the electric vehicles sector represented 40% CAGR. In terms of regions, currently, China dominates the demand and supply of electric vehicles, especially passenger light-duty vehicles.
Strong EV market growth provides a picture of higher need for lightweight materials. Higher demand for lightweight materials will not only reduce the current prices of cars, but also reinforce the demand momentum of EVs over the coming years.
Apart from EVs, hydrogen-powered vehicles are gaining traction in the U.S., Korea, and Japan, owing to strong hydrogen infrastructure created in these countries. Lightweight materials play a prominent role in enhancing the mileage of all automobiles, including hydrogen-powered vehicles.
Policymakers across the globe are stressing on the adoption of EVs and are setting up administrative and non-administrative orders by providing subsidies for buying electric vehicles and promoting key EV brands as part of the policy.
Rising fuel prices in India are changing the picture of the automotive sector in the country. Consumers are now inclining towards EVs for enhancing their savings over the long run. As such, Tesla has found an opportunity to invest in the country and is currently planning on starting an EV plant in Karnataka, India.
These positive developments will open the doors for reactor TPO manufacturers across the globe to incline towards EV manufacturers.
Competitive landscape
Of these manufacturers, prominent reactor TPO technology providers are LyondellBasell, Japan Polypropylene and Borealis. These providers hold dominance not only over technology but also in terms of supply of reactor TPOs across the globe.
Apart from the technological point of view, top three technological leaders in the reactor thermoplastic polyolefin elastomer market held a whopping 60% share of overall production capacity.
In 2017, SABIC tried to tap the Chinese automotive market by highlighting the topic of lightweight material technologies. SABIC took the advantage and advanced its communications with automakers in China for a collaborative approach to enhance its product portfolio and auto part development.
In 2019, Borealis invested in a polypropylene (PP) compounding plant, which will enhance the supply capabilities of TPO and reactor TPOs. This new plant is strategically located in the U.S.; the location serves tier-1 manufacturers in Southeast United States.
Reactor TPO Market Report Scope
Attribute

Details

Forecast Period
2021-2031
Historical Data Available for
2016-2020

Market Analysis

Value in US$ Mn, Volume in Tons

Key Regions Covered

North America
Latin America
Europe
East Asia
South Asia
Oceania
Middle East Africa

Key Countries Covered

U.S.
Canada
Mexico
Brazil
Argentina
Germany
Italy
France
U.K.
Nordic
Spain
Japan
China
India
Malaysia
Thailand
Australia
GCC Countries
South Africa
Turkey

Key Market Segments Covered

Resin Type
Application
Region

Key Companies Profiled

SABIC
Borealis
BP
Formosa Plastics
Hanwha, Hyosung
Japan Polypropylene
Lotte Chemicals
Lyondellbasell
MOL Slovnaft
North Huajin Chemical Industries Co., Ltd.
Prime Polymer
SINOPEC
Sumitomo Chemical
SunAllomer
Trinseo

Pricing

Available upon Request
Key Segments Covered in Reactor Thermoplastic Polyolefin Elastomer Industry Research
Resin

Application

Reactor TPOs for Automotive

Interior

Side Covers
Pillars
Dashboard, Door Panel and Armrest
Floor Mat
Others

Exterior

Side Rails
Side Cladding
Bumpers
Others

Reactor TPOs for Flexible Profiles

Hoses & pipes
Roofing Membranes
Geomembranes
Foam Sheet
Residential Flooring

Reactor TPOs for Packaging
Medical Reactor TPOs

Film
Tube
Injected Parts
Others