Thermoplastic Polyolefin Elastomers (TPO) Market
Thermoplastic Polyolefin Elastomers (TPO) Market Analysis By Product Type (Blended, Dynamically Cross-linked, Polymerized), By Processing Method (Injection Molding, Extrusion Molding), By Application (Soft Components, Hard Components), By End-use, By Region - Global Insights to 2031
FACT6952MR
Oct-2021

List of Tables : 98

List of Figures : 161

170 Pages
Market Outlook for Thermoplastic Polyolefin Elastomers (TPO)
Latest study by Fact.MR on the thermoplastic polyolefin elastomers (TPO) market reveals that consumption over the past half-decade increased by 4% CAGR to 1,890 KT in 2020. TPO consumption is anticipated to surpass 2,890 KT by the end of 2031 at 4.7% CAGR. Key factor behind market growth is divestment opportunity opted for by key stakeholders in the TPO business.
Thermoplastic polyolefin elastomers, before directly reaching the market in various product forms, such as automotive parts and medical equipment, bypass through compounders and reach downstream product manufacturers. TPOs undergo a complex value and supply chain, which has been explained in detail in the recent report published by Fact.MR.
Interested to Procure The Data
Key Points Covered in Thermoplastic Polyolefin Elastomers Industry Survey:
Market Estimates and Forecasts (2016-2031)
Production Capacity Analysis of Prominent Manufacturers
Reactor Thermoplastic Polyolefin Elastomer Pricing Analysis
Product Pricing Optimization Strategy
Rate of Utilization of TPO Elastomers in Roofing
Rate of Utilization of TPO Elastomers in Packaging
Sales of TPO Resins
Demand for TPO in Automotive Sector
Demand for Polyethylene (PE) based Thermoplastic Polyolefin Elastomers
Demand for Polypropylene (PP) based Thermoplastic Polyolefin Elastomers
Key Drivers and Restraints Shaping Market Growth
Segment-wise, Country-wise, and Region-wise Analysis
Competition Mapping and Benchmarking
Market Share Analysis
COVID-19 Impact on Reactor Thermoplastic Polyolefin Elastomer Sales and How to Navigate
Recommendation on Key Winning Strategies
Historical (2016 to 2020) Vs Future (2021 to 2031) Consumption Analysis of Thermoplastic Polyolefin Elastomers
As per Fact.MR, a market research and competitive intelligence provider, consumption of TPOs over the past half-decade has observed huge twists and turns on the back of gradual market diversification. Demand for TPO elastomers mounted to 1,890 KT in 2020, and is anticipated to reach 2,890 KT by 2031.
In 2020, demand declined by near 4% points due to the force majeure of prominent TPO businesses coupled with stringent lockdowns implemented across regions that slashed product orders from compounders. This not only affected demand for TPOs but also shrunk the margins of stakeholders. Unplanned quarterly demand declination skyrocketed the costs associated with inventory and de-scaling of plants.
On the other side of the coin, medical & healthcare end-use of thermoplastic polyolefin elastomers, such as syringe tips, peristaltic tubes, and medical device components, gained robust market growth over the period of Q3 2020 to Q1 2021. This supported market growth over the same period.
Over the forecast period, the market is set to recover over three assessed stages:
Short-run: Demand for thermoplastic polyolefin elastomers is anticipated to regain its normal growth rate by Q4 of 2021.
Medium-run: Over this term, TPO manufacturers would increase their investments in providing exclusive grades for medical and building & construction applications.
Long-run: Market risk factors are anticipated to grow by twofold over this period on the back of rising number of substitutes for automotive and building & construction applications. Use of thermoplastic polyolefin elastomers in building & construction is anticipated to hold exclusivity by the end of this period.
An Adaptive Approach to Modern-day Research Needs
What are the Key Barriers Faced by Thermoplastic Polyolefin Elastomer Suppliers?
Thermoplastic polyolefin elastomers are simple polymer compounds that were initially launched in the market by keeping the automotive industry in focus. Elastomers, fillers, and other compounds are blended together and followed by particular compounds of TPOs that are produced for different applications.
Complex value and supply chain of TPOs before they reach the final consumer increases overall price of the product and lowers the trust index of end users.
Apart from the complex supply and value chain, presence of a number of substitutes such as compounded TPOs, POEs, and thermoplastic vulcanizates (TPVs) among other potential materials, which have the same properties could be utilized by automakers and building & construction end users at a comparatively lower price point at compounder and end-user nodes of the supply chain.
Therefore, the presence of multiple risk factors in the TPO elastomers market will act as hurdles for strong market growth over the coming years.
What are the Key Factors Driving the TPO Market?
Thermoplastic polyolefin elastomers are the most preferred material by automakers for a range of interior and exterior applications. Apart from preference, strong integration of TPOs and positive network externalities by automakers across the globe have driven demand.
In 2020, the medical sector acted as wedge to the TPO market and assisted it out of steep decline amidst COVID-19. Syringe tips and peristatic tubes have gained enough thrust in the market on the back of strong demand for healthcare equipment across the globe. This has been a driving factor for the TPO market since Q2 2020.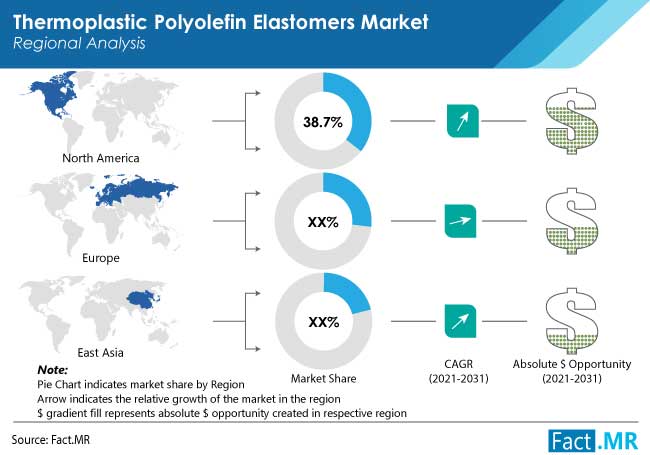 Country-wise Analysis
Why Does Economies of Agglomeration Prevail in United States TPO Market?
Over the past half-decade, the United States market burgeoned at 6% CAGR and reached a mark of 550 KT in terms of consumption. Consumption of TPOs is anticipated to increase at a CAGR of 6.2% over the forecast period on the back of strong growth in investments from medical and automotive industries.
Prominent TPO manufacturers positioned in the United States are LyondellBasell, Formosa Plastics, Borealis, Dow, and ExxonMobil, to name a few, who have strong sales with automakers and medical goods manufacturers across the country. Moreover, ease of reach to manufacturers reduces overall truckload costs and enhances overall margins of TPO resin manufacturers in the country.
Manufacturers, over the past decade, have reaped the benefits from optimum cost factors and ease of access, and market reach has strengthened the economies of agglomeration in the country.
How Will Electric Vehicles Sales Growth Bolster Demand for TPOs in China?
Currently, China holds the flag of the global electric vehicles market dominance. Key factor driving the country is policies adopted by China of incentivizing and subsidizing the purchase of electric vehicles in the country.
Increase in production of electric vehicles cascades the effect to the adoption of lightweight materials in the market, such as TPOs, POEs, and TPVs, among others.
In 2020, demand for TPO elastomers in China reached a mark of 160 KT, and is anticipated to surge to 270 KT by 2031.
How Has TPO Demand been Shaping across Established & Evolving Markets?
South Korea: South Korea has lower cost of producing downstream petrochemicals despite negligible crude oil production in the country. This is prominently on the back of constant debottlenecking and localization of TPO consumption.
Strong demand conditions domestically will assist market growth by 5% CAGR over the forecast period. Key manufacturers of TPO elastomers in South Korea supporting the local automotive and packaging industry are Lotte Chemical, Hanwha, and others.
Japan: Japan is hub for renowned automakers such as Isuzu, Subaru, Mitsubishi, Toyota, Kawasaki, Suzuki, etc. These companies are key consumers of TPOs produced by Japan Polypropylene, Mitsubishi Chemicals, Prime Polymers, and Sumitomo Chemicals. This favours economies of agglomeration or proximity in the country to a large extent.
Avail customized purchase options for your needs
Category-wise Analysis
Why are Hard Components Currently Dominating Sales of TPO Polymers?
TPOs are predominantly used to manufacture hard components in automotive, kitchen, and medical applications. Consumption needs of TPOs and patterns leave a trail of strong consumption of hard components of TPOs across industries.
According to Fact.MR, in 2020, 1,185 KT of TPOs was consumed by compounders to produce hard components. Demand for hard TPO components is anticipated to rise at 4.6% CAGR over the period of 2021-2031.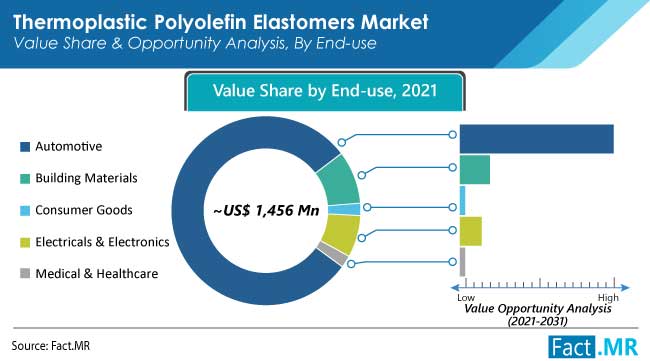 Why is the Automotive Industry the Flagbearer of the TPO Market?
Automotive is considered to be the backbone of TPO market growth over the past half-decade, and is anticipated to remain a workhorse over the forecast period as well.
Despite market diversification, rate of consumption of TPOs in the automotive industry stood at 79% of overall TPO consumption in 2020, which is equivalent to 1,444 KT in the same year.
Competitive landscape
Top players in the thermoplastic polyolefin elastomers market are Borealis, Formosa Plastics, Japan Polypropylene, Lyondellbasell, and Sumitomo Chemicals. These manufacturers reap the benefits of economies of scale and generate competitively higher margins over the amount of product sold.
In 2019, Borealis invested in a polypropylene (PP) compounding plant, which will enhance its supply capabilities of RTPOs and TPOs. This new plant is strategically located in the U.S. and shall serve tier-1 automakers in Southeast United States.
Over the past half-decade, ExxonMobil is on a spree of expanding its thermoplastic elastomer production facilities in the United States. This is on the back of rising demand for plastic automotive parts in the U.S.
TPO Market Report Scope
Attribute

Details

Forecast Period

2021-2031

Historical Data Available for

2016-2020

Market Analysis

Value in US$ Mn, Volume in Tons

Key Regions Covered

North America
Latin America
Europe
East Asia
South Asia & Oceania
Middle East Africa

Key Countries Covered

U.S.
Canada
Mexico
Brazil
Mexico
Argentina
Germany
Italy
France
U.K
Nordic
Spain
Japan
China
India
Malaysia
Thailand
Australia
GCC Countries
South Africa
Turkey

Key Market Segments Covered

By Product Type
By Processing Method
By Application
By End Use
By Region

Key Companies Profiled

HEXPOL AB
RTP Company
Mitsubishi Chemicals
LyondellBasell
Celanese
Elastron TPE
Dow
Aurora Plastics LLC
ExxonMobil
Solvay S.A.

Pricing

Available upon Request
Thermoplastic Polyolefin Elastomers Market: Key Segments
Product Type

Blended
Dynamically Cross-linked
Polymerized

Processing Method

Injection Molding
Extrusion Molding
Blow Molding

Application

Soft Components
Hard Components

End-use

Automotive

Exterior

Weather Seals
Mudguards
Air Intake Hose
Glass Run Channel
Others

Interior

Dashboard Skin
Airbag Cover
Seat Backboard
Armrest covers
Assist Grips
Others

Building Materials
Consumer Goods

Sporting Goods
Kitchen appliances
Others

Electricals & Electronics

Wire & Cable insulation
Plugs
Bushings
Connectors
Others

Medical & Healthcare

Syringe Tips
Peristaltic Tubes
Medical Device Components

Others