Thermoplastic Elastomers Market
Thermoplastic Elastomers Market Analysis, By Type (Styrenic Block Copolymers, Thermoplastic Polyurethanes, Thermoplastic Polyolefins, Copolyester Ether Elastomers, TPVs), By End-use Industry (Automotive, Footwear, Engineering, Medical) - Global Market Insights 2022 to 2032
Analysis of Thermoplastic Elastomers Market Covering 30+ Countries Including Analysis of US, Canada, UK, Germany, France, Nordics, GCC countries, Japan, Korea and many more
Thermoplastic Elastomers Market Growth Outlook (2022-2032)
The market for thermoplastic elastomers (TPEs) is estimated at US$ 21 billion in 2022 and is forecasted to reach US$ 38.8 billion by the end of 2032.
Worldwide demand for thermoplastic elastomers is set to escalate at a CAGR of 6.3% over the next ten years.
The thermoplastic elastomers (TPE) market is expected to be driven by rising demand for lightweight and flexible materials in several end-use industries such as automotive, construction, and medical. Thermoplastic elastomers have characteristic properties such as wear resistance, scratch resistance, smooth finish, foldability, and heat stability, which makes them a perfect choice for a wide scope of applications across industries.
An increasing focus on sustainability is anticipated to propel the demand for bio-based thermoplastic elastomers going forward. Rising demand for electric vehicles, rapid industrialization, increasing demand for lightweight automotive components, surging construction activities across the world, and regulatory norms to ensure the reduction of carbon emissions are some other factors that could potentially boost market potential in the future.
In April 2021, Audia Elastomers, a leading name in the elastomers market announced the launch of its new line of sustainable thermoplastic elastomers, which was an industry-first as per consumer and brand owner needs. The AudiaFlex™ family of materials has customizable grades of TPEs that are made from bio-based and marine-based sources of post-consumer and post-industrial use.
The production of TPEs is a more capital-intensive process than its other alternatives such as polyurethane and PVC, which makes the end product an expensive one and thus, hampers sales of thermoplastic elastomers. Fluctuations in raw material pricing are also a major constraint for the overall market development going forward.
A robust manufacturing and industrial infrastructure in China makes it a highly lucrative market for thermoplastic elastomers and makes it the largest market in the Asia Pacific region. Robust manufacturing activity, increasing automotive production, and supportive government initiatives are some other factors that favour market potential in China.
The market for thermoplastic elastomers in China is predicted to race ahead at a CAGR of 8% and accumulate a sales revenue of US$ 5.9 billion by the end of 2032. Polyester ether elastomers (COEPs), polyether block amide elastomers (PEBAs), thermoplastic polyurethane elastomers, and thermoplastic polyester elastomers are expected to witness noteworthy increase in demand in China over the coming years.
Report Attributes

Details

Thermoplastic Elastomers Market Size in 2022

US$ 21 Billion

Projected Market Value (2032F)

US$ 38.8 Billion

Global Market Growth Rate (2022-2032)

6.3% CAGR

Automotive Segment Market Share (2021)

40%

Canada Market Growth Rate (2022-2032)

4.7% CAGR

United States Market Value (2022)

US$ 5.5 Billion

Germany Market Growth Rate (2022-2032)

4.4% CAGR

Key Companies Profiled

Arkema S.A.
BASF SE
EMS Group
Bayer Material Science LLC
Evonik Industries
LG Chemicals
LCY Chemical Corporation
Huntsman Corporation
Kraton Polymers LLC
The Dow Chemical Company
TSRC Corporation
Avient Corporation
Dynasol Elastomers LLC
What is Shaping the Future of the Market for Thermoplastic Elastomers?
"Rising Focus on Sustainability to Benefit Market Players Substantially"
Increasing consumer awareness of environmental conservation and sustainability has pushed industries to provide eco-friendly products and this is expected to drive demand for bio-based thermoplastic elastomers throughout the forecast period and create new opportunities in the thermoplastic elastomers market.
Companies are expected to collaborate and create new partnerships to use combined expertise and develop novel solutions for the marketplace.
In June 2021, Avient Corporation, a leading provider of sustainable materials and solutions announced that it would be collaborating with Oceanworks to help customers use recycled ocean plastics in their products. The companies had previously collaborated in 2020 to launch reSound™ R recycled content thermoplastic elastomers (TPEs).
New companies are also making inroads into the global thermoplastic elastomers industry by creating innovative products from thermoplastic elastomers.
Adient, an automotive seating manufacturing start-up founded in 2016 won awards for its innovative reinforced automotive seats made of thermoplastic elastomer panels called UltraThin seating. The panels are made of recyclable thermoplastic elastomers.
More about recent market developments and key product launches has been discussed in this brand-new thermoplastic elastomers industry survey by Fact.MR, a market research and competitive intelligence provider.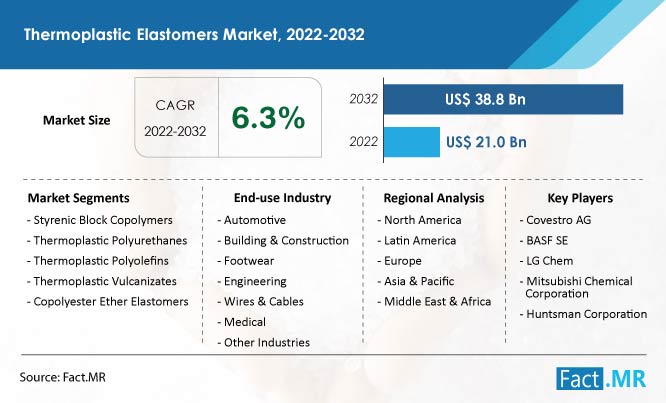 Country-wise Insights
What Makes the United States a Profitable Market for Thermoplastic Elastomer Manufacturers?
"Substantial Presence of Automotive Production Facilities & High Demand for Eco-friendly Materials"
The United States is home to some of the most prominent automotive manufacturers in the world and has a robust automotive manufacturing sector that is anticipated to attract thermoplastic elastomer suppliers. Increasing demand for lightweight and fuel-efficient vehicles and vehicle components is also expected to favor thermoplastic elastomer shipments in the country over the coming years.
The growing use of eco-friendly and biodegradable materials in several industry verticals is also anticipated to uplift thermoplastic elastomer sales in the country through 2032. The rapid adoption of novel manufacturing technologies, supportive government initiatives, and high investments in research and development are other factors that shape the market growth trajectory indirectly in the United States. In 2022, sales of thermoplastic elastomers account for a sales revenue of US$ 5.5 billion.
Why are Japan & South Korea Key TPE Markets in Asia Pacific?
"Robust Automotive Production & Surging Manufacturing Activity"
Japan and Korea are both home to some of the most prestigious and renowned automotive manufacturers such as Honda, Hyundai, Toyota, Kia, etc., and recently the automotive production from such manufacturers has increased notably, which is expected to drive thermoplastic elastomer shipments in these countries.
Moreover, supportive government initiatives to incite economic growth and boost industrial activities are also expected to uplift sales of thermoplastic elastomers over the next ten years.
Which Country Has Market Potential in the European Region?
"Germany Expected to Be Important TPE Market"
Germany is home to some of the world's most significant automotive manufacturers and has a lucrative automotive manufacturing industry as well, this makes it a highly rewarding market for thermoplastic elastomers. Increasing sales of electric vehicles and growing demand for lightweight automotive components are other factors that could favor thermoplastic elastomer sales in this European country. The market for thermoplastic elastomers in Germany is slated to exhibit expansion at 4.4% CAGR over the next ten years.
However, the debt crisis, inflation, and changing political landscape in the United Kingdom are expected to have a negative impact on the overall market potential in the European region in the long run.
Category-wise Insights
Why are TPE Manufacturers Focusing on the Automotive Industry?
"High Use of Thermoplastic Elastomers in Automotive Components"
Based on end-use industry, the market for thermoplastic elastomers is segmented into automotive, building & construction, footwear, wires & cables, medical, engineering, and other industries.
In recent years, a hike in automotive sales has been observed across the world and this has led to a heightened automotive and automotive component production activity, which is expected to primarily boost TPE market development in the long run. Moreover, key players in the thermoplastic elastomers market are focusing on launching new products that are designed for use in automotive and several other industries to expand their business scope.
In May 2021, Avient, a leading specialized polymer manufacturing company announced the addition of three new proprietary TPE formulations that are laced with antimicrobial additives to its existing GLS TPE product portfolio. The additives inhibit bacterial growth and resist mold growth as well and are suitable for automotive applications along with other industrial applications.
Mexico is emerging as a favorite for automotive manufacturers owing to cheap labor costs, high availability of raw materials, and low production costs, which is expected to make it a highly attractive market for thermoplastic elastomer suppliers over the coming years. Renowned automotive manufacturers such as Mercedes, BMW, and Toyota have put up production plants in Mexico to boost their profit margins.
The automotive industry accounted for around 40% of the global thermoplastic elastomer sales in 2021 and is projected to maintain a similar dominant stance across the forecast period.
Competitive Landscape
Prime companies in the thermoplastic elastomers market are focusing on mergers and acquisitions to expand their business potential and expand their revenue generation capacity over the coming years.
In January 2022, Huber Engineered Materials a subsidiary of J.M. Huber Corporation announced the completion of the acquisition of RHI Magnesita's 50% ownership stake in a joint venture with Magnifin Magnesiaprodukte GmbH & Co. KG that was signed in May 2021. This acquisition strengthened Huber's portfolio for additive business for elastomers and thermoplastics.
In December 2021, Pexco LLC, a leading plastic extruder in the North American region announced the acquisition of Performance Elastomers Corporation (PEC), based in Ohio. The company specializes in manufacturing dense and sponge, thermoplastic, and rubber-based elastomer products.
Segments of Industry Research
By Type:

Styrenic Block Copolymers (SBCs)
Thermoplastic Polyurethanes (TPUs)
Thermoplastic Polyolefins (TPOs)
Thermoplastic Vulcanizates (TPVs)
Copolyester Ether Elastomers

By End-use Industry:

Automotive
Building & Construction
Footwear
Wires & Cables
Medical
Engineering
Other Industries

By Region:

North America
Latin America
Europe
APAC
MEA
- FAQs -
The global thermoplastic elastomers market is valued at US$ 21 billion in 2022.
The market for thermoplastic elastomers is expected to be valued at US$ 38.8 billion by 2032.
Worldwide demand for thermoplastic elastomers is forecasted to rise at 6.3% CAGR through 2032.
Increasing focus on sustainability and rising demand for bio-based thermoplastic elastomers are expected to provide new opportunities for thermoplastic elastomer companies.
Fluctuating raw material prices and replacement of intra-thermoplastic elastomers are major challenges for market growth.
Rising demand for lightweight automotive components, changing consumer preferences, and growing demand for lightweight high-performance materials in several industries are key drivers for the market.
The automotive industry is anticipated to single-handedly boost the growth of the TPE market over the coming years.