Engineering Thermoplastic Market
Engineering Thermoplastic Market Analysis By Product Type (Amorphous, Semi-crystalline Engineering Thermoplastic), By Product Shape (Sheets, Rods, Tubes), By End-Use Industry, By Region - Global Insights to 2031
FACT5971MR
May-2021

List of Tables : 104

List of Figures : 175

170 Pages
Engineering Thermoplastic Market Outlook
The global engineering thermoplastic market size is projected to grow from US$ 246 Bn in 2020 to US$ 464 Bn by 2031, demand of engineering thermoplastics is expanding the market at a CAGR of approx. 6%. The plastic industry is making significant contributions to the economic development and growth of various key sectors across regions. In 2020, engineering thermoplastics held almost 20% share of the global plastic market.
Engineering thermoplastics remains the most sought-after material, owing to their chemically independent macromolecules having the simplest molecular structure. Demand for high-performance engineering thermoplastic is expected to surge, while demand for amorphous engineering thermoplastic and engineering thermoplastic polymers is also expected to increase over the coming years.
Engineering thermoplastics, being an advanced plastic material, have gained wide acceptance in several end-use industrial projects such as green buildings, owing to their superior performance. Companies providing engineering thermoplastics have extensive expertise in these end-use industries. Further, there exists strong investor backing, which has contributed to the growth of companies through the acquisition strategy.
By means of acquisition, companies have obtained high-quality technical knowhow, additional service portfolios, and broadened geographic reach with localized teams. These assets have allowed companies to quickly grow into global providers offering end-to-end capabilities and leveraging best-in-class solutions, and become well-known brands for high-quality service delivery.
Foremost objective of the new report by Fact.MR on the engineering thermoplastic market is to pitch insights on the purchase growth scenario, demand generators, and development strategies in this space. The report provides a taxonomy elaborating on key segments.
The report also outlines visionary insights on the market dynamics, including the drivers, restraints, opportunities, trends, and pricing analysis. Demand trends have been tracked in 20+ high-growth countries, pointing towards countries in Europe, North America, and East Asia holding bulk of the share.
Interested to Procure The Data
Historical Trends Vs Future Market Projections
Historically from 2016 to 2020, use of engineering thermoplastics increased at around 5% CAGR, and the key factor assisting this growth was its advantages over traditional plastics. The market in 2016 was valued around US$ 201 Bn, expanding at a consistent pace. However, the advent of COVID-19 slowed down the growth rate of the market, globally.
The market is forecasted to expand at a CAGR of around 6% over the coming 10 years. Prime factors influencing growth are increasing dominance of engineering thermoplastics in numerous end-use industries such as packaging and automobiles, and availability of bio-sourced plastics as a non-oil alternative source to thermoplastic industries.
Also, worldwide consumer spending on technical products is expected to reach US$ 2 trillion by 2023. As such, demand for engineering thermoplastic is expected to surge with its usage in consumer electronics, owing to its high fire resistance properties that provides safety to users. This enhances the opportunity for engineering thermoplastic suppliers to increase overall market sales and recover from the impact of COVID-19 during the forecast period.
What are the Key Opportunities for Engineering Thermoplastic Manufacturers?
Plastics have extensively been used in the packaging industry due to their exceptional performance, accounting for over 30% of total materials. Plastic packaging commonly entails thermoplastics, including Polyethylene (PE), polyvinyl chloride (PVC), polypropylene (PP), and others. However, around 80% of plastic packages are discarded every year, which is creating demand for recyclable thermoplastics due to increasing circular economy initiatives.
Utilizing the differences of plastic floatability, flotation can separate mixed plastics that have little differences in density and charge. Electromagnetic identification is another means to separate mixtures of plastic. For example, chlorine scanning is used to separate PET from PVC when the two are mixed together.
Similarly, introduction of techniques to separate PET from plastic packaging waste will create an opportunity window for thermoplastic manufacturers. Furthermore, growing use of thermoplastics in fluid handling, medical equipment, and agricultural equipment is likely to create significant demand for engineering thermoplastics, further enabling manufacturers to expand their production capacity in the near future.
An Adaptive Approach to Modern-day Research Needs
Which Region Offers Larger Opportunity for Sales of Engineering Thermoplastic?
In 2020, Europe accounted for approximately 35% of the global sales volume of engineering thermoplastics. In 2017, the European plastic industry had a turnover of 355 billion euros, with a trade balance of more than 17 billion euros. With a multiplier effect of 2.4 in GDP and almost 3 in jobs, the European plastic industry provides direct employment to more than 1.5 million people.
The region is expected to offer around US$ 60 Bn absolute dollar opportunity from 2021 to 2031. The reason for such high market share is well-established end-use industries such as automobiles, household, construction, and packaging, in the region.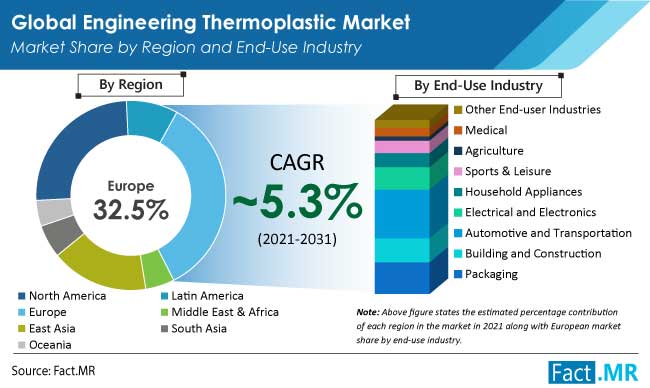 Country-wise Analysis
How Does Growth of the United States' Medical Industry Assist Engineering Thermoplastic Demand Rise?
As per statistics by SelectUSA, the United States remained the largest market for medical devices and equipment, generating around US$ 156 billion (40% of the global medical devices market) in 2017. By 2023, it is expected to grow to US$ 208 billion. Centers for Medicare & Medicaid Services has stated that, United States healthcare spending grew at 4.6 percent in 2019, reaching US$ 3.8 trillion or around US$ 11,500 per person, as compared to that of the previous year. Ever-increasing healthcare and medical spending is likely to create demand for medical polymers that are primarily used in devices and equipment for hip & joint replacement and spinal implants.
The U.S. currently holds a share of over 60% of North America's engineering thermoplastic consumption, and is expected to have sales value of nearly US$ 83 Bn by 2031. With this, the market in the country is expected to expand at a CAGR of nearly 8% over the next ten years.
What Makes Germany a Hub for Engineering Thermoplastic Demand?
The most promising industry in Europe, Germany, is favouring engineering thermoplastic application is the automotive industry. Most manufacturing companies in the country, including BASF SE, Evonik Industries AG, Lanxess AG, SGL Carbon SE, Covestro AG, and Röchling Group, are heavily investing in overseas expansion, partnerships, collaborations, and R&D to create more durable and result-oriented engineering thermoplastics with increased overall performance.
For instance, in March 2018, Lanxess AG announced a new thermoplastic specialty compounds facility in Krefeld-Uerdingen, Germany. This will increase the capacity of the facility by 10,000 metric tons per year. It will help the company cater to demand for polyamide-based compounds. Later, in March 2020, BASF and Hengst developed the world's first reusable plastic spin-on oil filter module for cars. Blue.on is a sustainable alternative to conventional spin-on modules made from metal, since it does not need to be replaced during filter change.
Absolute dollar opportunity in Germany is expected to be close to US$ 19 Bn over the forecast period, with the market expanding at a CAGR of around 7% through 2031.
What are the Factors Aiding Demand Growth of Engineering Thermoplastics in India?
India held around 48% share of South Asian engineering thermoplastic sales in 2020, and has experienced stable growth in recent times. Being a developing country, growth in demand for engineering thermoplastics is primarily dependent on the packaging and building & construction industry.
Furthermore, government-imposed ban on using non-recyclable plastics and a step towards sustainable living are driving the market for engineering thermoplastics in India. The country has huge demand for engineering thermoplastics catered by the strong footprint of big companies such as Reliance Industries Limited.
The market in India is anticipated to expand at a CAGR of close to 7% during the forecast period, with the absolute dollar opportunity for the country expected to be US$ 6.5 Bn from 2021 to 2031.
Avail customized purchase options for your needs
Category-wise Insights
Why are Semi-crystalline Engineering Thermoplastics the Most Popular?
Unlike amorphous thermoplastics, semi-crystalline thermoplastics form tough plastics due to their strong intermolecular forces. They have a highly ordered molecular structure with sharp melt points.
Semi-crystalline remain solid until a certain quantity of heat is absorbed, while amorphous materials soften gradually. Semi-crystalline engineering thermoplastics provide chemical resistance and perform extremely well in applications involving structural loads, as compared to that of amorphous engineering thermoplastics.
Owing to such advantageous properties, industries such as medical technology, jewellery, and watch manufacturing using amorphous thermoplastics can switch to semi-crystalline thermoplastics. Hence, overall demand for semi-crystalline thermoplastics will be higher as compared to that of amorphous thermoplastics.
Which Shape is More Preferred for Engineering Thermoplastic?
Thermoplastics are defined as polymers that can be melted and recast almost indefinitely. Shapes are produced from plastic resin and are marketed owing to their demand and usage by end-use industries. Demand for engineering thermoplastics in varied shapes is defined by end-use industries and their wide range of applications. The most preferred and marketed shape is tubes, as these can be easily machined and bonded to use in various industries.
Which End-use Industry Holds Lucrative Avenues for Engineering Thermoplastic Suppliers?
Thermoplastic polyester engineering resin is a high-performance material that has been used increasingly in the automotive industry in recent times, on account of low cost, high chemical tolerance, versatility in shape, and appearance. Growing demand for lightweight materials in the automotive industry is primarily responsible for rising demand for thermoplastic polyester engineering resin, in order to provide increased efficiency and flexibility in design. Furthermore, demand for more sustainable packaging by environmental-concerned consumers will hold a lucrative avenue for manufacturers whole will witness increased demand for engineering thermoplastic in the packaging industry.
How Has COVID-19 Shrunk Sales of Engineering Thermoplastic?
COVID-19 showcased a momentary impact on the chemicals and materials industry, leading to a drastic drop in manufacturing and disruption in supply chains. Regulatory bodies imposed stringent regulations resulting in complete halt of overall operations in end-use industries, which, in turn, significantly impacted engineering thermoplastic sales.
Actual growth forecasted globally in the pre-crisis period resulted in an absolute dollar opportunity of US$ 342.1 Bn, which became an absolute dollar opportunity of US$ 204.4 Bn due to the pandemic crisis. During the pandemic, the market for engineering thermoplastic products witnessed a loss in value of US$ 12.7 Bn. However, the industry is expected to recover under the V-shape recovery model between 2020 and 2022.
What are the Factors Affecting the Price of Engineering Thermoplastic?
There are many factors that impact the prices of engineering thermoplastics. Apart from physical materials needed to create thermoplastics, there are human capital, energy, engineering, operational, packaging, transportation, and other hidden costs. However, the main components for determining cost are feedstock and additives. Fluctuating prices of additives such as glass fibers, ceramic fillers, thermally conductive resins, and pre-compounded resins have a major impact on the overall pricing of engineering thermoplastics.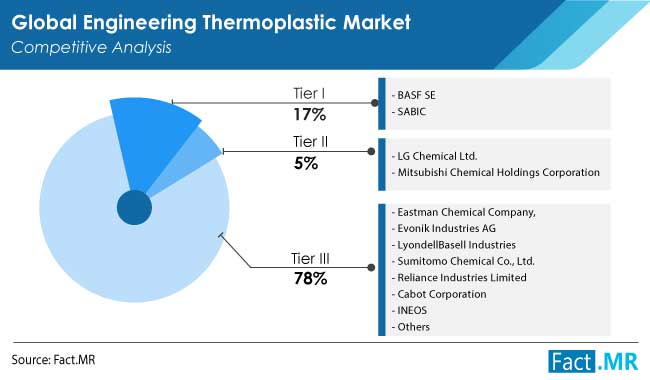 Competitive Landscape
Majority of the companies discussed in the report have focused on expanding their manufacturing units in developing regions. Strategies include innovation, collaborations with key players, partnerships, acquisitions, strategic alliances, and strengthening of regional and global distribution networks. Some of the key development are:
In January 2020, BASF closed the acquisition of Solvay's polyamide (PA 6.6) business. The transaction broadens BASF's polyamide capabilities with innovative and well-known products such as Technyl.
In November 2018, SABIC expanded its PP portfolio with a new impact copolymer that offers aesthetically appealing surfaces with potentially significant cost savings for home appliances & consumer goods.
In July 2018, LyondellBasell announced a partnership with the Karlsruhe Institute of Technology (KIT) in Germany, to advance the chemical recycling of plastic materials and assist the global efforts towards the circular economy and plastic waste recycling needs.
Similarly, recent developments related to companies manufacturing engineering thermoplastics have been tracked by the team at Fact.MR, which is available in the full report.
Report Scope
Attribute

Details

Forecast Period

2021-2031

Historical Data Available for

2016-2020

Market Analysis

US$ Bn for Value

Key Regions Covered

North America
Latin America
Europe
MEA
East Asia
South Asia and Oceania

Key Countries Covered

United States
Canada
Brazil
Mexico
Colombia Germany
U.K.
France
Spain
Italy
South Africa
GCC Countries
Turkey
China
Japan
South Korea
India
Indonesia
Malaysia
Singapore
Australia
New Zealand

Key Segments Covered

Product
Shape
End-use Industry
Region

Key Companies Profiled

BASF SE
LG Chemical Ltd.
Eastman Chemical Company
Evonik Industries AG
LyondellBasell Industries
SABIC
Sumitomo Chemical Co., Ltd.
Reliance Industries Limited
Cabot Corporation
Showa Denko Materials Co., LTD.
3M
INEOS
DowDuPont
Mitsubishi Chemical Holdings Corporation
Nan Ya Plastics Corporation
Teijin Limited
Arkema S.A
Lanxess AG

Other Stakeholders Analysed

ACME PLASTICS, INC.
Aetna Plastics Corp.
Celanese Corporation
Huntsman Corporation
ExxonMobil Chemical
Continental Structural Plastics Inc.
Chevron Phillips
SGL Carbon SE
Covestro AG
Dutch State Mines (DSM)
Solvay S.A.
Radici Partecipazioni SpA
Röchling Group
Asahi Kasei Corporation
Toray Industries
Daicel Corporation (Polyplastics Co., Ltd.)
Chi Mei Corporation
Perfect Polymers
Alro Steel
Boedeker Plastics, Inc.
Key Market Segments Covered
By Product Type

Amorphous Engineering Thermoplastic

Styrene Copolymers (ABS/SAN)
Polycarbonate (PC)
Polymethyl methacrylate (PMMA)
Polyphenylene Oxide (PPO)
Others

Semi-crystalline Engineering Thermoplastic

Thermoplastics Polyesters (PBT/PET)
Polyamide (PA)
Fluoropolymers (PTFE / Teflon)
Polyacetals (POM)
Polyether Ether Ketone (PEEK)
Polyphenylene Sulfide (PPS)
Others

By Product Shape

Engineering Thermoplastic Sheets
Engineering Thermoplastic Rods
Engineering Thermoplastic Tubes
Engineering Thermoplastic Film
Custom Engineering Thermoplastic

By End-Use Industry

Engineering Thermoplastic for Packaging
Engineering Thermoplastic for Building and Construction
Engineering Thermoplastic for Automotive and Transportation
Engineering Thermoplastic for Electrical and Electronics
Engineering Thermoplastic for Household Appliances
Engineering Thermoplastic for Sports & Leisure
Engineering Thermoplastic for Agriculture
Engineering Thermoplastic for Medical Use
Engineering Thermoplastic for Other End-use Industries

By Region

North America
Latin America
Europe
MEA
East Asia
South Asia
Oceania
- FAQs -
By value, Fact.MR has projected a CAGR of around 6% for engineering thermoplastic sales during 2021-2031. In terms of volume, demand is expected to increase at close to 7% CAGR over the same period.
As per Fact.MR's projections, North American and European countries would experience the highest growth rate. Also, the markets in East Asia and South Asia are expected to experience high CAGRs.
Prominent players manufacturing engineering thermoplastics include BASF SE, LG Chemical Ltd., Eastman Chemical Company, Evonik Industries AG, LyondellBasell Industries, SABIC, Sumitomo Chemical Co., Ltd., Reliance Industries Limited, Cabot Corporation, Sh
Need an Exclusive Report for your Unique Requirement?
- Our Clients -