Dental 3D Printing Market
Dental 3D Printing Market Size, Trend Analysis & Competition Tracking By Material (Metals, Photopolymers, Ceramics), By Application (Dental Implants, Dentures, Crowns & Bridges), By Technology (Vat Photo Polymerization, Fused Deposition Modelling, PolyJet Technology, Selective Laser Sintering) - Global Market Insights 2021 to 2031
FACT4361MR
Mar-2022

List of Tables : 30

List of Figures : 72

170 Pages
Customisation of Dental Prosthetics to Unlock Lucrative Prospects for Players in Dental 3D Printing Market
Dental technicians and clinicians are progressively turning receptive to digital dentistry, which is opening lucrative avenues for manufacturers of 3D printers to progress with a customised, rather than standardised approach in the dental 3D printing market.
Development of customized dental models such as bridges, crowns, implants, and dentures is offering better patient outcomes, and, in turn, boosting the reliance of dentists on printed prosthetics.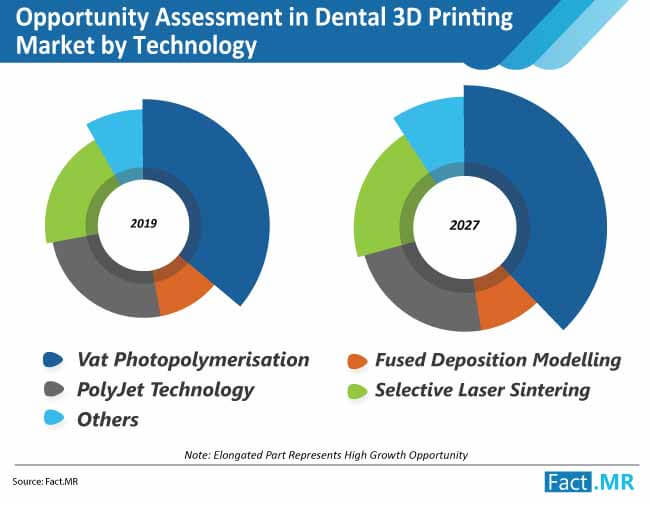 Demand for dental prosthetics would also increase, on the back of macroeconomic factors such as unhealthy food habits of individuals, which is leading to tooth decay and tooth loss.
The impact of significant dynamics has been recalibrated in a recent report published by Fact.MR, which projects that, the dental 3D printing market would witness a whopping 2.6X growth over the forecast period (2020-2027).
Avail customized purchase options for your needs
High Cost and Lack of Trained Professionals Slowing Down Adoption Rate
Players in the dental 3D printing market could witness two barriers-high cost of dental 3D printers and lack of skilled professionals—which are influential enough to slow down their growth pace.
Continuous evolution of additive manufacturing technology requires an influx of OPEX for manufacturers to achieve differentiation of their product portfolio.
An increase in the demand for advanced 3D printers encourages manufacturers in the dental 3D printing market to expand their existing scope of R&D activities by allocating high budgets to incorporate neoteric technologies.
Selective laser sintering technology is now deemed suitable for the development of dental prosthetics with relatively high durability and accuracy, in a short timeframe than vat photopolymerization technology.
However, the cost of incorporating such advanced technologies, in addition to the already high cost of raw materials such as metals and polymer, makes the development process highly cost-intensive.
This price directly passes onto the cost of dental 3D printers, which makes it unaffordable for small-scale medical professionals. For instance, the prices of NextDent 5100 and FabPro 1000, launched by 3D Systems, Inc., are US$ 10,000 and US$ 5,000, respectively.
Dental professionals who can invest in these expensive dental 3D printers face yet another common pitfall of limited dissemination of operational knowledge, which results in a high rate of failure and abandonment.
In order to offset these challenges, manufacturers can offer value-added services in the form of customer support to train dentists and clinicians, and improve the sales prospects of their products.
An Adaptive Approach to Modern-day Research Needs
Consumer Proclivity for Aesthetic Dentistry to Foster Advancements in Dental 3D Printing Technology
Considering the link between teeth and self-esteem in recent times, the targeted consumer group for aesthetic dentistry is moving beyond the geriatric populace to millennials, generation Y, and Z.
The growing trend of resorting to bariatric surgeries and dental procedures to improve one's personality is pushing players in the dental 3D printing market to help dentists address the demand in the least possible time.
Besides the high demand for crowns and bridges among aged individuals, the popularity of shaded printing material is surging, owing to increasing consumer proclivity for natural-looking teeth, especially among millennials.
Taking this demand into account, manufacturers in the dental 3D printing market are developing tooth-shaded 3D printing materials to produce natural dental models with fine details and resolutions.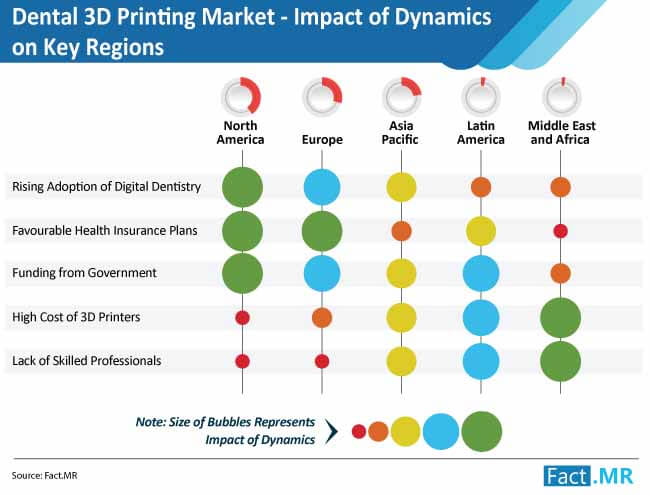 Asia Pacific to Record Highest Growth Rate, while North America Maintains Lead
North America retains its dominance in the dental 3D printing market, with a market share of 40% during the forecast period, on the back of favourable dental health insurance plans covering the dental expenditures of individuals.
Affordability of advanced dental procedures is widening the base of individuals opting for dental care. Players are reaping rich rewards of increasing penetration of dental 3D printers in this region, on account of the growing number of dental care centres.
Besides North America, Asia Pacific is witnessing a notable spike in the growth of the dental 3D printing market, where Japan, China, and Australia are attractive regions.
Growth would also remain fuelled by supportive foreign investment policies, and relatively low cost of operation in these countries, which is attracting leading players to build strategic distribution partnerships with regional players operating in these countries to strengthen their position in overseas territories.
Interested to Procure The Data
Dental 3D Printing Market – Assessment of Key Segments
In order to offer microscopic- as well as macroscopic-level of insights into the dental 3D printing market, authors of the report have categorized the landscape based on the material, application, technology, and region. This detailed study also offers information about the incremental opportunity present in the dental 3D printing market during the forecast period. Crucial segments of the dental 3D printing market are as mentioned below:
Material

Metals
Photopolymers
Ceramics
Others

Application

Dental Implants
Dentures
Crowns & Bridges
Others

Technology

Vat Photo Polymerization

Stereolithography
Digital Light
Processing

Fused Deposition Modelling
PolyJet Technology
Selective Laser Sintering
Others

Region

North America
Europe
Asia Pacific
Latin America
Middle East and Africa
Authors of the report have taken ample care to track latest market movements to ensure that only accurate information reaches stakeholders. The study helps these stakeholders in gaining an edge over their competitors. This exclusive guide also tracks current as well as future trends that are likely to influence the growth of the dental 3D printing market during the forecast period.