Dental Restoratives Market Insights: Availability of Preventive Care, Cosmetic Surgeries to Bolster Growth, Market to Experience Modest Slowdown amid COVID-19
The prevalence and severity of dental decay has waned over the past few years. Dental care needs have engendered a significant shift in the nature of dental care services- from conventional restorative care to cosmetic and preventive services. This shifting trend has propelled dental service providers to develop technologically advanced contraptions.
Based on these trends, the dental restoratives market is anticipated to burgeon in the future. The market is projected to expand at a remarkable CAGR of 6.8% during the forecast period (2020-2025). Other generic drivers, such as increasing dental complications among the geriatric population, burgeoning dental tourism and growing number of licensed practitioners, are also anticipated to bolster the dental restoratives market.
The global dental restoratives market is anticipated to register moderate slowdown during the COVID-19 pandemic. This is attributed to delay in elective and non-urgent dental procedures.
Technological Insights: Adoption of CAD/CAM Systems Finding Increasing Acceptance:
The introduction of computer-aided design (CAD) and computer-aided-manufacturing (CAM) have revolutionized dental healthcare across the world. It is one of the biggest achievements in the field of dentistry. Use of CAD/CAM has greatly reduced product designing time. Restorative materials are manufactured through the CAD/CAM technique. Adoption of the CAD/CAM system is poised to boost the dental restorative equipment segment, capturing over a quarter of the market share.
Dental Clinics to Soar in Popularity, Hospitals Catching Up
Dental Clinics are set to capture the maximum market share in dental restorative devices. The segment is anticipated to account for almost two-fifths of the overall dental restoratives market share. Low-cost and often free dental treatment, availability of the most modern equipment and less procedure time are key factors anticipated to fuel popularity of dental clinics. Projected CAGR for dental clinics during the forecast period is pegged at 7.5%.
Trailing behind dental clinics are hospitals, accounting for a similar market share, expanding at a CAGR of 6.8%. Availability of high value equipment, expanding pool of multi-specialty hospitals and proper treatment are key drivers for the contribution of hospitals in the dental restoratives market. The segment is anticipated to reach a value of US$ 10,236.6 by 2025.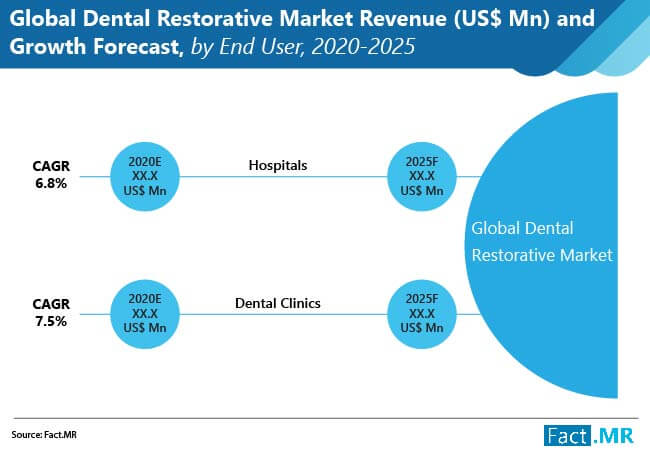 To get detailed end-user insights on dental restoratives market, ask an analyst here
Europe to Retain Market Dominance, Asia-Pacific Demonstrates Impressive Growth
The global dental restoratives market is set to be dominated by Europe, capturing more than one-third of the overall market share. Reimbursement for dental procedures by private insurance companies is anticipated to drive growth in Europe. This insurance cover includes, but is not limited to, routine procedures such as oral hygiene and simple fillings, crowns, bridges and prosthesis. In addition, rising disposable incomes among the population have generated greater demand for cosmetic dentistry, which shall further propel market growth.
Asia-Pacific promises very lucrative opportunities for the growth of dental restoratives market. Growing dental tourism in the wake of emerging dental hubs is a key growth driver for the Asia-Pacific. Consequently, several dental healthcare providers are offering advanced dental equipment in dental restoration procedures such as CAD/CAM, dental delivery systems and other dental technologies in the market. For instance, the Confederation of Indian Industry highlighted that the number of foreigners visiting the country for dental tourism is increasing by 15% every year.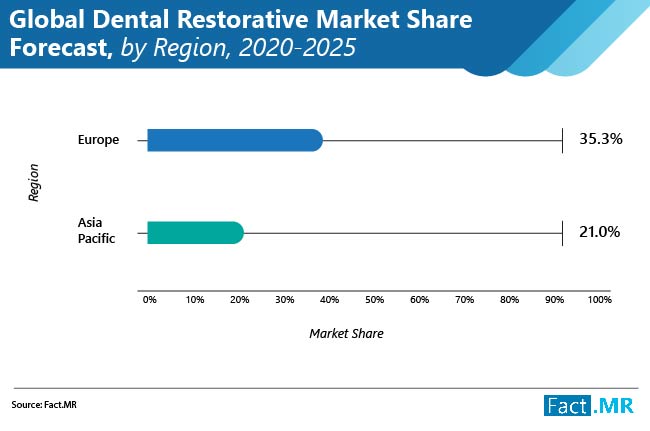 For more regional insights on the dental restoratives market, request for a report sample here
Research & Product Development to be Forte of Key Market Players
The global dental restoratives market is highly consolidated, comprising of five major market players. These are: Dentsply Sirona, Danaher, Institut Straumann AG, Ivoclar Vivadent AG and Zimmer Biomet. The companies typically concentrate on research and development of technologically-advanced devices, innovative solutions and diversification of product portfolio.
Dentsply Sirona is a pioneer in the global dental restoratives market. It is likely to continue dominating the market during the forecast period as it keeps setting new standards for early diagnosis of dental disease. The company specializes in the production of restorative materials, implants, prosthetics and restorative equipment. Recently, in February 2020, the company's University Center for Dentistry in Basel was designated as one of the most modern dental clinics in Europe.
The second player, Institut Straumann AG, concentrates on introducing a broad product portfolio. The company manufactures implants such as Straumann BLX with a Regular Base (3.5 mm-4.5 mm) and Wide Base (5.0 mm-6.5 mm). These implant allow for Straumaan Dynamic Bone Management and is designated for immediate protocols in all bone types. Other products include Roxolid SLActive, n!ce, VITA Mark II and ZERION.
COVID-19 Market Insights
The global dental restoratives market is anticipated to experience slight downsizing in its revenue during the coming months. This is attributed to a decline in the number of patients opting for dental surgeries. It is established that dentists performing aerosol generating procedures are at a very high risk of acquiring the COVID-19 virus. This is because they may involuntarily inhale the aerosol particles due to which the virus can enter their lungs.
Realizing this, the CDC urges dental facilities to postpone elective procedures. It recommends that only emergency procedures may carry on. Key manufacturers are also attempting to navigate their way through the crisis. Dentsply Sirona, a leading market player, is maintaining business continuity by encouraging employees to work from home. The company has also eliminated non-essential cross border travel for its employees. Dentsply is also focusing on maintaining its supply-chain. A diverse manufacturing footprint, adequate inventory and strong logistic capabilities helps maintain stability in the supply of restorative materials and equipment.
Another player, Straumann Group, is providing online business insights and recovery plans courses to dental professionals to help them with their business once things normalize. An example of this is the ImmediaXy Ecosystem which brings immediate implant protocols to the next level by shortening treatment times and increasing productivity of dental professionals.
Analyst's Viewpoint:
The global dental restoratives market is anticipated to surge, on the back of rising oral-hygiene consciousness and preference for cosmetic surgeries. However, postponement of non-elective surgical procedures in the wake of COVID-19 shall modestly hinder market expansion. Manufacturers have realized this and are taking proactive steps to strengthen their supply chains. The usage of prosthetics is anticipated to find widespread acceptance.. Europe and the Asia-Pacific are promising growth hotspots for the global dental restoratives market.
Global Dental Restoratives Market: Scope of the Report:
The global dental restoratives market offers provides a 5-year forecast between 2020 and 2025. The report provides an analysis on the key drivers, restraints, opportunities and threats for the growth of the dental restoratives market. In addition, detailed segmental analyses, based on product type and end-users, have been incorporated in the report.
Regional analysis, in the context of market value, supply chain and business execution has been conducted, outlining a clear perspective on the future growth trajectory of the market. In addition, a section on market competition has also been included in the report. In this section, market strategies of key manufacturers along with their product portfolios have been elaborated. Overall, an optimistic scenario has been projected for the global dental restoratives market.
Dental Restoratives Market- Scope of the report
The recent study by Fact.MR on dental restoratives market offers a 5-year forecast between 2020 and 2025. The study analyzes crucial trends that are currently determining the growth of the dental restoratives market. This report explicates on vital dynamics such as the drivers, restraints and opportunities for key market players along with key stakeholders as well as emerging players associated with the manufacturing of contraceptive devices. The study also provides dynamics that are responsible for influencing the future status of the dental restoratives market over the forecast period.
A detailed assessment of dental restoratives market value chain analysis, business execution, and supply chain analysis across the regional markets has been covered in the report. A list of prominent companies operating in the dental restoratives market along with their product portfolio enhances the reliability of this comprehensive research study.
Dental Restoratives Market: Report Summary
The study offers a comprehensive analysis on diverse features including production capacities, demand, product developments, revenue generation and sales in dental restoratives market across the globe.
A comprehensive estimate on dental restoratives market has been provided through an optimistic scenario as well as a conservative scenario, taking into account the sales of dental restoratives market during the forecast period. Price point comparison by region with global average price is also considered in the study.
Dental Restoratives Market Segmentation
Fact.MR has studied the dental restoratives market with detailed segmentation on the basis product type, end-user and key regions.
Product Type

End-user

Key Regions

Restorative Equipment:

CAD/CAM & Dental Delivery Systems

Rotary Instruments

Light Curing Equipment

Casting Devices

Mixing Devices

Dental Drills

Dental Furnace

Articulating Equipment

Hospitals

North America

Restorative Material:

Direct Restorative Dental Material

Indirect Restorative Dental Material

Biomaterials

Bonding Materials

Dental Impression Materials

Dental Clinics

Europe

Prosthetics

Dental Institutes & Research Centers

Asia Pacific

Implants

Others

Latin America

Middle East & Africa
"This taxonomy prepared is confidential and intended exclusively for the individual or entity with whom it is being shared. Reading, disseminating, distributing, or copying this to any party other than addressee(s) is unauthorized and prohibited."
Dental Restoratives Market: Analysis on Market Size Evaluation
Dental restoratives market has been analyzed for each market segment, in terms of value (US$ Mn).
Market estimates at global and regional levels for assistive devices is available in terms of "US$ Mn" for value, along with market attractiveness evaluation in the report. A Y-o-Y growth contrast on prominent contraceptive devices segments, along with market attractiveness evaluation has been incorporated in the report.
Dental Restoratives Market: Inspected Assessment on Regional Segments
Key sections have been elaborated in the dental restoratives report, which have helped to deliver projection on the regional markets. These chapters include the regional macros (economic and business environment outlook), which are expected to have a momentous influence on the growth of dental restoratives market during the forecast period.
Country-specific valuation on demand for dental restoratives has been offered for each regional market, along with the market scope estimate and forecast, price index, and impact analysis of dynamics of prominence in regions and countries. Detailed breakup in terms of value for emerging countries has also been included in the report.
Dental Restoratives Market: In-depth Analysis on Competitive Landscape
The report sheds light on the leading manufacturers of dental restoratives along with their detailed profiles. Essential and up-to-date data information related to the market performers, who are principally engaged in the production of dental restoratives, has been brought with the help of a detailed dashboard view. Market share analysis and comparison of prominent players provided in the report permits the report readers to take preemptive steps in advancing their businesses.
Company profiles have been included in the report, which includes essentials such as product portfolio, key strategies along with all-inclusive SWOT analysis on each player. Company presence is mapped and presented through the matrix for all the prominent players thus providing the readers with actionable insights, which helps in thoughtfully presenting market status, and predicting the competition level in dental restoratives market. Prominent manufacturers with established market presence in dental restoratives market are Dentsply Sirona, Danaher Corporation, Institut Straumann AG and Ivoclar Vivadent DC.
Fact.MR offers custom research services that help clients to get specific research solutions
We are committed towards customer satisfaction and quality service.
---
Our Clients

Dental Restoratives Market Forecast, Trend Analysis & Competition Tracking - Global Market Insights 2020 to 2025