Dental Adhesives Market
Dental Adhesives Market Analysis, By Product (Pit & Fissure Sealants, Denture Adhesives, Restorative Adhesives), By Usage (Dental Adhesive Systems by Generation, Dental Adhesive Systems by Etching Technique), By End User & By Region - Global Market Insights 2023-2033
Analysis of Dental Adhesives Market Covering 30+ Countries Including Analysis of US, Canada, UK, Germany, France, Nordics, GCC countries, Japan, Korea and many more
Dental Adhesives Market Outlook (2023-2033)
The global dental adhesives market is valued at US$ 2.86 billion in 2023. Worldwide demand for dental adhesives is expected to increase at a CAGR of 7.5% and reach a market valuation of US$ 5.89 billion by 2033-end.
Based on product, dental adhesives are segmented into pit & fissure sealants, denture adhesives, and restorative dental adhesives. Global demand for pit & fissure sealants and denture adhesives are predicted to rise at CAGRs of 8% and 7% respectively, during the next 10 years.
Due to their complicated morphology, the occlusal surfaces of posterior teeth's pits and fissures are more likely to develop caries than smooth surfaces, making oral care more difficult and resulting in higher plaque build-up. Compared to the enamel on a smooth surface, the enamel with pits and cracks cannot benefit from the same level of fluoride protection.
Pit and fissure sealants act as a physical barrier that prevents the build-up of bacteria and food particles, halting the development of caries and preventing its onset. They are put on the biting surfaces of the teeth, generally the molars and premolars, and resemble a plastic coating. Pit and fissure sealant demand is increasing as people are more aware of oral hygiene.
Due to improvements in bonding materials broadening the range of applications for which they can be used, the demand for denture adhesives is also predicted to increase rapidly throughout the projection period. For instance, universal adhesives can adhere to zirconia, porcelain, metals, and composites, and can be utilised for both direct and indirect restorations. These adhesives also work with resin-based dual-cure, light-cure, and self-cure systems, showing that their applications are more varied than those of 7th-generation adhesive systems.
The pressures or energy among atoms or molecules at a surface that hold two surfaces together are called dentistry adhesion (or bonding). Dentures can be replaced and can cover tissues around lost teeth. Dental crown adhesives, dental plate adhesives, dental bridge adhesives, and dental impression tray adhesives are some of the adhesives available in the market.
Over the projection period, it is anticipated that demand for dental products would increase due to rising dental restoration and cosmetic dentistry demand as well as scientific and technological advancements in dental materials.
Dental caries is one of the most common oral disorders worldwide, according to the FDI World Dental Federation, and it consumes close to 10% of most developed countries' healthcare budgets.
As a result, it is projected that the high frequency of dental caries will fuel the demand for preventive dentistry and drive the growth of the target market.
Report Attributes

Details

Market Size (2023E)

US$ 2.86 Billion

Forecasted Market Value (2033F)

US$ 5.89 Billion

Global Market Growth Rate (2023-2033)

7.5% CAGR

China Market Growth Rate (2023-2033)

12% CAGR

Japan Market Growth Rate (2023-2033)

4.5% CAGR

Germany Market Growth Rate (2023-2033)

5.5% CAGR

Key Companies Profiled

3M Company
Bisco Dental Products, Inc.
Danaher Corporation
Dentaid
Dentsply Sirona Inc.
Detax GmbH & Co. Kg
GC Corporation
Glaxosmithkline PLC (GSK)
ICPA Health
Ivoclar Vivadent AG
Kuraray Noritake Dental Inc.
Mediclus Co. Ltd.
Pentron Clinical
Procter & Gamble Co. (P&G)
Pulpdent Corporation
Shofu Dental Corporation
Sun Medical Co., Ltd.
Tokuyama Dental Corporation Inc.
Ultradent Products, Inc.
Voco GmbH
Know thy Competitors
Competitive landscape highlights only certain players
Complete list available upon request
Why are Sales of Dental Adhesives Surging across the World?
"Rapid Developments in Adhesive Dentistry"
Resin-based dental materials, particularly direct adhesive restoration, are extensively employed in restorative operations due to their superior mechanical and aesthetically pleasing properties. In the development of minimally-invasive dental procedures, direct composite resin adhesive repair has supplanted amalgam fillings as the principal way of correcting dental faults.
Dentin that is caries-affected close to the living pulp has been advised to undergo conservation remineralization. Such advancements are boosting the growth of the dental adhesive market.
"Manufacturers Providing Advanced Dental Adhesive Glues"
Brackets for fixed appliances must be glued to teeth for therapy to be effective and efficient. And ultimately, this can be accomplished with high-quality glue that also does not have any negative effects on the patients.
Furthermore, the use of denture adhesives is encouraged, particularly in the senior population of patients, as xerostomia brought on by smoking and other medical conditions lowers salivary flow in the oral cavity. Therefore, the market for dental adhesives is increasing rapidly in both developed and developing countries due to cutting-edge & novel technologies such as 6th and 7th-generation bonding agents for restorative adhesives offered by leading manufacturers including 3M, and Vista Apex.
"Rising Prevalence of Dental Diseases Worldwide"
Demand for dental restorative supplies is increasing due to the rising dental operations brought on by rising junk food, cigarette, and tooth trauma consumption. Furthermore, rising dental carry rates are boosting sales of dental restorative supplies globally, encouraging the growth of the dental restorative supplies market.
According to the WHO Global Oral Health Status Report (2022), about 3.5 billion people worldwide suffer from oral disorders, with three out of every four of these individuals residing in middle-income nations. 514 million children worldwide suffer from primary tooth decay, while 2 billion adults are believed to have permanent tooth decay.
Additionally, it is anticipated that increasing gum disease cases and the associated treatments would open up new business opportunities for suppliers of dental restorative materials.
"Rising Cases of Malocclusion"
The majority of children are affected by malocclusion, which is the most prevalent early-stage dental disease worldwide. And over half of all adolescents and children globally are expected to have malocclusion of some kind.
Therefore, it is anticipated that during the next 10 years, sales of orthodontic dental supplies will increase significantly. The global orthodontic supplies market is likely to increase at a CAGR of 11% during the forecast period.
What Challenges are Present before Suppliers of Dental Adhesives?
"High Treatment Costs Not Affordable by Everyone"
One of the reasons affecting the demand for dental adhesives is the rising cost of dental care operations. Biocompatibility is the most important component of every dental material, but not all dental compounds are completely safe to use. The use of dental adhesives has also been linked to several adverse consequences.
The FDA has compiled a collection of case studies linking prolonged usage of zinc-containing denture adhesives to negative consequences such as numbness, nerve damage, or tingling sensations.
In addition to these, each nation has tight government laws regarding the usage of dental equipment and materials, which may limit the market's potential growth for dental adhesive materials.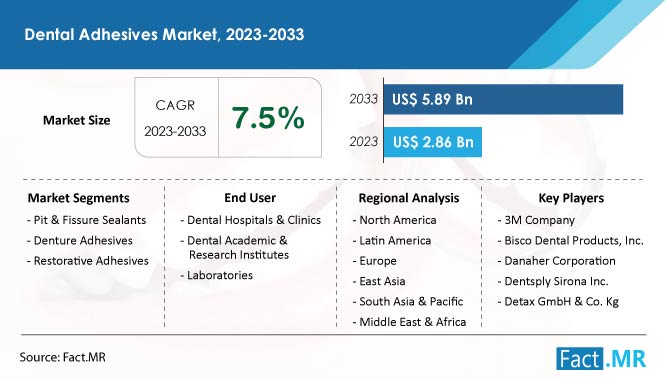 How are Start-ups Improving Services & Products in the Dental Adhesives Market?
"New Market Players Focusing on Providing Advanced Dental Services & Devices"
New market players are concentrating their efforts on the research and development of novel and creative dental services and products that would boost the industry by resolving all the problems with the existing dental care system. It is predicted that these start-ups will place a high priority on patient safety and comfort.
Smiles.ai is a dental start-up that aims to offer the finest dental experience possible using cutting-edge technologies to do away with the pain that comes with conventional dental procedures. In January 2022, the start-up earned US$ 23 million in a fundraising round that was spearheaded by Alpha Wave Incubation. The money was supposed to be utilised for two things: expanding the company's market reach in nations such as India and advancing R&D procedures to provide cutting-edge dental care products.
With the help of teledentistry, Home Dental to You, a start-up established in 2021, is transforming dental care by providing dental services to patients' homes and businesses. The start-up will make the best use of cutting-edge technologies to offer the best dental treatments.
Don't Need a Global Report?
save 40%! on Country & Region specific reports
Country-wise Analysis
Why is the Demand for Dental Adhesives Increasing Rapidly in the U.S.?
"Growing Trend to Look Good Driving Demand for Cosmetic Dental Procedures"
The United States will continue to dominate the North American market during the forecast period, holding a market share of more than 80% in 2022. Throughout the forecast period, it is expected that this significant market share would persist.
Due to expanding dental awareness and an increase in cosmetic operations, there is a growing need for dental adhesives in the United States. Patients' preferences, which have changed from basic hygiene to a greater emphasis on looks, are to blame for the changing dynamics of the sector. Thus, these aspects are fuelling demand for dental adhesive systems in the nation.
What is Benefiting the European Market for Dental Adhesives?
"Presence of Skilled Dentists & Advanced Dental Services"
Countries such as the U.K., Germany, Italy, and France currently dominate the Europe dental adhesives and sealants market. A U.K. poll found that the majority of individuals with dentures experience confidence issues because they are uneasy having loose-fitting dentures in their mouths. They may consequently shy away from social situations.
Demand for dental adhesives in the U.K. is anticipated to expand profitably over the projected period as a result of the rising adoption of several innovative and cutting-edge adhesive products due to the rapid prevalence of dental and oral conditions such as tooth decay, edentulousness, and demand for dental fixatives, as well as requirements for cosmetics and conditions such as xerostomia.
Germany commanded a substantial sales share in the Europe market as more teenagers underwent orthodontic treatment. Sales of dental adhesives in Germany are predicted to expand at a CAGR of 5.5% from 2023 to 2033.
Both the variety of services offered and the number of dentists have greatly increased across Germany in recent years. Furthermore, the cost-effective model-focused dental healthcare policy in Germany has increased the usage of orthodontic therapies.
How are Sales of Dental Adhesives Evolving in Asia Pacific?
"Rapid Advancements in Dental Healthcare Sector Attracting Several Market Players"
China, Japan, India, and South Korea are some of the potential marketplaces in the Asia Pacific region. Demand for dental adhesives in China is likely to increase at an impressive CAGR of 12% during the next 10 years.
In Japan, tooth loss brought on by ageing is still a concern despite advances in dentistry. Total edentulism in adult populations is projected in almost 58% of populations worldwide. As the number of older people becomes edentulous, there is likely to be a greater need for complete or partial dentures. Complete denture wearers usually struggle with retention, stability, and functionality.
As a result, Japan's demand for dental restorations grows. The japan dental adhesives market is expected to increase at a CAGR of 4.5% during the forecast period. Rapid advancements in the dental sector of India are attracting several market players to the nation, which is boosting the market growth in India.
Category-wise Analysis
Will Dental Clinics Continue Leading the Market for Dental Adhesive Systems?
"First Preference for Clinics by Target Patients Due to Quick & Effective Treatment Process"
In 2022, dental clinics held a high market share, which was above 40%. The growing awareness of dental health issues and restorative and dental implant operations among private dental practitioners is attributed to the rising use of dental adhesives in dental clinics.
Furthermore, the implantation of orthodontic brackets is handled mostly in dental clinics, requiring the use of adhesives and etchants. As a result, during the projection period, dental hospitals and clinics contribute to increasing demand for dental adhesives due to the availability of quick & efficient treatment procedures.
Don't Need a Global Report?
save 40%! on Country & Region specific reports
Competitive Landscape
Key players in the dental adhesive market are busy producing advanced adhesives to provide efficient services to patients and earn more income. To maintain their market position, major companies are also following tactics such as mergers, collaborations, partnerships, and more.
To expand its capabilities in the Asia-Pacific region, Ultradent Products, Inc., a leading developer and manufacturer of sophisticated dental materials, launched a new subsidiary in South Korea in April 2022: Korea's Ultradent Products LLC.
In 2021, Dentsply Sirona announced that it would buy the assets of Propel Orthodontics. This will stimulate innovation in the orthodontics sector and likely encourage the company to invest in further product development, strengthening the company's market position for restorative materials.
Key Segments of Dental Adhesives Industry Research
By Product:

Pit & Fissure Sealants
Denture Adhesives
Restorative Adhesives

By Usage:

Dental Adhesive Systems By Generation
Dental Adhesive Systems By Etching Technique

By End User:

Dental Hospitals & Clinics
Dental Academic & Research Institutes
Laboratories

By Region:

North America
Latin America
Europe
East Asia
South Asia & Oceania
MEA
- FAQs -
The global dental adhesives market is valued at US$ 2.86 billion in 2023.
Demand for dental adhesives is predicted to increase at a CAGR of 7.5% during the next 10 years.
The market for dental adhesives is expected to reach US$ 5.89 billion by 2033.
R&D activities, advancing dental healthcare infrastructure across the world, and rising prevalence of dental disorders are boosting market growth.
Dentsply Sirona, 3M Company, and Danaher Corporation are key players in the dental adhesives market.