Dental Cements Market to Witness Moderate Growth of 1.3X by 2025, as High OPEX Limits Scope of Product Innovation
Growing interest of dentists and clinicians in novel nanomaterial technology, inadvertently signifies high market opportunity for manufacturers to introduce new technologies for the development of high-quality dental implants. On the demand side, individuals are growing conscious of their personality and dental health, which is establishing high possibilities for the growth of the dental cements market. However, common pitfalls, including failure in restoration of implants, require a qualitative approach from manufacturers to help end users achieve better patient outcomes. On similar lines, long approval wait windows and high developmental costs often demotivate manufacturers in the dental cements market regarding the introduction of new products.
Studying the crucial dynamics at length, authors of an exclusive Fact.MR report project that, the dental cements market would record a value of US$ 1.2 Bn by 2025.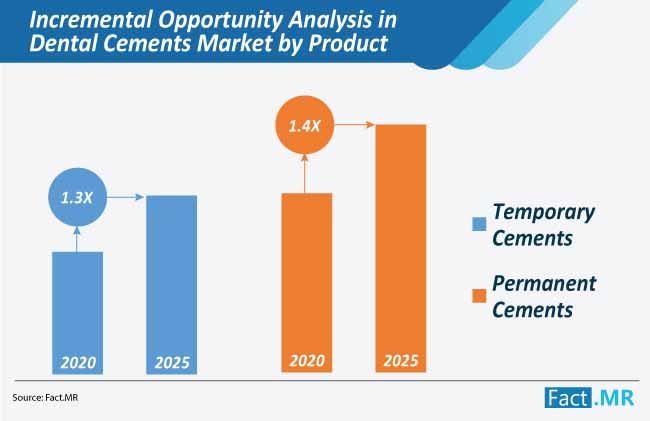 For detailed insights on market taxonomy, request a sample copy of the report here.
Permanent Cements with Desirable Qualities to Witness High Adoption Rate
In recent times, the popularity of permanent restoration continues to rise to cater to the unmet aesthetic demands of patients. Also, the reliance of doctors on permanent cements is high, on account of their minimal interference with the functional qualities of natural teeth. As opposed to the application of permanent cements, temporary cements possess limited scope, as individuals incline towards permanent fixtures for their dental concerns. This points towards the high adoption of dental cements for a majority of dental fixtures. According to the study, the adoption rate of permanent cements is projected to increase at a CAGR of around 5.1% in the dental cements market during the forecast period (2020-2025).
Hybrid or Resin-modified Glass Ionomers to Stand Out, on Account of their Versatility
Versatile characteristics offered by resin-modified glass ionomers that resist water solubility, owing to their film thickness, are likely to remain suitable for the development of ceramic onlays & inlays, metal castings, orthodontic bands, and ceramic veneers. Increasing adoption of glass ionomers is also attributable to their cosmetic appeal that provides additional strength to the resin and control sensitivity level. On account of the conducive adoption scenario, glass ionomers are projected to account for nearly 26% sales in the dental cements market by 2025.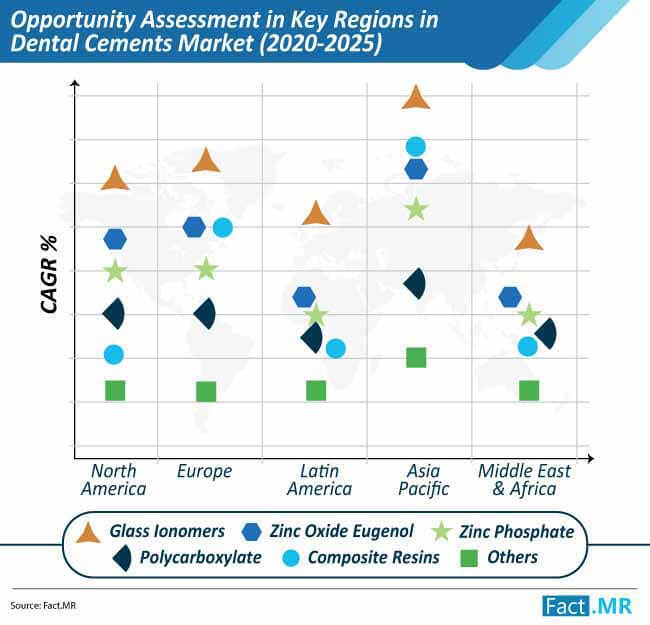 For detailed regional analysis, request a sample copy of the report here.
Dental Clinics to Remain Key End User in North America Dental Cements Market
High developmental costs of dental cements directly pass onto the final product, turning dental procedures cost-intensive. To encourage patients to avail proper dental care, governments in North America offer favourable reimbursement plans. As per data found by the Canadian Dental Association, more than 60% of the total population in Canada has dental insurance. Besides, the high frequency of government-sponsored oral health programs and campaigns, in turn, is widening the patient base for the diagnostics of their dental health.
From 2020 to 2025, the study projects around 28% rise in the sales of dental cements in hospitals, while dental clinics are projected to witness around 29% increase in the adoption rate of dental cements. Patients have been relying on hospitals as primary care centres, which is likely to continue during the forecast period. However, clinics are turning into viable care centres for patients, on account of their relatively better service time, especially in North America. While hospitals are likely to cater to emergency and critical dental cases, the demand for aesthetic dental procedures would expand the functional area of dental clinics in the region.
Dental Cements Market – Scope of the Study
This Fact.MR report studies the global dental cements market for the period of 2020–2025. The primary objective of the report is to offer insights and key trends pertaining to the global dental cements market.
The report commences with an in-depth executive summary, listing out key segments and their share potential in the global dental cements market. The report includes an introduction, key dynamics, and a summary of the global dental cements market, which includes incisive information about the crucial drivers, restraints, and trends that impact the global market. Furthermore, an analysis with elaborated insights has been provided to understand the Y-o-Y trends in the global dental cements market.
The next section of the report highlights key insights, which include the regulatory scenario. It covers the introduction of accreditation for dental health service providers, process for accreditation, and a list of accredited hospitals. Another key insight in the report is the reimbursement scenario, which comprises an overview of reimbursements for dental care. Key strategies adopted by players such as acquisitions, partnerships, joint ventures, and facility expansion have also been discussed in the report.
Dental Cements Market – Assessment of Key Segments
Authors of the report have segmented the dental cements market into four key categories, based on product, material, end user, and region. An in-depth analysis into the dental cements market can be obtained through the assessment of key market segments. Each of these segments provide information regarding the incremental opportunities in the dental cements market during the forecast period (2020-2025). Key segments in the dental cements market include:
Product

Material

End User

Region

Temporary Cements

Glass Ionomers

Traditional Glass Ionomers
Metal Modified Glass Ionomers
Light Cure Glass Ionomers
Hybrid or Resin-modified Glass Ionomers

Hospitals

North America

Permanent Cements

Zinc Oxide Eugenol

Dental Clinics

Europe

Zinc Phosphate

Dental Ambulatory Surgical Centres

Asia Pacific

Polycarboxylate

Dental Academic and Research Institutes

Latin America

Composite Resins

Middle East & Africa

Others
A list of leading, prominent, and emerging players is included in this study on the dental cements market, which comprises 3M, Medental International, Inc., Danaher Corporation, FGM Produtos Odontológicos, Dentsply Sirona, DMG Chemisch-Pharmazeutische Fabrik GmbH, Ivoclar Vivadent AG, SDI Limited, SHOFU Dental GmbH, and BISCO, Inc.
Dental Cements Market – Research Methodology
The primary objective of this comprehensive study is to offer in-depth information regarding the movement of the dental cements market during the forecast period, along with analytical data ascertaining the growth trajectory of the landscape. The secondary objective of the dental cements market report is to offer crucial information regarding market opportunities available in key regions, which can help stakeholders in making well-informed expansion decisions. A top-down and bottom-approach has been taken by authors of this exclusive study. The top-down research approach helps in counter-validating the estimated numbers of the dental cements market, while the bottom-up research approach helps in assessing the numbers for key segments of the dental cements market.
Secondary sources referred to by authors of this report on the dental cements market include credible sources such as publications of the World Health Organisation (WHO), Food and Drug Administration (FDA), Centre of Disease Prevention and Control (CDC), National Centre for Biotechnology Information (NCBI), National Health Services (NHS), and the European Business and Technology Centre, the Centres for Medicare & Medicaid Services, and others.
Respondents of primary research for the dental cements market include national business managers, senior directors, vice presidents, chairmen, directors, presidents, and CEOs. Besides this, stakeholders such as sales directors, application specialists, clinical directors, nurse practitioners, and physicians were also consulted to gain incisive insights into the growth of the dental cements market.
Fact.MR offers custom research services that help clients to get specific research solutions
We are committed towards customer satisfaction and quality service.
---
Our Clients

Dental Cements Market Forecast, Trend Analysis & Competition Tracking - Global Market Insights 2020 to 2025