Basal Cell Carcinoma Treatment Market
Basal Cell Carcinoma Treatment Market Analysis By Treatment Type (Surgery, Drugs, Radiation Therapy), By End User (Hospitals, Specialty Clinics) & Region – Global Market Insights 2023 to 2033
Analysis of Basal Cell Carcinoma Treatment Market Covering 30+ Countries Including Analysis of US, Canada, UK, Germany, France, Nordics, GCC countries, Japan, Korea and many more
Basal Cell Carcinoma Treatment Market Outlook (2023 to 2033)
Expanding at a high-value CAGR of 9%, the global basal cell carcinoma treatment market is expected to increase from a valuation of US$ 6.3 billion in 2023 to US$ 15 billion by the end of 2033.
Skin cancer is a malignancy that can be treated to a certain extent in hospitals. It entails the expansion of abnormal cells that could eventually turn into skin tumors such as basal cell carcinoma or squamous cell carcinoma. A surgical procedure to remove abnormal cells from the body or radiation therapy may be used as part of the skin cancer treatment.
Basal cell carcinomas are a type of cancerous skin development that are often present in all diseases. Basal cell carcinoma progresses as a result of unusual and excessive basal cell growth. Since basal cell carcinoma develops more slowly than other types, it is curable, and, if discovered and treated promptly, can only cause minor damage. The causes of basal cell carcinoma, various risk factors, and symptoms aid in early detection, which aids in therapy.
The most prevalent type of non-melanoma skin cancer is basal cell carcinoma, which is also known as "rodent ulcers". Basal cells, which line the layers of the epidermis, are one of three major cell types that make up the top layer of skin. As new ones develop or form, basal cells are shed or replaced. Open sores, red spots, shiny pimples, and slightly elevated growths on the skin with rolled edges are the appearance of carcinoma.
Basal cells found in the lower epidermis give rise to basal cell carcinoma, a non-melanocytic cancer type. Basal cell carcinoma is more likely to occur as a result of immunosuppressive medications since they impair the immune system.
For basal cell carcinoma, various treatment options are available, including surgery, medications, and radiation therapy. The basal cell carcinoma treatment market is driven by the prevalence of basal cell carcinoma and the accessibility of treatment.
Primary factors influencing the market are increased skin diseases and an expanding recurrence of cutaneous malignancies. The market is growing due to the aging population as well as recurring increases in patient-friendly reimbursement plans.
Leading causes of skin diseases are rising frequencies in skin growths caused by several environmental factors such as sun exposure to UV radiation. Additional factors impacting the development of the market in the opposite direction include the potential outcomes of treatment and the length of time required for drug approval.
The market is expected to benefit significantly from the changing lifestyles of people in emerging economies, which is anticipated to spur demand for better disease treatments and, in turn, present lucrative opportunities for businesses operating in the global market. Global demand for basal cell carcinoma treatments is expanding as a result of the aging population, which is more prone to many skin conditions such as actinic keratosis and other non-melanoma skin cancer.
Report Attributes

Details

Basal Cell Carcinoma Treatment Market Size (2023)

US$ 6.3 Billion

Projected Market Value (2033)

US$ 15 Billion

Global Market Growth Rate (2023 to 2033)

9% CAGR

Market Share of Basal Cell Carcinoma Surgery

50%

Key Companies Profiled

Sanofi
Allergan
Novartis AG
Bausch Health Companies Inc.
Taro Pharmaceutical Industries Ltd.
Mylan
Roche
Perrigo
Sun Pharmaceuticals
Don't Need a Global Report?
save 40%! on Country & Region specific reports
What is Stimulating Revenue Growth of Basal Cell Carcinoma Treatment?
"Increasing Adoption of Non-surgical Treatments"
Delay in basal cell carcinoma (BCC) treatment can lead to complications regarding skin, muscle, and even bone damage. Hence, patients suffering from basal cell carcinoma are opting for non-surgical treatments such as superficial radiation therapy (SRT), since this treatment is associated with fewer complications.
SRT is gaining increased popularity in the basal cell carcinoma treatment market. This is because conventional radiotherapy treatment has become impractical for dermatologists. Large obsolete machines for conventional SRT are difficult to maintain and challenging to operate for the average community dermatologist.
The market is projected to experience prominent growth with the introduction of modernized SRT. This growth is further catalyzed by healthcare providers combining SRT with Mohs surgery for the effective treatment of BCC.
SRT leads to better patient outcomes, as the treatment only affects the cancer cells, thus allowing the healthy cells to survive and rejuvenate. Healthcare companies in the basal cell carcinoma treatment market can capitalize on this highly-lucrative segment by increasing the availability of SRT in hospitals and specialty clinics. SRT can help companies expand their incremental opportunities, as it can be used for the treatment of squamous cell carcinoma.
Understanding the origins, risk factors, and warning symptoms of BCC can aid in early detection when the disease is most treatable and curable. Increased awareness of the disease's propensity for recurrence and progression, rising rates of basal cell carcinoma among the elderly population, changing urban lifestyles in developed countries, and growing incidences of the disease among the population have all contributed to market expansion.
"Healthcare Companies Experimenting with Dosing Regimens of Hedgehog Pathway Inhibitor Drugs for Treatment of BCC"
Keratinocyte tumors are becoming more widespread all over the world, with basal cell carcinoma and squamous cell carcinoma being the most common types. Although surgery is the preferred treatment for both malignancies, some instances can develop to a metastatic or advanced stage, needing targeted therapy. Basal cell cancer is strongly influenced by the hedgehog signaling pathway, and suppressing it is essential to developing new therapeutic strategies for both locally advanced and metastatic basal cell carcinoma.
New uses for BCC chemoprevention and therapy are suggested by preclinical and clinical research employing drugs that have previously received FDA approval. Additionally, when combined with other treatments, novel chemical compounds that block the hedgehog pathway show promise and could provide nonsurgical treatment for this most common type of cancer.
Healthcare companies in the basal cell carcinoma treatment landscape are developing improved formulations of drugs following safety regulations to lower the environmental impact. They are introducing hedgehog pathway inhibitors, a novel drug class for the treatment of basal cell carcinoma.
However, the drug is associated with adverse effects in patients, such as muscle spasms and drug resistance. Hence, companies in the basal cell carcinoma treatment market are assessing the dosing regimens for effective basal cell carcinoma treatment. Market players will benefit from lucrative development possibilities due to the increased demand for improved illness treatments in emerging nations as a result of rising disposable income.
How is Market Expansion Being Restrained to Some Extent?
"Lack of Qualified Personnel and High Cost of Basal Cell Carcinoma Therapy"
The strong probability of basal cell carcinoma going undiagnosed may impede market growth. The market is hampered by the general lack of awareness in emerging markets and a lack of qualified personnel who are ignorant of the available treatment options for this illness. Pricing trends indicate that the high cost of basal cell carcinoma therapy is hampering market value.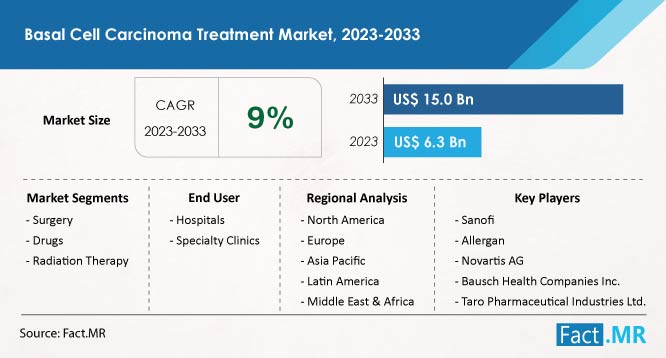 Why is Adoption of Basal Cell Carcinoma Treatments High in North America?
"Rising Prevalence of Acute Leukemia in North America"
North America accounts for 50% share of the global market. Increasing awareness about basal cell carcinoma and its improved treatment options are boosting market growth in the region. North America is predicted to experience prominent market growth due to the rising prevalence of acute leukemia and the increased efforts made by pharmaceutical companies to develop novel formulations specifically for children.
More Insights, Lesser Cost (-50% off)
Insights on import/export production,
pricing analysis, and more – Only @ Fact.MR
Country-wise Insights
Will the United States Offer Strong Opportunities for Market Players?
"Favorable Medical Reimbursement Policies in the Country"
Market growth in the United States is attributed to the growing geriatric population, increased awareness of advanced treatments, and favorable medical reimbursement policies. The American Academy of Dermatology estimates that every day in the United States, about 9,500 individuals are diagnosed with skin malignancies. Thus, the market is expected to rise as more occurrences of skin diseases are reported.
Why Does Germany Hold a Leading Position in the European Market?
"Technological Advancements in Healthcare Infrastructure"
New developments in the healthcare infrastructure, the increased incidence of skin cancer, and the rapidly rising budget of healthcare funds are expected to fuel market expansion. The market in Germany is expected to experience robust revenue growth over the forecast period due to the presence of numerous significant corporations.
What Makes Japan an Attractive Market for Basal Cell Carcinoma Treatment providers?
"Emergence of New Contract Research Organizations in Japan"
The emergence of new contract research organizations that offer valuable insights on various dermatological treatments to healthcare providers is catalyzing market growth. Growing efforts by the government and pharmaceutical organizations to raise awareness about skin disease and the existence of generic manufacturers are boosting market value in Japan.
Category-wise Insights
Which Basal Cell Carcinoma Treatment Type Holds High Significance?
"Basal Cell Carcinoma Surgery Widely Resorted to Owing to its Affordability & Effectiveness"
Based on treatment type, the market is classified into surgery, drugs, and radiation therapy. Basal cell carcinoma surgery accounts for 50% share of the global market. Surgery is most widely used to treat basal cell carcinoma, removing both the disease and some surrounding healthy tissue
In surgery, the doctor removes the malignant lesion along with a border of healthy skin around it. The market is predicted to develop at a rapid rate due to rising public awareness of the effectiveness and affordability of surgery, huge demand for effective and speedy treatment techniques that use them, and R&D efforts on more effective operations by major market players.
Surgical excision is the most widely utilized treatment for basal cell carcinoma. The surgeon removes the malignant tumor together with a margin of good skin during this surgery. To ensure there are no cancer cells present, the surplus is examined using a microscope.
For basal cell carcinomas that are less prone to recur, such as those that develop on the chest, back, hands, and feet, excision may be advised. Surgical excision has proven to be more effective, which has led to its high demand due to its lowest possible recurrence rates, most possible cure rates, and best cosmetic outcomes among all treatment approaches for basal cell carcinoma.
Which End User is Predicted to Contribute the Most to Market Expansion?
"Hospitals Preferred Due to Easy Availability of Specialized Treatment Options"
The market is segmented into hospitals, specialty clinics, and others based on the end user. Hospitals hold 40% share of the global market.
Basal cell carcinoma patients are given access to prominent dermatologists and skin cancer experts at the hospitals who create a specialized treatment plan for each patient that may involve a variety of approaches that have been proven to be highly effective in treating basal cell carcinoma. Patients are strongly drawn to the medical care provided in hospitals. Hospitals are preferred due to their growing financial capacity and major firms investing in hospitals for therapies.
Competitive Landscape
Major market players are investing heavily in research and development initiatives to offer advanced basal cell carcinoma treatment options. An increase in local supply and commercialization of innovative drugs are the elements driving market value.
Top market participants are maintaining quality control and enhancing product standards to hasten the approval of novel medications used to treat basal cell carcinoma. Healthcare companies need to concentrate on supply chain management to maintain profitability.
In 2020, Sanofi and Regeneron introduced Cemiplimab as a viable choice for patients with advanced basal cell carcinoma that will help them receive better care.
Basal Cell Carcinoma Treatment Industry Research Segmentation
By Treatment Type :

Surgery
Drugs
Radiation Therapy

By End User :

Hospitals
Specialty Clinics
Others

By Region :

North America
Europe
Asia Pacific
Latin America
Middle East & Africa
- FAQs -
Demand for basal cell carcinoma treatment is expected to reach a market valuation of US$ 15 billion by 2033.
North America accounts for around 50% share of the global basal cell carcinoma treatment market.
Increasing investments in the development of BCC medications are driving market growth.
Basal cell carcinoma surgery accounts for 50% share of the global market.
Sanofi, Allergan, and Novartis AG are major players in the global market.