3D Cell Culture Market
3D Cell Culture Market Analysis By Product Type (Scaffold-free 3D Cell Culture, Scaffold-based 3D Cell Culture), By Application (Cancer Research, Stem Cell Technology, Tissue Regeneration & Regenerative Medicines, Drug Discovery), By End User (Biotechnology & Pharmaceutical Industries, Academic Research Institutes, Hospital Laboratories) and By Region – Global Market Report (2024 to 2034)
Analysis of 3D Cell Culture Market Covering 30+ Countries Including Analysis of US, Canada, UK, Germany, France, Nordics, GCC countries, Japan, Korea and many more
3D Cell Culture Market Outlook (2024 to 2034)
The global 3D cell culture market size is estimated at US$ 572.8 million in 2024 and is forecasted to reach US$ 1.42 billion by 2034-end, advancing at a CAGR of 9.5% between 2024 and 2034.
The market is experiencing unprecedented expansion, indicating a paradigm change in cell biology and drug development. 3D cell cultures, as opposed to typical 2D cell cultures, provide a more sophisticated and physiologically realistic in vitro environment, closely mimicking the complex three-dimensional architecture of biological tissues. This trend has pushed the market into the spotlight.
Increasing investments in R&D by pharmaceutical and biotechnology businesses are the driving factor behind the exponential expansion of the 3D cell culture market. As the demand for more effective and focused treatment interventions grows, industry leaders are spending significant resources to investigate and implement novel techniques. Technological advancements that improve the reproducibility and scalability of 3D cell culture studies are also driving market expansion.
The toolkit of researchers is being expanded by advancements in scaffold-based and scaffold-free cultures, 3D bio-printing techniques, and microfluidic devices. These developments not only make it easier to create more complicated and realistic in vitro models, but they also make it easier to translate research findings into practical applications.
Key Market Growth Drivers
A noteworthy market trend is the growing importance of 3D cell cultures in drug discovery and development. Pharmaceutical companies are using these advanced models to increase the predictive accuracy of preclinical research for drug screening and toxicity assessment.
Because 3D cell culture models can closely reproduce the physiological circumstances of tissues and organs, they are essential in discovering prospective medication candidates and evaluating their safety profiles.
Increasing prevalence of chronic diseases such as cancer, cardiovascular disease, and neurological diseases has boosted the demand for more advanced 3D cell culture in vitro models.
Researchers can develop targeted medicines and customized medical techniques using 3D cell cultures to better understand disease mechanisms. The growth of the market is inextricably related to its significant role in promoting precision medicine.
Strategic alliances and partnerships among research institutions, biotechnology firms, and academic institutions are developing a collaborative ecosystem in the 3D cell culture sector. These collaborations aim to pool expertise and resources to accelerate the development of new cell therapy technologies and applications.
Ability of 3D cell cultures to imitate patient-specific conditions aids in the creation of targeted medicines, which aligns with precision medicine aspirations.
Report Attributes
Details
3D Cell Culture Market Size (2023A)
US$ 523.11 Million
Estimated Market Value (2024E)
US$ 572.8 Million
Forecasted Market Value (2034F)
US$ 1.42 Billion
Global Market Growth Rate (202 to 2034)
9.5% CAGR
East Asia Market Share (2024E)
34.3%
North America Market Growth Rate (2024 to 2034)
9.5% CAGR
Key Companies Profiled

Merck KGaA (Sigma-Aldrich Corporation)
Thermo Fisher Scientific, Inc.
Corning Incorporated.
Becton Dickinson and Company
3D Biotek LLC.
Lonza Group.
InSphero AG.
Synthecon, Inc
Nanofiber Solutions, Inc
Greiner Group A
REPROCELL
Avantor Inc.
PromoCell GmbH
Tecan Trading AG
CN Bio Innovations Ltd.
Lena Biosciences
Advanced Biomatrix, Inc.
Don't Need a Global Report?
save 40%! on Country & Region specific reports
Why is 3D Cell Culture Technology Gaining Popularity Across Regions?
"Technological Advancements in Tissue Engineering and Regenerative Medicine"
Latest 3D cell culture market trends indicate that the promise of 3D cell cultures to transform therapeutic techniques is the motivating force behind advances in tissue engineering and regenerative medicine. Tissue engineering seeks to build artificial, functional tissues for transplantation or to simulate disease progression. 3D cell cultures enable the formation of three-dimensional structures, allowing researchers to investigate cell behavior, tissue development, and responses to therapeutic interventions.
Tissue engineering combined with 3D cell cultures offers up previously not imagined potential for developing treatments for conditions such as organ failure, degenerative disorders, and traumatic injuries. As a result, there is a high demand for improved 3D cell culture systems capable of replicating the complex microenvironments required for effective tissue engineering activities.
"Increasing Demand for More Physiologically Relevant Models"
The 3D cell culture business is being driven by the need for more physiologically relevant models as researchers strive to surpass the limitations of current 2D cell cultures. More precise models of in vivo conditions are essential in 3D cell culture drug development and disease modeling. 3D cell cultures meet this objective by providing a platform that closely simulates the three-dimensional architecture and cellular interactions found in living tissues.
Traditional 2D models frequently fall short of predicting in vivo drug reactions or comprehending complicated cellular processes. The move to 3D models is being pushed by the realization that physiological relevance is critical for meaningful research outcomes. Pharmaceutical businesses are rapidly incorporating 3D cell cultures into their operations to improve the prediction accuracy of preclinical investigations. This desire is heightened by the trend toward customized therapy, in which understanding patient-specific reactions is essential.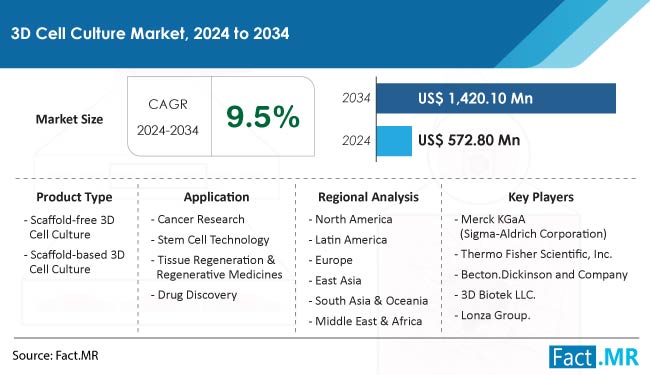 What Issues are 3D Cell Culture Companies Facing?
"Complexity of 3D Cell Culture Systems Affecting Interpretation of Cellular Function"
While 3D cultures attempt to replicate the complex three-dimensional architecture of biological tissues, the intricacy of the process offers challenges for researchers. Because 3D models are so complicated, adjusting and standardizing experimental conditions becomes a difficult task. In contrast to typical 2D cultures, where conditions may be relatively controlled and constant, the varied cellular interactions and microenvironments in 3D cultures contribute to heterogeneity in experimental results.
Owing to the intricacies of these systems, an in-depth understanding of how factors like cell density, nutrition gradients, and extracellular matrix composition impact cellular behavior is necessary. Researchers usually struggle to fine-tune these variables, making consistent approaches across laboratories challenging. The heterogeneous nature of 3D cell cultures, in which cells may encounter multiple microenvironments within the same culture, adds another degree of complication.
Variability in experimental setups can lead to inconsistent results, and decreasing experiment reproducibility is an important criterion for scientific validity. This lack of uniformity not only makes it difficult to compare data between studies but also prevents the widespread use of 3D cell culture procedures.
More Insights, Lesser Cost (-50% off)
Insights on import/export production,
pricing analysis, and more – Only @ Fact.MR
How Can Start-ups Tap into More Cell Culture Techniques Business Opportunities?
"Commitment to Standardization Helping New Companies Gain Competitive Advantage"
Start-ups should focus on R&D projects to continuously improve existing technology or pioneer fresh ones. This dedication to innovation not only keeps entrepreneurs ahead of the competition but also positions them as essential contributors to the growth of 3D cell culture methodology.
Strategic collaborations and partnerships are crucial resources for entrepreneurs looking to expand their reach. Start-ups should also focus on user-friendly platforms. Simplicity in system design and operation has the potential to dramatically extend the user base, attracting researchers of diverse levels of competence. Offering thorough training and support services guarantees a smooth adoption process, and fosters great user experiences, and long-term connections. Start-ups can help build standardized 3D cell culture protocols and methodologies in the 3D cell culture business, improving experiment reliability and reproducibility.
Country-wise Insights
China, Japan, and South Korea are emerging as important contributors and account for high 3D cell culture shares, with an increasing number of businesses and academic institutes engaging in 3D cell culture research. North America dominates the 3D cell culture business, with the United States leading in R&D efforts.
How are 3D Cell Culture Innovations Shaping Up in the United States?
"Powerful Scientific Ecosystem and Heavy Investments in Research and Development"
| Attribute | United States |
| --- | --- |
| Market Value (2024) | US$ 227 Million |
| Demand Growth (2024 to 2034) | 9.6% |
| Projected Value (2034) | US$ 569 Million |
The United States has a strong and well-established research infrastructure that includes world-renowned academic institutions, research centers, and biotechnology firms. This ecosystem supports a culture of scientific curiosity and innovation, making it an ideal environment for the development and implementation of cutting-edge technologies like 3D cell culture systems.
The country is distinguished by a high level of investment in R&D, particularly in the life sciences industry. Major pharmaceutical and biotechnology corporations with headquarters or significant operations in the United States are actively investing enormous financial resources in researching enhanced cell culture technologies. The United States is a key player in the global pharmaceutical market, with an emphasis on innovative treatments and precision medicine.
As the pharmaceutical industry increasingly focuses on tailored treatment techniques, there is a significant increase in demand for 3D cell cultures that closely match in vivo settings. Use of 3D cell cultures in drug screening and toxicity testing is consistent with the need of the industry for more reliable and representative preclinical data, lowering the chance of late-stage drug failures and optimizing the drug development process.
Why is 3D Cell Culture in Regenerative Medicine Gaining Traction in Japan?
"Technological Advancements, Booming Healthcare Sector, and Focus on Innovation"
| Attribute | Japan |
| --- | --- |
| Market Value (2024) | US$ 127 Million |
| Demand Growth (2024 to 2034) | 8.7% |
| Projected Value (2034) | US$ 291 Million |
Strong emphasis on R&D in the country, along with a robust scientific infrastructure, presents it as a breeding ground for cutting-edge innovations such as 3D cell cultures. Japan's commitment to developing cooperation across academia, industry, and government institutions has developed an environment suitable for the quick adoption of breakthrough biomedical research approaches.
Increasing aging population in the country has boosted the need for more effective drug development and tailored medicine, making 3D cell cultures an appealing route for solving these healthcare issues and driving 3D cell culture market growth. Potential of 3D cell cultures to more accurately imitate the in vivo environment as compared to traditional 2D cell cultures enhances its usefulness in investigating illnesses and testing medication responses.
Potential of 3D cell cultures in enhancing the efficiency of drug discovery technologies and development procedures is being recognized by Japanese pharmaceutical and biotechnology businesses. Government initiatives and investments in regenerative medicine and tissue engineering have further accelerated the incorporation of 3D cell culture technologies into mainstream R&D operations.
Know thy Competitors
Competitive landscape highlights only certain players
Complete list available upon request
Category-wise Insights
Use of 3D cell cultures for toxicity testing and drug screening is a major driver for market expansion. 3D cell cultures in cancer research are important because they provide a platform for studying tumor behavior, medication responses, and tailored therapy methods.
Why is Adoption of Scaffold-based Cell Cultures High?
"Scaffold-based Cell Cultures Accommodate Wide Range of Cell Types"
| Attribute | Scaffold-based Culture |
| --- | --- |
| Segment Value (2024) | US$ 453 Million |
| Demand Growth (2024 to 2034) | 9.4% |
| Projected Value (2034) | US$ 1.11 Billion |
Ability to provide a structural framework that resembles the extracellular matrix (ECM), thereby establishing a setting conducive to cell growth, cell proliferation, and differentiation, is at the heart of its popularity. This biomimetic technique improves the physiological relevance of in vitro models by allowing researchers to reproduce the intricate three-dimensional architecture observed in living tissues. Hydrogel cell culture and scaffolds provide critical support by guiding cellular interactions and aiding the creation of complex tissue-like structures.
Scaffold-based cell cultures are adaptable, accommodating a vast range of cell types and allowing for the reproduction of diverse tissue models. This adaptability is critical for 3D cell culture applications ranging from tissue engineering to drug discovery services, where researchers want to examine the behavior of certain cell populations in circumstances that are similar to those found in the body.
The scaffold-based technique enables the evaluation of drug reactions in a more realistic setting, providing insights into how chemicals interact with cells in a tissue-like milieu. This is especially important in customized medicine, where understanding patient-specific reactions is critical. This technique promotes high-throughput screening, allowing researchers to rapidly examine a large number of drug candidates for efficacy and safety.
Competitive Landscape
Top companies in the 3D cell culture market, such as Thermo Fisher Scientific, Inc., Corning Incorporated, and 3D Biotek LLC, are pillars in this ecosystem, delivering a wide spectrum of 3D cell culture solutions and leading influencers of the latest 3D cell culture market trends. As the 3D cell culture industry evolves, competition moves beyond product offerings to include full solutions that meet the different objectives of researchers in fields such as drug development, disease modeling, and regenerative medicine.
Collaborations between established firms and start-ups provide a dynamic image of a market primed for expansion, with the pursuit of scientific excellence and breakthrough discoveries at the forefront.
Thermo Fisher Scientific introduced the new Gibco Human Plasma-like Medium (HPLM) in 2022, the market's first cell culture medium that matches the metabolic profile of human plasma and is intended to offer researchers a realistic perspective of cell growth within the human body.
Corning Incorporated announced the release of its new Corning High Throughput Spheroid Microplates, which are designed to enable the high-throughput screening of 3D spheroid cultures that resemble tumors.
Segmentation of 3D Cell Culture Market Research
By Product Type :

Scaffold-free 3D Cell Culture
Scaffold-based 3D Cell Culture
Others

By Application :

Cancer Research
Stem Cell Technology
Tissue Regeneration & Regenerative Medicines
Drug Discovery
Others

By End User :

Biotechnology & Pharmaceutical Industries
Academic Research Institutes
Hospital Laboratories
Contract Research Organizations

By Region :

North America
Latin America
Europe
East Asia
South Asia & Oceania
Middle East & Africa
- FAQs -
The global 3D cell culture market is estimated at US$ 572.8 million in 2024.
Demand for 3D cell culture solutions is projected to reach a market value of US$ 1.42 billion by 2034-end.
Revenue from the sales of 3D cell culture solutions is projected to increase at a CAGR of 9.5% through 2034.
East Asia is a major revenue source and is estimated to account for 34.3% of global market share in 2024.
The market in North America is projected to advance at 9.5% CAGR.
The scaffold-free 3D cell culture segment is predicted to rise at 10% CAGR between 2024 and 2034.