CBD Gummies Market to Witness Prolific Growth, with Heightened Uptake in Medical Applications
The global CBD gummies market has been projected to grow at an exponential CAGR of 28 % through the forecast period between 2019 and 2029. Increasing efforts towards the legalization of cannabis for recreational and medical applications are major drivers behind the demand for CBD gummies. The removal of tetrahydrocannabinol (THC) from CBD gummies products is also contributing to the demand from the medical industry.
The widespread applications of cannabis is anticipated to generate substantial opportunities for growth in the years ahead. Further, CBD gummies are widely known as non-psychotropic products, without THC, which eliminates the potential of a drug induced high. Also, cannabis is rapidly finding use in treating a range of ailments including cancer, neurological disorders, pain control, and psychiatric ailments, which will contribute to overall growth in the years ahead.
Legalization of Cannabis Aids North America's Hegemony
The global CBD gummies market is largely fragmented owing to a large number of manufacturers. Some of the major players in the CBD gummies market include Dixie Brands Inc., Premium Jane, Reliva CBD Wellness, Pure Kana, CV Sciences, Diamond CBD, Medix CBD, Hemp Bombs, and Green Roads CBD among others. Key producers are increasingly bolstering efforts to seek strategic mergers and acquisitions, to support activities in the development of new products. Market players are also pushing for collaborations and vertical integrations including players from a number of end use industries, most of which are based in healthcare and lifestyle based products.
North America is estimated to be the largest regional market for CBD gummies, accounting for more than 63 % of the overall global value. The market is set to grow by 11.3X during the forecast period owing to the legalization of cannabis for recreational and medical applications across Canada, and a rising number of states in the U.S. Some U.S. states also allow the use of low THC content for medical CBD gummies, which is also expected to contribute to the demand.
Europe is also anticipated to become a major contributor to the CBD gummies market with a widening demographic of consumers, which has encouraged a number of new companies to enter into the production of CBD edibles. Further, while the market for CBD gummies is still in a nascent stage in Latin America, the region is displaying the highest rate of growth accounting for a massive CAGR of 36.6 %, as legalization trends spread across the region.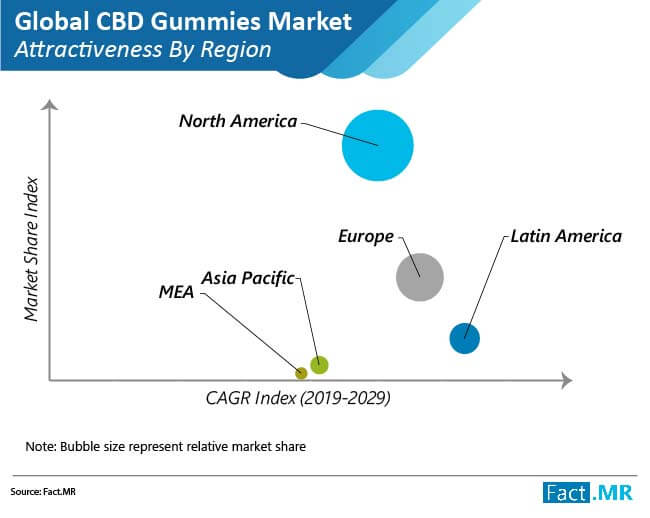 For more detailed insights on the regional landscape of CBD Gummies Market, ask an analyst here
High Concentration CBD Gummies Gain Traction in Healthcare Applications
Low concentration CBD gummies has been estimated to be the largest segment of product types accounting for close to 90 % of the market share, owing to preference by first time users, to minimize the risk of side effects such as changes in weight and appetite, diarrhea, and fatigue, which is commonly associated with high concentration products. The trend is further supported by the lower prices of these products.
On the other hand, the demand for high concentration CBD gummies is largely arising from the healthcare sector owing to effective application in treating conditions such as glaucoma, epilepsy, schizophrenia, and sleep disorders, and growing consumer awareness, which has resulted in a massive CAGR of 39.4 % through the forecasted period.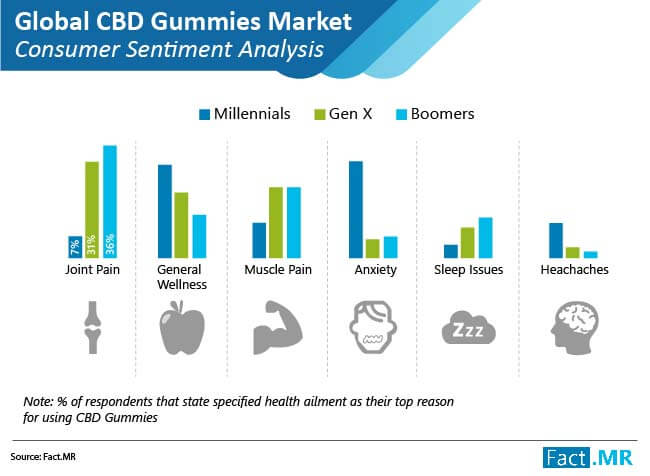 To know more about consumer sentiment analysis of CBD gummies market, request for a report sample here
Global CBD Gummies Market – Scope of the Report
The following report provides forecast and analysis of the global CBD gummies market along with the historical data of 2014, estimated data 2019 and forecast data up to 2029 in terms of revenue (US$ Mn), according to a Fact.MR study. The research propounds critical trends that are currently influencing growth within the global CBD gummies market along with several macro-economic indicators. This newly published and insightful report on CBD gummies sheds light on key dynamics, and their impact on the overall value chain from suppliers to end-users, which are expected to transform the future of the global CBD gummies market.
The report also comprises the study of current issues with end users and opportunities for CBD gummies. It also contains value chain analysis, including the key market participants. To provide users of this report with a comprehensive view of the market, we have included a detailed competitive analysis about the key players involved in the market and strategic overviews. The dashboard included in the report provides a detailed comparison of CBD gummies manufacturers on parameters such as total revenue, product offerings, and key strategies. A list of key companies operating in the CBD gummies market provided in the report adds to the credibility of this exhaustive research study.
Global CBD Gummies Market: In-Depth Assessment on Key Segments
The global CBD gummies market is segmented on the basis of concentration, distribution channel and region.
| | | |
| --- | --- | --- |
| Concentration | Distributional Channel | Region |
| High | Offline | North America |
| Low / Concentrated | Online | Latin America |
| | | Europe |
| | | East Asia |
| | | South Asia & Oceania |
| | | MEA |

This taxonomy and the detailed toc prepared are confidential and intended exclusively for the individual or entity with whom it is being shared. Reading, disseminating, distributing, or copying this to any party other than addressee(s) is unauthorized and prohibited.
Country-specific assessment on demand for CBD gummies has been provided for each regional market, along with the market size valuation and forecast price point assessment, price index and impact analysis of key regional and country-wise dynamics, which were obtained through quotes from numerous CBD gummies manufacturers, experts, and suppliers. Y-o-Y growth projections have also been offered on all regional markets incorporated in the report. Moreover, future trends, growth prospects, and other possibilities related to the market have been answered in the report.
The report provides company-level market share analysis, which has been derived on the basis of the company's annual sales and segmental revenue in all the target end-use industries. The market has been forecasted based on constant currency rates. The report provides detailed competitive and company profiles of key participants operating in the global market. Some of the major competitors operating in the CBD gummies market are Dixie Brands Inc., Reliva CBD Wellness, CV Sciences and others.
Global CBD gummies Market: Research Methodology
A number of primary and secondary sources were consulted during the course of the study. Secondary sources include Factiva, Morningstar and Hoovers, and company annual reports and publications. Comprehensive interviews have been conducted by our analysts, and the intelligence and insights obtained have been used for validating the information gained through secondary research. The report also includes a description of assumptions and acronyms utilized for research purposes. Data gathered has been validated using the triangulation method to offer useful quantitative and qualitative insights into the CBD gummies market.
A short market viewpoint offered in the report elucidates the macro-economic aspects that influence the growth of the CBD gummies market, which includes global GDP growth rate, various industries growth rate, such as CBD, healthcare, confectionery and others. This report serves as an authentic resource of intelligence on the CBD gummies market, enabling the readers to take fact-based decisions on the future direction of their businesses.
Fact.MR offers custom research services that help clients to get specific research solutions
We are committed towards customer satisfaction and quality service.
---
Our Clients

CBD Gummies Market Forecast, Trend Analysis & Competition Tracking - Global Market Insights 2019 to 2029