CBD Wine Market
CBD Wine Market Analysis by Source (Hemp-based CBD Wine, Marijuana-based Wine), by Product Type (Low-based CBD Wine, Marijuana-based Wine), by Packaging (Bottles, Cans), by Distribution Channel, by Region - Global Forecast 2022-2032
Analysis of CBD Wine market covering 30 + countries including analysis of US, Canada, UK, Germany, France, Nordics, GCC countries, Japan, Korea and many more
CBD Wine Industry Outlook (2022-2032)
The global CBD wine market size was valued at US$ 10.38 Million in 2021 and is anticipated to expand at a compound annual growth rate (CAGR) of 31.0% to reach US$ 190 Million by 2032 end. By 2022, the market is poised to be value at US$ 13.58 Million, reflecting a Y-o-Y increase of 31%.
The market growth is driven by the shifting consumer behavior patterns for food and beverages across the world and increasing relaxations in the laws of CBD edibles in various countries.
Report Attributes
Details

Anticipated Base Year Value (2021)

US$ 10.38 Million

Expected Market Value (2022)

US$ 13.58 Million

Projected Forecast Value (2032)

US$ 190 Million

APAC Growth Rate (2022-2032)

31% CAGR

Key Companies Profiled

House of Saka
Rebel Wine.Co.UK
Viv & Oak
Wines of Uruguay
CannaVines
Burdi W.
Hempfy
DrinkSipC
Bodegas Santa Margarita
What are the Key Factors Propelling the CBD Wine Market Growth?
The demand for CBD products is growing globally, which has a significant impact on the CBD wine market. Hemp-based CBD and marijuana-based CBD wine are two major types in the CBD wine market.
Hemp plants have significantly more CBD than marijuana plants, making them the more profitable alternative for manufacturers and the option with the fewest legal repercussions. Thus, the market penetration of hemp-based CBD wines is higher than marijuana-based CBD wines.
Consumers are changing their inclination from soft drinks to wellness drinks leading to the growing sale of cannabis beverages. Low sugar content in drinks is the prominent aspect bolstering the demand for CBD wine.
Likewise, consumers prefer these brews as a substitute for cannabis smoking and consumption of marijuana-infused confectionaries like gummies and candies, chocolates, cookies and brownies. Off-trade sales channels such as hotels, cafes, restaurants, clubs, and lounges are anticipated to amplify the popularity of the product among consumers.
Know thy Competitors
Competitive landscape highlights only certain players
Complete list available upon request
What are the Major Trends in the Global CBD Wine Market?
The ongoing trend among the consumer's preferences has changed the competitive landscape for the CBD wine market. Firstly, an extensive range of consumers are moving away from alcohol which is evidenced by the decline in the global sales of alcohol and the demand for CBD products is increasing owing to its controlled dosage and easy accessibility in this form.
Secondly, there is a big push for product innovations in terms of convenient drink solutions, personalized drinks, sustainable packaging, and ingredient transparency.
Moreover, the growing involvement of celebrities in doing brand, and influencer endorsements of CBD is propelling CBD into the mainstream. For instance, Willie Nelson and former NFL star Terrell Davis have their names on different CBD-infused beverages. Recognizable brands like Coors are entering the CBD beverage market, too, for further acceptance.
What Challenges are in Store for Filter CBD Wine Sales?
Manufacturers of alcohol and craft beer, wine, and spirits have to be very cautious in their making process of drink products based on stringent regulatory standards related to alcohol and CBD.
Nevertheless, these regulatory barriers haven't stationed the process of developing stimulating new-fangled craft beverages. For instance, brewers like Portland, Oregon's Coalition have developed CBD-infused craft IPAs with an emphasis on instructing consumers about CBD, its health benefits, and its effects. Other brewers like the Portland-based True Terpenes are working on other choices for CBD-infused craft beer.
Moreover, the myth associated with the product delivering psychoactive effects due to its popularity among consumers for recreation purposes hampers its market performance. Consumers are not well aware of its health benefits, functions, and offerings that are beneficial in several ways. However, the makers are constantly working on developing informative packaging to educate their consumers about their products.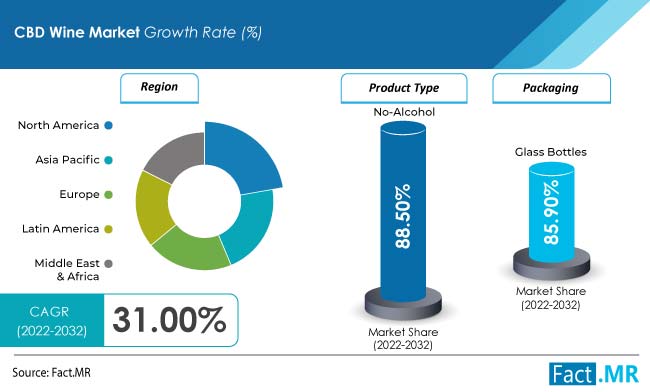 Segment-wise Analysis
Which Source-based CBD wine Segment Attracts the Highest Consumer Preference Globally?
The hemp-based CBD wine segment is expected to account for 75.4% of the global revenue share. Hemp is a strain of cannabis Sativa part of the genus cannabis with tetrahydrocannabinol (THC) content below 0.3%. It is typically produced from the hemp plant's leaves and flowers.
North America is the largest market for hemp-based edibles owing to the legalization of recreational and medicinal cannabis in various states of the U.S. and Canada. In the 2018 Farm Bill, hemp was eliminated from the legal definition of marijuana under the Controlled Substances Act. Consequently, certain hemp-derived CBD products containing less than 0.3 percent THC are now legal in the U.S.
The marijuana-based CBD wine segment is expected to expand at a CAGR of 28.9% during the forecast period. These wines are consumed less as compared to hemp-based CBD wines. Marijuana plants have far greater and more variable THC levels than hemp plants.
CBD derived from marijuana is allowed to obtain with a prescription. However, the requirements vary per state, based on the condition to be treated with CBD and the level of THC in the goods. In the U.S., 18 states have legalized the recreational and medical use of CBD-infused products produced from marijuana.
Which Product Type is expected to lead the Global CBD Wine Market?
The no-alcohol CBD wine segment accounted for 88.5% of the global revenue share in 2021. CBD-infused wine may appeal to those who wish to give up drinking. As the wines are alcohol-free, users can enjoy the benefits of CBD without being influenced by alcohol.
The ultimate goal is to achieve maximum relaxation. Each starts as an alcoholic wine that is then de-alcoholized and combined with a CBD or THC-infused emulsion. Globally growing demand for non-alcoholic beverages is expected to drive the market growth.
The low-alcohol CBD wine segment is expected to expand at a CAGR of 28.7% during the forecast period, states Fact.MR's report. CBD and hemp were legalized at the federal level by the 2018 Farm Bill. An alcoholic beverage infused with CBD must be permitted by the state liquor boards and the alcohol, tobacco, and trade bureau (TTB).
Which type of Material is Most Preferred for CBD Wine Packaging is Gaining Highest Traction?
The glass bottles segment accounted for 85.9% of the global revenue share in 2021. Glass bottles are the primary packaging format for wines as it is nonporous, nontoxic surface, and have high impermeability. It also retains scents and carbonation very well, making it an excellent choice for wine.
It evokes a sense of luxury that's difficult to achieve with other materials. Glass bottle has been a prominent packaging method for so long that it is often associated with a vintage or retro feel.
The cans segment is expected to grow at a CAGR of 36.6% during the forecast period. Cans are usually made of tinned, aluminum, or electro chrome-plated steel. Cans are quickly gaining popularity in the wine industry because of their benefits, including consumer convenience, an emphasis on cost and sustainability, and changes in consumer behavior.
More Insights, Lesser Cost (-50% off)
Insights on import/export production,
pricing analysis, and more – Only @ Fact.MR
Region-wise Insights
How has the Demand for CBD Wine Impacted the North American Market?
North America dominated the market and accounted for a 56.5% share of global revenue in 2021. The U.S. dominated the market owing to the legalization of medical and recreational marijuana in the country. California is the largest consumer of CBD wine in the U.S.
North America remained the world's highest consumption center for CBD wine. Consumers in the region are aware of CBD and its health benefits, and thus, consumption of CBD products is high in North America compared to other regions in the world.
Robust demand for cannabis beverages from millennials is also projected to propel market growth. According to a poll report by Yahoo News, the majority of the 55 million recreational marijuana consumers in the U.S. were millennials. Maximum millennials consume marijuana socially and only 25% of them consume it alone.
Moreover, the latest study by the University of Connecticut and Georgia State University found that in U.S. countries where marijuana was legalized, wine and beer purchases were reduced by 15%. The growth is majorly driven by the validation of marijuana for medical and recreational purposes.
As per the latest report published by Fact.MR, the North American CBD Wine market is estimated to expand to US$ 50 Million from 3 million, registering a CAGR of 29% throughout the forecast period.
Why are CBD Wine Providers Venturing into the Asia Pacific?
Asia-Pacific is the second-largest market for wine consumption in volume terms, propelled primarily by China, Japan, and South Korea. The province offers substantial potential owing to its large customer base, increasing disposable incomes, and favorable policies. Companies are marketing their products to attract millennials by packaging the product in attractive bottles, adding a sweeter flavor, and lowering the alcohol content.
The growing demand for CBD wine in the Asia Pacific is attributable to snowballing urban affluence and the pervasiveness of wine in business culture. In particular, red wine is prospective to offshoot growth, as it is alleged to be beneficial to health. The Chinese association of the color red with power, wealth, and good fortune will also subsidize robust sales.
Fact.MR's recently published report reveals that the APAC CBD Wine market is projected to reach US$ 35 Million by 2032, documenting a CAGR of 28% throughout the forecast period.
Competitive Landscape
Prominent CBD Wine providers are reliant on partnerships, collaborations, acquisitions, and new software launches to stay afloat in the global market. Constant innovations to ensure a seamless client-customer relationship are the main focus of prominent market players.
Fact.MR has provided detailed information about the price points of key manufacturers in the CBD Wine market positioned across countries, sales growth, production capacity, and speculative technological expansion in the recently published report.
In May 2022, House of Saka, Inc., producers of award-winning, alcohol-free, cannabis-infused wines from Napa Valley announced today that they have secured exclusive, North American rights to produce and distribute Gem + Jane Cannabis-Infused Beverages from Vintage Wine Estates.
In January 2021, Rebel Wines Co. UK recently launched a new CBD-infused wine, which has gone down a treat with consumers. The product is made with the company's quality, award-winning wines from Vondeling Vineyards in South Africa.
Key Segments Covered in the CBD Wine Industry Survey
CBD Wine Market by Source :

Hemp-based CBD Wine
Marijuana-based Wine

CBD Wine Market by Product Type :

Low-based CBD Wine
Marijuana-based CBD Wine

CBD Wine Market by Packaging :

CBD Wine Bottles
CBD Wine Cans

CBD Wine by Distribution Channel :

On-Trade CBD Wine Sales
Off-Trade CBD Wine Sales

CBD Wine Market by Region :

North America
Latin America
Europe
Asia Pacific
Middle East & Africa
- FAQs -
As of 2021, Fact.MR estimated the CBD Wine market to have reached US$ 10.38 Million.
By 2022, Fact.MR expected demand for CBD Wine to reach US$ 13.58 Million.
From 2017 to 2021, the CBD Wine market grew at a ~28% value CAGR.
From 2022 to 2032, CBD Wine demand is likely to surge at a 31% CAGR.
By 2032, the market for CBD Wine is likely to be valued at US$ 190 Million.
South Korea and Japan are expected to document CAGRs worth 30% and 31% respectively in the CBD Wine market.
The demand for the no-alcohol-based CBD wine segment will be maximum, expanding at a 30% CAGR.
The hemp-based CBD segment will remain most preferred, expanding at a CAGR of 29% until 2032.