Infant Nutritional Premix Market to Receive Impetus, as World Population Soars
Global infant nutritional premix market is projected to grow at a healthy CAGR of 5.6%, to be valued at US$ 315 Mn by 2028 end. In recent years, there has been significant growth in the birth rate in developing countries which has led to an increase in demand for infant formula-based products. According to the Population Reference Bureau, the world population in 2015 was 7.3 billion, and is estimated to increase to 9.8 billion by 2050, which is likely to fuel the demand for infant milk formula-based products in the country.
Vitamin Fortification to Remain Key Driving Factor
Vitamins accounted for over one-third of the infant nutritional premix market revenue in 2018 and this category is also expected to witness a growth of over 5% during the forecast period. The use of nutrient premixes in infant nutrition is increasing globally due to the rising consumer preference for nutritional fortification of infant formula and baby food products. Infant formulas are mainly fortified with iron and vitamin D for babies who are not being breastfed, along with ingredients such as DHA (docosahexaenoic acid) and ARA (arachidonic acid). The growing premix consumption across the globe, is, in turn, expected to boost the growth of the Infant nutritional premix market.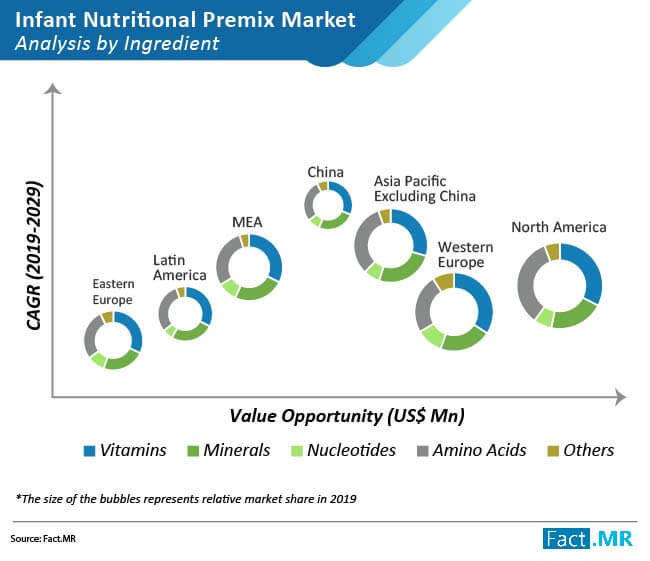 To know more about the infant nutritional premix market, ask an analyst here
Powder Form of Infant Nutritional Premix Gains Traction, Liquid Form Catching Up
Powder form of infant nutritional premix accumulated largest revenue share in 2018 and it is expected to continue on a steady growth trajectory with a CAGR of 5% during the forecast period. The demand for premixes in the powder form is increasing at a significant rate, in both, developed and developing countries. This is attributed to the properties of powder, such as easy solubility in water. Premix powder forms are mostly used in Infant nutrition, with a small segment in infant nutritional premixes. While liquid infant nutritional premix holds a significant share of the market revenue, these products are highly perishable, expensive and inconvenient to carry, thereby lacking a competitive advantage over powdered form in terms of shelf life and convenience. A prominent shift from liquid to powder form is projected to be observed in the forecast period.
Ability of Infant Nutritional Premix to Fortify Bone Health Gaining Traction
Bone health function type of infant nutritional premix created maximum absolute $ opportunity in the historic period (2013 – 2018) and is expected to continue the trend in forecast period (2019 – 2028). The demand for vitamin D in premixes is growing due to an increase in various bone health-related deficiencies among infants, globally. Many manufacturers are providing premixes related to bone health, with customized blends of vitamins, minerals, and amino acids.
Emerging Countries to Top Market Share Chart by End of 2028
A consistency in demand for infant nutritional premixes has been observed in developed countries. However emerging economies' consumption of human nutrition products has increased owing to the increased spending on nutrients and minerals especially for infants. This trend is seen in consumer driven markets such as China, India, Mexico and Brazil etc. Asia Pacific, MEA, Eastern Europe and Latin America are projected to hold around half of the market share by end of 2028. These regions are projected to grow at a higher CAGR than that of global infant nutritional premix market.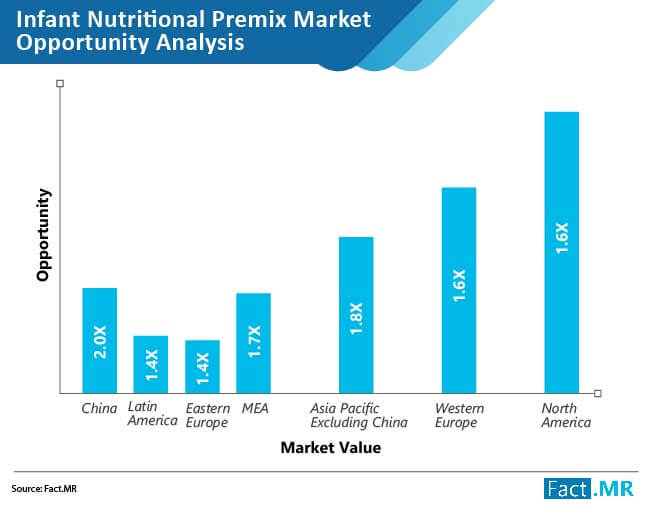 For in-depth insights on the infant nutritional premix market, request for a report sample here
Acquisitions Coupled with Investments in Infrastructure to Stimulate Revenue Growth
Market leaders are maintaining strong position owing to strong Internationalization of companies through acquisition and set up of subsidiaries across the globe. In addition, companies are investing in infrastructure to grow their R&D and production capabilities. For Instance, Koninklijke DSM NV. acquired AVA in November 2019 in order to strengthen its position in personalized nutrition and in November 2017, DSM expanded its strategic alliance with Amyris and acquired the Brazilian production facility from Amyris. In March 2017, BASF SE invested up to US$ 59 million to establish a research & development campus in Mumbai, India.
Infant nutritional premix market is anticipated to witness a notable upsurge during the forecast period 2019 to 2028, conferring to a new Fact.MR study. The study promotes crucial trends that are presently determining the growth of infant nutritional premix market. This newly published and perceptive report sheds light on vital dynamics, which are likely to convert the future of infant nutritional premix market, in turn generating worthwhile opportunities for key companies as well as evolving players who are interested in the production of infant nutritional premix.
Infant nutritional premix market study is a detailed market intellect on key revenue progression factors, challenges, industry trends, and opportunities, which will eventually influence the growth of infant nutritional premix market. The report primarily conveys a summary of the infant nutritional premix market, considering present and upcoming infant nutrition industry scenarios, to reveal striking sides relating to the acceptance of infant nutritional premix across prominent regional markets.
A detailed assessment on few of infant nutritional premix manufacturers and suppliers accessible in the report allows the report readers to obtain detailed findings that have resulted from infant nutritional premix supply chain analysis, business execution, and value chain analysis across the regional markets incorporated in the report. A list of prominent companies functioning in infant nutritional premix market provided in the report enhances reliability of this ample research study.
Infant nutritional Premix Market: Report Summary and Scope
Study offers a comprehensive overview on diverse features that are inducing demand, revenue generation and sales in infant nutritional premix market across the globe.
A comprehensive estimate on infant nutritional premix market has also been made accessible by the experts, who have considered the market estimates on the basis of a likely scenario, an optimistic scenario, and a conservative scenario regarding sales of infant nutritional premix during the forecast period. Analysis and estimation of price point comparison by region and by form with the global average price has been included in this study.
Infant nutritional Premix Market: Segmentation
Fact.MR's study has done the segmentation of infant nutritional premix market on the basis of form, ingredient, function and region.
Form

Ingredient

Function

Region

Powder

Liquid

Vitamins

Minerals

Nucleotides

Amino Acids

Others

Bone Health

Immunity

Digestion

Vision Health

Brain Health & Memory

Others

North America

Latin America

Western Europe

Eastern Europe

APEC

China

MEA
Infant Nutritional Premix Market: Analysis on Market Size Evaluation
Predictions of infant nutritional premix market, encompassing current as well as forthcoming projected values estimates and analysis on region-wise demand trends and price index have been assimilated in the report.
Market estimates at the regional and global scale for infant nutritional premix are available in terms of "US$ Mn." A Y-o-Y growth contrast on prominent infant nutritional premix market segments, along with the market attractiveness valuation computes understandings brought in the report. Metrics mentioned above are also followed based on infant nutritional premix applications where infant nutritional premix witness a steady demand.
Infant nutritional Premix Market: Scrutinized Assessment on Regional Segments
Weighted sections have been elaborated in the report on infant nutritional premix market, which delivers projection on the regional markets. These chapters brighten the regional macros (political economic, and business environment outlook), which are expected to have a significant impact on the growth of infant nutritional premix market during period of forecast.
Country-specific valuation on demand for infant nutritional premix has been offered for each regional market, along with the market scope estimate and forecast, price index, price point assessment, and impact analysis of dynamics of prominent regions and countries. For all regional markets Y-o-Y growth estimates have also been incorporated in the report.
Infant Nutritional Premix Market: In-depth Analysis on Competitive Landscape
The report ends with a section on the competition scenario of infant nutritional premix market, along with the profiles of major companies contributing to the market expansion. Essential and up-to-date data as well as information correlated to the market performers, who principally engage in the production and supply of infant nutritional premix, has been brought with the help of a detailed dashboard view. Market share analysis and comparison of prominent players provided in the report permits the report readers to plan preemptive steps to advance their businesses.
Company profiles have been shared with report, which exerts essentials such as product portfolio, along with an all-inclusive SWOT analysis on each player recognized along with the company policies identification and analysis. The company presence mapped and presented through the matrix for all the prominent players of the market functioning in infant nutritional premix market offers readers with actionable intellect, which helps in thoughtfully presenting the market status, and making decisive predictions on the competition levels in infant nutritional premix market. Major companies operating in global infant nutritional premix market, include Koninklijke DSM N.V., Glanbia plc, BASF SE, SternVitamin GmbH & Co. KG, Watson Inc., Jubilant Life Sciences, Archer Daniel Midlands Company, LycoRed Limited, Fenchem Biotek Ltd., Hexagon Nutrition Pvt. Ltd., Farbest Brands, Barentz International B.V., Prinova Group LLC, Vitablend Nederland B.V., Van Eeghan International B.V.
Fact.MR offers custom research services that help clients to get specific research solutions
We are committed towards customer satisfaction and quality service.
---
Our Clients

Infant Nutritional Premix Market Forecast, Trend Analysis & Competition Tracking - Global Market Insights 2019 to 2028