Expanded Polypropylene Foam Market
Expanded Polypropylene Foam Market Analysis By Type (Low Density, Medium Density, High Density), By Application (Automotive, Packaging, Consumer Goods, Oil & Gas, Construction, Appliances) & By Region - Global Market Insights 2023 to 2033
Analysis of Expanded Polypropylene Foam Market Covering 30+ Countries Including Analysis of US, Canada, UK, Germany, France, Nordics, GCC countries, Japan, Korea and many more
Expanded Polypropylene Foam Market Outlook (2023 to 2033)
According to Fact.MR, the global expanded polypropylene foam market stands at a valuation of US$ 1.10 billion in 2023 and is foreseen to progress at a CAGR of 11.5% to reach US$ 3.27 billion by the end of the forecast period.
Expanded polypropylene (EPP) foam is a type of lightweight, durable, and versatile foam material. It is derived from polypropylene, a thermoplastic polymer, and is known for its unique properties and applications. EPP foam is created by expanding and molding small polypropylene beads using heat and pressure.
EPP foam exhibits several desirable characteristics that make it suitable for several industries and applications, such as :
Low weight: EPP foam has a low density, making it lightweight while still providing excellent strength and durability.
Shock Absorption: It has outstanding shock-absorbing properties, making it ideal for packaging, transportation, and protective applications. EPP foam can effectively absorb impacts and vibrations, protecting delicate or fragile items during transit.
Thermal Insulation: EPP foam has good thermal insulation properties. It can maintain temperature stability, making it useful for applications involving insulation or temperature-sensitive products.
Chemical Resistance: EPP foam is highly resistant to chemicals, oils, and solvents. This property allows it to withstand exposure to various substances, making it suitable for applications in the automotive, chemical, and industrial sectors.
Low density, medium density, and high density are some of the types of EPP foams. High-density EPP foam is extensively employed in energy management systems within vehicles, such as side rails, bumpers, and safety parts. Its robustness against extreme impacts also makes it suitable for industrial packaging applications. As the demand for lightweight and premium products continues to grow, there is an anticipated increase in the demand for high-density EPP foam over the projected timeframe.
High-density EPP foam products serve a variety of purposes for designing car interiors, including reducing noise, vibration, and harshness, providing acoustic insulation, ensuring passenger safety, absorbing energy, and enhancing comfort. This can be attributed to the improved chemical and mechanical properties exhibited by the material.
Growing demand for electric and hybrid vehicles is also expected to drive the utilization of lightweight and chemically stable materials for automotive components. Rising focus of people on physical well-being is driving the domain of sporting goods, which is thereby increasing the consumption of EPP foam as well.
Report Attributes
Details

Expanded Polypropylene Foam Market Size (2023E)

US$ 1.10 Billion

Forecasted Market Value (2033F)

US$ 3.27 Billion

Global Market Growth Rate (2023 to 2033)

11.5% CAGR

Leading Regional Market

Asia Pacific

Key Companies Profiled

BASF SE
JSP
Kaneka Corporation
DS Smith
Furukawa Electric Co., Ltd.
Hanwha Group
Sonoco Products Company
Knauf Industries
Izoblok
Dongshin Industry Incorporated
Clark Foam Products Corporation
Paracoat Products Ltd.
Molan-Pino South Africa
Signode Industrial Group LLC
Armacel
Don't Need a Global Report?
save 40%! on Country & Region specific reports
Why are Sales of EPP Foam Growing at a Significant Pace?
"Rising Need for Lightweight & Environment-friendly Packaging Solutions"
The expanded polypropylene foam market is exhibiting significant growth due to the increasing demand for lightweight and environmentally friendly packaging solutions. Companies are actively seeking alternatives to single-use plastics in response to stricter regulations and growing environmental concerns. EPP foam has emerged as a favorable choice as it offers both protection and sustainability.
EPP offers several favorable characteristics, such as its lightweight nature, exceptional cushioning abilities, and recyclability. These qualities make it an appealing choice for packaging delicate and sensitive products like electronics and automotive parts. Its cushioning capacity effectively protects items during transportation, reducing the need for additional protective measures. Moreover, demand for extruded polypropylene foams in the automotive sector is projected to steadily increase in the foreseeable future.
EPP foams are easily recyclable, contributing to the establishment of a circular economy and minimizing waste. Many industries are embracing EPP as a sustainable packaging solution, particularly in the automotive sector, where its use for interior and exterior packaging has seen a significant rise. Incorporation of EPP foam results in weight reduction and enhanced fuel efficiency. This trend is expected to continue as the global demand for environmentally friendly packaging continues to grow.
"Stringent Fire Safety Requirements in Electronics, Construction, and Aerospace Sectors"
Manufacturers of EPP are continuously striving for advancements in manufacturing processes and material innovations. Substantial investments are made in research and development (R&D) activities to enhance the properties of EPP and improve production efficiency.
Creation of flame-retardant EPP materials is a major topic of focus to meet strict safety requirements in sectors including electronics, construction, and aerospace. While maintaining the advantageous properties of expanded polypropylene, these flame-retardant EPP materials provide improved fire resistance. They are therefore ideal for applications that demand stricter safety criteria.
In addition to material innovations, manufacturers are actively exploring sustainable and bio-based alternatives to traditional polypropylene. By incorporating renewable resources, such as bio-based polypropylene, into the production of EPP, companies aim to reduce their environmental impact and provide greener solutions to their customers. These initiatives demonstrate a commitment to sustainable practices and a proactive approach to meeting the evolving customers' needs.
What are the Restraints Encountered by Producers of EPP Foam Solutions?
"Price Volatility of Raw Materials and High Initial Investment Required"
The price of raw materials, especially polypropylene, can be subject to volatility due to factors such as fluctuations in oil prices, global supply and demand dynamics, and geopolitical factors. Price instability can affect the profitability of EPP foam manufacturers and may lower EPP foam sales growth.
The manufacturing process for EPP foam involves specialized equipment and technologies. The initial investment required for setting up EPP foam production facilities can be substantial, especially for small- and medium-sized enterprises (SMEs). These high initial costs may hamper the profits of manufacturers of EPP foams.
"Limited Recycling Infrastructure for EPP Foams Leading to Environmental Concerns"
While EPP foam is recyclable, availability of proper recycling infrastructure can be limited in certain regions. The collection, sorting, and recycling of EPP foam can be complex and require specialized facilities. The lack of an efficient recycling system may lead to a lower recycling rate, resulting in high waste and environmental concerns, which can impede sales of EPP foam products.
More Insights, Lesser Cost (-50% off)
Insights on import/export production,
pricing analysis, and more – Only @ Fact.MR
What are the Initiatives Adopted by New Market Players to Stay Profitable?
"Growing Emphasis on Advancements in EPP Foam Manufacturing Techniques"
Innovations in material formulations and manufacturing processes are boosting the sales of EPP foams. Investments in research and development (R&D) activities can lead to the creation of EPP foam products with enhanced properties, such as improved thermal insulation, flame retardancy, and chemical resistance.
Additionally, advancements in production techniques can improve efficiency, reduce costs, and open up new possibilities for EPP foam applications. Newcomers should focus on differentiating their offerings, which may aid them in attracting a wider customer base and offering a competitive edge in the market.
EPP foam is finding applications beyond traditional industries such as automotive and packaging. It is being increasingly used in sectors such as construction, electronics, medical, and sports equipment due to its unique properties. Thus, the versatility of EPP foam offers several growth opportunities for new entrants to invest in the expanded polypropylene foam market.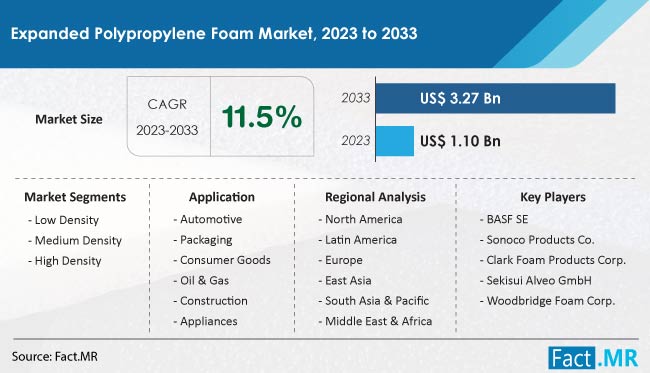 Country-wise Analysis
Why is China a Key Market for Producers of EPP Foam?
"Surging Electronic Appliances Industry Pushing Sales of EPP Foam"
China stands as the dominant force in the Asia Pacific region, both as a consumer and manufacturer of EPP foams. This can be attributed to a combination of factors, including low labor costs, robust infrastructure development, and favorable government policies. The country's thriving manufacturing activities have led to high consumption of plastics and polymers, thereby fueling sales of EPP foams.
Within the area of consumer durables, polypropylene foam has emerged as a preferred packaging material. The longevity and utility of these appliances necessitate meticulous protection during transit, as even minor dents can result in order cancellations.
Recognizing this critical aspect, manufacturers in the consumer durable goods industry prioritize packaging quality. Polypropylene foams offer unparalleled cushioning properties, ensuring the safe transportation of goods. Moreover, their effectiveness compared to alternative packaging materials makes them the material of choice among industry players. Thus, the rising demand for consumer appliances is boosting sales of EPP foams in China.
What are the Drivers Behind the Strong Demand for EPP Foam Solutions in Germany?
"High Demand for Advanced EPP Foam Technologies for Enhanced Comfort & Safety in Automobiles"
In Germany, polypropylene foams have established a strong foothold in the packaging and automotive sectors. As a prominent automotive manufacturing hub, Germany relies on polypropylene foams for a range of applications, including NVH reduction, thermal insulation, and impact absorption in automobiles.
With an increasing emphasis on safety, German consumers are gravitating towards vehicles that offer enhanced safety features. This shift in consumer preferences has prompted automakers to prioritize the deployment of advanced technologies and materials that not only bolster safety but also enhance comfort within their vehicles. The changing consumer sentiment and the rapidly developing automotive industry are estimated to fuel sales of EPP foams in Germany over the next decade.
How are Sales of EPP Foam Faring in the United States?
"Stringent Regulations on Single-use Plastics Driving Sales of EPP Foam"
The construction industry in the United States is experiencing steady growth, driving the demand for expanded polypropylene foams in insulation and building applications. EPP foam's excellent thermal insulation properties, moisture resistance, and durability make it suitable for a wide range of construction applications, including insulation panels, roofing, and wall cladding.
With increasing environmental concerns and strict regulations on single-use plastics, there is a growing demand for biodegradable and sustainable packaging solutions in the United States. EPP foam, being recyclable and eco-friendly, has gained popularity as a preferred packaging material. Its lightweight nature, excellent cushioning properties, and recyclability make it an attractive choice for industries such as electronics, consumer goods, and food packaging.
Know thy Competitors
Competitive landscape highlights only certain players
Complete list available upon request
Category-wise Analysis
Why is EPP Foam Extensively Utilized in the Manufacturing of Automotive Components?
"Growing Demand for EPP Foam in Automotive Sector Driven by Need for High Impact Resistance and Enhanced Safety Features"
EPP foams are lightweight materials with excellent energy absorption properties. In the automotive industry, lightweight components are crucial for improving fuel efficiency and reducing emissions. EPP foams offer a high strength-to-weight ratio, making them ideal for applications where impact resistance and crashworthiness are essential, such as in automotive bumpers, door panels, headrests, and interior components.
Safety is a top priority in the automotive sector. EPP foams provide exceptional cushioning and impact protection, which is vital for occupant safety during collisions. These foams effectively absorb and disperse energy, minimizing the risk of injury to vehicle occupants. They are often used in the production of automotive safety components such as headliners, seat backs, armrests, and door panels.
The versatility and performance benefits offered by EPP foams make them a preferred choice for automotive manufacturers seeking to meet stringent regulations, improve vehicle efficiency, and enhance the overall driving experience.
Competitive Landscape
Key market players are investing significantly in R&D activities to expand their product offerings. They are also engaging in strategic activities such as new product launches, contracts, mergers and acquisitions, high investments, and collaborations to enhance their market presence.
To thrive in a more competitive market environment, manufacturers are prioritizing the development of cost-effective EPP foam products. Manufacturers are adopting the business tactic of local manufacturing to reduce operational costs and reach a wider client base.
In January 2022, JSP launched the ARPRO Revolution, a product that incorporates nearly 100% recycled materials. This innovative solution boasts a minimal carbon footprint and is particularly suitable for non-technical uses, including furniture, leisure activities, and packaging.
Key Segments of EPP Foam Industry Research
By Type :

Low Density
Medium Density
High Density

By Application :

Automotive
Packaging
Consumer Goods
Oil & Gas
Construction
Appliances

By Region :

North America
Latin America
Europe
East Asia
South Asia & Oceania
MEA
- FAQs -
The global expanded polypropylene foam market is valued at US$ 1.10 billion in 2023.
Worldwide Sales of EPP foam are forecasted to reach US$ 3.27 billion by 2033.
The market for EPP foam market is forecasted to progress at a CAGR of 11.5% through 2033.
The Asia Pacific region occupies a dominant share of the global market.
High-density EPP foam is widely utilized in the manufacturing of bumpers, side rails, and safety parts.