Increasing Production of Commercial Vehicles to Amp up Demand for Wheel Axle
The industrial sector is expanding in developing countries and advancements in commercial operations in logistics has led to significant demand for commercial vehicles. Increasing demand for heavy commercial vehicles is significant in developed regions such as North America and Europe. Heavy commercial vehicles coupled with long trailers are used which generally require around 6-8 wheel Axle in order to achieve the equilibrium of load distribution. Therefore, an increase in the demand for long trailers over the forecast period will subsequently increase demand for wheel Axles.
The global wheel axle market is projected to create an absolute $ opportunity of more than US$ 23 billion, to be valued at more than US$ 87 billion by the end of the forecast period (2019 – 2029), predicts the report recently published by Fact.MR.
Burgeoning Demand for Rolling Stock to Boost the Wheel Axle Market
The governments in developing countries are increasing their focus on expanding transit facilities in their regions, owing to the growing population and rapid urbanization. The demand for rolling stock such as locomotives, carriages, and wagons is growing, as rail-vehicles possess high transportation capacity compared to other modes. Besides, privatization of the rail in Japan has encouraged leading players to manufacture enter into the business of rail transportation which has boosted rolling stock production in the region, which supports the growth of the wheel Axle market. Thus, increasing demand for rolling stock supports the growth of the wheel Axle market. Fact.MR opines that rail end-use segment is estimated to create an absolute dollar opportunity US$ 135.6 Mn, and is expected to grow at a CAGR of 4.4% during the forecast period (2019 – 2029).
Wheel Axle with Medium Torque Set to Accumulate Majority Share
Light commercial vehicles such as pickup trucks and sports utility vehicles which generate a drive torque of 300 – 600 Nm have been increasing, owing to benefits such as high load-carrying capacity as well as comfort while driving. North America and Asia Pacific registered high growth rates in the production of light commercial vehicle by 4.8% and 3.7% respectively in the last couple of years. Therefore, increasing demand for light commercial vehicles is expected to create higher-value opportunities in future years. In the Fact. MR's report, it is projected that the wheel axles required for vehicles with drive torque between 300 – 600 Nm will hold one-third of market share in terms of value and are anticipated to grow at a CAGR of 3.3% by the end of 2029.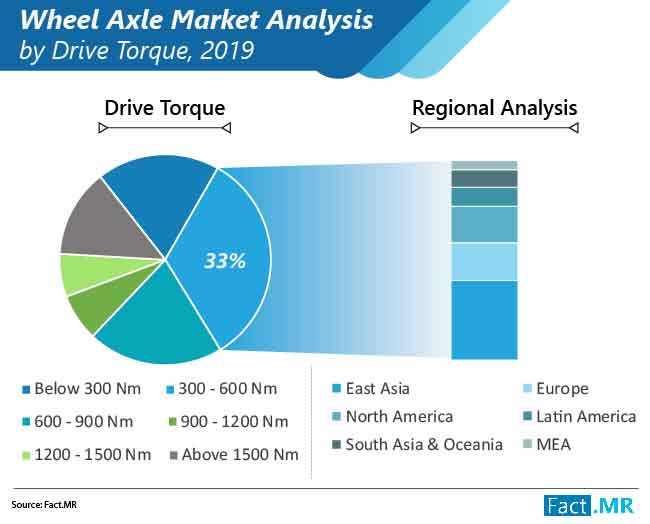 East Asia to Outpace other Regions in Global Wheel Axle Market
Rapid industrialization in the leading oriental countries such as China, Japan, and South Korea has given impetus to the economy of the region. East Asia has become the manufacturing hub of the world, especially for automotive production. China has emerged as the leading manufacturer of automobiles in the world with more than 25 million motor vehicles produced in the country in the year 2018. Therefore, East Asia has become a prominent market for manufacturers of wheel Axle. Fact.MR anticipates that East Asia is projected to hold more than 41% value share of the global wheel Axle market during the forecast period.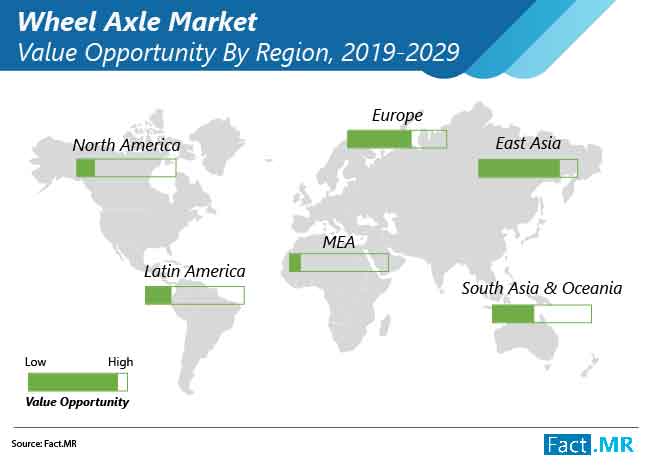 Manufacturers Focused on Expansion through Acquisitions and Product Launches
Market leaders are maintaining a strong position owing to the robust internationalization of companies through acquisitions and set up of subsidiaries across the globe. Besides, companies are introducing new products to expand in the market. For instance, in January 2020,
Dexter Axle Company acquired US based drive Axle & suspension manufacturer Silent Drive to expand its product portfolio
In April 2019, leading wheel Axle manufacturer Meritor Inc. launched a line of planetary Axles for material handling vehicles
Wheel Axle Market - Scope of the Report
Fact.MR recently published a market study on the global market for wheel axle. The study provides a detailed assessment on the key market dynamics, including drivers, trends, opportunities, restraints, and detailed information about the wheel axle market structure. The market study presents exclusive information about how the wheel axle market will grow during the forecast period of 2019-2029.
Key indicators of market growth, which include Year-on-Year (Y-o-Y) growth of the market, value chain, supply chain analysis, and Compounded Annual Growth Rate (CAGR) are explained in Fact. MR's study in a comprehensive manner. This information can help readers understand the quantitative growth prospects of the wheel axle market in the forecast period.
The study is relevant for stakeholders in the wheel axle market, including manufacturers, suppliers, distributors, and investors, and can help them in developing appropriate strategies to grow in the market. Stakeholders in the wheel axle market, investors, industry experts, researchers, and journalists, as well as business researchers can leverage the information and data presented in the Fact.MR study.
The study also includes statistics as well as facts related to macro as well as microeconomic factors that are impacting developments in the wheel axle market. It also offers actionable insights based on future trends in the wheel axle market. Furthermore, small businesses and new entrants in the wheel axle market too can make use of the information presented in this study, based on which, they can make appropriate business decisions in order to gain momentum in the market.
Key Segments of the Wheel Axle Market
Fact.MR's study on the wheel axle market offers information divided into four key segments— end use, drive torque and region. This report offers comprehensive data and information about important market dynamics and growth parameters associated with these categories.
End Use

Drive Torque

Region

Below 300 Nm
300 – 600 Nm
600 – 900 Nm
900 – 1200 Nm
1200 – 1500 Nm
Above 1500 Nm

North America
Latin America
Europe
East Asia
South Asia & Oceania
MEA
Key Questions Answered in Fact.MR's Wheel Axle Market Report
Which regions will continue to remain the most profitable regional markets for wheel axle market players?
Which factors will induce a change in the demand for wheel axle during the assessment period?
How will changing trends impact the wheel axle market?
How can market players capture the low-hanging opportunities in the wheel axle market in developed regions?
Which companies are leading the wheel axle market?
What are the winning strategies of stakeholders in the wheel axle market to upscale their position in this landscape?
Wheel Axle Market: Research Methodology
In Fact.MR's study, a unique research methodology is utilized to conduct extensive research on the growth of the Wheel Axle market, and reach conclusions on future growth parameters of the market. This research methodology is a combination of primary and secondary research, which helps analysts ensure the accuracy and reliability of conclusions.
Secondary resources referred to analysts during the preparation of the Wheel Axle market study include statistics from governmental organizations, trade journals, white papers, and internal and external proprietary databases. Analysts have interviewed senior managers, product portfolio managers, CEOs, VPs, marketing/product managers, and market intelligence managers, who have contributed to the development of this report as a primary resource.
Fact.MR offers custom research services that help clients to get specific research solutions
We are committed towards customer satisfaction and quality service.
---
Our Clients

Wheel Axle Market Forecast, Trend Analysis & Competition Tracking - Global Market Insights 2019 to 2029