Two-wheeler Lighting Market
Two-wheeler Lighting Market Analysis By Product (Headlamps, Front Lights, Side Lights, Front Indicators, Rear Indicators, Tail/Brake Lights, Number Plate Lights), By Type (Halogen Lights, LED Lights, Discharge Gas Lamps, Incandescent Lamps, Xenon Lamps), By Sales Channel (OEMs, Aftermarket), By Vehicle Type (Motorcycles, Mopeds, Scooters), By Voltage (12V, 14V) & By Region - Global Market Insights 2023 to 2033
Analysis of Two-wheeler Lighting Market Covering 30+ Countries Including Analysis of US, Canada, UK, Germany, France, Nordics, GCC countries, Japan, Korea and many more
Two-wheeler Lighting Market Outlook (2023 to 2033)
According to experienced analysts at Fact.MR, the global two-wheeler lighting market is valued at US$ 14.44 billion in 2023 and is projected to reach US$ 48.16 billion by 2033. Worldwide sales of two-wheeler lighting solutions are forecasted to increase at a high-value CAGR of 12.8% during the next 10 years.
Two-wheeler lighting plays a vital role in ensuring the safety and functionality of motorcycles, scooters, and other two-wheeled vehicles. Beyond aesthetics, these lighting systems are essential for visibility, indicating signaling, and overall road safety.
Headlamps, front lights, side lights, front indicators, rear indicators, tail/brake lights, and number plate lights are some of the components of the two-wheeler lighting systems. Many riders choose to install auxiliary lights such as fog lights or spotlights to improve visibility in adverse weather conditions or on poorly lit roads.
Halogen lights, LED lights, discharge gas lamps, incandescent lamps, and xenon lamps are some of the types of motorcycle lighting systems. Growing demand for LED two-wheeler lighting systems can be attributed to their superior illumination, energy efficiency, extended lifespan, regulatory compliance, and customization options.
LEDs produce a bright, white light that closely resembles natural daylight. This aids in significant visibility, particularly during night-time or adverse weather conditions such as heavy rains or fog. These features of LED scooter lights help in reducing the likelihood of accidents. Riders are increasingly valuing the enhanced safety aspect associated with LED headlights and tail lights. As the importance of LED lights is rising among riders, demand for LED headlights for two-wheelers is increasing significantly.
The energy efficiency of LED lights increases the battery life and lowers the pressure on the vehicle's electrical system. They consume significantly less power compared to traditional incandescent bulbs or other lighting systems such as halogen lights. Continuous innovations in LED bike lighting are expected to increase their popularity among tech-savvy riders.
Report Attributes
Details
Two-wheeler Lighting Market Size (2023E)
US$ 14.44 Billion
Forecasted Market Value (2033F)
US$ 48.16 Billion
Global Market Growth Rate (2023 to 2033)
12.8% CAGR
Leading Regional Market
North America
Key Companies Profiled

Hyundai Mobis
Valeo
Koninklijke Philips N.V.
Koito Manufacturing
Stanley Electric
Magnetti Marelli
Ichikoh Industries Ltd.
FIEM Industries
Cobo
Rinder
Boogey
Motolight
Lazer Lamps
Unitech
Hella
Ampas Lighting
Federal-Mogul
Bruno/Zadi Group
LumaxMinda
ZWK Group
Varroc Lighting
Osram GmbH
Don't Need a Global Report?
save 40%! on Country & Region specific reports
What are the Aspects Augmenting the Growth of the Two-wheeler Lighting Industry?
"Stringent Regulations Governing Road Safety"
In light of the rising road safety concerns, several governments across the globe are implementing strict regulations. These rules are focused on reducing road accidents and necessitate the incorporation of effective features in two-wheelers including lighting. In many countries, road safety is a top priority, and adequate lighting is considered a fundamental aspect of accident prevention.
Improved lighting solutions directly contribute to reducing accident rates by enhancing the visibility of two-wheelers to other road users. Well-illuminated motorcycles can run well on the road due to advanced lighting technologies.
Safety is not only about accident prevention but also about enhancing the safety features of vehicles and rider confidence. Lighting systems such as LEDs and adaptive lighting offer riders a clear view of the road and help them make informed decisions quickly.
Globalization of the automotive industry is leading to the harmonization of safety standards across different regions. Manufacturers are designing and producing two-wheelers that adhere to these global safety norms. Compliance with lighting standards is becoming a non-negotiable aspect of manufacturing, ensuring that vehicles are equipped with advanced lighting solutions that meet or exceed minimum safety requirements.
"Adoption of OLED Technology as Sustainable Lighting Solution"
The rapid adoption of LED technology is changing the landscape of the two-wheeler lighting market. LEDs are emerging as the preferred choice for both manufacturers and consumers due to their numerous advantages. LEDs are solid-state lighting devices that emit light when an electric current passes through them. Super illumination, energy efficiency, extended lifespan, and durability are some of the features of LED technology.
While LED technology is gaining widespread adoption across several regions of the globe, the emergence of OLED (organic light emitting diode) technology is another notable trend in the two-wheeler lighting market. OLEDs are composed of organic materials that emit light when an electric current is applied. OLED lighting is more eco-friendly than traditional lighting technologies.
Owners of two-wheelers are increasingly seeking vehicles that offer enhanced efficiency and sustainability. LED and OLED lighting technologies resonate with these consumer preferences.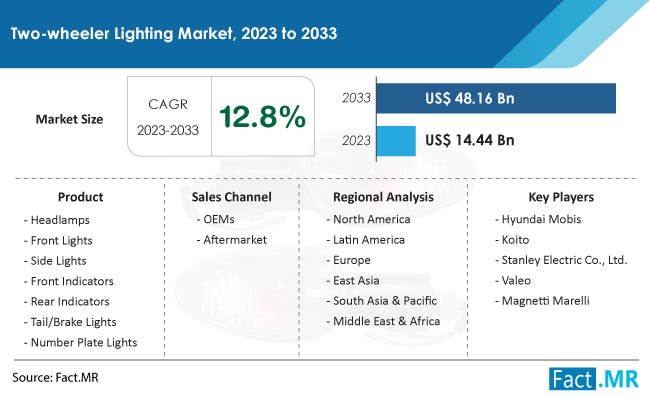 What are the Hindrances to the Revenue Growth for Two-wheeler Lighting Producers?
"High Initial Cost of Advanced Two-wheeler Lighting Systems"
One of the primary challenges associated with implementing advanced lighting technologies in two-wheelers is their higher initial cost. LED and adaptive lighting systems often involve sophisticated components and technologies that are more expensive to manufacture and install compared to traditional lighting solutions. This increases the overall cost of two-wheelers and distracts price-sensitive consumers from buying them.
In developing countries, consumers prioritize affordability when making purchasing decisions. Thus, the cost premium associated with advanced lighting technologies can deter potential buyers, especially in segments where budget constraints are a primary concern.
"Diverse Regulatory Landscape Affecting Two-wheeler Lighting Production Cycle"
Manufacturers in the two-wheeler lighting industry are facing challenges due to the diversity of lighting regulations across different global markets. Each country has its own set of standards and requirements governing vehicle lighting. These regulations can vary significantly in terms of technical specifications, testing procedures, and permissible lighting configurations.
Regulatory compliance is important for ensuring road safety and legal market access but it poses significant challenges for manufacturers, especially those targeting multiple markets with varying standards. Navigating this regulatory landscape effectively needs the employment of technical expertise, financial investment, and strategic decision-making to ensure both compliance and competitiveness. Thus, meeting stringent lighting regulations in the global two-wheeler market is a complex and resource-intensive task.
More Insights, Lesser Cost (-50% off)
Insights on import/export production,
pricing analysis, and more – Only @ Fact.MR
How Can New manufacturers Bolster Their Presence in the Two-wheeler Lighting Business?
"Continuous Innovation and Partnerships Will Generating Lucrative Opportunities for New Market Entrants"
New companies can stand out by focusing on innovation and product differentiation. Developing unique and technologically advanced lighting solutions that offer improved safety, efficiency, or aesthetics can attract attention and create a niche market. Innovative features such as adaptive lighting, smart connectivity, or energy-saving technologies can be key selling points. Efficient and cost-effective manufacturing processes can also enable newcomers to offer competitive pricing.
Collaborating with established two-wheeler manufacturers can provide new companies with access to distribution networks and customer bases. Strategic partnerships can help them gain market visibility and credibility, which is particularly needed for new entrants. They should also focus on continuous improvement, both in terms of product development and operational efficiency. Regularly updating and upgrading products can keep brands relevant and competitive.
Country-wise Analysis
The United States, Germany, and Japan showcase varying characteristics in the market. The United States offers opportunities for customization and aftermarket sales. Germany places a premium on advanced lighting technology, and Japan excels in safety and innovation due to the presence of key market players.
How is Demand for Two-wheeler Lighting Systems Evolving in the United States?
"High Demand for Two-wheeler Lighting Due to Strict Transportation Safety Regulations"
Sales of two-wheeler lighting technologies are increasing swiftly in the United States due to rapid technological advancements in lighting as well as motorcycle designs. LED lighting technology holds a dominant share of the United States market due to its energy efficiency, longer lifespan, and brighter illumination. LEDs are favored for their performance and compliance with safety standards.
The United States Department of Transportation (DOT) has strict regulations for motorcycle lighting. Compliance with DOT standards is crucial for manufacturers and importers, who are focusing on the United States as a target market.
What is Attracting Two-wheeler Lighting Suppliers to Germany?
"Growing Demand for Premium Motorcycles Fueling Adoption of Advanced Lighting Systems"
Germany is a prominent market for two-wheelers including bikes, motorcycles, and scooters. Sales of motorcycle lighting technologies are driven by a strong culture of motorcycling and urban mobility.
More German consumers are typically opting for premium motorcycles which further leads to a healthy demand for high-quality lighting systems. Premium brands such as BMW, Audi, and Ducati emphasize advanced lighting technology. Germany being a manufacturing hub of superbikes is generating considerable demand for advanced bike lighting technologies.
Why is Japan a Profitable Market for Two-wheeler Lighting Manufacturers?
"Growing Emphasis on Rider Safety Driving Integration of Smart Lighting in Motorcycles"
Japan is a profitable market for two-wheeler manufacturers, driven by its love for motorcycles and scooters. Motorcycle lighting manufacturers are focusing on improving lighting technology. As the country places a strong emphasis on road safety, high-intensity discharge (HID) and LED lighting systems are gaining traction as they enhance visibility in low-light conditions.
Japanese motorcycle manufacturers such as Honda, Yamaha, and Kawasaki are at the forefront of two-wheeler lighting innovation. They often integrate advanced lighting systems with their models, focusing on rider safety.
Know thy Competitors
Competitive landscape highlights only certain players
Complete list available upon request
Category-wise Analysis
Scooters are being increasingly favored by people for urban commuting due to their convenience and fuel efficiency. High sales of scooters are directly leading to the growing adoption of two-wheeler lighting technologies.
According to Fact.MR, a market research and competitive intelligence provider, motorcycles are expected to witness high demand over the next 10 years, which is projected to offer profitable opportunities for manufacturers of LED headlamps, taillights, and indicator lights.
Which Type of Vehicle Holds a Leading Share of Two-wheeler Lighting Deployment?
"Widespread Integration of Advanced Lighting into Motorcycles for Enhanced Visibility"
Scooters, mopeds, and motorcycles represent categories of two-wheelers. The burgeoning popularity of scooters for urban commuting is a major factor boosting the growth of the two-wheeler lighting market. Scooters are popular for short-distance journeys, particularly in densely populated urban environments, owing to their convenience, user-friendliness, and fuel efficiency.
Demand for lighting components in motorcycles is forecasted to increase at a high pace during the next 10 years. This surge is primarily driven by the increasing adoption of advanced lighting features such as headlights, taillights, sidelights, and indicator lights in motorcycles. These innovations aim to enhance visibility and safety for riders on the road.
In October 2021, Bajaj Auto Ltd. introduced two entirely fresh models of the Pulsar 250, incorporating cutting-edge projector LED headlamps, an assist and slipper clutch, and a gear indicator, designed to cater to the evolving demands of the next generation of sports biking enthusiasts.
Competitive Landscape
Leading companies are continuously investing in research and development activities to create innovative lighting solutions. This includes the development of advanced LED technologies, adaptive lighting systems, and other energy-efficient lighting options. Innovative products widely attract customers looking for improved safety, visibility, and aesthetics.
In June 2022, J.W. Speaker Corporation unveiled a groundbreaking 5-in-1 LED motorcycle headlight, which is specifically designed to improve visibility on the road.
Key Segments of Two-wheeler Lighting Industry Research
By Product :

Headlamps
Front Lights
Side Lights
Front Indicators
Rear Indicators
Tail/Brake Lights
Number Plate Lights

By Type :

Halogen Lights
LED Lights
Discharge Gas Lamps
Incandescent Lamps
Xenon Lamps

By Sales Channel :

By Vehicle Type :

Motorcycles
Mopeds
Scooters

By Voltage :

By Region :

North America
Latin America
Europe
East Asia
South Asia & Oceania
MEA
- FAQs -
The global two-wheeler lighting market is estimated at US$ 14.44 billion in 2023.
Sales of two-wheeler lighting solutions are projected to reach US$ 48.16 billion by 2033.
Global demand for two-wheeler lighting technologies is forecasted to increase at a CAGR of 12.8% from 2023 to 2033.
Hyundai Mobis, Valeo, and Koninklijke Philips N.V. are leading companies in the market.
Rapid technological advancements in motorcycle and lighting designs are driving the sales of two-wheeler lighting solutions in the U.S.