Hyperspectral Imaging Market
Hyperspectral Imaging Market Analysis by End Use Industry (Mining and Mineral, Forestry and Agriculture, Infrastructure and Urban Planning, Oil & Gas, Utility and Energy, Aerospace & Defense, Environment Monitoring and Control), by Region - Global Forecast 2022-2032
Analysis of Hyperspectral Imaging market covering 30 + countries including analysis of US, Canada, UK, Germany, France, Nordics, GCC countries, Japan, Korea and many more
Hyperspectral Imaging Industry Outlook (2022-2032)
The market for hyperspectral Imaging is anticipated to reach US$ 683 Mn by 2022. In the long haul, prospects appear further optimistic, with the industry expected to reach US$ 2 Bn by the end of the assessment period 2022-2032.
Report Attributes

Values

Market Size Value in 2022

US$ 683 Mn

Projected Market Forecast Value by 2032

US$ 2 Bn

Global Growth Rate (2022 to 2032)

11.34% CAGR

Market Share of U.S

22%

Prominent Hyperspectral Imaging Providers

Airbus Defence and Space
Antrix Corporation
Cyient
Hansa Luftbild AG
L3Harris Technologies (Harris Corporation)
Hexagon AB
HyperSpectral Solutions LLC
Planet Labs PBC
Satellogic SA
SpecTIR
Sanborn Map Company
Projected compounded annual growth rate for the aforementioned period is around 11.34%. Image analysis of micro plastics using hyperspectral imaging is an emerging technique in the coming years.
Don't Need a Global Report?
save 40%! on Country & Region specific reports
Hyperspectral Imaging Revenue Analysis from 2017-2021 Vs Outlook 2022-2032
According to Fact.MR, market research and competitive intelligence provider, from 2017 to 2021, the global market for hyperspectral imaging has grown at a CAGR of almost 10%. Recent developments in hyperspectral sensors have made hyperspectral image processing an important research field in remote sensing.
Hyperspectral imaging is expected to see growth in the coming years because the technology can be used to analyze COVID-19 rashes. Multispectral cameras and point spectrometers are becoming more portable, low-cost, and easily controlled with handheld devices and cell phones as stakeholders seek to develop low-cost hyperspectral technologies. New advancements in instrumentation and data analysis have further expanded the therapeutic potential of hyperspectral imaging. Hyperspectral imaging can be viewed as a "Next Generation Imaging" for clinical research in the future.
Further, due to its contactless, noninvasive nature and short processing time, it can quantify a wide range of predefined substances. Through hyperspectral imaging, one could detect carcinomas, classify different tissue structures, and assess blood flow in tissues. Hence the market is likely to surge at a CAGR of 11.34% from 2022-2032.
Prominent Growth Drivers Shaping Hyperspectral Imaging Demand
Multiple End-Use Applications Enhancing Expansion Prospects
In recent years, a growing number of funding and investments has led to an increase in the need for hyperspectral imaging technologies in the current market. Technology advancements and the increasing market demand for research on a variety of applications have propelled the market demand for hyperspectral imaging in the market.
Increasing data management techniques and improved component fabrication have allowed hyperspectral imaging to be used for a range of applications, from food inspection to pathogen detection to airport security.
Hyperspectral technology was originally developed for secret military satellites and surveillance but has been limited by the high cost and the difficulty of sifting through all that data. However, advances in computing and improvement to data acquisition and analysis have enabled HSI's benefits to be applied across countless disciplines, from astronomy to weather forecasting. A rise in food inspections, pathogen detection, airport security, law enforcement, and oil and gas pipeline inspections reflects a demand for safety and security.
With the advancement of computing and data processing techniques, volume fabrication techniques reduce the cost and size of sensors and detectors-and, therefore, the cost of HSI systems that use them have also been reduced. As a result, the market demand for HSI has increased.
The growth of the hyperspectral imaging market is primarily fueled by adoption in the pharmaceutical sector, particularly in emerging economies. A growing market for hyperspectral cameras is emerging as new and affordable hyperspectral cameras are being developed as hyperspectral technology is more widely used for defense and industrial purposes.
Are new technological developments driving the market for Hyperspectral Imaging?
A scientist can compare the spectral fingerprints obtained with the chemical compositions, materials, liquids, activities, and events present in the scene to detect, characterize, and identify those substances, which can then be attributed to a precise place within the scene.
In collaboration with industry partners, researchers are discovering new ways to use and analyze HSI video for a wide variety of applications. Using conventional imaging technology and spectroscopy, researchers developed spectral imaging to get both spatial and spectral information from an object.
Though it was originally developed for remote sensing, this technology has been applied to biological and biomedical research as an analytical tool with great utility. Analytical capabilities and performance of spectral imaging systems for biological and biomedical imaging are examined by the researchers.
With encouraging results, hyperspectral imaging was recently used for MP analysis. This technique was initially developed for remote sensing of the earth's surface, but now it is used for identifying various materials. HSI is most commonly utilized in the recycling industry to separate plastics by polymer type. This study provides a promising proof of concept with a clear link to MP analysis.
More Insights, Lesser Cost (-50% off)
Insights on import/export production,
pricing analysis, and more – Only @ Fact.MR
Country-wise Analysis
How Opportunistic are Growth Prospects in the U.S Market?
Mushrooming Defense Expenditure to Encourage High Uptake of Hyperspectral Imaging Solutions
With high spending on hyperspectral images, the United States is expected to make up over 22% of the hyperspectral imaging market in 2022. The U.S has witnessed high adoption of imaging services in the mining & mineral, forestry & agriculture as well as aerospace & defense sectors.
Moreover, the U.S has the highest military spending, making it the world's largest military power. Surveillance and defense spending developments, as well as food and agriculture industries, are expected to drive the growth of the market. As part of the National Defense Authorization Act, the DAF releases its FY22 budget where the United States Air Force is likely to spend $156.3 billion, which is a 2.3% increase, while the Space Force will spend $17.4 billion, which represents a 13.1% increase from FY 2021. The increase in expenditure is likely to finance the next-generation fighter jet equipped with sensors that can detect different surfaces and radiation from greater heights.
Small companies are seeing a rise in federal and private investment to finance R&D activities, opening the door for hyperspectral vendors to commercialize their initial discoveries. Also, government agencies are reassessing their strategies and trying to launch hyperspectral imaging satellites.
How is China Progressing in the Hyperspectral Imaging Landscape?
Progress in Space-Borne Hyperspectral Remote Sensing Fuels Demand in China
A series of Chinese hyperspectral satellites have been successfully launched and operated in recent years, including the Shenzhou-3 spacecraft, the SPARK satellite, the Gaofen-5 satellite, the Zhuhai-1 satellite network for environmental and resources monitoring, the Feng Yun series of satellites for meteorological observation, and the Chang'E series of spacecraft for planetary exploration. Space-borne Chinese HRS systems now have various new features, such as wide swath widths, high spatial resolutions, broad spectral ranges, hyperspectral satellite networks, and microsatellites.
Hyperspectral imagers are used for more than just Earth observation. They are also a part of the Chinese program for creating the first-ever lunar lander. The development of microsatellite technology and hyperspectral imaging technology is responsible for the growth in space-borne HRS in China.
For instance, In September 2021, China launched its Gaofen 5 (02) hyperspectral Earth observation satellite to carry out 40 missions in 2021. By employing hyperspectral imaging, the satellite can photograph hundreds of very narrow channels of light from ultraviolet to long-wave infrared, which allows it to produce images that indicate the material composition of objects viewed. Fact.MR anticipates the hyperspectral imaging landscape in China to expand at a CAGR of 12% across the 2022-2032 assessment period.
Why is Hyperspectral Imaging Gaining Traction in the Germany Market?
Extensive Applications in the Pharmaceutical Industry to Drive Market Demand
Medical care needs in this region have led to an increase in market demand for hyperspectral imaging. A thematic analysis of the spatial distribution of potentially reusable materials at dumpsites using terrestrial hyperspectral imaging is a novel application that has a timely impact in terms of society's drive to better manage resources.
The collaboration of a variety of organizations around the world over the past few months has provided great strides in developing and applying miniaturized hyperspectral imaging and sensing hardware.
For instance, the new HawkSpex app, being developed at Fraunhofer IFF in Germany, can also be used to detect pesticide residues in apples due to the rise in smartphones that have integrated hyperspectral imaging into them. According to Fact.MR, a CAGR worth 9% is projected for the German market.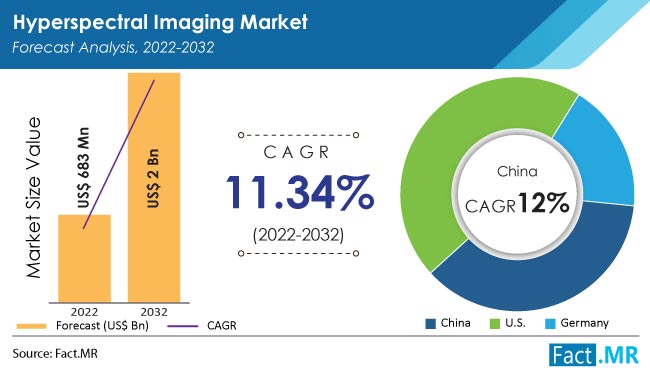 Category-wise Insights
Forestry and Agriculture to Command Leading Share in the Global Hyperspectral Imaging Market
Spectral Imaging technology to help agriculture and forest industries gain market traction
Forestry and agriculture are expected to hold the largest market share for hyperspectral imaging in the global market. Under forestry and agriculture, hyperspectral imaging is used for a variety of purposes including vegetation classification, seed performance analysis, weed mapping, forest management, and more.
Moreover, the amount of data collected through sensors on farms has risen dramatically over the last decade, and providers of hyperspectral imaging services have aligned their offerings to take advantage of the data and offer solutions to farmers.
Plants and soil can be characterized by analyzing their reflective properties across narrow spectral bands. Hyperspectral imaging extends the human vision and can capture issues that are not visible to agronomists with other technology. Suppliers focused on hyperspectral imaging are also attracting investments that support the growth of the segment.
Know thy Competitors
Competitive landscape highlights only certain players
Complete list available upon request
Competitive Landscape
Through strategic partnerships, manufacturers can increase production and meet consumer demands, which increases profits and market share. Different technologies are developed by manufacturers for different applications, at the same time increasing their profits and market share.
In May 2021, Apeel, a leading provider of fresh produce preservation technology, has acquired ImpactVision - a company that provides hyperspectral imaging technology that lets suppliers scrutinize the inside of fruits and vegetables to determine quality. In addition to helping fresh food suppliers and retailers reduce food waste, Apeel's technology will be incorporated into existing application systems at supplier locations around the world.
Rio Tinto and a satellite startup have formed an early partnership. Its satellites can produce hyperspectral images of mine sites at a distance of 5 meters, which will aid the company in monitoring active and closed mining sites, tracking ESG indicators, and advancing exploration efforts. A Pixxel satellite will take in 50x more data than multispectral satellites.
Key Segments Covered in Hyperspectral Imaging Industry Survey
End Use Industry

Mining and Mineral
Forestry and Agriculture
Infrastructure and Urban Planning
Oil & Gas
Utility and Energy
Aerospace & Defense
Environment Monitoring and Control
Other Industries
- FAQs -
As of 2022, the global hyperspectral imaging market is expected to reach US$ 683 Mn
From 2017 to 2021, the market for hyperspectral imaging surged at a staggering 10% CAGR
From 2022 to 2032, Fact.MR projects the hyperspectral imaging industry to grow at a CAGR of 11.34% CAGR
By 2032, the value of hyperspectral imaging is likely to reach US$ 2 Bn, according to Fact.MR
The U.S is slated to account for 22% of the global hyperspectral imaging industry revenue
As per Fact.MR, China is poised to be the fastest growing market, clocking a 12% CAGR
Yes, the hyperspectral imaging market will make major strides in Germany, surging at a 9% CAGR
Antrix Corporation, Airbus Defence and Space, Hexagon AB and Cyient are some key providers of hyperspectral imaging