Physical Vapor Deposition Market to Witness Positive Growth of 6%
Prevalence of cost-efficient electromagnetic shields for lightweight components is heightening demand for physical vapor deposition processes. Increasing adoption of solar energy by manufacturing units and consumers alike is facilitating continuous adoption of physical vapor deposition of photovoltaic products. The global physical vapor deposition market is set for a positive growth trajectory at ~6% CAGR during the forecast period (2020 - 2030). Advancements in data storage capacity of computers and smartphones, stimulate a need for physical vapor deposition on hybrid internal memory circuits. Expanding spectrum of Internet of Things (IoT) enabled smart devices, requires the device to record, store, and transfer data efficiently. Hence, consumer adoption of smart devices and IoT products will further the demand of physical vapor deposition on memory components of these smart products.
Microelectronic Products to Remain Key Application Segment
Physical vapor deposition in the microelectronic sector accounts for a majority share of over 39% of the total market value. This can be accredited to the increasing need for microelectronics by manufacturers of home automation, artificial intelligence (AI), and machine learning (ML) smart devices. Data storage applications of physical vapor deposition accounts for the second largest market value share of more than 23%.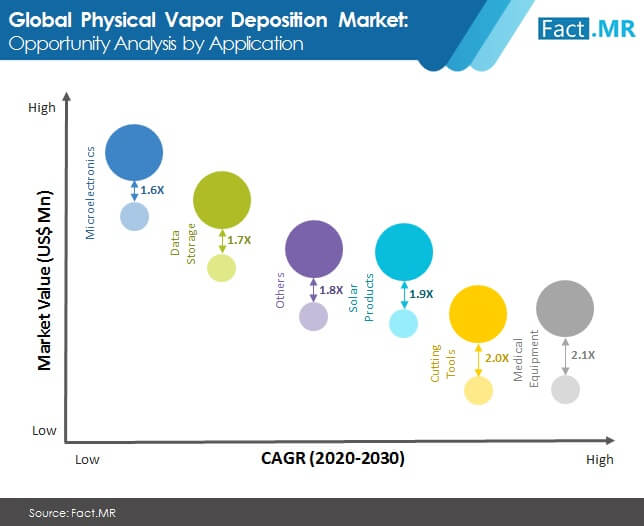 Get latest insights on physical vapor deposition market by requesting for a report sample here
A surge in demand for increased storage capacity of devices and enhanced processing speeds demands high performance of storage devices such as solid state drives (SSD). These high performance storage devices warrant physical vapor deposition to ensure smooth functioning and durability of products. Medical equipment offers the highest growth opportunity with a stellar 8.7% CAGR during the projection period. Proliferation of interconnect medical equipment amid heightening healthcare expenditure will continue to nourish demand from this segment.
North America Poised to be Revenue Hotbed
North America accounts for the largest market value share of over 26%. Advancements in medical equipment are creating demand for high performance devices with physical vapor deposition coatings. East Asia is accredited with more than 22% of the total market value share. Surging industrial production in countries such as China, Japan, and South Korea supports the two-fold growth in these regions. Since manufacturers are eyeing enhanced product durability offered by physical vapor deposition, manufacturers will witness an upsurge in demand for coating services and products.
COVID-19 Impact on Physical Vapor Deposition
Expulsion of all non-essential trade between countries has cost many businesses a significant share of quarter 1 revenues. Government health institutions around the world are overwhelmed by the mass-outbreak of COVID-19. The deadly virus has affected more than 1.6 Mn consumers in just a few months of being declared a global pandemic. Hence, it is natural for governments to contain the spread of coronavirus by preventing mass gatherings. This means a considerable drop in offline sales of electronics that employ physical vapor deposition in their components. The impact of COVID-19 has a two pronged effect on the automotive sector. Both, production and sales of light weight conventional and electric vehicles are witnessing loss of proposed revenues.
This further depletes an otherwise strong growth trajectory of the physical vapor deposition market. Market players are targeting early recovery tropical countries such as Singapore, and Indonesia on the back of low number of COVID-19 cases. Effective and efficient recovery steps taken by the Chinese government presents a favorable development. As many electric components are sourced from China, market players are focused on tracking and monitoring the developments in China's COVID-19 spread. Physical vapor deposition market will continue on a healthy growth trajectory after the COVID-19 Pandemic is contained and usual trade routes will resume import and export.
Product Innovation - Chief Growth Strategy Employed by Leading Stakeholders
The development of new coating materials with low coefficient of friction energizes the adoption of physical vapor deposition products and services. Consumer demand for low carbon emission, lightweight materials in automotive promote physical vapor deposition on cutting tools, and automotive components. Major players of the market that shape the competitive landscape are, but not limited to, Advanced Energy Industries, Inc., AJA International, Inc., Angstrom Engineering, Inc., Applied Materials, Inc., CHA Industries, Intevac, Inc., Denton Vacuum, IHI HAUZER B.V., Impact Coatings AB, Johnsen Ultravac, Kurt J. Lesker Co., Penta Technology (Suzhou) Co. Ltd., Novellus Systems, Plasma Quest Limited, Platit AG, PVD Products, Inc., Richter Precision, Inc., Semicore Equipment, Inc., Singulus Technologies AG, Sulzer Metaplas, ULVAC, Inc.,Veeco Instruments, Kurt J. Lesker Company (Kjlc), Oerlikon Leybold Vacuum GmbH, Sinovacuum Technology Ltd., System Control Technologies (Sct), Tokyo Electron Limited, Buhler Alzenau GMBH, and Impreglon, Corporation.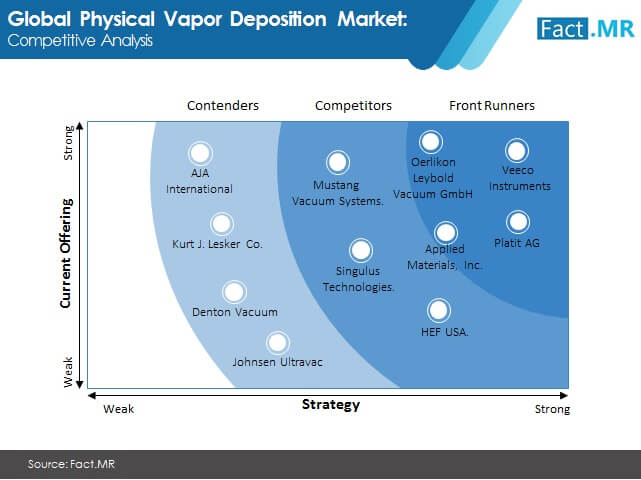 To know more about the competition landscape of physical vapor deposition market, ask an analyst here
Global Physical Vapor Deposition Market – Scope of the Report
The following report provides forecast and analysis of the global physical vapor deposition market along with the historical data of 2015, estimated data 2020 and forecast data up to 2030 in terms of value (US$ Mn), according to a Fact.MR study. The research propounds critical trends that are currently influencing growth within the global physical vapor deposition market along with several macro-economic indicators. This newly published and insightful report on physical vapor deposition sheds light on key dynamics, and their impact on the overall value chain from suppliers to end-users, which are expected to transform the future of the global physical vapor deposition market.
The report also comprises the study of current issues with end users and opportunities for physical vapor deposition. It also contains value chain analysis, including the key market participants. To provide users of this report with a comprehensive view of the market, we have included a detailed competitive analysis about the key players involved in the market and strategic overviews. The dashboard included in the report provides a detailed comparison of physical vapor deposition manufacturers on parameters such as total revenue, product offerings, and key strategies. A list of key companies operating in the physical vapor deposition market provided in the report adds to the credibility of this exhaustive research study.
Global Physical Vapor Deposition Market: In-Depth Assessment on Key Segments
The global physical vapor deposition market is segmented on the basis of category, application and region.
| | | |
| --- | --- | --- |
| Category | Application | Region |
| PVD Equipment | Microelectronics | North America |
| PVD Materials | Data Storage | Latin America |
| PVD Services | Solar products | Europe |
| | Cutting Tools | East Asia |
| | Medical Equipment | South Asia & Oceania |
| | Others | Middle East & Africa |
This taxonomy and the detailed TOC prepared are confidential and intended exclusively for the individual or entity with whom it is being shared. Reading, disseminating, distributing, or copying this to any party other than addressee(s) is unauthorized and prohibited.
Country-specific assessment on demand for physical vapor deposition has been provided for each regional market, along with the market size valuation and forecast price point assessment, price index and impact analysis of key regional and country-wise dynamics, which were obtained through quotes from numerous physical vapor deposition manufacturers, experts, and suppliers. Y-o-Y growth projections have also been offered on all regional markets incorporated in the report. Moreover, future trends, growth prospects, and other possibilities related to the market have been answered in the report.
The report provides company-level market share analysis, which has been derived on the basis of the company's annual sales and segmental revenue in all the target end-use industries. The market has been forecasted based on constant currency rates. The report provides detailed competitive and company profiles of key participants operating in the global physical vapor deposition market. Some of the key competitors operating in the physical vapor deposition market are Applied Materials, Inc., CHA Industries, Intevac, Inc., Denton Vacuum, IHI HAUZER B.V., Impact Coatings AB, Johnsen Ultravac, Kurt J. Lesker Co., Penta Technology (Suzhou) Co. Ltd., Novellus Systems, Plasma Quest Limited and others.
Global Physical Vapor Deposition Market: Research Methodology
A number of primary and secondary sources were consulted during the course of the study. Secondary sources include Factiva, Morningstar and Hoovers, and company annual reports and publications. Comprehensive interviews have been conducted by our analysts, and the intelligence and insights obtained have been used for validating the information gained through secondary research. The report also includes a description of assumptions and acronyms utilized for research purposes. Data gathered has been validated using the triangulation method to offer useful quantitative and qualitative insights into the physical vapor deposition market.
A short market viewpoint offered in the report elucidates the macro-economic aspects that influence the growth of the physical vapor deposition market, which includes global GDP growth rate, various sector growth rate such as medical, manufacturing, ICT and others. This report serves as an authentic resource of intelligence on the physical vapor deposition market, enabling the readers to take fact-based decisions on the future direction of their businesses.
Fact.MR offers custom research services that help clients to get specific research solutions
We are committed towards customer satisfaction and quality service.
---
Our Clients

Physical Vapor Deposition Market Forecast, Trend Analysis & Competition Tracking - Global Market Insights 2020 to 2030