Orthopedic Devices Market
Orthopedic Devices Market Analysis By Product (Joint Reconstruction, Knee Replacement, Spinal Devices, Trauma Fixation, Orthopedic Prosthetics, Orthopedic Braces and Support, Orthopedic Accessories), By End-User, By Region - Global Insights to 2026
FACT4780MR
Mar-2022

List of Tables : 73

List of Figures : 65

170 Pages
Global Orthopedic Devices Market Outlook
The global orthopedic devices market is poised to grow moderately at a CAGR of 4.0% during the forecast period (2020-2026). This growth trajectory is attributed to the prevalence of a wide range of orthopedic disorders such as osteoarthritis, rheumatoid arthritis, fibromyalgia and juvenile arthritis. This is attributed to the prevalence of an aging population, lifestyle changes and obesity.
Increase in incidence rates of injuries related to accidents, sports and adventure activities is also anticipated to burgeon market prospects for orthopedic devices in the forecast period.
Increase in the number of injuries and accidents have led to bone disorders such as joint pains, joint instability, bone loss and infection. The American Academy of Orthopedic Surgeons (AAOS) revealed that nearly a quarter of sports injuries were related to lower extremities such as foot and ankle.
Avail customized purchase options for your needs
Global Orthopedic Devices Market Technological Insights
Globally, there has been a surge in the adoption of technologically enhanced orthopedic devices in recent years. A large number of global manufacturers with technical expertise and core competencies are making consistent efforts to manufacture novel orthopedic products to attract more customers.
Some examples of these are orthopedic medical devices and orthopedic fixation devices. Improved biomaterial based implants offering high strength and low wear are witnessing an exponential increase in demand across developed and developing nations.
Some key technological advancements in orthopedic devices include titanium fiber plates, stemless shoulder implants, 3D- printing and minimally invasive surgeries. These advancements are based on affordability, ease of utility and novelty.
Several major manufactures have been collaborating with emerging market entrants with novel pipeline products in their portfolio. In 2017, Johnson and Johnson collaborated with Aspect Biosystems, a company engaged in 3D-bioprinting and tissue engineering to launch new and advanced orthopedic devices.
An Adaptive Approach to Modern-day Research Needs
Global Orthopedic Devices Market Product Insights
The joint reconstruction segment is anticipated to capture a majority of the global orthopedic devices market share, amounting to nearly 1/3rd. The spinal devices segment is not far behind, capturing exactly a quarter of the global orthopedic devices market throughout the forecast period.
The presence of a large patient pool requiring knee, elbow and shoulder replacement surgeries and growing investment in research and development by key market players are important growth levers for the joint reconstruction segment. Growth in the spinal devices segment is attributed to an increase in minimally invasive and interbody fusion procedures, surge in usage of synthetic cages and addition of pedicle screws as fixation devices.
Global Orthopedic Devices Market Regional Insights
The North American orthopedic devices market is poised to register the maximum market share, amounting to nearly half and expanding at a CAGR of 3.9%. Asia-Pacific is anticipated to gain significant traction, with a projected CAGR of 4.4% and a market share exceeding 1/5th. The North American market is anticipated to reach a value of US$ 31 Bn while the Asia-Pacific market shall be valued at US$ 13 Bn by 2026-end.
The growth in North America is attributed to the growing number of patients requiring orthopedic surgeries. This has augmented the demand for technologically advanced orthopedic devices, prompting key market players to establish business in the region. Orthopedic prosthetic devices have also gained immense traction in the region. In Asia-Pacific, a burgeoning population and the resulting increase in per capita healthcare expenditure shall broaden market prospects.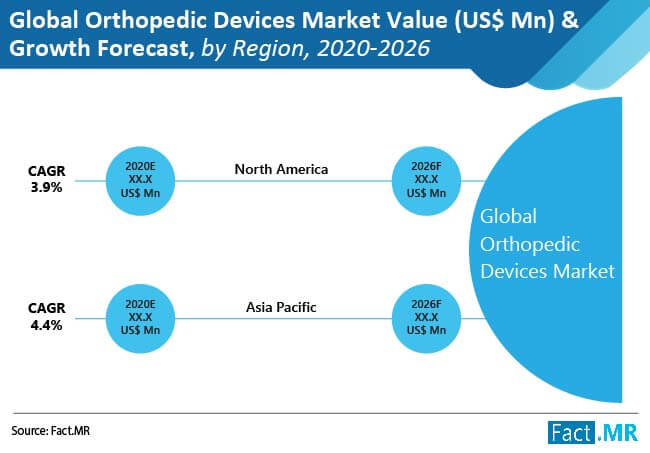 Global Orthopedic Devices Companies Structure and Analysis
The global orthopedic devices market is consolidated, dominated by the following top four players: Zimmer Biomet, Johnson & Johnson, Stryker and Smith & Nephew. Collectively, these companies account for nearly 55% of the market share. Therefore, the degree of competition from new entrants is quite low.
Innovations in 3D printing and personalization implants technology are anticipated to fuel the growth of emerging players in the hip implants sub-segment. Important players in the hip implants segment include Smith & Nephew, DJO Global, Inc., Wright Medical Group N.V., and Exactech, Inc.
In 2017, Zimmer Biomet Holdings dominated the hip implants sub-segment, with a strong brand image and robust product portfolio. Its products included the Taperloc Hip System, the Arcos Modular Hip System and the G7 Acetabular System.
Likewise, Stryker has a robust product portfolio, offering devices in the craniomaxillofacial, foot & ankle, joint replacement, spine and trauma & extremities segments. Its brands are Allograft Bio Implants, Delta, Advanced Midface Distractor and MEDPOR TITAN 3D Orbital Floor to name a few.
Interested to Procure The Data
COVID-19 Market Insights
The novel coronavirus pandemic has brought the entire world to a standstill. Major businesses have shut down, leading to disruptions in the supply chain. Imposition of strict social distancing measures and nationwide lockdowns have crippled manufacturing capabilities, leading to imbalances in the demand-supply equation.
The same is true for the orthopedic devices market. As elective surgical procedures get deferred, there is a significant decline in capital expenditure such as purchase of orthopedic equipment based on robotics and advanced navigation technology. This dip in expenditure has generated a fall in the sales of key market players, leading to a decline in their revenue.
However, the long-term outlook is not as sluggish as it appears to be. A sharp acceleration in sales volumes is anticipated in the latter half of 2020 when the rates of infection decline.
Moreover, certain countries have already eased the lockdown by lifting the curfew imposed in certain areas. This is anticipated to restore production cycles, benefitting market players engaged in the production of advanced orthopedic devices.
Analyst's Viewpoint
"The global orthopedic devices market shows moderate growth prospects in the future. High incidences of orthopedic disorders have compelled key manufacturers to introduce technologically enhanced devices to streamline the orthopedic surgical procedures. While the ongoing coronavirus pandemic shall dent short-term market growth, it is expected to accelerate in the latter-half. Moreover, North America and Asia-Pacific promise to generate credible growth opportunities."
Global Orthopedic Devices Market: Report Scope:
The recent study undertaken by Fact.MR provides a six-year forecast between 2020 and 2026, highlighting the potential drivers, restraints and opportunities for the global orthopedic devices market. The report incorporates a detailed segmental analysis, based on product-type and end-user, of the overall market. The study takes into account the revenue, market share and growth prospects for each segment.
A detailed regional landscape incorporating the abovementioned segments has also been undertaken in the report. The regional landscape has been mapped based on the following geographies: North America, Europe, Asia-Pacific, Latin America and Middle East & Africa. In addition, a detailed competition landscape has also been embedded.
This section provides a detailed insight about the key market players engaged in producing orthopedic devices, their revenue and market share, product portfolio and key merges and acquisitions. A SWOT analysis for each player is also provided, to present a more realistic picture of the companies' future growth.
Global Orthopedic Devices: Market Segmentation
Fact.MR has studied the global orthopedic devices market with detailed segmentation on the basis of product, end-user, and region.
By Product :

Joint Reconstruction:

Hip Replacement:
Total Hip Replacement Implant
Partial Hip Replacement Implant
Hip Resurfacing Implant
Revision Hip Replacement Implant

Knee Replacement:

Total Knee Replacement Implant
Partial Knee Replacement Implant
Revision Knee Replacement Implant
Elbow & Shoulder Replacement
Others

Spinal Devices:

Spinal Fusion Devices
Spinal Non-fusion Devices

Trauma Fixation:

Metal Plates & Screws
Pins/Wires
Nails and Rods
Others

Orthopedic Prosthetics:

Lower Extremity Orthopedic Prosthetics
Upper Extremity Orthopedic Prosthetics
Arthroscopy Devices

Orthopedic Braces and Support:

Upper Extremity Braces and Support
Low Extremity Braces and Support

Orthopedic Accessories:

Bone Cement
Casting System
Removal Systems

Others

By End-User :

Hospitals
Orthopedic Clinics
Ambulatory Surgical Centers
Others

By Region :

North America
Europe
Asia Pacific
Latin America
Middle East & Africa (MEA)
This taxonomy prepared is confidential and intended exclusively for the individual or entity with whom it is being shared. Reading, disseminating, distributing, or copying this to any party other than the addressee(s) is unauthorized and prohibited."