Oligonucleotide Synthesis Market
Oligonucleotide Synthesis Market Analysis by Product (Reagents & Consumables, Equipment, Synthesized Oligonucleotides, DNA Oligonucleotides, RNA Oligonucleotides), by Application (Research, Therapeutics), by End-User & by Region - Global Insights 2022-2032
Analysis of Oligonucleotide Synthesis market covering 30 + countries including analysis of US, Canada, UK, Germany, France, Nordics, GCC countries, Japan, Korea and many more
Oligonucleotide Synthesis Industry Outlook
The global oligonucleotide synthesis market is likely to be valued at US$ 5.7 Billion in FY 2022, up from US$ 5.2 Billion in 2021.
During the past year, the industry registered a Y-o-Y increase worth 9.6%. From 2022 to 2032, oligonucleotide synthesis demand is poised to flourish at a CAGR of 11.5% to reach a value of US$ 17 Billion by the end of 2032.
Report Attributes
Details

Anticipated Base Year Value (2021)

US$ 5.2 Billion

Expected Market Value (2022)

US$ 5.7 Billion

Projected Forecast Value (2032)

US$ 17 Billion

Global Growth Rate (2022-2032)

11.5% CAGR

Growth Rate of the U.S Market (2022-2032)

10.2% CAGR

Expected Market Value of China (2032)

US$ 1.7 Billion

U.K Market Expansion Rate (2022-2032)

12.4% CAGR

Asia Pacific

12.5% CAGR

Japan

12% CAGR

South Korea

12.4% CAGR

Key Companies Profiled

Thermo Fisher Scientific Corporation
Integrated DNA Technologies Inc.
Sigma-Aldrich Corporation
GE Healthcare
Kaneka Eurogentec S.A.
TriLink Biotechnologies LLC
BioAutomation
ATDBio Ltd.
Demand for oligonucleotide synthesis in therapeutics will continue to thrive, with a documented CAGR of 18.4% during the 2015-2021 historical period of assessment, while demand for oligonucleotide synthesis in research proliferated at a rate of 10.0% during the same period. North America will dominate the global market, registering a growth opportunity worth US$ 2.25 Billion from 2022 to 2032.
Know thy Competitors
Competitive landscape highlights only certain players
Complete list available upon request
2015 to 2021 Oligonucleotide Synthesis Market Revenue Analysis vs. Market Outlook 2022-2032
Fact.MR has projected the oligonucleotide synthesis market to accelerate at an 11.3% CAGR between 2022 and 2032 in comparison to the 11.1% CAGR throughout the historic period. Biotechnology & pharmaceutical companies emerge as key end-users of oligonucleotide synthesis and are poised to register a robust CAGR of 15.5% through 2032.
Increased FDA approvals for oligonucleotides as therapeutic agents, a robust R&D pipeline of pharmaceutical and biotechnology companies, and a rise in clinical trials for new diseases are important growth drivers.
Key Drivers Stimulating Oligonucleotide Synthesis Industry Expansion
Path-breaking Developments in Synthetic Chemistry to Bolster Growth of Global Oligonucleotide Synthesis Market
Oligonucleotides are primarily used in biological and forensic applications in research, disease diagnosis, and therapeutics. Natural oligonucleotides have been extensively used for the selection and determination of the DNA sequences such as hybridization probes or affinity purification, gene construction, and site-directed mutagenesis. In addition, they are used to inhibit gene expression in in-vitro studies for diagnostic purposes.
Increased usage of oligonucleotides has augmented the need for technological developments in synthetic chemistry. Several biotechnology and pharmaceutical companies are thus engaged in the development of newer and advanced methods. For instance, Integrated DNA Technologies has developed oligonucleotides up to 200 base lengths which are used with mass spectrometry for manufacturing mini-genes.
Key Challenges to Oligonucleotide Synthesis Industry Expansion
High Costs Likely to Hinder Growth of Oligonucleotide Synthesis Market
The significance of synthetic oligos as therapeutic drugs for treating diseases has full-fledged significantly in the last decade.
Though, there have been numerous instances in the past, wherein owing to high complications such as high cost & severe side effects, countless drugs have been inhibited or have been abortive in clinical trial phases. Such instances could become recurring and may restrict market growth to a certain extent.
Country-wise Analysis
How Opportunistic are Growth Prospects across the U.S Market?
Hefty Investments in Research Application to Inflate Demand for Oligonucleotide Synthesis
North America continues to reign supreme in the oligonucleotide synthesis market, led by the United States & Canada. A fast-growing life science industry, greater focus on genetics and genomics in research and diagnostic applications, and increased demand for high-quality oligonucleotides are attributed as key growth drivers.
Moreover, pharmaceutical companies concentrating on oligonucleotides as therapeutic agents such as antisense and RNAi therapeutics are increasing in the region. These companies are making hefty investments in molecular diagnostics and clinical applications for developing new drugs and vaccines for children and prevention of HIV/AIDS which requires extensive research, thereby fostering the growth of the oligonucleotide synthesis market in the region.
Fact.MR estimates that the U.S oligonucleotide synthesis market is expected to reach US$ 2.25 Billion in 2032, at a CAGR of 10.2% from 2022-to 2032.
Why are Oligonucleotide Synthesis Providers Venturing into APAC?
Upsurge in Life Science Research Projects to Boost Regional Oligonucleotide Synthesis Market
The Asia Pacific is poised to expand most rapidly amongst all the regional markets during the forecast period, owing to its emergence as the world's most promising life science research hub. An increase in life science research & development in developing economies and a rise in government initiatives, grants, funds, and dedicated research commercial zones have attracted domestic and foreign market players to invest in the Asia Pacific market. Increasing adoption of oligonucleotide synthesis across homes to small enterprises in China is driving the foresaid market.
Department of Biotechnology (DBT), New Delhi, and Council of Scientific and Industrial Research (CSIR), New Delhi are working towards backing activities related to oligonucleotide synthesis.
Oligonucleotides have enormous latent applications in curing an extensive array of medical conditions. They allow the expansion of therapeutics as the crashing genes can be targeted, manipulated, silenced, and/or modulated. The regional market is expected to multiply at a staggering CAGR of 12.5% to surpass US$ 1.73 Billion throughout the conjecture period.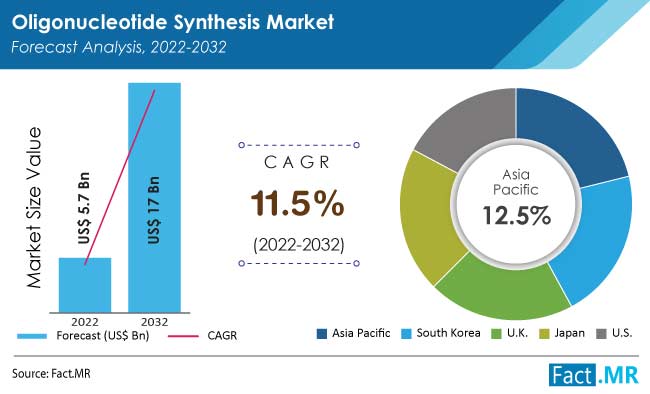 Category-wise Insights
Why is Research-based Application Gaining More Preference in the Oligonucleotide Synthesis Market?
In terms of application, research emerges as a key application area, attributing to the potential of using oligonucleotide synthesis in polymerase chain reactions (PCR) and next-generation sequencing. Moreover, rising demand for drug development and discovery is anticipated to provide impetus to market growth. Further improvements in this area such as the induction of high throughput synthesizers, better coupling reagents, enhanced polymer supports, novel sets of protecting groups for exocyclic amino groups of nucleic bases, and the introduction of universal polymer supports have completely transformed the whole field of nucleic acids chemistry.
A huge number of oligos are generally used in several research technologies such as PCR, qPCR/RT qPCR, gene synthesis, sequencing, and SNP analysis. Nevertheless, the diagnostics sector is likely to record the sharpest growth throughout the analysis period due to the advances in terms of detection methods. The application of oligonucleotide synthesis in research is anticipated to register a CAGR of 10.0% through 2032.
By Application, which Oligonucleotide Synthesis is expected to Dominate?
Therapeutics Application Mainstays for Oligonucleotide Synthesis, Research Segment to Catch-Up
Oligonucleotide synthesis is anticipated to find maximum application in therapeutics, as oligonucleotide therapeutics are hailed as the third major drug-development platform, next to small molecules and biologics. The standing of synthetic oligos as therapeutic drugs for nursing diseases has grown remarkably in the last decade. A few of the crucial drivers for this growth are the classification of more targets following the recognition of the human genome, progressions in antisense oligos, and the expansion of double-stranded siRNA oligos.
Therapeutic oligos are also beneficial in treating diseases ranging from viral infections, respiratory diseases, cancer, and rare diseases such as Duchenne Muscular Dystrophy (DMD), cystic fibrosis, and thrombotic thrombocytopenic purpura.
Therapeutic oligonucleotides such as antisense oligonucleotides and nucleic acid aptamers are the two major types of therapies available in the market. These are suitable for treating muscle dystrophy, cancer, and other neurological disorders. Usage of oligonucleotide synthesis in therapeutics is expected to grow at a stellar CAGR of 18.4% during the forecast period.
Competitive Landscape
Prominent Oligonucleotide Synthesis providers are reliant on partnerships, collaborations, acquisitions, and new software launches to stay afloat in the global market. Constant innovations to ensure a seamless client-customer relationship are the main focus of prominent market players.
In January 2021, Thermo Fisher Scientific Inc., the world leader in serving science, and Groupe Novasep SAS (Novasep), a leading supplier of services and technologies for the life sciences industry announced that Thermo Fisher has completed the acquisition of Henogen S.A., Novasep's viral vector manufacturing business in Belgium for approximately 725 Million Euros in cash.
In June 2019, CordenPharma International and GE Healthcare's Dharmacon Business have entered a strategic collaboration to create an end-to-end solution for oligonucleotide-based drug discovery. The collaboration addressed the speed and capacity challenges researchers face when transitioning from research and preclinical stages to drug development and clinical trials.
More Insights, Lesser Cost (-50% off)
Insights on import/export production,
pricing analysis, and more – Only @ Fact.MR
Key Segments Covered in the Oligonucleotide Synthesis Industry Survey
Oligonucleotide Synthesis by Product :

Oligonucleotide Synthesis Reagents & Consumables
Oligonucleotide Synthesis Equipment
Synthesized Oligonucleotides:

DNA Oligonucleotides
RNA Oligonucleotides

Other Oligonucleotide Synthesis Products

Oligonucleotide Synthesis by Application :

Research

Polymerase Chain Reaction (PCR)
Next-Generation Sequencing
Others

Therapeutics

Antisense Oligonucleotides
Nucleic Acid Aptamers

Diagnostics

Oligonucleotide Synthesis by End User :

Biotechnology & Pharmaceutical Companies
Research Institutes
Diagnostic Laboratories

Oligonucleotide Synthesis by Region :

North America
Latin America
Europe
Asia Pacific
Middle East & Africa
- FAQs -
By 2022, Fact.MR expected demand for oligonucleotide synthesis to reach US$ 5.7 Billion
By 2032, Fact.MR expects the U.S market for oligonucleotide synthesis to reach US$ 2.25 Billion
From 2015-2021, the oligonucleotide synthesis market grew at an 11.1% value CAGR
From 2022-2032, oligonucleotide synthesis demand is likely to surge at an 11.5% CAGR
By 2032, the market for oligonucleotide synthesis is likely to be valued at US$ 17 Billion
As of 2021, Fact.MR estimated the oligonucleotide synthesis market to have reached US$ 5.2 Billion
APAC is expected to register a 10.2% CAGR in the Oligonucleotide Synthesis industry
South Korea and Japan are expected to document CAGRs worth 12.1% and 12.4% respectively in the Oligonucleotide Synthesis market
Synthetic oligonucleotide synthesis will be maximum, expanding at a 11.3% CAGR
Application of oligonucleotide synthesis in therapeutics will remain most preferred, expanding at a CAGR of 18.4% until 2032