Ornithine Transcarbamylase Deficiency Treatment Market
Ornithine Transcarbamylase Deficiency Treatment Market By Product (Buphenyl, Ravicti, Ammonul, Dietary Supplements), By Route of Administration (Oral, Intravenous), By Distribution Channel, By Region - Global Market Forecast 2020-2030
Analysis of Ornithine Transcarbamylase Deficiency Treatment market covering 30 + countries including analysis of US, Canada, UK, Germany, France, Nordics, GCC countries, Japan, Korea and many more
Ornithine Transcarbamylase (OTC) Deficiency Treatment Market Overview
Ornithine transcarbamylase (OTC) deficiency is a genetic disorder arising due to inadequate levels of OTC, an enzyme that helps decompose and eliminate unwanted nitrogen from the human body. This process is also known as the urea cycle.
Deficiency of this enzyme causes excessive nitrogen accumulation, or hyperammonemia, in the blood. Another perilous effect of this genetic disorder is the secretion of elevated levels of ammonia, which is a notorious neurotoxin. Once it reaches the central nervous system, it induces symptoms such as anorexia and overall lethargy.
Fact.MR projects the global ornithine transcarbamylase (OTC) deficiency treatment market to expand steadily over the coming decade, attributed to rising prevalence of this deficiency among the world population.
Don't Need a Global Report?
save 40%! on Country & Region specific reports
OTC Deficiency Treatment Market Trends
Rising Prevalence of UCDs to Foster Therapeutic Developments in OTC Deficiency: Rising prevalence of urea cycle disorders (UCDs) is furthering substantial research in developing effective OTC deficiency treatments. UCDs are genetically inherited diseases that affect the human body's waste removal mechanism.
Just like other organisms, human beings require proteins to survive. Proteins are important for facilitating growth and tissue repair. Excessive proteins are converted into nitrogen and expelled from the body in the form of urea via urine.
Patients afflicted with UCDs lack the catalytic enzyme required to convert excessive nitrogen into urea. This causes excessive ammonia deposition, which is highly toxic to the human body. Against this backdrop, various pharmaceutical companies are investigating possible novel approaches to address this disorder, which will bode well for the expansion of the ornithine transcarbamylase deficiency treatment market size.
Gene Therapy Touted as Possible Effective Remedy: Years of clinical trials and research within the medical fraternity have pointed towards gene therapy as a possible solution to cure or inhibit OTC deficiencies across the world. Gene therapy is designed to provide a healthy copy of the OTC gene.
In laboratory settings, a normal OTC gene is packaged into a modified adeno-associated virus (AAV) that targets liver cells. As a vector, the virus is introduced into the patient via a single intravenous infusion. The virus containing the functional gene copy enters the liver, enabling it to produce the OTC enzyme.
The Boston Children's Hospital is making significant progress in this regard, with doctors hoping to eradicate this burden in the near future. Liver transplant is being considered as an alternative to OTC deficiency treatment by several healthcare providers, in addition to gene therapy.
Companies in the OTC deficiency treatment market are increasing their production capabilities to manufacture BUPHENYL®, a range of sodium phenyl butyrate-based tablets and powders for oral administration. Presently, the drug is being utilized as an adjunctive therapy to manage OTC deficiency.
OTC Deficiency Treatment Market: Product Insights
By product type, Ravicti-based OCT deficiency treatment drugs are expected to be the most promising, capturing an impressive revenue share by the end of the forecast period. Higher efficacy combined with cost effectiveness and better patient compliance are responsible for propelling the segment's growth forward.
The main measure of effectiveness associated with Ravicti is the dramatic reduction of ammonia levels in the patient's body. A popular study has demonstrated that, Ravicti-treated patients experienced average ammonia levels of 870 micromoles per liter. A similar pattern was observed in children treated with the drug at birth.
Trailing behind is the buphenyl segment, expected to emerge as the 2nd largest selling OTC deficiency drug category during forecast period. Growth is primarily attributed to increasing foray into the sodium phenyl butyrate drug formulation domain by prominent manufacturers.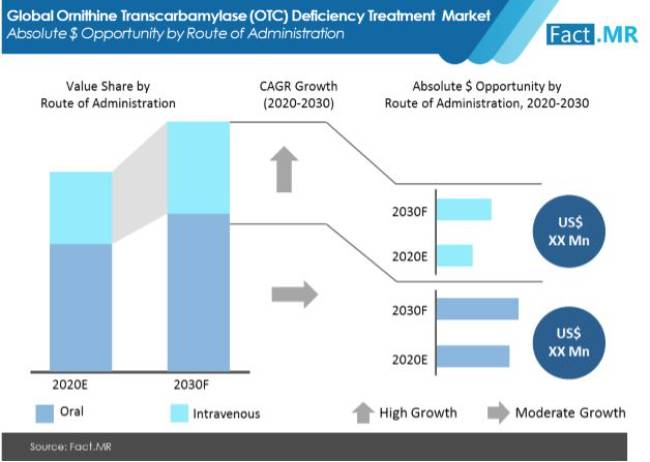 OTC Deficiency Treatment Market: Administration Insights
Oral OTC deficiency medicine delivery is slated to remain dominant throughout the predicted forecast period, expanding at a notable CAGR. Rising preference for oral medication to eliminate trauma through external skin penetration is driving the segment's growth in the ornithine transcarbamylase deficiency treatment market.
Simultaneously, the intravenous route of administration is gaining momentum, attributed to faster drug delivery to affected body parts, and hence, reduced length of stay for patients in hospitals and other healthcare settings.
More Insights, Lesser Cost (-50% off)
Insights on import/export production,
pricing analysis, and more – Only @ Fact.MR
OTC Deficiency Treatment Market: Distribution Channel Insights
With respect to distribution channel, the hospital pharmacy segment is expected to generate white spaces for the ornithine transcarbamylase deficiency treatment market. Increasing prevalence of UCDs among the pediatric and adult population are leading to a large number of hospitalizations, prompting them to stock up on adequate OTC deficiency treatment drugs.
Even after patients are discharged, they continue relying on hospital pharmacies to avail their supply of OTC deficiency management drugs. This is attributed to their high confidence and trust within hospital physicians, as they possess the relevant knowledge concerning drug dosage and possible side-effects.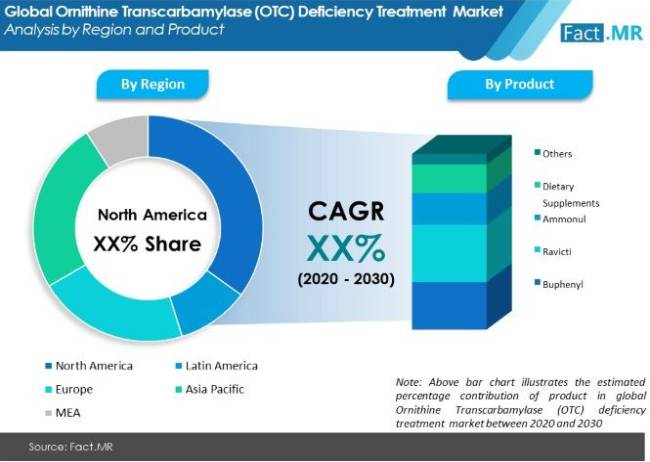 Regional Outlook of OTC Deficiency Treatment Market
North America accounted for a major ornithine transcarbamylase deficiency treatment market share in 2019, owing to rise in the total number of reported cases, favorable reimbursement policies, various clinical studies for urea cycle disorders, and better screening approaches for rare diseases.
According to the U.S National Library of Medicine, the incidence of OTC deficiency ranges from 1 in 14,000 to 1 in 17,000 people across the United States. Consequently, rate of treatment for the disorder has been keeping consistent pace. This has attracted several global players to increase their investments across North America.
The ornithine transcarbamylase deficiency treatment market in Asia Pacific is projected to expand at a higher CAGR during the forecast period, owing to increase in awareness about OTC deficiency and other urea cycle disorders, surge in screening, increase in distribution tie-ups between major companies, and rise in investments by major companies in the region.
Know thy Competitors
Competitive landscape highlights only certain players
Complete list available upon request
COVID-19 Impact on OTC Deficiency Treatment Market
The novel coronavirus pandemic has resulted in one of the most debilitating human tragedies ever to have affected mankind, next only to the Spanish Flu pandemic of the 20th century. With over 65 million active cases and over 1 million deaths, the pandemic has taken a heavy toll on human existence.
The pandemic is especially dangerous for patients already suffering from other co-morbidities such as hypertension, diabetes, or kidney failure. Evidences have also pointed out the heightened vulnerabilities of OTC deficient patients. Thus, healthcare providers are working endlessly to increase the supply of necessary drugs. A case in point is of Arcturus Therapeutics, which has received the U.S. FDA's approval for initiating clinical trials of ARCT-810, also known as LUNAR-OTC. It is a first-in-class mRNA therapeutic to treat OTC deficiency. Additionally, the company has also initiated its COVID-19 vaccine candidate since August 2020.
Thus, companies in the ornithine transcarbamylase deficiency treatment market are tapping revenue opportunities by innovating in COVID-19 vaccines. This is anticipated to keep demand afloat throughout the pandemic's duration, maximizing profit margins and ensuring steady cash inflow.
OTC Deficiency Treatment Market: Competition Analysis
Product launches, acquisitions, and strategic collaborations form a part and parcel of the aforementioned market players' key consolidation strategies. In February 2010, Abbott Laboratories acquired Solvay S.A for US$ 6.2 billion. This lead to the company's pharmaceutical products portfolio expansion and presence in key emerging markets.
The Analyst's Viewpoint
"Manufacturers are filling in the void resulting due to dearth of FDA-approved OTC treatment drugs by introducing innovative and safe ingredient combination drugs in the global market, generating immense revenue pools."
OTC Deficiency Treatment Market: About the Report
Fact.MR has published an exclusive forecast report on the ornithine transcarbamylase deficiency treatment market from 2020 to 2030. The foremost objective of this report is to pitch insights on the market scenario, demand generators, and technological advancements in the OTC deficiency treatment market.
Also, the study addresses key dynamics that are expected to diversify the sales and future prominence of OTC deficiency treatment.
The report begins with an executive overview, in which, product definition has been provided. The report further proceeds with the taxonomy of the ornithine transcarbamylase deficiency treatment market, elaborating on key segments.
Also, the report outlines visionary insights on the dynamics of the ornithine transcarbamylase deficiency treatment market, including the drivers, restraints, opportunities, trends, and pricing analysis, along with the key buying factors for OTC deficiency treatment drugs.
OTC Deficiency Treatment Market – Segmentation
Fact.MR's research study assesses the global ornithine transcarbamylase deficiency treatment market in terms of product, route of administration, distribution channel, and region. This report presents extensive market dynamics and trends associated with different segments of the market, and their influence on the growth prospects of the global OTC deficiency treatment market.
Product
Buphenyl
Ravicti
Ammonul
Dietary Supplements
Others
Route of Administration
Distribution Channel
Hospital Pharmacies
Retail Pharmacies
Online Pharmacies
Region
North America
Europe
Asia Pacific
Latin America
Middle East & Africa
- FAQs -
Ravicti-based OCT deficiency treatment drugs are expected to capture major revenue share.
Hospital pharmacies are expected to be the primary point-of-sale for OCT deficiency treatment drugs.
North America accounts for a major ornithine transcarbamylase deficiency treatment market share.