With water sport season drawing near, sales of kayaks have revved up worldwide. Swift activities are being undertaken related to construction of artificial waterbodies, so as to enable sports enthusiasts in pursuing kayaking. With indoor adventure sports gaining enormous popularity, enthusiasts are able to participate in the sport although staying far away from relevant water bodies. Awareness about fitness & health has been rapidly surging among the common public, encouraging them to take part in water sports such as kayaking and rafting.
As these activities act as effective cardiovascular workout, people across the globe are increasingly taking interest in the sport. Improved balance & coordination, provision of endurance training, and strength build-up are key benefits of kayaking that are driving its popularity. Apart from the provision of health benefits, kayaking also enables individuals in having a close interaction with nature, which in turn helps in reducing tension and stress. Gradual realization of benefits associated with kayaking has been attracting more individuals towards the sport, thereby driving sales of kayaks.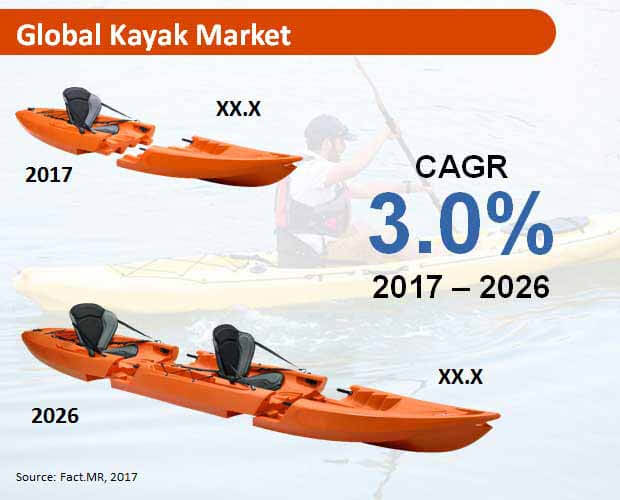 Fact.MR's recently compiled analytical research report foresees a moderate growth for the global kayak market between the forecast period 2017 and 2026.
Market Taxonomy
| | | | |
| --- | --- | --- | --- |
| Region | Product Type | Sales Channel | Buyer Type |
| North America | Recreational | Sports Variety Stores | Individual |
| Latin America | Touring | Third Party Online Channel | Institutional |
| Europe | Racing | Direct-to-Customer Online Channel | Promotional |
| Japan | | Modern Trade Channels | |
| APEJ | | | |
| MEA | | | |
(Additional information, including cross-sectional data and country-wise analysis & forecast is available in the report)
In North America, participation rates in the paddle sports such as kayaking has showcased a tremendous surge. Governments in the region are promoting adventure tourism through establishment of championships, in a bid to propel popularity of such sports. For example, The Pan Am Championships are an imperative kayaking championships held annually in the region. North America will therefore remain the leading market for kayak, in terms of revenues as well as sales expansion.
Sports variety stores and modern trade channels offer popular brands of kayak, which has made them attractive shopping destinations. These sales channels enable a closer evaluation of the products, meanwhile providing the required intelligence and support to customers. Presence of expert customer service personnel has further propelled popularity of these sales channel in the global kayak market. Sports variety stores and modern trade are set to account for the largest revenue shares of the market during the forecast period.
Pervasiveness in high demand for recreational kayak will remain intact in the upcoming years. Recreational kayak will continue to be sought-after among various products available in the market, as these are suitable for paddlers with all abilities in light of their characteristics such as ease of paddling & comfort, stability, and user-friendly design. Revenues from recreational kayak sales will remain slightly larger than those from touring and racing product segments combined.
Competition Tracking
The global kayak market is relatively more competitive across established western markets. Prevailing competition along with technological upgrades that have been and are being made in kayaks is likely to have a positive influence on the market expansion. In a bid to acquire a competitive advantage, distinguishing product & service offerings via a unique and clear value proposition has become imperative for prominent players in the global kayak market.
While new market entrants are focusing on product innovation, established players are competing one another in terms of brand, quality, and cost. Key players supporting expansion of the market, as identified by the report, include Advanced Elements, Aqua Xtreme, Klepper Faltbootwerft, BIC Sport, Nautiraid, and TRAK Kayaks.
Note: The insights mentioned here are of the respective analysts, and do not reflect the position of Fact.MR
Surging popularity of indoor adventure sports are translating as an imperative trend in the kayak market. Enthusiasts are enabled by indoor arenas in pursuing the sport although relevant water bodies are not in their proximity. This has further proliferated participation, thereby driving demand for various equipment associated with kayaking. Kayaking acts as effective cardiovascular workout, while improving coordination & balance and providing endurance training of participants. Apart from its health benefits, kayaking also enables close interaction with nature, which in turn helps in reducing tension & stress.
A recent analytical research report of Fact.MR provides estimations and forecasts on the kayak market at a global, regional, and country level. This report offers growth prospects of the market for the historical (2012-2016) and forecast (2017-2026) period. In its initiating chapter that offers an executive summary of the kayak market, the report offers insights on every market segments along with a quick introduction to key market dynamics and imperative numbers that indicate the global kayak market's growth potential. The succeeding chapter, titled overview, imparts a comprehensive introduction of the kayak market coupled with a formal definition of the target product "kayak".
Key Research Aspects of Global Kayak Market
The report issues key market dynamics that include drivers, restrains, and opportunities for the market growth. Influential trends guiding direction of the market expansion have also been elaborated in the overview chapter. A robust research methodology has been employed by analysts at Fact.MR for determining the intensity of competition in the global kayak market. An intensity map included in the report lists key players supporting the market growth, and offers in-depth analysis on these players on the basis of key developments made by these players, along with their company overview, key financials, and product overview. Intelligence offered on the market's competition landscape is deemed priceless for readers of this report as it will enable them in making informed decisions for enhancing their businesses in the upcoming years.
Key chapters in the report offer a segmental analysis on the kayak market in terms of buyer type, sales channel, product type, and region, wherein analytical methods such as revenue share comparison, y-o-y growth comparison and the market share comparison are used. The market size and forecast offered on the regional segmentation have been offered for both historical as well as the forecast period, coupled with respective CAGRs to determine attractiveness of these regions for growth of the kayak market.
Comprehensive Research Methodology for Providing Actionable Insights
Analysts at Fact.MR have conducted detailed interviews and discussions with a broad range of leading industry experts and key opinion leaders for compiling this research report. Primary research depicts majority of the research efforts, supported by an extensive secondary research. Secondary research sources typically include authentic databases and statistics offered by prominent websites, news articles, and government documents. The proprietary research methodology of Fact.MR helps in validating and reinforcing secondary research findings. Primary research enables developing kayak expertise and the market understanding.
A multitude of analysis has been included for revving up uniqueness of insights on the kayak market provided in the report. This extensive data study on the forecast growth of the market offers various benefits to the report readers. It helps in revealing information on the current adoption base of kayak and potential for its growth through provision of recent formulations on the marketing strategies. This report further helps in identifying opportunities for the market players, so as to enable them to achieve high profits while catering to the global demand for kayak.
Fact.MR offers custom research services that help clients to get specific research solutions
We are committed towards customer satisfaction and quality service.
---
Our Clients

Kayak Market Forecast, Trend Analysis & Competition Tracking - Global Market insights 2017 to 2026