Base Oil Market
Base Oil Market Analysis Report By Grade (Group I Base Oil, Group II Base Oil, Group III Base Oil, Group IV (PAO) Base Oil, Group V), By Application (Base Oil for Automotive Fluids, Industrial, Process Base Oils), By Region - Global Insights 2022-2032
FACT5357MR
Apr-2022

List of Tables : 116

List of Figures : 38

170 Pages
Base Oil Industry Outlook (2022-2032)
The global Base Oil market is likely to be valued at US$ 35.26 Million in FY 2022, up from US$ 34.47 Billion in 2021.
Report Attributes
Details

Anticipated Base Year Value (2021)

US$ 34.47 Billion

Expected Market Value (2022)

US$ 35.26 Billion

Projected Forecast Value (2032)

US$ 44 Billion

Global Growth Rate (2022-2032)

2.3% CAGR

Growth Rate of the U.S Market (2022-2032)

2.5% CAGR

Expected Market Value of China (2032)

US$ 16 Billion (Approx.)

U.K Market Expansion Rate (2022-2032)

2.1% CAGR

Key Companies Profiled

Chevron Corporation,
Exxon Mobil Corporation
Royal Dutch Shell Plc.
Ergon Inc.
Neste Oyj
Nynas AB,
S-OIL CORPORATION
Sepahan Oil
Repsol S. A.
Sinopec Limited
BP PLC
Evonik Industries AG
H&R Group,
Saudi Aramco
SK Lubricants Co. Ltd.
During the past year, the industry registered a Y-o-Y increase worth 2%. From 2022 to 2032, base oil sales are poised to flourish at a CAGR of 2.3% to reach a value of US$ 44 Billion by the end of 2032.
Demand for Grade V Base Oil will continue to grow steadily, with a documented CAGR of 2.5% during the 2015-2021 historical period of assessment, while demand for base oil for automotive proliferated at a rate of 2.4% during the same period. The APAC will dominate the global market, registering a growth opportunity worth US$ 16 Billion from 2022 to 2032.
Avail customized purchase options for your needs
2015 to 2021 Base Oil Market Revenue Analysis vs. Market Outlook 2022-2032
Fact.MR has predicted the base oil market to surge at a 2.3% CAGR between 2022 and 2032 in comparison to the 2% CAGR throughout the historic period. The upward trend of electric vehicles and the latest advancements in high-performing engine technology has paved a path for augmented sales of automotive vehicles. Thus, in turn, the demand for base oil is also likely to inflate in the forthcoming future.
Base oils are widely used in the automotive sector. While 2020 continued to be the recessionary year for the automotive industry in many markets, Fact.MR analysts forecast an upswing in the next couple of years.
Key Drivers Stimulating Base Oil Industry Expansion
High-temperature Bearing Capacity of Base Oil to Act as Prominent Driver
Innovative engine technology is pushing the demand for high-grade lubricants, and offer compatibility with fast-moving parts and extreme temperatures. The selection of base oil has an enormous impact on the total performance of the finished lubricants. Engine oils are composed of 70–90 percent base oil and 10–30 percent additives.
Therefore, the growing demand for high-grade engine oils is likely to stimulate the market for base oil as well. Base oils are used to manufacture industrial oils including lubricating greases, and metal processing High-performance engine oils can assist withstand extreme and rigorous conditions for diesel trucks, passenger cars, light-duty trucks, and stationary engines, fluids, and motor oil.
By adding certain chemical substances such as additives, base oils can be prepared to meet the broad range of requirements of industrial oils such as specific degrees of frictional properties, cleaning properties, and others. Soaring investments and high-scale transformation in the automotive industry are likely to augment demand for the base oil market across the globe. The rising popularity of electric vehicles in the countries like U.S & China is likely to expand the base oil market size in the upcoming years.
According to Fact.MR, the surge in demand for various types of industrial oils will continue to create sustained opportunities for market players in the long run.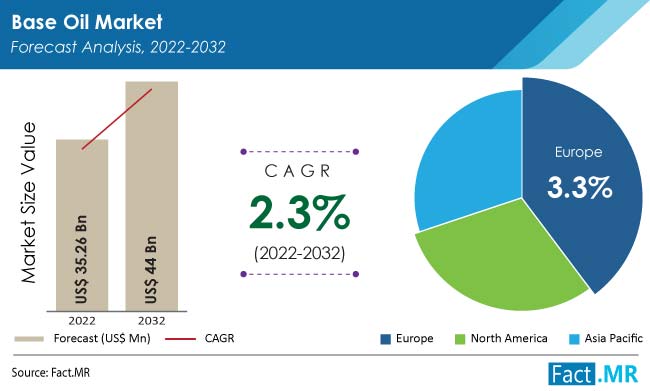 Key Challenges to Base Oil Industry Expansion
Crude Oil Price Fluctuation to Have a Disastrous Impact on Base Oil Industry
The base oil market is significantly influenced by the variation in the crude oil market. With the prevalence of COVID-19, the global economy crashed and caused a downfall in the oil & gas business as well. Although the crude oil market earned a tremendous profit in the last 5-10 years nevertheless after the economic crisis of 2019, crude oil prices dropped to record lows. Such volatility in prices disturbs the margins of the manufacturing companies.
Since most of the base oil types are mineral oil-based, which are sourced from oil prices. Thus, the prices of base oil highly depend on crude oil prices. With high crude oil prices, manufacturers enjoy elevated margins, but the price change has a huge impact on the base oil market.
An Adaptive Approach to Modern-day Research Needs
Country-wise Analysis
How Opportunistic are Growth Prospects across the North American Market?
U.S Base Oil Market to Earn Additional Points; backed by Latest Advancement in Automotive Industry
Being highly advanced in industrial and automotive sectors, the North American base oil market is forecast to steady growth in the coming years. Automotive oils being highly preferred due to their physical and chemical properties will maintain the lead in the North American base oil market throughout the forecast period. Upsurge in transportation activities and ease in travel ban after the pandemic have supported the automotive industry, fuelling automotive sales. Considering these factors, the demand for automotive lubricants is also likely to increase.
Based on the recent analysis, automotive sales increased by nearly 25% in the Q1 & Q2 of 2021 in Canada. According to Fact.MR, metalworking fluids are expected to exhibit the highest growth in revenue in the North American base oil market in near future. The projected market value for base oil is likely to reach nearly US$ 16.2 Billion by the end of 2032 which is estimated at nearly US$ 12.3 Billion in 2021, following a CAGR of 2.5%.
Why are Base Oil Providers Venturing into the Asia Pacific?
Augmented Application of Re-refined Base Oil to Place Asia Pacific at the Topmost Spot
The automotive industry coupled with the advancement in the industrial machinery manufacturing sector is spurring the Asia Pacific base oil market growth. The mounting motorization rate in emerging countries is pushing the demand for lubricants in this sector which will, in turn, reinforce the demand for base oil.
Moreover, key manufacturers are making investments in the rapidly evolving end-use sectors such as power generation, manufacturing, logistics, automotive manufacturing, and others in nations such as China, India, Japan, and South Korea, thereby, propelling demand for base oil.
Fact.MR forecasts that the Asia Pacific base oil market is estimated to record a CAGR of 3.3% between 2022 and 2032 and the valuation is anticipated to surpass US$ 5 Billion by 2032. During the historic period, the market value was estimated at nearly US$ 3.5 Billion in 2021. The market size is expected to expand in Asia-Pacific, owing to the economic growth in the nations such as South Korea, China, and India.
Why Europe is becoming a Lucrative Region for Base Oils Market?
European Region to Spearhead the Lubricants Segment in Upcoming Future
The rising demand for fuel-efficient vehicles coupled with the various stringent regulations regarding automotive fuel policy is bolstering the Europe base oil market growth.
For instance, according to the regulations by European Union Automotive Fuel Policy, the average CO2 emission level for new passenger cars must not exceed 130 grams per kilometre.
As a result, the increasing demand for the development of highly efficient lubricants manufactured from base oils is rising the base oil market value rapidly. According to Fact.MR, Europe will continue to be a lucrative market for base oil manufacturers and is likely to reach a valuation of nearly US$ 16 Billion, following a CAGR of 2.5% throughout the assessment period.
Region-wise Value CAGRs for Base Oil (2022-2032)
| | |
| --- | --- |
| North America | 2.5% |
| Europe | 3.3% |
| Asia Pacific | 2.5% |
Category-wise Insights
Which Grade Type is Most Preferred in the Base Oil Market?
Based on Grade, Type V Witnessed Highest Traction across the Globe
According to Fact.MR, grade-wise group V base oils (except naphthenic) followed by naphthenic base oils will exhibit the highest growth in market volume throughout the forecast period.
Naphthenic base oil has low pour point, low wax, low aromatic content, and high solvency, making it widely required for a broad range of applications such as producing adhesive & sealants, gear oils, and printing inks, oil extender polymers, and others.
Due to its diverse range of applications as well as the expanding end-users such as process oil manufacturers, metalworking fluid manufacturers, and others, the group V base oils are gaining rapid traction all over the world.
According to Fact.MR, group V base oils will witness the highest growth in revenue followed by naphthenic, group IV, and other base oils such as group I, group II, re-refined, and other base oils. Fact.MR estimates that the annual growth rate of the aforesaid segment is estimated to remain close to 2.3% throughout the forecast period.
By Application, which Base Oil is expected to Dominate?
Application-wise, automotive fluids such as lubricant, gear oil, transmission fluid, power steering fluid, and brake fluid continue to be the prominent segments.
With the growing automotive industry, automotive fluids are experiencing a substantial surge in demand from various automotive systems such as engine oil systems, automatic transmission systems, power steering systems, automated cooling systems, and brake systems.
The rising demand for electric vehicles is further catering to the market growth. According to Fact.MR, automotive fluids are expected to lead other application-wise segments and document a CAGR of 2.4% during the forecast period.
Interested to Procure The Data
Competitive Landscape
Prominent Base Oil providers are reliant on partnerships, collaborations, acquisitions, and new software launches to stay afloat in the global market. Constant innovations to ensure a seamless client-customer relationship are the main focus of prominent market players.
In July 2020, SWEPI LP, a subsidiary of Royal Dutch Shell has completed the sale of its Appalachia shale gas position to Seneca Resources Company, LLC and NFG Midstream Covington, LLC, each of which is a subsidiary of National Fuel Gas Company to acquire USD 541 million to invest as an asset for quality base oil production.
In October 2020 Indian Oil Corporation signed a pact with the Indian Institute of Science (IISS) to develop hydrogen generation technology based on biomass gasification.
Key Segments Covered in the Base Oil Industry Survey
Base Oil by Grade :

Group I Base Oil
Group II Base Oil
Group III Base Oil
Group IV (PAO) Base Oil
Group V (ex. Naphthenics) Base Oil
Naphthenics Base Oil
Re-refined Base Oil

Base Oil by Application :

Base Oil for Automotive Fluids (Lubricant, Gear Oil, Transmission Fluid, Power Steering Fluid, Brake Fluid, Others)
Process Base Oils (Rubber Process Oils, Textile Process Oil)
Industrial Base Oils (Transformer Oil, Turbine Oil, Food Grade Oil, Others)
Base Oil for Metalworking Fluids (Emulsions, Neat Oils)
Hydraulic Base Oils (Petroleum-Based, Biodegradable)
Other Base Oil Applications

Base Oil by Region :

North America Base Oil Market
Latin America Base Oil Market
Europe Base Oil Market
Asia Pacific Base Oil Market
The Middle East & Africa Base Oil Market