Futuristic Technologies to Supplement High Purity Aluminium Market Growth
The global high purity aluminium market is valued at US$ 4 billion in 2022 and is slated to surge ahead at a CAGR of 11.1% and reach a market size of US$ 11.5 billion by 2032.
Sales of high purity aluminium accounted for nearly 3% of the global aluminium market at the end of 2021. High conductivity, low resistance, and cost-effectiveness are the reasons high purity aluminium adoption is rapidly increasing across end-use verticals.
Report Attributes

Details

High Purity Aluminium Market Size (2021A)

US$ 3.7 Billion

Aluminium (Parent) Market Size

US$ 158.7 Billion

Estimated Market Value (2022E)

US$ 4 Billion

Forecasted Market Value (2032F)

US$ 11.5 Billion

Global Market Growth Rate (2022-2032)

11.1% CAGR

North America Market Share (2021)

~25.3%

East Asia Market Growth Rate (2022-2032)

~12.8% CAGR

United States Market Growth Rate (2022-2032)

~9.7% CAGR

Market Share of Top 5 Companies

~36%

Key Companies Profiled

Chalco
Join World
Kyushu Mitsui Aluminium
Nature Alu
Nippon Light Metal Holding Co.
Norsk Hydro
RuSAL
Showa Denko KK
Sumitomo Chemicals Co., Ltd.
Know thy Competitors
Competitive landscape highlights only certain players
Complete list available upon request
Historic and Future Path for High Purity Aluminium Market
High purity aluminium has optimistic growth possibilities due to factors such as the booming automotive industry, exploding aviation sector, and growing application of semiconductors.
high purity aluminium has extremely high conduction properties, and when applied as a thermal conductor in peripherals of a superconducting magnet, it enhances its performance. It has application in electrical devices for performance enhancement while simultaneously reducing overall weight as well as space.
Manufacturers have acknowledged the red mud concern and are working on controlling its emissions. With R&D, new growth opportunities will spur the market's growth outlook.
Short-Term Growth Factors: Augmenting high purity aluminium utilization in smart devices and semiconductor's will be seen from 2022 to 2025.
Approaches for Medium-Term Growth: Demand across emerging markets and a plethora of applications will contribute to high purity aluminium sales growth between 2025 and 2028.
Long-Term Growth Opportunities: Innovation and investments in R&D to develop upgraded and purer forms of aluminum will drive market growth in the long term.
Global consumption of high purity aluminium increased at a CAGR of 6.3% between 2017 and 2021. The market is forecasted to exhibit high growth at 11.1% CAGR between 2022 and 2032, according to Fact.MR, a market research and competitive intelligence provider.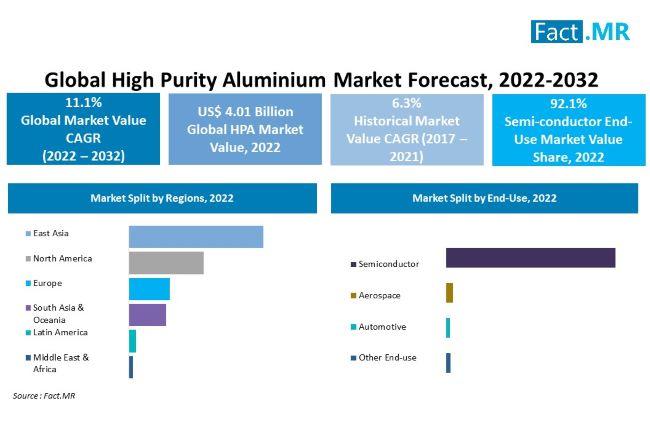 Market share analysis of high purity aluminium based on end use and region. Under the end-use segment, semiconductors lead with 92.1% market share in 2022.
What are the Key Trends in the Global High Purity Aluminium Market?
"High Purity Aluminium to Meet Smart Device Diverse Requirements"
With changing lifestyles and busy schedules, smart devices are becoming an integral part of today's day-to-day life. These devices are easy to control with simple commands and can be applied in our homes to make our life easy. Smart devices are being used in various aspects of our life, ranging from security (smart cameras, sensors, etc., which make our life secure), to accessibility (computers, TV, and others, which can be operated with a single touch on a screen).
These devices are designed for particular functions and are used in a myriad of applications covering automobiles, cameras, medical devices, household appliances, industrial machines, vending machines, toys, airplanes, cellular phones, and PDA (personal digital assistants).
The ripening of the Internet of Things (IoT) is revising the dynamics of daily life and has opened up an incredible avenue for further penetration of the robotics sector. As a result, the usage of semiconductors, LEDs, phototransistors, PCBs, and many more is increasing at a rapid rate. This, in turn, is driving the use of high purity aluminium in numerous applications.
"Increasing Defense Expenditure to Spur High Purity Aluminium Consumption"
High purity aluminium is needed in many national security applications, mostly in fighter jets. It is extensively used in the manufacturing of F-35, F-18, C-17, and other next-generation military craft. Furthermore, it is also used in the manufacturing of ammunition components, parts of missiles & missile batteries, tanks, and components for satellites.
The global defense industry has been growing at a steady pace.
According to the data source Stockholm International Peace Research Institute (SIPRI), total military spending increased to US$ 2.11 trillion in 2021.
The United States, China, India, United Kingdom, and Russia are major economies investing in defense and collectively account for 62% of worldwide military expenditure.
Armed forces across the world are leveraging the power of digitalization and developing network-centric defense ecosystems to strengthen action readiness and modernize battlefield operations. Countries such as the U.S. and U.K. are investing billions of dollars in initiatives such as autonomous technologies, war clouds, and defense ICT modernization.
All these activities are increasing high purity aluminium usage in the defense sector and will market growth for years to come.
"Red Mud - A Major Threat to Mankind"
High purity aluminium is commercially produced using the Bayer process. However, this process is also accompanied by the formation of industrial waste, which is known as bauxite residue (red mud). For every ton of aluminum produced, approximately 1.4 - 1.5 tons of red mud are also produced.
Red mud is considered hazardous to the environment due to its huge volume, alkalinity, and storage complication. Presently, there are more than 200 aluminum smelters across the world producing aluminum from bauxite.
As the global demand for aluminum increases, the production of red mud is also swelling. Though red mud is bifurcated as a less or non-hazardous residue for storage in most countries, the capital requirement for its storage and subsequent disposal is heavy for companies.
"High Operational Cost - Barrier to Market Growth"
High purity aluminium manufacturing requires the usage of sophisticated equipment and devices. As a result, manufacturing such compounds is usually accompanied by high operational costs. Roughly, a CAPEX of US$ 297.6 million and an OPEX of US$ 44.6 million are needed for setting up a standard plant with an annual capacity of 4,000 tons.
Moreover, as a result of weak economic growth caused by the COVID-19 pandemic and inflation, industrial production remained well below market expectations. As sales were lower than expected, high purity aluminium manufacturers had to bear extra costs for inventory management.
More Insights, Lesser Cost (-50% off)
Insights on import/export production,
pricing analysis, and more – Only @ Fact.MR
Country-wise Insights
Which Industrial Vertical is Driving High Purity Aluminium Market Growth in the U.S.?
The U.S. is projecting high high purity aluminium demand across the aerospace end-use vertical due to its specific features. It is highly conductive in nature and lightweight as well. As such, high purity aluminium sees high adoption across various end-use verticals, including aerospace.
The United States market is currently estimated at US$ 1 billion and is expected to reach US$ 2.42 billion by 2032, with the aerospace segment expanding at 5.3% CAGR.
What's Cementing China's Position as a Global Leader in the Market?
China is a key producer of aluminum and production has been growing at an average of 5% over the past half-decade and is expected to grow at a higher rate over the long term.
Furthermore, due to the pandemic, China imposed metal import bans. Later, it lifted these bans to meet the growing demand across various verticals. Further, companies also expanded their production capabilities to address the surging demand and increase their profit margins to recover losses due to the pandemic.
China accounted for 35.1%share of East Asia's high purity aluminium production in 2021. The China market for high purity aluminium is expected to reach a valuation of US$ 2.5 billion by 2032.
Category-wise Insights
Why Did 4N Grade High Purity Aluminium Top the List in 2021?
4N grade high purity aluminium accounts for a major market share in 2022 and its demand is estimated to increase at a CAGR of 12.1% and reach a market size of US$ 7.8 billion by 2032.
This high growth is mainly attributed to the growing electronics industry. In the electronics sector, high-purity aluminium is employed in a variety of applications. In addition, for the production of high-purity alumina and capacitor foils, 4N pure aluminium is most preferred. It can also be applied in decorative ways.
With the global economy on the way up, the 4N sub-segment is predicted to expand around 3X by the end of 2032.
How Will the Aerospace Industry Drive Demand for High Purity Aluminium?
The aerospace industry has high growth opportunities. Aerospace has a valuation of US$ 140.7 million in 2022, making it the second-leading segment, and will grow at a CAGR of 6.1% through 2032.
Further, the aviation industry, a part of the aerospace sector, accounts for US$ 3.5 trillion (4.1%) of the world's GDP. On considering aviation as a country, in terms of GDP, it would have ranked 17th in size, which is equal to the GDP of the Netherlands and Indonesia.
India is the third-largest aviation market in the world. It is anticipated to surpass China and the United States as the largest and fastest-growing air passenger market in the next ten years, according to the International Air Transport Association (IATA).
With the proliferating aviation and aerospace industries, demand for high purity aluminium is skyrocketing. It is used to develop several parts of aircraft and essential chips for effective communication.
The aerospace sector is to create an absolute $ opportunity of US$ 114.5 million by the end of the assessment period.
Manufacturers' Analytical Dashboard
Major manufacturers are Chalco, Join World, Kyushu Mitsui Aluminium, Nature Alu, Nippon Light Metal Holding Co., Norsk Hydro, RuSAL, Showa Denko KK, and Sumitomo Chemicals Co., Ltd., among others.
Rivalry among existing competitors is expected to be moderate considering the competitiveness of the market. Market players are focusing on enhancing their sales channels in high-potential regions such as East Asia, especially China and Taiwan, owing to the presence of several prominent market players that are focused on reducing the cost of production.
Fact.MR has provided detailed information about the price points of key manufacturers of High Purity Aluminium positioned across regions, sales growth, production capacity, and speculative technological expansion, in the recently published report.
Segmentation of High Purity Aluminium Industry Research
By Grade :

By End Use :

Semiconductors

Chip Production
Flat Panel Display Production
Thin Film Production
Electrolytic Capacitor Foils
Electronic Storage Systems
Others

Aerospace
Defense
Automotive
Others

By Form :

Disks
Pellets
Ingots
Wires & Coils
Others

By Region :

North America
Latin America
Europe
East Asia
South Asia & Oceania
MEA