Date Sugar Market Gains Traction amid Intensifying Sugar Substitutes Demand, Heightens Investments
A considerable cross-section of the global population has been switching from cane sugar as a sweetener to substitutes such as stevia, coconut sugar, monk fruit sugar and date sugar. Among them, date sugar has gained significant traction among consumers owing to its distinct taste, strong acceptance by Muslim population and easy availability. While date sugar market is still in the nascent phase, it continues to see dynamic trends that are majorly altering its business and market landscapes. To tap into upcoming opportunities, companies such as Bob's Red Mill Natural Foods and Date Lady have been partnering with local farmers to procure higher volumes of dates with an increase in demand. Besides, all the key players have been investing in certifications, as they are pivotal towards success in this market. With the present momentum, the market is projected to grow 1.6X between 2019 and 2029.
Date Sugar in Syrup/ Liquid Format will Continue to Generate the Highest Demand
While the volume sales of date sugar in syrup/ liquid form is expected to rise at a swift pace, in terms of market value, powdered sugar segment is expected to witness a faster growth, owing to higher pricing of the latter. The combined absolute $ opportunity from powdered and syrup / liquid segments equals to US$ 50 Mn. Market growth rate of granule / crystal form is expected to be higher in the second half of forecast period, where the consumer spending on date sugar is expected to increase further. Date sugar companies are investing in proprietary research to increase the solubility of date sugar so that they can be easily used in beverages such as herbal tea and coffee.
Hypermarkets / Supermarkets to be the Preferred Retail Sales Channel for Date Sugar
Owing to discounted prices on bundled products, hypermarkets / supermarkets are the preferred sales channel for date sugar consumers. In 2018, date sugar sales through this segment represented around 40% of the retail sales. Among retail sales channels, supermarkets / hypermarkets are followed close behind by online retail through which date sugar market generated around one-third of its revenue in 2018. Direct sales of date sugar is also expected to follow a growth pattern similar to that of retail sales, during the forecast period.
Opportunities Abound in Middle-East, Africa and Asia-Pacific, other Regions to Follow a Moderate Single Digit Growth
In terms of date sugar demand, North America, Europe and Middle-East and Africa together account for nearly three-fourth of the global demand. Owing to low date sugar prices in Middle-East and Africa, its market value is significantly lower as compared to other regions.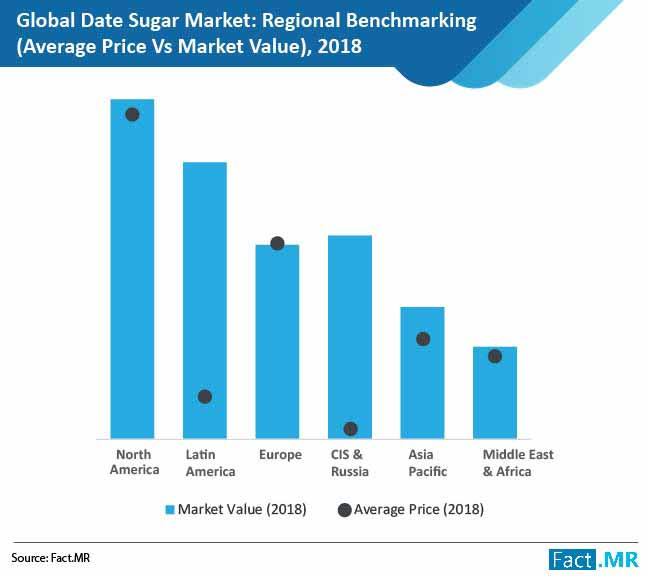 For exhaustive insights on the regional date sugar markets, ask an analyst here
In terms of demand, Middle-East and Africa are expected to become the largest date sugar markets in the mid-term forecast. In terms of market value, their regional markets are projected to be the fourth largest market by 2029 end. Certain Middle-East and North African countries as well the U.S. are amongst the key date production clusters. While in some of the date sugar producing countries, production is carried out by procuring dates locally, the other countries import dates to process them into date sugar. Iran, U.A.E., Pakistan, Iraq, and Israel are amongst the key date producers. U.S., Italy, U.K. and U.A.E. represent the prominent date sugar production clusters.
U.S. Based Companies Command the Larger Chunk of Tier 1 Date Sugar Players Revenue
In 2018, Bob's Red Mill Natural Foods, Date Lady, Now Foods and Glory Bee together accounted for over three-fourth of Tier 1 players' revenue. While most of the date sugar producing companies are privately-held, some of the companies are also family-owned businesses. Some of the key companies including Bob's Red Mill Natural Foods and Barry Farms also offer date sugar through their proprietary online stores, which enables them to track consumer demand for particular date sugar categories more precisely. Some of the companies are also manufacturing date sugar to partially use them in their own end-use products while selling the rest in the market. For instance, Date Lady has been offering BBQ sauce and sweet chili sauce using Californian dates, which have gained popularity within a short time among the U.S. consumers.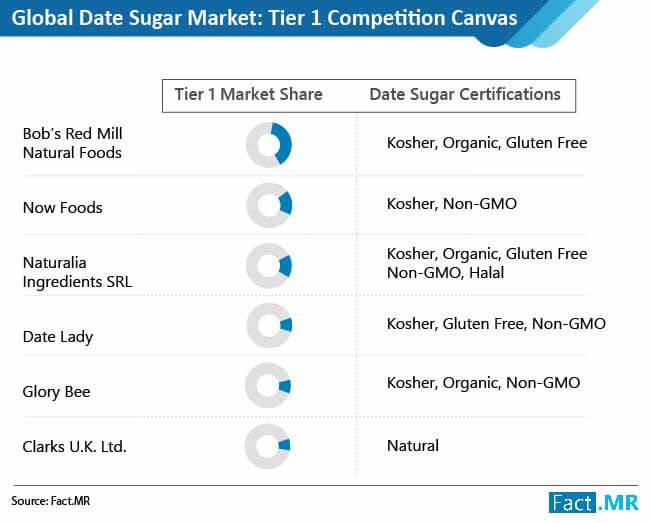 To gain an edge over your competitors and get strategic insights, ask for a report sample here
Date sugar market is anticipated to witness a notable upsurge during the forecast period 2019 to 2029, conferring to a new Fact.MR study. The study promotes crucial trends that are presently determining the growth of date sugar market. This newly published and perceptive report sheds light on vital dynamics, which are likely to convert the future of date sugar market, in turn generating worthwhile opportunities for key companies as well as evolving players who are interested in the manufacturing of date sugar.
Date sugar market study is a detailed market intellect on key revenue progression factors, challenges, industry trends, and opportunities, which will eventually influence the growth of date sugar market. The report primarily conveys a summary of the date sugar market, considering present and upcoming sugar alternative industry scenarios, to reveal striking sides relating to the acceptance of date sugar across prominent regional markets.
A detailed assessment on few of the date sugar raw material suppliers accessible in the report allows the report readers to obtain detailed findings that have resulted from date sugar supply chain analysis, business execution, and value chain analysis across the regional markets incorporated in the report. A list of prominent companies functioning in date sugar market provided in the report enhances reliability of this ample research study.
Date sugar Market: Report Summary and Scope
The study offers a comprehensive overview on diverse features that are inducing demand, revenue generation and sales in date sugar market across the globe.
A comprehensive estimate on date sugar market has also been made accessible by the experts, who have considered the market estimates on the basis of a likely scenario, an optimistic scenario, and a conservative scenario regarding sales of date sugar during the forecast period. Analysis and estimation of price point comparison by region and by product with the global average price has been included in this study.
Date sugar Market: Segmentation
FactMR's study has done the segmentation of date sugar market on the basis of product form, end use, origin, sales channel and region.
Product Form

End Use

Origin

Sales Channel

Region

Granules & Crystal
Powdered
Syrup/ Liquid

Industrial Consumption

Food Production

Bakery
Confectionery
Snacks
Dressings and Condiments
Sauces and Spreads

Beverage Industry

Retail Consumption

Direct Procurement
Retail Sales

Hypermarkets / Supermarkets
Discount Stores
Specialty Grocery Stores
Traditional Grocery Stores
Online Retail

North America
Latin America
Europe
CIS & Russia
Asia-Pacific
Middle East & Africa
Date Sugar Market: Analysis on Market Size Evaluation
Predictions of date sugar market, encompassing current as well as forthcoming projected values estimates and analysis on region-wise demand trends and price indexes have been assimilated in the report.
Market estimates at the regional and global scale for date sugar are available in terms of "US$ Mn." A Y-o-Y growth contrast on prominent date sugar market segments, along with the market attractiveness valuation computes understandings brought in the report. Metrics mentioned above are also followed based on date sugar applications where date sugar witnesses a steady demand.
Date Sugar Market: Scrutinized Assessment on Regional Segments
Weighted sections have been elaborated in the report on date sugar market, which delivers projection on the regional markets. These chapters brighten the regional macros (political economic, and business environment outlook), which are expected to have a significant impact on the growth of date sugar market during period of forecast.
Country-specific valuation on demand for date sugar has been offered for each regional market, along with the market scope estimate and forecast, price index, price point assessment, and impact analysis of dynamics of prominent regions and countries. For all regional markets Y-o-Y growth estimates have also been incorporated in the report.
Date Sugar Market: In-depth Analysis on Competitive Landscape
The report ends with a section on the competition scenario of date sugar market, along with the profiles of major companies contributing to the market expansion. Essential and up-to-date data as well as information correlated to the market performers, who principally engage in the production and supply of date sugar, has been brought with the help of a detailed dashboard view. Market share analysis and comparison of prominent players provided in the report permits the report readers to plan preemptive steps to advance their businesses.
Company profiles have been shared with the report, which exerts essentials such as product portfolio, along with an all-inclusive SWOT analysis on each player recognized along with the company policies identification and analysis. The company presence mapped and presented through the matrix for all the prominent players of the market functioning in date sugar market offers readers with actionable intellect, which helps in thoughtfully presenting the market status, and making decisive predictions on the competition levels in date sugar market. Major companies operating in global date sugar market, include Bob's Red Mill Natural Foods, Date Lady, Naturalia Ingredients SRL, Now Foods, Barry Farms, Teeccino, Clarks U.K. Ltd., Chatfield's Brands, and Glory Bee.
Request research methodology of this report.
Fact.MR offers custom research services that help clients to get specific research solutions
We are committed towards customer satisfaction and quality service.
---
Our Clients

Date Sugar Market Forecast, Trend Analysis & Competition Tracking - Global Market Insights 2019 to 2029