Eggshell Membrane Derivatives Market
Eggshell Membrane Derivatives Market By Type (Powdered, Concentrated), By Application (Nutraceuticals, Food & Beverages, Pet Food, Cosmetics & Personal Care) & By Region - Global Market Insights 2023-2033
Analysis of Eggshell Membrane Derivatives Market Covering 30+ Countries Including Analysis of US, Canada, UK, Germany, France, Nordics, GCC countries, Japan, Korea and many more
Eggshell Membrane Derivatives Market Outlook (2023-2033)
The global eggshell membrane derivatives market is predicted to evolve at a CAGR of 8.2% from 2023 to 2033. The market stands at US$ 1 billion in 2023 and is expected to reach US$ 2.2 billion by 2033-end.
The use of powdered eggshell membrane derivatives will remain prominent, accounting for 2/5 of overall demand. The fact that eggshell membrane powder is also one of the best anti-aging substances increases its appeal in the personal care and cosmetics sectors.
A bilayered wall membrane between the eggshell and egg white is called an eggshell membrane. The primary proteins found in eggshell membrane derivatives are osteopontin, collagen, and sialoprotein. The inside membrane is considerably heavier and more compact than the exterior membrane, which is made up of entangled protein fibers.
Eggshell membrane derivatives have shown to have excellent biocompatibility properties and are effective as biological dressings for burns or donor sites of skin grafts. Eggshell membrane derivatives, sometimes known as "phoenix cloth," have been used for many years to treat chronic ulcers and bone fissures.
It has been demonstrated that eggshell membrane derivatives can improve gastrointestinal and arthritic symptoms. Additionally, they possess anti-inflammatory, anti-bacterial, wrinkle-fighting, and wound-healing effects.
Eggshell membrane derivatives play a major role in biomedical engineering, environmental engineering, commercialization, sensors, and electric devices. New perspectives are gaining ground about the eggshell membrane derivatives' potential as a highly valuable bio-resource.
The prevalence of inflammatory bowel disease (IBD), characterized by Crohn's disease and ulcerative colitis, has shown a significant surge worldwide, particularly in industrialized countries. According to the Centers for Disease Control and Prevention (CDC), about 7 million people worldwide have IBD. Across developed countries, where societies are becoming more westernized, the incidence of IBD is illustrating acceleration and is on its way to becoming a pandemic ailment.
Fine powder derived from eggshell membranes has depicted positive outcomes for the treatment of patients with inflammatory bowel diseases. The NCBI obtained nutrigenomic information from in vivo and in vitro investigations of eggshell membranes. In vitro experiments have revealed the effectiveness of eggshell membrane derivatives in reducing inflammation and promoting colon cell proliferation.
The recent increase in demand for healthier and more environmentally friendly dietary supplement options is fueling the market. The acceptance of healthy food supplements such as eggshell membrane derivatives is a result of the rising number of illnesses and health problems among the population as a result of climate change, global warming, excessive work, and a busy lifestyle.
Eggshell membrane derivatives are emerging as a more sustainable and healthy option for consumers in dietary supplements. Due to climatic change, global warming, hectic lifestyles, and excessive labor, an expanding global population is dealing with several health issues. These factors lead to illnesses and other health problems in people.
The market is expanding as a result of changing eating habits and rising health consciousness. Eggshell membrane derivatives are widely utilized in infant formula and other baby products, and food supplements, which is driving increased demand for these items worldwide.
Eggshell membrane derivatives function as nutricosmetic components that promote healthy skin overall, serve as the foundation for the skin's necessary needs, and offer a variety of other advantages for treating skin-related problems. This cosmetic and personal care business is fostering the expansion of the world market for eggshell membrane derivatives.
Eggshell membrane derivatives are also utilized in the pet food business to meet the nutritional needs of animals and to support important joint and skin health requirements.
Report Attributes

Details

Eggshell Membrane Derivatives Market Size (2023)

US$ 1 Billion

Projected Market Value (2033)

US$ 2.2 Billion

Global Market Growth Rate (2023-2033)

8.2% CAGR

Market Share of Food & Beverage Industry

50%

Key Companies Profiled

Biova LLC
Kewpie Corporation
Eggnovo SL LLC
Mitushi Biopharma
Ecovatec Solutions Inc.
Microcore Research Laboratories India Pvt. Ltd.
Don't Need a Global Report?
save 40%! on Country & Region specific reports
Why are Eggshell Membrane Derivatives Gaining Huge Popularity Worldwide?
"High Consumption of Eggshell Membrane Derivatives for Multiple Applications in Key Industries"
According to the Frontiers Organization, upon proper treatment, eggshell membranes can be used for turning waste oils into biodiesel. Moreover, the catalytic effect of eggshell-based material in organic synthesis is also very beneficial.
Successful research has been conducted for use of eggshell membrane derivatives as adsorbents to eliminate metal ions during wastewater treatment while preventing inhibition of microorganisms in membrane biological reactor. This is expected to pose a notable impact on market growth over the coming years.
"Growing Demand for Eggshell Membrane Derivatives for Joint Pain Treatment"
The Arthritis Foundation has slated arthritis to be a global epidemic, with over 54 million adults and 0.3 million children reported to have doctor-diagnosed arthritis in the U.S. alone.
According to a study conducted by NCBI, the eggshell membrane has been shown in human trials to suppress arthritic pain and stiffness as a dietary supplement.
Eggshell membrane derivatives have been found to relieve inflammation and pain in the joints, as it contains hyaluronic acid, chondroitin, glucosamine, and collagen, which are essential for healthy connective tissue, cartilage, and joints. Results from a randomized, placebo-controlled, double-blind, multicenter trial, funded by ESM Technologies, state that eggshell membrane derivatives supplementation has the potential to not only relieve joint pain, but also stiffness.
What Could Possibly Hinder Eggshell Membrane Derivative Demand?
"Availability of Alternatives and High Production Cost"
Market growth is being hampered by the availability of dairy-protein alternatives and plant-based supplements that perform similarly and the high cost of production and processing.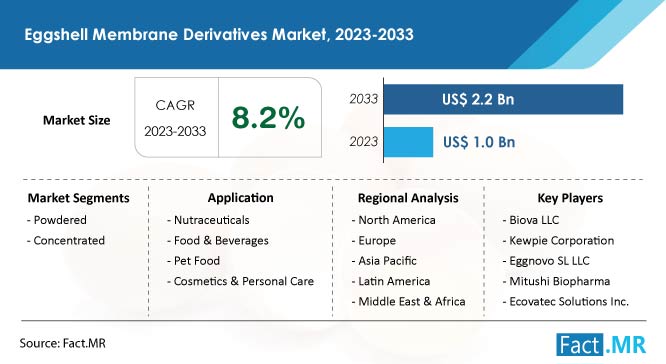 What Should Emerging Market Players Focus On?
"Aspiring Market Players Should Engage in R&D to Create Advanced Production Systems"
New entrants are focused on R&D investments and product launches to gain a competitive advantage in the market.
In 2020, Biova LLC published its findings from a randomized, double-blind, placebo-controlled study in the Journal of Cosmetic Dermatology, confirming the efficacy of 450 mg of BiovaBIO- a 100% eggshell membrane ingredient- for oral use in beauty supplements, stating an improvement in skin tone after 8 weeks of ingestion.
Start-ups should follow such prominent companies to make a mark in this industry.
More Insights, Lesser Cost (-50% off)
Insights on import/export production,
pricing analysis, and more – Only @ Fact.MR
Which Region is Predicted to Lead Market Expansion Going Forward?
"Growing Prevalence of Arthritis Driving Market Growth in North America"
North America dominates the global market for egg membrane derivatives due to the high affordability of customers and the rising need for wholesome and nutrient-dense dietary supplements, and the growing prevalence of arthritis.
Country-wise Insights
Will the U.S. Provide Lucrative Business Opportunities for Eggshell Membrane Derivative Providers?
"Extensive Application of Eggshell Membrane Derivatives in Nutraceutical Industry"
The U.S. market is expected to rise at a 7% CAGR over the forecast period. Extensive applications across the nutraceutical industry are spurring adoption on a large scale.
Moreover, key players across the U.S. are focused on improving the application ratio of eggshell membrane derivatives in the food and beverage, pharmaceutical, personal care, and cosmetic industries.
What is the Demand Outlook for Eggshell Membrane Derivatives in South Korea?
"Growing Health Awareness among Millennials in the Country"
The market in South Korea is predicted to experience strong growth because consumers, especially millennials, are becoming more health-conscious. Numerous businesses have established production facilities and are supplying eggshell membranes to end-use sectors at competitive costs as a result of the high production.
Hyaluronic acid, elastin, keratin, and glycosaminoglycan found in the eggshell membrane collagen are beneficial for treating wrinkles, acne, and other skin disorders. These elements are supporting market growth in South Korea.
Why is Germany Exhibiting High Sales of Eggshell Membrane Derivatives?
"Growing Consumption of Fortified Foods across Germany"
Consumers are becoming more aware of the health benefits of the eggshell membrane, which has resulted in its inclusion in foods with added nutrients. Growing consumption of fortified foods is fueling market growth in Germany.
How is the Market for Eggshell Membrane Derivatives Faring in Japan?
"Increasing Need for Eggshell Membrane Powder in Pharmaceutical Industry"
The growing focus of the government on enhancing healthcare facilities, the presence of key providers of eggshell membrane derivatives, and high awareness among people concerning the advantages of nutraceutical supplements are driving market value in Japan.
The increasing need for eggshell membrane powder in the pharmaceutical industry is boosting market expansion in Japan.
Category-wise Insights
Why are Powdered Eggshell Membrane Derivatives More Preferred?
"Powdered Eggshell Membrane Derivatives Offer High Versatility"
By type, the market is segmented into powdered, concentrated, and others. The demand for powdered eggshell membrane derivatives is expected to hold a significant market share over the forecast period due to their high versatility and easy applicability.
Eggshell membrane powders offer a larger surface area and are easily dissolvable upon ingestion. Additionally, the powdered form allows for extensive applications such as tissue engineering and formulation of pain-relieving drugs.
Eggshell membrane powder is utilized to satisfy the nutritional requirements of the pet as well as to meet the important joint health needs of the pet food business. As health and wellness trends extend to the food and beverage industry, eggshell membrane powder is being accepted as a unique ingredient that enhances the nutritional value of items.
Which Application Generates Most Revenue in This Market?
"Use of Eggshell Membrane Derivatives as Source of Dietary Calcium Gaining Significant Momentum"
The market is classified into nutraceuticals, food & beverages, pet food, cosmetics & personal care, and others based on the application.
Eggshell membrane derivatives are being touted as a high-potential ingredient for functional foods and dietary supplements. Demand for eggshell membrane derivatives in the food & beverage sector is anticipated to account for nearly 50% over the coming years. The conferment of the novel food status has boded well for the market.
Since the food and beverage manufacturers have been focusing their efforts on a naturally-sourced component that promises high value in return, the employment of the product as a source of dietary calcium across the food and beverage industry is getting much more traction.
Competitive Landscape
Customers are predicted to be at the center of industry growth, and major manufacturers of eggshell membrane derivatives are expected to monitor shifting market trends. Because increased product reach has been and will continue to be essential to improved sales performance, brands are participating in a variety of promotional events, internet marketing campaigns, and conferences.
Key players in the eggshell membrane derivatives market are forming strategic alliances with significant businesses engaged in the life sciences sector to develop new products while also paying attention to ongoing improvements in both novel and existing product prototypes.
For instance :
In February 2021, Health Canada approved Stratum Nutrition's NEM eggshell membrane, which helps provide relief from joint pain induced due to moderate-intensity aerobic exercise.
Eggshell Membrane Derivatives Industry Research Segmentation
By Type :

Powdered
Concentrated
Others

By Application :

Nutraceuticals
Food & Beverages
Pet Food
Cosmetics & Personal Care
Others

By Region :

North America
Europe
Asia Pacific
Latin America
Middle East & Africa
- FAQs -
Major types of eggshell membrane derivatives are powdered and concentrated.
Demand for eggshell membrane derivatives is expected to increase at a CAGR of 8.2% through 2033.
Food and beverages are estimated to account for around 50% share of the global market.
Worldwide use of eggshell membrane derivatives is expected to reach US$ 2.2 billion by 2033.
Biova LLC, Kewpie Corporation, and Eggnovo SL LLC are key suppliers of eggshell membrane derivatives.