Squash Rackets Market
Squash Rackets Market Analysis By Construction (Open Throat, Closed Throat & Hybrid Squash Rackets) By Balance (Head Heavy, Head Light, Even) By Weight (Heavy & Light) By Frame Material (Aluminum & Composite) By Sales Channel & Region – Global Market Insights 2020-2030
Analysis of Squash Rackets market covering 30 + countries including analysis of US, Canada, UK, Germany, France, Nordics, GCC countries, Japan, Korea and many more
Squash Rackets Market Outlook
Although squash is not an Olympic sport as yet, it has been repeatedly petitioned to become one in the 2020 Tokyo Olympics and 2024 Olympics. Initiatives by bodies such as the World Squash Federation (WSF) have played their roles in bolstering the game's popularity.
Further, growing awareness about the health benefits of playing squash is driving up participation as a recreational activity. These are key factors that are projected to have a positive impact on the expansion of the squash rackets market size.
In a new report, market research and consulting firm, Fact.MR, analyzes critical factors that will influence demand for squash rackets over the coming years. It also talks about why independent sports outlets are the most-favored destination for purchasing squash rackets.
Market insights based on detailing of rackets, such as frame material, weight, balance, etc., are also encountered in the report. The study also provides an analysis of demand in over 20+ countries, with an in-depth study on the sector in terms of the effects of COVID-19 on the industry.
Know thy Competitors
Competitive landscape highlights only certain players
Complete list available upon request
Historical and Future Outlook
The game of squash is growing in popularity around the world, and rising number of players are competing in Professional Squash Association (PSA) tournaments, from hundreds of countries.
Squash is played in 130 countries, on more than 47,000 courts, and the World Squash Federation now has 116 squash playing National Associations in membership. Squash is also gaining popularity among beginner level players, which bodes well for the future of the sport.
In the recent past, from 2014 to 2019, the squash rackets market has grown steadily from a US$ 188.4 Mn in valuation to US$ 221.7 Mn. Original wooden squash rackets have gradually been phased out. Development towards larger heads and shorter handles have become mainstream. Weight reduction and increased strength have also become important to both, market players and end users.
The COVID-19 pandemic has slowed down demand for squash rackets at present. However, the market is likely to witness steady recovery in 2021, and get back to its original growth trajectory of around 4% CAGR through 2030.
North America, led by the United States, will have a major role to play in the future growth prospects of the industry. According to the World Squash Federation, around 20 million people participate in the sport, globally, and the number is likely to continue growing in the post-pandemic period.
Increased Penetration of Competitive Squash
While squash has garnered increased attention as a recreational activity, professional interest in the game has also stepped up in the recent past. For instance, the Professional Squash Association, in 2015, announced for the first time record growth in terms of television exposure for its tournaments, with partnerships from Astro, BeIn Sport, Fox Sports Australia, Sky Sports NZ, Super Sports, Ten Sports, and Tennis Channel.
For the 2019/20 season, the PSA allowed for squash tournament viewership through channels such as Eurosport Player, SquashTV service, DAZN, and Facebook to broadcast over 600 live squash matches through digital platforms. As per a SquashTV report, the channel surpassed 100 million views in January 2019 through YouTube.
This is a key trend that is indicative of growing public interest in the sport, and is expected to generate demand for squash rackets from beginner-, intermediate-, and advanced-level players in the foreseeable future.
More Insights, Lesser Cost (-50% off)
Insights on import/export production,
pricing analysis, and more – Only @ Fact.MR
How are Material Improvements Gaining Traction?
Demand for lightweight equipment while playing squash is on the rise, which is a key influencer contributing to developments in the industry. Low-weight squash rackets have become mainstream among professional athletes to improve performance without compromising on strength or flexibility.
Carbon fiber is one of the more popular materials replacing steel and wood. Technifibre and Prince Global, for instance, have unveiled their range of squash rackets comprising carbon fiber material, since 2016. Further, manufacturers such as HEAD and Karakal have adopted nanotechnology in their offerings.
For instance, Karakal rackets utilize its proprietary Nano Superlight Resin for graphite layering in varied angles for the development of unidirectional fibers. Strength, stiffness, abrasion resistance, and reduced friction and weight are key parameters that manufacturers take into account.
The high level of competitiveness among leading players in the industry is pushing measures towards product differentiation in terms of performance, design, and technology.
For instance, in 2020, Tecnifibre launched lightweight rackets named Technifibre Carboflex Cannonball 125 and X-Speed 125 rackets, which allow for superior handling and control. HEAD's Graphene 360 Speed 120 teardrop racket is another new lightweight racket available for purchase.
Consumers have become increasingly aware and responsible regarding their environmental footprint. The global squash rackets industry is witnessing increasing demand for eco-friendly offerings. Water-based, organic coatings and adhesives, and increased use of recycled plastic materials are gaining ground for the production of squash equipment.
Key competitors such as Dunlop and Wilson have announced initiatives to manufacture rackets with up to 20% reduction in chemicals in comparison to conventional offerings. Wilson has also announced production processes involving recyclable materials, with the aim of reducing disposed plastic, influencing market developments.
Push towards Olympics Creates Major Growth Potential
The Olympic Games has resulted in higher value for squash games, owing to its role in legitimizing the sport and relevant organizations. Squash had been shortlisted by the IOC for an entry into the Rio Olympics of 2016, but that unfortunately did not happen.
However, it is a part of many regional multi-discipline sporting events. Squash has reflected positive signs of growth in recent years, and while it has not been included in the Olympics so far, promotion initiatives for the 2021 Tokyo Olympics and 2024 Olympics have gained substantial traction.
Further, initiatives such as the Back the Bid 2020 and #Vote4Squash were organized by the WSF to drive the popularity of the sport for inclusion in the Tokyo Olympic Games.
The Back the Bid movement also gained the endorsement of tennis celebrity Roger Federer. As such, promotion and awareness campaigns by major market players are likely to play key roles in the growth of the industry in the years ahead.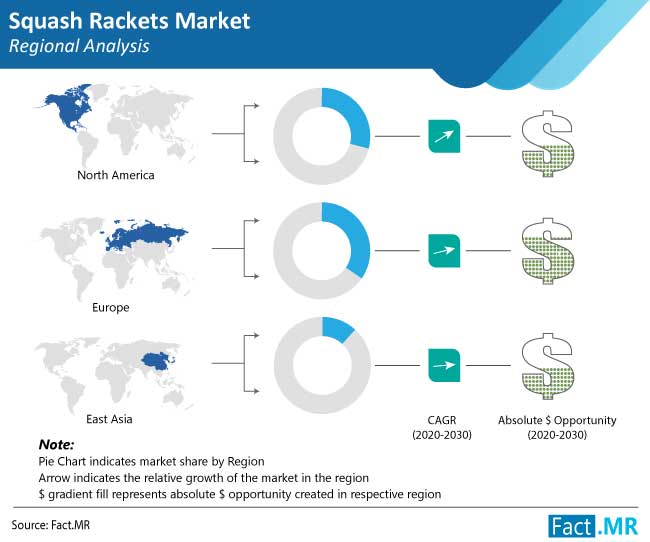 Country-wise Analysis
Increased Participation in Junior Squash Driving Growth in United States
According to US Squash, the United States has displayed the fastest growth of participation in the sport in comparison to any other country. A Sports & Fitness Industry Association report has displayed over 80% of growth in the number of total players, with the number of junior squash players going up by around 400% between 2012 and 2017.
Also, US Squash, the official body for the sport in the country, has set up a number of programs to bolster participation even further, including the US Squash Annual Fund, the US Squash Assembly, The US Squash Scholar Athlete, the US Squash Officiating Program, JCT, the U.S. Junior Squash Championships, the U.S. Squash National Team, the US Squash Coach Certification, the US Squash Regional Squads, the U.S. Junior Open Squash Championships, Friends of Junior Squash, and the U.S. Squash Skill Level Championships.
According to US Squash, the number of U.S. High School Team Championships jumped by more than 80% from 2012 to 2017. Further, top ranking junior players comprised teams from over 20 states in 2012, and has only grown strongly since. All Ivy League schools in the country have varsity squash teams, with more than 200 colleges and universities having relevant sport facilities. Growth of junior squash in the country bodes well for the rise of the sport in the foreseeable future, which will translate into rising sales over the coming years.
How are Investments in Facilities Influencing Prospects in the U.K.?
As the country of origin for the sport, squash continues to thrive in the United Kingdom. Squash has high levels of participation in the country, recreationally and on a competitive level. The sport is also offered by numerous prep schools and colleges in the country. As per England Squash and Racketball, participation in the sport fell from 290,000 to around 196,000 players per week in 2010.
This was followed by a recovery through 2013 by an initiative to bolster the participation of women and minority players. Between 2013 and 2017, Sport England invested close to £5 million into squash talent and elite programs in the country to stop the decline of the sport. Sport England also invested more than 13 million GBP in an effort to introduce more than 100,000 school children to squash.
Dunlop Sports has renewed a deal with the Professional Squash Association for its tournaments in the country. Also, as per PSA, most squash players and fans fall in the age demographic between 25-45 years old in the United Kingdom. This will have a substantial impact on market players' strategies in the foreseeable future.
Are International Collaborations Aiding Growth in France?
Headed by the Fédération Française de Squash, the French squash industry is largely expecting positive developments through 2030. The body is recognized by the World Squash Federation, providing legitimacy to sports promotion initiatives in the country, which will positively influence developments in the squash rackets market in the region.
In September 2020, the French Squash Federation entered into a memorandum of understanding with the Colombian Squash Federation. The aim of the agreement is to share expertise and resources for the sport, with special focus on developments at the grass-root level.
Also, though squash lost out to breakdancing, high levels of promotion undertaken for the inclusion of squash at the Paris 2024 Olympics are likely to generate substantial increase in interest for recreational and professional players in the country, generating key growth opportunities for racket manufacturers across France.
Also, June 2020 witnessed the reopening of squash clubs located in green zones around the country, with an announcement by the French Squash Federation, following their closure in March with the onset of the COVID-19 crisis, aiding the recovery of racket sales in France.
What are the Policies towards Recovery Post-COVID-19 in Italy?
As per the Federazioni Sportive Nazionali, with the infection rate in Italy now reducing significantly, authorities have agreed to relax various coronavirus lockdown levels. Compared to tennis, table tennis, and badminton, squash has a relatively smaller following in the country. Further, the Federazione Italiana Giuoco Squash has set strict safety protocols for squash events in the country, which limited the sport in 2020.
However, a statement by the Regional President of Veneto stated that, sports were being given the all-clear within strict safety parameters, including a minimum of 2m distance between players if not a solo sport, and only for people over 14 years of age. Demand for squash rackets is likely to recover in the first half of 2021. As per Fact.MR, EU-4 accounted for more than US$ 26 million valuation in 2019, reflecting a relatively higher rate of growth in comparison to the rest of the EU, indicating a greater potential for the market in Italy as well.
What is the Scope of Growth in ASEAN?
Singapore and Malaysia are high-potential markets for squash. Singapore has hosted the Marigold South East Asian Cup, in addition to the first Annual General Meeting of the South East Asian Squash Federation, with participants entering from Thailand, the Philippines, Myanmar, Indonesia, and Malaysia. These events have built up substantial potential for the growth of the sport in the region.
According to the Fact.MR report, the value of the ASEAN squash rackets market crossed US$ 9 million in 2019, and will reflect a moderate rate of growth through the end of 2030. Expansion of this regional market can be attributed to efforts of the South East Asian Squash Federation.
Further, Malaysia's eight-time World Squash Champion Nicol David has been shortlisted to receive the World Games Greatest Athlete of All Time award at a 2021 World Games program. While the market remains fairly nascent, such promotions will benefit the prospect of the sport, and squash racket sales, in the near future.
Why are Australia & New Zealand Leaders in APEJ?
According to Sports Medicine Australia, over 300,000 people in Australia play squash and racketball. Also, Squash Australia statistics have stated that, the country is home to close to 450 squash centers and more than 1,500 squash courts.
As per Fact.MR's report, Australia and New Zealand are the largest and fastest-growing market for squash in the Asia Pacific excluding Japan region, accounting for close to US$ 16 million in 2020. Junior Championships in New South Wales and the Canberra Cup were major squash events in Australia in 2020. Social distancing and other restrictions have been tightened in Victoria for squash events to minimize the risk from COVID-19, as per a Squash Australia report, hindering short-term prospects.
Squash New Zealand collaborated with Squash Auckland in December 2020 to launch the Barfoot & Thompson PSA Summer Series, which will be back for a second season in 2021, attracting leading players in the country for world ranking points. The event is likely to generate increased interest in the sport, creating potential for heightened squash racket sales in the near future.
Don't Need a Global Report?
save 40%! on Country & Region specific reports
Category-wise Insights
How are Open Throat Rackets Set to Fare?
Modern squash rackets are available in open throat, closed throat, and hybrid variants. Of these, open throat squash rackets are expected to account for higher sales, holding over 50% of the market share. Teardrop designs of open throat rackets are witnessing greater interest from manufacturers, in line with changes in players' demands. Technifibre Carboflex X-Speed 125 is one of the latest examples of these products to enter the market.
Open throat rackets are preferred for their larger sweet spots and higher levels of power generated by the player. This can be attributed to the wider margin between the frame and the string contacts. Most beginner- and intermediate-level rackets are of the open throat design. Closed throat rackets are often preferred by advanced players, owing to a higher level of control over the ball.
Head Light Rackets to Remain Highly Sought-after
Players, on the basis of their playing styles, can opt for head light, head heavy, or even balance rackets. According to the Fact.MR report, head light rackets are estimated to hold a larger market share as compared to the other types, and this segment also likely to reflect a higher rate of growth during the projection period.
Head light rackets have their weight distributed towards the handle, and consequently, are highly suitable for maneuverability in attacking styles of play with shorter swings, which are common in squash games. Head heavy rackets are also reflecting a similar rate of growth, and are more popular among beginner and intermediate players who do not possess natural power for the game.
What are the Commercial Prospects of Lightweight Rackets?
Rackets for squash can be broadly classified into lightweight (up to 150 g) and heavy weight (more than 151 g). Lightweight rackets are displaying relatively faster growth, and are projected to account for more than 85% of the market share by 2030.
The benefits of a lightweight racket include faster defense shots and play around the court, which is critical for players to gain an advantage over the opponent. While lack of power is a disadvantage, players with natural muscle power can offset this issue by generating a substantially higher power with lighter rackets through speed. Adoption of lightweight materials, including composites and aluminum, by most leading manufacturers in the industry, is expected to support this trend over the coming years.
Why are Intermediate Players the Key Target Demographic?
Squash racket manufacturers have offerings for players with all levels of expertise. Higher adoption of squash as a recreational sport in comparison to professional games is a key factor sustaining higher sales of beginner- and intermediate-level rackets, as compared to advanced versions. Rackets for intermediate players account for more than half of global revenue.
While beginner-level rackets are significantly cheaper for consumers, these budget rackets are often heavier and are poor in terms of maneuverability. Intermediate rackets are chosen by casual players and professionals, owing to a superior tradeoff between maneuverability and power. While lightweight rackets offer better potential for player performance, fragility of such products, higher cost, and expertise required to effectively handle such rackets are holding back advanced racket sales.
Why Do Composite Materials Hold 80% Share?
While conventional materials such as wood have been phased out by squash racket manufacturers for frame production, modern frame structures are either produced with aluminum or composite materials. Of these, composite squash racket frames will hold the lead for the foreseeable future, accounting for around 80% of the market share through the end of the assessment period.
Demand for composite rackets can be attributed to benefits over aluminum, including high-tension applications, characteristics for single-piece products, improvements in terms of weight distribution, high strength and flexibility, and better absorption of vibrations.
Carbon fiber and graphite composites are some of the more popular materials being chosen by manufacturers. Dunlop and Technifibre, for instance, have unveiled ranges of carbon fiber composite squash rackets in 2019 and 2020. These trends are likely to continue through for the duration of the forecast period ending 2030.
Why are Independent Sport Outlets Dominant?
Squash racket manufacturers commonly distribute their offerings through independent sports outlets, third-party online channels, sports retail chains, modern trade channels, franchised sport outlets, direct to consumer online channels, and direct to consumer institutional channels. Of these, sales of squash rackets largely occur through independent sport outlets.
Independent sport outlets are set to account for more than 30% of the overall market share by 2030. This is also the fastest-growing distribution segment in the industry. Demand can be largely attributed to the wide range of brands and discounts available at such outlets, and the availability of squash rackets that meet the needs of all levels of players.
Third-party online channels are also displaying high sales figures, especially following the onset of the COVID-19 pandemic. Third-party online channel sales have risen from 4.2% to 4.8% from 2019 to 2020.
Competitive Landscape
The global squash rackets market is competitive and moderately fragmented in nature, with a number of regional players in the industry. Leading manufacturers are pushing for strategic collaborations and acquisitions aimed at portfolio and geographical expansion, to bolster their position in the industry.
For instance, in May 2019 the Squash Rackets Federation of India entered into a collaboration with HCL to launch the Squash Podium Program, with the aim of bolstering the prominence of the sport in the country through improvements in coaching standards and the launch of the HCL Indian Tour.
The Professional Squash Association announced Dunlop as the official string and racket provider for the PSA world championships, in a bid to bolster the company's international presence in the squash circuit. PSA has also joined hands with Squash Pro Shop Inc. for the retail distribution of squash equipment in North America.
In Oct. 2019, St. James announced partnerships with TaylorMade and Technifibre, with the aim of expanding sporting resources available in a substantial indoor sports complex, including a 15,000 sq. ft. golf and squash course. Also, the companies will be able to test and demo new offerings, creating lucrative sales opportunities.
Report Scope
Attribute

Details

Forecast Period

2020-2030

Historical Data Available for

2015-2019

Market Analysis

USD Million for Value

Key Regions Covered

North America
Latin America
Europe
Japan
Asia Pacific excluding Japan
Middle East & Africa

Key Countries Covered

U.S.
Canada
Brazil
Mexico
Argentina
Germany
U.K.
France
Italy
Spain
Nordics
China
Japan
India
ASEAN
Australia
New Zealand
GCC Countries
North Africa
South Africa

Key Segments Covered

Construction
Balance
Weight
Player
Frame Material
Sales Channel
Region

Key Companies Profiled

Amer Sports
Dunlop Sports Co Ltd.
HEAD
Prince Global Sports LLC
Tecnifibre, Soccer International Pvt. Ltd.
Kamachi, Black Knight Enterprises Ltd.
Ektelon LLC
Oliver Sports & Squash GmbH (indicative list)

Report Coverage

Market Overview
Key Market Trends
COVID-19's Impact
Demand Analysis
Market Background
Segmental Analysis
Regional Profiling
Market Structure Analysis
Competition Analysis

Customization & Pricing

Available upon Request
Key Segments
By Construction :

Open Throat
Closed Throat
Hybrid

By Balance :

Head Heavy
Head Light
Even

By Weight :

By Player :

Beginner
Intermediate
Advanced

By Frame Material :

By Sales Channel :

Independent Sport Outlets
Franchised Sport Outlets
Modern Trade
Sports Retail Chain
Direct to Consumer Online
Direct to Customer Institutional
Third-party Online

By Region :

North America (U.S. & Canada)
Latin America (Mexico, Brazil, Argentina, & Rest of LATAM)
Europe (Germany, U.K., France, Italy, Spain, Nordics, & Rest of Europe)
Middle East and Africa (GCC Countries, North Africa, South Africa & Rest of MEA)
Japan
Asia Pacific excluding Japan (China, India, ASEAN, ANZ, & Rest of APEJ)
- FAQs -
According to Fact.MR, the global squash rackets market is projected to gain stimulus from acceptance of the sport at international competitive events, and improvements in technology, reaching a valuation of US$ 230 Mn in 2020, and aiding expansion at a mo
North America is anticipated to be the leading regional market for squash rackets, accounting for a major market share through the end of the forecast period. Growth in this region is largely attributed to significantly higher acceptance of the sport as a
The COVID-19 pandemic has had a moderate impact on the squash rackets market. With lockdown restrictions on manufacturers in place, production of squash rackets has slumped. Further, social distancing guidelines have suspended squash events, thereby hurti
Prominent squash rackets market players include