According to International Monetary Fund (IMF), the global economy has maintained momentum. Economic activities in both emerging and developed economies accelerated in 2017 by a 4.6 percent and 2 percent respectively increase over 2016. 2018 is expecting a 1.9 percent increase in growth of developed economies and a 4.8 percent increase for emerging economies. This has remarkably influenced the aviation industry, which reflected a resilient nature since the aftermath of the global financial crisis.
Post 9/11, the aviation industry coped up that announced the possibility of huge potential growth which created many opportunities with respect to development of airport infrastructure. This in turn resulted in increasing business opportunities for airport ground support equipment and services, airport catering trucks being a subset of these. Largely pushed by industry consolidation in developed economies of Europe and the United States, airport catering trucks witnessed a burgeoning demand from the developing nations.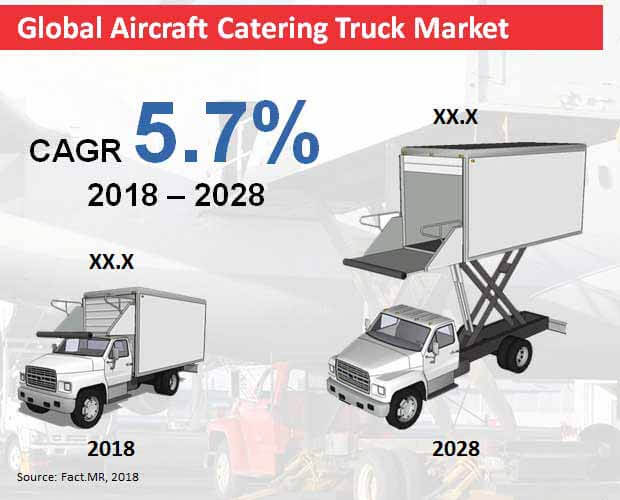 Fact.MR has recently compiled several aspects associated with airport catering trucks, according to which the global airport catering trucks market is projected to expand at a 5.7% CAGR in terms of value during the period of forecast, 2018-2028.
Higher Consumer Preference to Augment Demand
Air travel continues to gain high momentum with growing number of people opting for air travel mode, either for leisure activities or business travel, albeit higher costs associated with air travel. According to IATA (International Air Transport Association), based on a 3.6 percent year-on-year growth, more than 7 billion passengers are expected to adopt air travel by 2036. This has influenced aircraft manufacturers to enhance their production capacities to cater to this anticipated growing demand for air travel. With increasing number of aircrafts, consumption of food products is expected to showcase a cumulative growth, in turn mushrooming the demand for airport catering services and ground support, such as airport catering trucks.
In addition, increasing popularity of sports ha also augmented the adoption of air travel. So to say, Japan is expected to showcase a significant opportunity from an investment standpoint, as the country is looking forward to enhance its airport infrastructure for 2020 Olympics and hopes to attract around 40 million tourists. International Air Transport Association anticipates that the country will attract more than 60 million overseas visitors by 2030 with a probable tourism receipts to exceed US$ 130 billion. Growing development of infrastructure in the country is expected to auger well for airport catering trucks during the period of forecast.
Airport Infrastructure Proliferation to Supplement Expansion
With increasing demand for air travel, governments of various countries are investing in developing aviation infrastructure to build new air ports. In United States alone, there are more than 14,000 airports, which has become the biggest market for airport catering. Emerging economies are also contributing to the worldwide airport count, with China leading in number followed by India as government plans to initiate airport development projects in these countries.
Considering the increasing air traffic and development of airports worldwide, it becomes imperative for airport management to provide consumer services, which includes availability of food products. Catering services are focusing on providing hygienic and refrigerated food with superior quality – a customer's basic requirement. This has pushed the use of superior airport catering services for on-board passengers and travelers flying via long haul flights which consecutively is expected to fuel the demand for airport catering trucks during the period of forecast.
Note: The insights mentioned here are of the respective analysts, and do not reflect the position of Fact.MR
An exhaustive study on airport catering trucks commenced by Fact.MR reveals essential insights related to various market macroeconomics and aviation industry specific aspects that exert an influence the growth of the airport catering truck market. These insights have been included in a new research publication compiled by Fact.MR in its recent publication named global airport catering truck market.
An Extensive Research Report
The research report on airport catering truck market has highlighted the growth graph of airport catering trucks with respect to demand and adoption across various regions, largely driven by increasing aviation industry and demand for ground support equipment. The report covers historical market analysis, current scenario and future market projections of airport catering truck market for a period of 10 years, from 2018 till 2028. The research report includes analysis on several trends that shape the market, drivers that fuel the growth of the airport catering truck market, opportunities that influence it as well as key developments that impact the future market prospects. It also includes challenges and restraints that hinder the growth of the airport catering truck market. The in-depth analysis on airport catering truck market can assist in devising profitable strategies and make informed decisions with respect to gaining hold on the market along with exploring key revenue pockets. These growth influencing aspects have been analyzed across major regions, which portrays a holistic market research approach with a 360 degree intelligence on airport catering truck market.
Unique Research Methodology
Vital insights on airport catering truck market have been obtained using a comprehensive research methodology that includes a unique combination of secondary and primary research. Information collected using extensive secondary research is compiled and is revalidated using primary research. Primary initiates by identifying key stakeholders, market observers, and subject matter experts. Interviews with these personnel across various regions is carried out which gives a realistic market scenario. Moreover, each data point is validated multiple times during these interview sessions that takes the intelligence report to the next level of accuracy.
Market Segmentation
The report on airport catering truck market provides an extensive analysis on every facet by including an in-depth market segmentation. Subsequent chapters in the airport catering truck market report demonstrate impact analysis of various segments and their respective market scenarios across vital geographies worldwide. The airport catering truck market has been segmented on the basis of product type, refrigeration, capacity, max sill height, application and region.
Weighted Analysis on Competitive Landscape
The report on airport catering truck market includes competitive assessment in its concluding chapters. This section offers intelligence on various market participants, their company overviews, SWOT analysis, product portfolio analysis, product development and key innovations, expansion plans, current geographical spread, market shares and revenues, key strategies, and several other financials. This provides an in-depth deep dive into the ongoing market scenario with respect to consolidation or fragmentation considering the number of participants involved. The reader can gain incisive insights from this final chapter with which he/she can formulate key strategies and considering the present and future outlook can make informed decisions to gain competitive advantage in the years to follow.
The research report on airport catering truck market delivers value by providing actionable intelligence on each market segment and its scenario across each geography. The weighted analysis on the airport catering truck market research report can support the reader in achieving research objectives and milestones by addressing various challenges, consequently assisting in establishing a global footprint in the years to come.
Fact.MR offers custom research services that help clients to get specific research solutions
We are committed towards customer satisfaction and quality service.
---
Our Clients

Airport Catering Trucks Market Forecast, Trend Analysis & Competition Tracking - Global Market insights 2018 to 2028