Air Springs for Railways, Trucks and Buses Market
Air Springs for Railways, Trucks and Buses Market Forecast, Trend Analysis & Competition Tracking - Global Review 2021 to 2031
FACT457MR
Feb-2021

List of Tables : 108

List of Figures : 241

170 Pages
About the Report
Automotive suspension systems have largely been dominated by conventional combination spring and shock systems, in addition to anti-roll bars. The system has been found to be an affordable solution to issues associated with the responsiveness of a vehicle, drivability, or ride comfort. However, with the advent of driver assistance systems, electronic and air springs have gained importance in suspension systems.
Active air suspension systems are usually expensive, which has reduced adoption for common use. Also, improvements in terms of sensors allow for weight reductions, unlike hydraulic systems. Air spring systems have been found to be effective against body roll, without compromising on comfort and control. However, increased complexity has adversely influenced reliability and serviceability, making performance issues relatively expensive. As per a new Fact.MR report on the air springs for railways, trucks, and buses market, these factors are expected to influence developments in the years to come.
Historical Trends Vs Future Market Outlook
The air springs industry reflected steady growth from 2016 to 2020. OEMs, including Rolls-Royce, Maybach, Jeep, Lexus, General Motors, Ram, Citroen, Mercedes-Benz, Land Rover, Porsche, Audi, Subaru, SsangYong, Lincoln, Volkswagen, Tesla, and Ford, have adopted air springs. Commercial vehicles from these brands have also witnessed increased adoption. While the COVID-19 pandemic adversely impacted the industry in 2020, steady recovery is likely through the projection period
Further, according to the Fact.MR study, forecast for the air springs market accounts for a CAGR of over 7% from 2021 to 2031. Advances in ECU capabilities and optimized software for improvements to responsiveness are key factors that will drive impetus in the industry, post 2021, with a transition towards electric vehicles and the resurgence of transport for trade activities.
Know More Details About the Report
How is ECU Set to Affect the Air Spring Industry?
ECU or electronic control units are increasingly becoming mainstream in air spring systems. In terms of components, ECU is projected to reflect a relatively stronger rate of growth through the assessment period. Most air spring ECUs comprise memory, microprocessors, output drivers, and input conditioners. ECU plays a key role in electronically controlled air suspension systems, which enables improvements in terms of performance and vibration absorption. Changes in consumer preference towards electronically controlled systems would drive demand in the near future.
According to a report by Transtron Inc., air suspension ECUs allow improved adjustments to loading platform heights. Height and tipping angles of loading platforms can be modified for loading and unloading operations. ECUs provide memory functions for storing loading platform height information in commercial vehicles, in addition to axle load control to calculate loads.
Commercial vehicle models from Volvo, Chrysler, Volkswagen, and Mercedes-Benz have already adopted ECU-based systems for their offerings. In a competitive automotive sector, this trend is expected to generate key opportunities for the expansion of the air springs sector.
What is the Role of Air Springs in Heavy-duty Transport?
According to the European Automobile Manufacturers Association, global production of commercial vehicles has risen from 2016 to 2018. However, production fell by more than 3% from 2019 to 2020, with China, North America, and Europe remaining the leading contributors.
On a similar note, as per the European Commission, rail freight transport grew by more than 10% from 2016 to 2018, while declining from 2019 to 2020. These slumps have largely been attributed to lockdown restrictions and reduced trade activities during the COVID-19 pandemic.
As per the Fact.MR report, sales of air springs for light and heavy commercial vehicles reflected a rise in 2019 and 2020 of 0.1% and 0.3%, respectively. However, gains from 2021 to 2031 are estimated to be relatively higher. Railway applications are also expected to gain significantly, displaying a growth rate of over 7% CAGR through the assessment period.
Avail customized purchase options for your needs
What are the Challenges Limiting Air Spring Sales?
Sales of air springs are expected to grow strongly over the coming years, especially in the commercial transport sector. However, the industry is expected to be limited during the assessment period, owing to factors associated to the industry and consumer preferences.
For instance, air spring systems cost substantially more than other suspension alternatives in terms of purchase, installation, and fuel overheads. Air spring systems are also susceptible to leaks, moisture damage, failure of tubing, and compressor burnouts that can impact performance. These issues are major considerations that limit the adoption of air springs in varying vehicle models.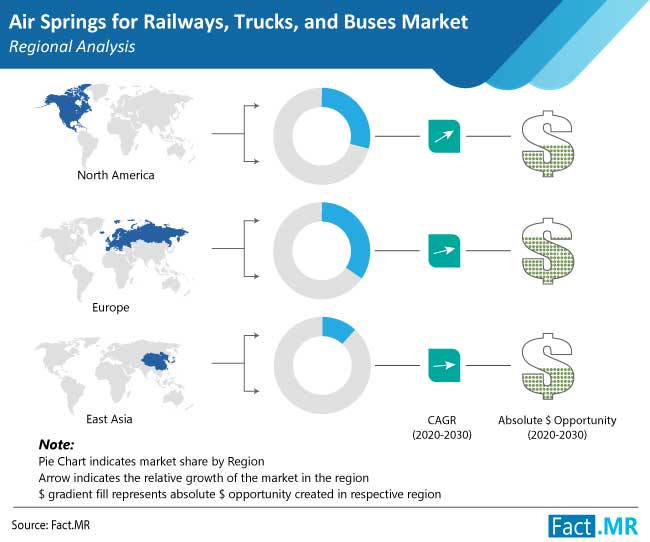 Country-wise Insights
What Makes the United States the Largest Market for Air Springs?
According to the Bureau of Transportation Statistics, the total number of automobiles and trucks in fleets across the United States accounted for over 8.1 million units in 2018, which rose to around 8.5 million units in 2019. The number of buses in 2019 accounted for close to a million units.
The American Trucking Association has stated that, 36.9 million trucks were registered and used for business purposes (excluding government and farm) in 2018, representing 24.2% of all trucks registered. Further, 3.91 million Class 8 trucks (including tractors and straight trucks) were in operation in 2019, an increase of 2.6% from 2018.
North America accounts for approximately 1.5 million freight cars, with CSX, BNSF Railway, and Amtrak being major contributors. These factors are expected to remain key contributors to the air spring industry in the United States, making it the largest market in the world at over 20% of the global market share.
How is Germany Contributing to Demand for Air Springs?
Europe is a leading region for air springs, being led by Germany, which accounts for more than 20% of the European market share, as per Fact.MR data, with trucks and buses being major contributors to sales.
As per a European commission report, from January to March, trucks with GVW above 7.5 tons travelled over 10 billion km on toll motorways and federal roads in Germany. Consequently, the share of German trucks in terms of mileage rose from 58.5% to 58.9% in the first quarter of 2019 to 58.9% between January and March 2020.
Also, according to the International Railway Journal, overall passenger transport usage in Germany has grown by 14.5% (1.4 billion journeys), with the railways accounting for a major share of the growth (up 39.5%), followed by light rail/metro (up 22.4%). On the other hand, bus usage only grew 0.5%. These are key factors that are likely to influence the adoption of air springs in the German transport sector over the coming years.
Why is China a Lucrative Market for Air Springs?
As per the Fact.MR study, China is the leading market for air springs in the APEJ region, and the second-largest in the world, lagging behind only the United States, at over US$ 800 Mn in 2020. It is also the fastest-growing market in the region, displaying a CAGR of over 9%.
According to the National Bureau of Statistics, China's truck population was reported at 475,856 units in 2019. This is an increase from 399,915 units in 2018. Also, China Buses stated that, the country had over 300,000 light buses and more than 150,000 buses and coaches in 2020.
Further, as of July 2020, China's operational railway length reached 141,400 km, ranking second in the world, while the high-speed rail network topped the world with a total length of 36,000 km, generating key opportunities for the adoption of air spring systems.
An Adaptive Approach to Modern-day Research Needs
Category-wise Insights
Why are Air Springs Most Used in Trucks?
Air springs are used across a wide range of vehicle models, including passenger vehicles, light commercial vehicles, heavy commercial vehicles, trailers, trucks, tractors, recreational vehicles, bus, railways, and even industrial vehicles.
Trucks are anticipated to account for more than one-fourth of the global market, while also reflecting a relatively faster rate of growth. Growth in road-based transport for trade and preference for height adjustments in truck cabins are key factors supporting long-term sales and adoption.
How are Sleeve Air Spring Sales Set to Fare?
Manufacturers produce air sleeves in single convolute, multi-convolute, sleeve, and rolling lobe configurations, with clamping and conical beads. Air spring setups with sleeve designs are expected to account for more than 30% of global sales through the forecast period.
Demand for sleeve-based air springs can be largely attributed to lower production costs, reliability in smooth function, and reduced number of pressure points that minimize the risk of failure, bolstering use, especially for on-road travel.
Why Do Plastic Pistons Reflect High Potential for Growth?
While most conventional air spring pistons are manufactured from steel, increasingly lower-weight alternatives such as aluminum and plastic are gaining popularity. Steel pistons accounted for more than 40% of the market in 2020. However, this share is projected to steadily decline in the years ahead.
On the other hand, plastic pistons are reflecting a relatively higher rate of growth of over 8% CAGR. Weight and emission reduction objectives of automotive OEMs are primary factors driving demand in the long-term.
What are the Prospects of Mechanical Air Springs?
Air spring suspension setups are available in both, electronic and mechanical variants. As per the Fact.MR report, mechanical air springs accounted for more than 64% of the overall market share. However, with advances such as ECU and driver assistance systems increasingly becoming the norm, mechanical air springs have been gradually losing ground to electronic alternatives.
Mechanical air springs allow for greater reliability in operations. However, electronic setups are providing benefits in terms of ease of use and higher levels of accuracy in adjustments, which will drive growth for the foreseeable future.
Competitive Landscape
The global air springs market is moderately consolidated in nature, with market leaders taking efforts to maintain an international presence. Major players in the industry have strongly invested in the development and launch of new offerings for their portfolios, keeping up with frequent advances in associated technology.
Vibracoustic, for instance, launched a switchable three-chamber air spring system in November 2020. The system comprises active-control shock absorbers, an electronic control unit, and software integration of the system into the vehicle.
Continental AG, in October 2019, unveiled a lightweight air spring for commercial vehicles, which the company claims to reduce kerb weight by around 15 kilograms. The system comprises an integrated plastic roller piston technology, which also significantly reduces fuel consumption.
In November 2020, Turnspire Capital Partners LLC subsidiary Infinity Engineered Products announced the acquisition of Goodyear® air springs from EnPro Industries Inc. The deal includes complete licensing rights, R&D center, manufacturing facilities, real estate, personnel, and intellectual property.
Have a report related query? Speak to us directly
Report Scope
Attribute

Details

Forecast Period

2021-2031

Historical Data Available for

2016-2020

Market Analysis

USD Million for Value, 000' Units for Volume

Key Regions Covered

North America
Latin America
Europe
Japan
Asia Pacific excluding Japan
Middle East & Africa

Key Countries Covered

US
Canada
Brazil
Mexico
Argentina
U.K.
Germany
France
Spain
Italy
China
Japan
India
ASEAN
Oceania
GCC Countries
South Africa
North Africa

Key Market Segments Covered

Vehicle
Product
Diameter
Ride Height
Piston Type
Region

Key Companies Profiled

Goodyear
Arnott
Ksport
Firestone
Helix
Air Lift
Torque
Suncore
Viair
RideTech
Hellwig
Legend
Ride-Rite
Others (indicative list)

Report Coverage

Market Overview
Key Market Trends
COVID-19's Impact
Demand Analysis
Market Background
Segmental Analysis
Regional Profiling
Market Structure Analysis
Competition Analysis

Customization & Pricing

Available upon Request
Key Market Segments
Vehicle

Passenger Vehicles
Commercial Vehicles
Heavy Commercial Vehicles
Trailers/Semi-Trailers
Trucks
Tractors
Recreational Vehicles
Bus
Railways

Product

Single Convolute
Multi Convolute
Sleeve
Rolling Lobe and Conical Beads
Rolling Lobe and Clamping Beads

Diameter

Less than 8
8 to 12
12 to 18
Above 18

Ride Height

8 to 12
12 to 18
18 to 21

Piston Type

Sales Channel

Region

North America (U.S., Canada)
Latin America (Brazil, Mexico, Argentina, Rest of LATAM)
Europe (Germany, UK, France, Spain, Italy, Rest of Europe)
Japan
Asia Pacific excluding Japan (China India, ASEAN, Oceania, Rest of APEJ)
Middle East and Africa (GCC Countries, South Africa, North Africa)
Air Springs for Railways, Trucks, and Buses Market: Report Scope
A new market study published by Fact.MR on the global air springs for railways, trucks, and buses market provides readers with an exhaustive analysis on key market dynamics, including the drivers, restraints, opportunities, and trends, along with comprehensive data on the structure of the market. The report also provides information on the growth of the air springs for railways, trucks, and buses market for the assessment period of 2021 to 2031.
Major indicators of growth, including value chain and Year-on-Year (Y-o-Y) growth of the market, in addition to compounded annual growth rate (CAGR) and supply chain analysis, have been covered in the market study. The data allows readers better comprehension of the prospects of the air springs for railways, trucks, and buses market through the forecast period.
The report can prove to be very relevant for key stakeholders in the air springs for railways, trucks, and buses industry, including suppliers, manufacturers, investors, and distributors, aiding them in the development of informed strategies to take advantage of the trends in the market space. Stakeholders in the market - investors, industry experts, researchers, and journalists, can make use of the data presented in the Fact.MR study.
The study also covers key statistics on the economic factors that shape the development of the air springs for railways, trucks, and buses market. It also gives actionable data on the potential of future trends in market. Also, small-scale players and new entrants in the air springs for railways, trucks, and buses industry can leverage the information given in the report, to support informed business decisions gaining traction in the market.
Report Summary
This market report offers an exhaustive analysis on different features, including product developments, regulatory landscape, demand, sales, and revenue generation in the global air springs for railways, trucks, and buses market.
In-depth estimates about the market have also been given through optimistic and conservative scenarios in terms of sales of air springs for railways, trucks, and buses during the projection period. A comparison of price points by region and the global average price is also covered in the study.
Key Questions Answered in Report
Which regions will remain the more lucrative regional markets for air springs for railways, trucks, and buses?
Which factors will induce changes in the demand for air springs for railways, trucks, and buses during the assessment period?
How will changing trends impact the market landscape?
How can market players capture the low-hanging opportunities in developed regions?
Which companies are leading the air springs for railways, trucks, and buses market space?
What are the winning strategies of stakeholders in the air springs for railways, trucks, and buses market to upscale their position in this landscape?
Research Methodology
In Fact.MR's study, a unique methodology has been implemented to conduct detailed research on the developments in the air springs for railways, trucks, and buses market, and to reach conclusions on the basic growth parameters of the market for the future. This research methodology is a combination of primary and secondary research, which helps analysts maintain the accuracy and reliability of the conclusions drawn.
Secondary resources referred to by analysts during the preparation of the air springs for railways, trucks, and buses market report include statistics from government organizations, trade journals, white papers, and internal and external proprietary databases. Analysts have interviewed product portfolio managers, CEOs, senior managers, market intelligence managers VPs, and marketing/product managers, all of whom have contributed to the development of the study as a primary resource.
Need an Exclusive Report for your Unique Requirement?
Talk Show:
The Rise of Intelligent Packaging
Personalized, Connected and Sustainable
November 18, 2021
11:00-11:45 AM PST (USA & Canada)
This is a LIVE session


- Our Clients -

- Evaluate How Fact.MR's Report Can Help. -
Is the market research conducted by Fact.MR?
Yes, the report has been compiled by expert analysts of Fact.MR, through a combination of primary and secondary research. To know more about how the research was conducted, you can speak to a research analyst.
What research methodology is followed by Fact.MR?
Fact.MR follows a methodology that encompasses the demand-side assessment of the market, and triangulates the same through a supply-side analysis. This methodology is based on the use of standard market structure, methods, and definitions.
What are the sources of secondary research?
Fact.MR conducts extensive secondary research through proprietary databases, paid databases, and information available in the public domain. We refer to industry associations, company press releases, annual reports, investor presentations, and research papers. More information about desk research is available upon request.
Who are the respondents for primary research?
Fact.MR speaks to stakeholders across the spectrum, including C-level executives, distributors, product manufacturers, and industry experts. For a full list of primary respondents, please reach out to us.
Is a sample of this report available for evaluation?
Yes, you can request a sample, and it will be sent to you through an email.