Boom Trucks Sales Soar On the Back of Rising Commercial Construction
The growing demand of boom trucks in numerous end use industries is projected to create plentiful opportunities for the global boom trucks market. The global market for boom trucks is estimated to witness a moderate CAGR of 5% during the forecast period (2019-2027) and poised to reach a valuation of US$ 1.8 Billion in 2027. Increasing infrastructure spending in developing countries such as Brazil, China and India are creating significant market opportunities. The increased demand for boom trucks in the telecommunication and service sectors encourages the growth of the market. In the power and utility sector, these forms of equipment are primarily being used to develop new projects and replace old plants.
Higher investment in smart city initiatives to upgrade existing infrastructure would result in increased need for utility vehicles and equipment, which will have a positive impact on the growth of the boom trucks market.
Infrastructural Possibilities Abound in APAC, an Eye-Catching Trend for Boom Trucks
APAC is expected to be at the forefront in the global boom trucks market during the forecast period with well-establishing public facilities that require constant maintenance. The boom trucks market in APAC is expected to grow 1.8x during the forecast period, accumulating an absolute dollar opportunity of over US$ 150 Mn. The rapidly developing telecommunications industry creates lucrative opportunities worldwide for the boom trucks market. New service developments in street lighting, fleet repair and other maintenance applications will have a significant impact on demand for specialized boom trucks, and this development will be driven in the future by the rising commercial construction and utility sector. However, stringent pollution and safety regulations could slightly hamper the region's boom truck market growth.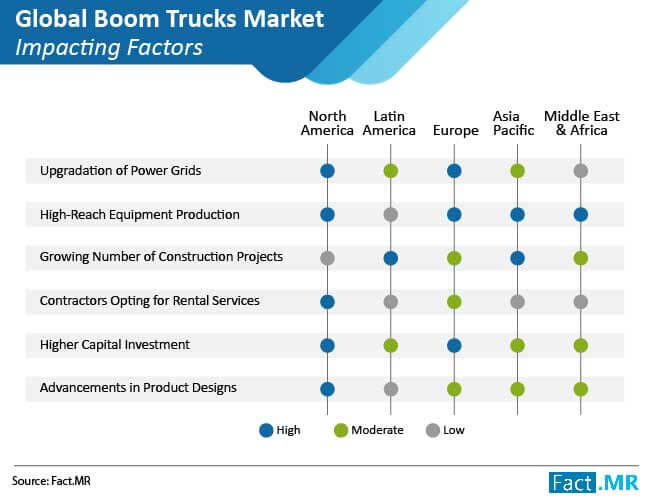 Get exclusive insights on factors that are currently impacting the boom trucks market. Ask for a report sample here
Demand for Boom Trucks Soaring with Rising Popularity of Rental Equipment
Boom trucks are available for rent, which can be used for project deliverables as per demand. This is also expected to lower leasing costs of buying a new truck. Utilization of rental equipment is becoming a popular trend as it provides many advantages. Rented boom trucks can save costs in a number of areas, including insurance and licensing of government equipment. In addition, providers of global and local rental services provide customer-specific solutions with vital lifting capabilities, working heights, and accessories.
Leading Boom Trucks Market Players Look Overseas For Business Opportunities
The global boom trucks market is consolidated in nature with primary competitors such as Altec, Manitex and Terex acquiring the top shares. The market for boom trucks is characterized by intense competition between key market players. Aichi Corporation has highlighted the sales of high-lift aerial work platforms and are setting up manufacturing facilities in Japan and other East Asian countries to benefit from economies of scale and grow their global market shares. Leading players have channelized efforts in launching products with special features in order to maintain heightened demand for boom trucks. Some of the key developments in the market are:
In 2019, Manitex International announced the addition of Wyoming Machinery Company and MADISA group to its boom truck crane distribution network
In 2019, Altec Introduced its 53-Feet Boom Truck Crane with a 60,000-pound maximum lift capacity
Competitors involved in the boom trucks market are also increasingly focusing on providing complete lifecycle support for each equipment in order to optimize output and gain returns on investment.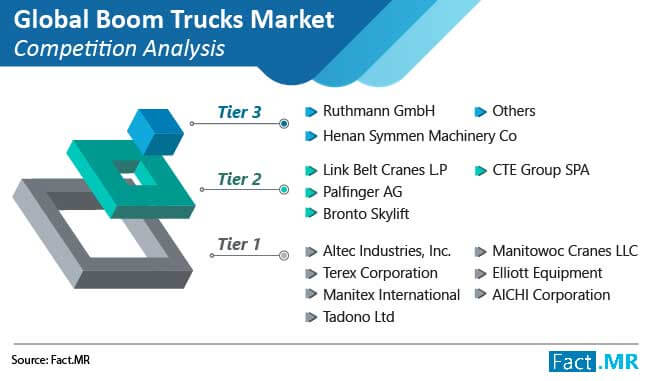 Get an edge over your competition! Ask an analyst here for incisive insights on the competition landscape of the boom trucks market
Global Boom Trucks Market – Scope of the Report
The following report provides forecast and analysis of the global boom trucks market along with the historical data of 2013, estimated data 2019 and forecast data up to 2027 in terms of revenue (US$ Mn) and volume (Units), according to a Fact.MR study. The research propounds critical trends that are currently influencing growth within the global boom trucks market along with several macro-economic indicators. This newly published and insightful report on boom trucks sheds light on key dynamics, and their impact on the overall value chain from suppliers to end-users, which are expected to transform the future of the global boom trucks market.
The report also comprises the study of current issues with end users and opportunities for boom trucks. It also contains value chain analysis, including the key market participants. To provide users of this report with a comprehensive view of the market, we have included a detailed competitive analysis about the key players involved in the market and strategic overviews. The dashboard included in the report provides a detailed comparison of boom truck manufacturers on parameters such as total revenue, product offerings, and key strategies. A list of key companies operating in the boom trucks market provided in the report adds to the credibility of this exhaustive research study.
Global Boom Trucks Market: In-Depth Assessment on Key Segments
The global boom trucks market is segmented on the basis of product type, lifting capacity, boom length and region.
| | | | | |
| --- | --- | --- | --- | --- |
| Product Type | Lifting Capacity | Boom length | Application | Region |
| Behind the Cab Mount | Less than 10 Metric Tons | Less than 20 m | Infrastructure | North America |
| Rear Mount | 10 – 20 Metric Tons | 20-30 m | Commercial Construction | Latin America |
| Swing Seat | 21 – 30 Metric Tons | 31-40 m | Power & Utility | Europe |
| | 31 – 40 Metric Tons | More than 40 m | Industrial / Petrochemical | APAC |
| | 41 – 50 Metric Tons | | Residential | MEA |
| | More than 50 Metric Tons | | | |
Country-specific assessment on
demand for boom trucks
has been provided for each regional market, along with the market size valuation and forecast price point assessment, price index and impact analysis of key regional and country-wise dynamics, which were obtained through quotes from numerous boom trucks manufacturers, experts, and suppliers. Y-o-Y growth projections have also been offered on all regional markets incorporated in the report. Moreover, future trends, growth prospects, and other possibilities related to the market have been answered in the report.
The report provides company-level market share analysis, which has been derived on the basis of the company's annual sales and segmental revenue in all the target end-use industries. The market has been forecasted based on constant currency rates. The report provides detailed competitive and company profiles of key participants operating in the global market. Some of the major competitors operating in the boom trucks market are Aichi Corporation, Altec Inc., Axion Lift, Bronto Skylift, CTE Group SPA and others.
Global Boom Trucks Market: Research Methodology
A number of primary and secondary sources were consulted during the course of the study. Secondary sources include Factiva, Morningstar and Hoovers, and company annual reports and publications. Comprehensive interviews have been conducted by our analysts, and the intelligence and insights obtained have been used for validating the information gained through secondary research. The report also includes a description of assumptions and acronyms utilized for research purposes. Data gathered has been validated using the triangulation method to offer useful quantitative and qualitative insights into the boom trucks market.
A short market viewpoint offered in the report elucidates the macro-economic aspects that influence the growth of the boom trucks market, which includes global GDP growth rate, various industries growth rate, such as construction industry, utility sector, and others. This report serves as an authentic resource of intelligence on the boom trucks market, enabling the readers to take fact-based decisions on the future direction of their businesses.
Fact.MR offers custom research services that help clients to get specific research solutions
We are committed towards customer satisfaction and quality service.
---
Our Clients

Boom Trucks Market Forecast, Trend Analysis & Competition Tracking - Global Market Insights 2019 to 2027