Dredging Market Growth Outlook
The global dredging market is estimated at USD 15.7 Billion in 2022 and is forecast to reach USD 21.4 Billion by 2032, growing with a CAGR of 3.3% from 2022 to 2032.
The revenue generation of dredging is likely to accelerate at a steady CAGR of 3.3% to top USD 21.4 Billion by 2032. The demand for energy infrastructure in application is likely to increase at a CAGR of 4.5% over the forecast period of 2022 to 2032.
The urge of countries to control the marine paths has given birth to terminologies such as political ecology where many regional manufacturers can gain opportunities in forecast years. Global initiatives such as marine trade and geopolitical happenings such as the "String of pearls" and other sea voyage initiatives are set to increase manufacturers' action in the Asian dredging market in the forecast period.
Dredging is done to remove accumulated sediments from the river's bottom. This process is intended to maintain existing or create new waterways by the removal of dead vegetation.
The accumulation of silt, sand, and other detritus on the bottom of rivers, lakes, canals, and streams over time is a process referred to as sedimentation. Sediment build-up that is too great can result in a number of problems. For instance, it may lower the waterway's depth and obstruct ship traffic. Additionally, it may result in contamination, endangering aquatic life and plants. The build-up of sediment in coastal areas can cause beaches to deteriorate.
Report Attributes

Details

Market size value in 2021A

USD 15.2 Billion

Market value estimated in 2022E

USD 15.7 Billion

Market forecast value in 2032F

USD 21.4 Billion

Global Growth Rate (2022-2032)

CAGR 3.3%

East Asia Market Share in 2021

~10%

East Asia Growth Rate (2022-2032)

CAGR 3.8%

Market Share of Top 5 Companies

~35%

Key Companies Profiled

Royal Boskalis Westminster N.V
Dredging, Environmental and Marine Engineering NV (DEME)
Penta-Ocean Construction Co., Ltd
TOA Corporation
Hyundai Engineering & Construction Co., Ltd.
China Harbour Engineering Company Limited
Great Lakes Dredge & Dock Corporation
National Marine Dredging Co.
The trade activity in the dredging market is expected to reach a valuation of USD 4 Billion by the end of 2032. And, considering the fact that over 70% of trade by volume and 80% of trade by value are carried through sea. According to United Nations Conference on Trade and Development (UNCTAD), the overall seaborne trade volumes surpassed 10 Billion tons in 2020, with shipment trade to fall by 4.1% due to Covid-19 in 2020.
The outlook on global seaborne remains overly positive, with upcoming projects, such as One Belt One Road Initiative (OBOR) likely to provide growth opportunities to dredging manufacturers. The prospects of dredging industry are closely tied with the broader developments in the global tourism sector, as construction of new airports and beach replenishments accounts for a sizeable share of total revenues generated by dredging companies.
According to data from World Tourism Organization (UNWTO), the total number of international tourist arrivals in 2020 stood at over 210 Mn, which leads to fall of over 87% compared to 2019. Whereas, in application, the leisure activity is expected to hold a valuation of over USD 823 Mn in 2022. In spite of uncertainty in the global political sphere, the global tourism sector is projected to grow at a brisk pace in the foreseeable future, providing opportunities to dredging service providers in the due course.
Know thy Competitors
Competitive landscape highlights only certain players
Complete list available upon request
Dredging Market Historical Outlook (2017-2021) Vs. Forecast Outlook (2022-2032)
The Middle East & Africa region is likely to grow 1.5X with a growth rate of 3.8% over the forecast period.
The East Asia and Europe contributed significantly to the growth of dredging, and is likely to account for around 29% and 15% of market share in 2022 respectively.
The South Asia & Oceania region is likely to hold a market share of 17% in 2022 and is expected to be valued at USD 3 Billion by the end of forecast period.
The network design and network analysis segment in consulting is expected to hold a market share of 25.4% and 13% in 2022.
Under application, the trade maintenance segment is expected to reach at a valuation of USD 5 Billion in 2022 and is likely to grow 1.4X over the forecast period.
The urban development segment in application is expected to reach a valuation of USD 2 Billion by the end of 2032. Whereas, government as a customer holds a market share of 43% in 2020.
Country-wise Analysis
East Asia and European regions are expected to remain dominant in this market. South Asia and Oceania are expected to gain traction in forecast years making an anticipated gain of size USD 3 billion in forecast time.
The majority of dredging in Asia pacific is driven by the need for migration due to heavily populated megacities that are anticipated to grow further. Countries like China and India are necessitating the need for dredging due to needed coastline reduction.
What Makes China a High Potential Market for Dredging?
China is considered as the epicenter of world's dredging market with a total market share of 86% in 2020. Backed by increasing trade and trade maintenance activities in the country, and well developed oil & gas industry, China has high potential for dredging equipment manufacturers.
In 2020, according to World Integrated Trade Solution (WITS), China had total exports of more than USD 2.5 trillion, and total imports of over USD 2.1 trillion. Such activities leads to hold a valuation in East Asia based trade activity market of USD 1.5 Billion by the end of 2032.
Recently, the Government of China decided to lower import tariffs on more products that are in high demand. While trade activities slowed down in 2020, they are likely to bounce back from 2022, which, in turn, is expected to provide heightened benefits to dredging players in the regions and elsewhere.
How is the Market for Dredging Expected to Fare in U.K.?
The U.K. is a dominating country in Europe with a revenue share of 21% in 2020. The rising demand from oil, mining and energy infrastructure is projected to propel the growth in the country.
In 2020, the U.K. government has stated that, the contribution by energy industries to the U.K. economy is 2.1% of Gross Value Added (GVA), which was 0.3% lower as compared to 2019. The U.K. is likely to reach a valuation of USD 522 Mn with a total contribution of 19% of market share by the end of 2032.
Will India Based Dredging Market Remain Lucrative in Future?
India is a leading and lucrative market for dredging in South Asia & Oceania region owed due to highly advanced industries like energy, mining and oil & gas that have impelled the demand for dredging across the country.
According to the India Brand Equity Foundation (IBEF) in 2020, India is the world's third largest energy consumer in the world. The India is likely to grow at a CAGR of 2% over the forecast period with a market valuation of USD 660 Mn in 2032.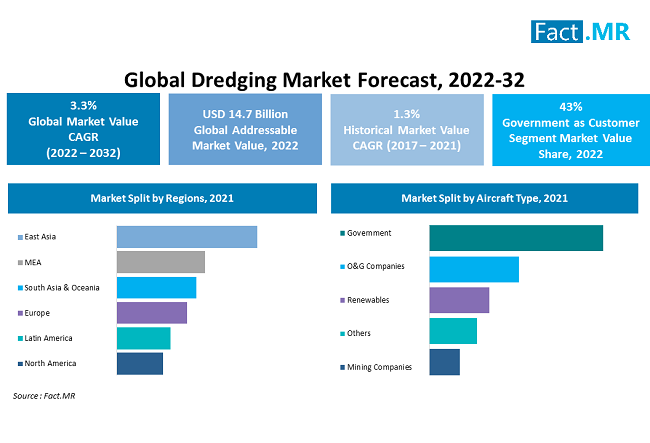 Segment wise Insights
On the basis of the customer segment, the oil and gas segment holds major growth capacity in the forecast period as there is a rise in global consumption of these commodities. Over the forecast period, there is a rise in populace across the globe which will foster demand for oil and gas. Mining companies and governments are expected to emerge as major customers for the industry. Moreover, hydraulic dredges are anticipated to gain traction in the transportation of water ores to plants.
On the basis of the application segment, the creation of energy infrastructure is focused on by global economies which are driven basically by the need for renewable sources of energy that are likely to open market opportunities worth more than USD875.9 Million in forecast duration for dredging companies.
Why Energy Infrastructure holding a Highest CAGR in Application?
The demand for dredging is growing steadily with rise in requirements from various infrastructure projects, such as hydro, solar, and other renewable energy sectors. Rise in investments towards various energy infrastructure plans are further spurring the growth of dredging manufacturers.
As per a report titled "The Investment Plan for Europe and Energy: Making the Energy Union a Reality", published by the European Commission (EC), the investment plan for the Energy Union is significantly strengthening energy infrastructure in Europe. The energy infrastructure is expected to be valued at USD 2 Billion by the end of 2032.
The report has also stated with key projects in renewable energy and energy infrastructure, the financial cornerstone of the investment plan of European Fund for Strategic Investments (EFSI) has allocated to the energy sector 29% of financing approved by the European Investment Bank (EIB). Such statistics reveals the high potential of the market and the growth scope of key players over the coming years.
Why Oil & Gas Companies are Acquiring Popularity as Customer?
The demand for dredging is mounting exponentially with the development of the oil & gas industry. According to a report "Oil 2020- Analysis", by the International Energy Agency (IEA) in 2020, the global oil production capacity is likely to grow over 5.9 mb/d by 2025.
According to the United States Energy Information Administration (EIA), the distillate fuel consumption is expected to reach at 4.0 mb/d on an average by 2022, which is 97% of consumption in 2019. With such increase in production and consumption of oil & gas, the manufacturers in the dredging industry will come across greater opportunities to leverage on in the near future.
Competitive Landscape
According to the dredging industry analysis, Royal Boskalis Westminster N.V, China Harbour Engineering Company Ltd, Van Oord NV, Dredging Environmental and Marine Engineering NV (DEME) Group, Jan De Nul N.V., Great Lakes Dredge & Dock Corporation, National Marine Dredging Co, Hyundai Engineering & Construction Co. Ltd., Penta-Ocean Construction Co. Ltd and Toa Corporation are identified as key players providing dredging.
The aforementioned players have robust network of customer around the globe. The front runners in the market are tech giants with deep pockets which allows them to participate greatly in development.
Moreover, these companies also deal with diversified services which are custom-made as per individual customer. The growth strategies implemented by prominent players are contracts & agreements, new product developments and collaborations to resist their market position.
Some of the key developments in the market are:
In 2020, Dredging Environmental and Marine Engineering NV (DEME) Group has signed a major dredging and land reclamation contract for Abu Qir port in Egypt.
In 2020, Jan De Nul Group had partnership with Dogger Bank Wind Farm to transport and install offshore wind.
In 2020, Penta-Ocean Construction Co. Ltd announced to acquire the Singapore based company named as M&E Pte Ltd.
In 2020, TOA Corporation has signed a contract with Bangladesh Economic Zones Authority (BEZA) for land development at Japanese Economic Zone.
Similarly, recent developments by top providers of dredging have been tracked by the team at Fact.MR, which are available in the detailed report.
More Insights, Lesser Cost (-50% off)
Insights on import/export production,
pricing analysis, and more – Only @ Fact.MR
What are the key factors driving the dredging industry?
Waterways trade and transport are crucial factors determining dredging needs. The rising need for alternative waterways for trade fosters the need for the development of infrastructures such as ports and waterways.
The rising demand for land recapture determines populace concentration in coastal areas leading to rising demand for the dredging industry.
Government investment is rising in the dredging industry which opens scope for growth in the future. Technical advancement in form of dredger monitors will make it more efficient and drive growth in the forecasted duration.
Are there any environmental concerns associated with Dredging?
In a certain way, dredging is useful for the environment as it removes subtidal benthic species. However, it might change the level of suspended sediments or particles which may lead to random changes in water quality that may affect marine ecology.
Impact of Covid-19 on Dredging
The lockdown period and immediate financial crisis were faced by dredging manufacturers. The supply chain disruptions led to a lack of raw material and emergency health services were also affected severely. However, in the upcoming day's recovery in equipment markets is projected to grow.
Market Segments Covered in Dredging:
By Application

Trade Activity
Trade Maintenance
Energy Infrastructure
Urban Development
Coastal Protection
Leisure

By Customer

Government
O&G Companies
Mining Companies
Renewables
Others

By Region

North America
Latin America
Europe
East Asia
South Asia
Oceania
MEA