Airborne Optronics Market
Airborne Optronics Market Analysis By System (Reconnaissance, Targeting, Search & Track, Surveillance, Warning/Detection, Countermeasure, Navigation & Guidance, Special Mission), By Technology (Multispectral, Hyperspectral), By Aircraft Type (Fixed Wing, Rotary Wing, Urban Air Mobility, Unmanned Aerial Vehicles), By Application (Commercial, Military, Space), By End Use (OEMs, Aftermarket) & By Region - Global Market Insights 2023 to 2033
Analysis of Airborne Optronics Market Covering 30+ Countries Including Analysis of US, Canada, UK, Germany, France, Nordics, GCC countries, Japan, Korea and many more
Airborne Optronics Market Outlook (2023 to 2033)
According to Fact.MR, the global airborne optronics market is estimated at US$ 2 billion in 2023. Expanding rapidly at a CAGR of 12.7%, worldwide demand for airborne optronics is forecasted to reach a market value of US$ 6.62 billion by 2033.
Airborne optronics refers to the use of optical and electro-optical systems in airborne platforms such as aircraft, helicopters, drones, and satellites. Optronics combines the fields of optics and electronics to develop systems that utilize light, imaging sensors, and other electro-optical devices for various purposes.
Airborne optronics systems are used for a wide range of applications, including reconnaissance, surveillance, target acquisition, navigation, and aerial imaging. These systems typically consist of cameras, sensors, laser rangefinders, thermal imagers, and other optical devices that capture and process visual and infrared information from the surrounding environment.
In military operations, airborne optronics plays a crucial role in intelligence gathering and situational awareness. They provide aerial platforms with capabilities such as long-range surveillance, target identification, and tracking. These systems can detect and analyze objects on the ground, in the air, or at sea, allowing military forces to make informed decisions and carry out operations effectively.
Commercially, airborne optronics is used in applications such as aerial photography, remote sensing, environmental monitoring, and disaster management. They enable the collection of high-resolution imagery and data from aerial platforms, which can be used for mapping, infrastructure inspection, crop monitoring, and other purposes. Rising adoption of unmanned aerial vehicles (UAVs) in both, the military and commercial sectors, is primarily driving the need for airborne optronics.
In December 2022, United Airlines made headlines by making a historic decision to upgrade its fleet of aircraft. The company placed an extraordinary order for up to 200 new Boeing 787 Dreamliner planes, which represents a significant order of widebody jets by the United States aircraft carrier. This strategic move signified United Airlines' commitment to modernizing its fleet and further strengthening its operations. The Boeing 787 Dreamliner, known for its advanced features and fuel efficiency, was chosen as the preferred aircraft for this substantial upgrade.
Demand for multispectral technologies is predicted to rise at a CAGR of 12.8% from 2023 to 2033 due to the increasing adoption of unmanned autonomous aircraft. Multispectral technologies, enhanced with mid-wave and long-wave infrared capabilities, enable the locating and monitoring of military targets.
Multispectral imaging can identify object radiation patterns regardless of external lighting, track enemy movements in darkness, facilitate the detection of explosives, and determine underground bunker depths. Additionally, multispectral technologies enhance the productivity of unmanned autonomous aircraft operations by giving crucial information on weather conditions, traffic, and other flight-affecting factors.
Report Attributes
Details

Airborne Optronics Market Size (2023E)

US$ 2 Billion

Forecasted Market Value (2033F)

US$ 6.62 Billion

Global Market Growth Rate (2023 to 2033)

12.7% CAGR

United Kingdom Market Value (2033F)

US$ 404.08 Million

United States Market Value (2033F)

US$ 2.34 Billion

China Market Growth Rate (2023 to 2033)

13.1% CAGR

India Market Growth Rate (2023 to 2033)

13.1% CAGR

Germany Market Growth Rate (2023 to 2033)

13.4% CAGR

Key Companies Profiled

Northrop Grumman Corporation
Thales SA
Flir Systems, Inc.
Safran
Elbit Systems Ltd.
Lockheed Martin Corporation
Leonardo Spa
L3Harris Technologies Inc.
Hensoldt AG
Collins Aerospace
Israel Aerospace Industries
Rafael Advanced Defense Systems Ltd.
Kappa Optronics GmbH
Stark Aerospace, Inc.
Excelitas Technologies Corporation
Osi Optoelectronics, Inc.
Leidos Holdings, Inc.
Ii-Vi, Inc.
Bae Systems plc
Aselsan A.a.
Intevac, Inc.
Ximea GmbH
Headwall Photonics, Inc.
Cubert GmbH
Resonon Inc.
Don't Need a Global Report?
save 40%! on Country & Region specific reports
Why is Airborne Optronics Becoming a Major Technology in the Defense Sector?
"Rising Use of Airborne Optronics to Combat Terrorism and Facilitate Asymmetric Warfare"
Sales of airborne optronics are increasing due to several variables, including the rise of terrorism activities, asymmetric warfare, and the need for reliable surveillance systems on a global scale. Combat aircraft have systems for real-time intelligence gathering, close air support, and long-range missile delivery in addition to these other capabilities.
The success of surveillance and combat missions is being greatly improved by the quick uptake of cutting-edge technologies including artificial intelligence (AI), multispectral technology, next-generation thermal cameras, high-definition (HD) cameras, and cutting-edge laser sensors. Since these airborne optronics devices are built to survive challenging operating environments and intense vibrations, demand for airborne optronics systems in recent years is significantly increasing for their use in military, commercial, and aerospace applications.
In 2021, United Airlines made a significant announcement regarding the enhancement of its aircraft fleet. The company revealed its plans to equip all its Boeing 737 and 777 planes with infrared cameras, thereby integrating advanced infrared technology into its operations. Additionally, United Airlines announced its investment in other cutting-edge navigation technologies such as Automatic Dependent Surveillance-Broadcast (ADS-B) and Automatic Dependent Surveillance-Contract (ADS-C). These advancements were aimed to improve the airline's navigation systems and enhance situational awareness.
"Navigating Skies: Advanced Optics & Imaging Systems Gaining Popularity"
Growth of the airborne optronics market is expected to skyrocket as urban air mobility platforms, such as electric vertical take-off and landing (eVTOL) vehicles & drones are gaining traction. These cutting-edge platforms rely on cutting-edge imaging and optical systems to perform critical functions including communication, obstacle detection, and navigation.
Growing use of drones and eVTOLs in various commercial and industrial applications, such as package delivery, examination, and surveying, is further boosting the demand for airborne optronics. Cameras, LIDAR, and other sensors play a vital role in ensuring the safe and efficient operation of these platforms, creating significant opportunities for manufacturers of airborne optronics.
Renowned U.S.-based company Uber has announced its plans to introduce Uber Elevate, an urban air transportation service set to take flight in 2023. The service will utilize eVTOLs to offer convenient point-to-point transportation options.
September 2022 witnessed an intriguing plan unveiled by Wisk, an autonomous eVTOL aircraft developer supported by Boeing. The plan presented a comprehensive framework for the integration and implementation of an Urban Air Mobility (UAM) ecosystem, featuring the utilization of pilotless air taxis. This visionary concept of operations paves the way for the adoption and implementation of airborne optronics technology.
What is Minimizing the Productivity of Airborne Optronics Technologies?
"Weathering the Storm - Inefficiency Challenges before Airborne Optronics Services in Extreme Conditions"
The revenue graph of the airborne optronics market players may face a minor slowdown due to the limitations of these technologies in extreme weather conditions. Challenging weather, including heavy rain, fog, and snow, can significantly impact the performance of cameras and sensors, impeding pilots' visibility and navigation capabilities.
Infrared cameras with electro-optics, widely employed in commercial aviation to enhance visibility, may experience reduced effectiveness in extreme weather conditions such as heavy rain or snowfall. Such circumstances give rise to safety concerns and an elevated risk of accidents, which can deter companies and airlines from investing in these technologies.
More Insights, Lesser Cost (-50% off)
Insights on import/export production,
pricing analysis, and more – Only @ Fact.MR
How Can New Market Entrants Rise Above the Crowd in the Competition?
"Start-ups Carving a Space in Airborne Optronics with Innovative & Cost-effective Technologies"
Instead of targeting the entire market, newcomers can identify and focus on specific niche markets within the airborne optronics industry. By understanding the unique needs and requirements of a particular sector, such as defense and aerial photography, they can tailor their offerings to meet those specific demands. This targeted approach can help them differentiate themselves and build a strong reputation within their chosen niche.
In a competitive market, offering cost-effective solutions can be a significant advantage for new manufacturers. By optimizing their production processes, exploring efficient supply chains, and leveraging economies of scale, they can offer competitive pricing without compromising on quality. Positioning themselves as affordable yet reliable options can attract price-conscious customers and gain market share. Collaborating with established players, suppliers, or research institutions can provide new entrants with valuable resources, expertise, and market access.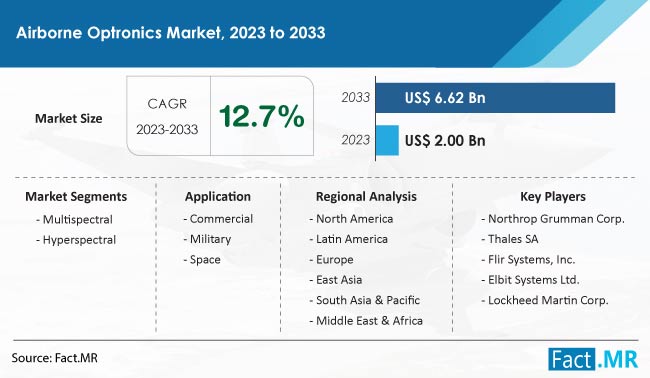 Country-wise Analysis
How is Airborne Optronics Bolstering Military Applications in the United States?
"Enhancing Aerial Situational Awareness with Advanced Airborne Optronics"
Demand for airborne optronics solutions in the United States is likely to reach US$ 2.34 billion by 2033.
The United States has a strong focus on military modernization, which includes upgrading and equipping its aircraft fleet with advanced technologies. Airborne optronics plays a crucial role in military applications, such as surveillance, reconnaissance, target acquisition, and weapon guidance systems. The need to maintain military superiority and enhance situational awareness drives the demand for advanced optronics systems in the country.
Why is Germany a Lucrative Market for Airborne Optronics Manufacturers?
"German Military Aviation Sector Adopting Advanced Airborne Optronics Technologies"
The airborne optronics market in Germany is poised for robust growth, projected to register a CAGR of 13.4% during the forecast period. The driving force behind this expansion is the growing adoption of airborne optronics in the military aviation sector of the country
In a significant move responding to Russia's invasion of Ukraine, the German government unveiled plans in March 2022 to acquire up to 35 F-35 fighter jets from the United States, along with 15 Eurofighter jets. This major modernization initiative aimed at bolstering the German armed forces is set to amplify the demand for airborne optronics within the country.
According to Eurostat, the European Union experienced a notable increase in flights carrying passengers, cargo, and mail, recording a 25% rise between August 2021 and August 2022. This upsurge translates to nearly 597,000 commercial flights in August 2022 alone. The escalating volume of flights highlights the escalating demand for efficient and reliable airborne optronics systems to enhance aviation operations and ensure safe and effective air transportation.
What is Driving Airborne Optronics Sales in China?
"Technological Leap in UAV Development Pushing Need for Airborne Optronics Technologies"
The Chinese airborne optronics market is predicted to increase at a CAGR of 13.1% during the forecast period
China has made significant strides in technological advancements, including the development of unmanned aerial vehicles (UAVs) and drones. Airborne optronics systems are vital components of these platforms, enabling autonomy, navigation, and imaging capabilities. The expanding applications of UAVs in sectors such as aerial surveying, infrastructure inspections, agriculture, and public safety drive the demand for airborne optronics in China.
Know thy Competitors
Competitive landscape highlights only certain players
Complete list available upon request
Category-wise Analysis
Where is the Application of Airborne Optronics Substantially High?
"Beyond Aerial Imaging, Drones' Expanding Role in Commercial Tasks"
Over the next 10 years, it is anticipated that the use of airborne optronics in various commercial applications using drones is likely to evolve at a CAGR of 12.8%.
Use of drones for aerial imagery and surveying is no longer only their exclusive function. The use of unmanned aerial vehicles and artificial intelligence together is revolutionizing several commercial functions, including security, surveys, and land surveying.
The growing need for aerial data gathering and analysis across sectors including construction, agriculture, and oil & gas is what's driving this dynamic combination. As a result, there has been a noticeable increase in the use of airborne optronics for the mapping, surveying, and monitoring processes.
Competitive Landscape
Investing in research and development is crucial for staying at the forefront of technological advancements in airborne optronics. Leading companies are allocating resources to develop innovative products, improve existing technologies, and explore new applications. By continuously enhancing their offerings, they are attracting more customers and expanding their market share.
Boson Radiometric Cameras with a feature of radiometric accuracy temperature, which offers an assessment of temperature accuracy, were introduced in 2021 by Flir Systems, Inc.
In April 2021, Safran Electronics & Defence and Dassault Aviation inked a contract for the provision of two aircraft's new Euroflir 410 optronic systems as part of the French navy's initiative to modernize its maritime surveillance and intervention aircraft.
Key Segments of Airborne Optronics Industry Research
By System :

Reconnaissance
Targeting
Search & Track
Surveillance
Warning/Detection
Countermeasure
Navigation & Guidance
Special Mission

By Technology :

Multispectral
Hyperspectral

By Aircraft Type :

Fixed Wing
Rotary Wing
Urban Air Mobility
Unmanned Aerial Vehicles

By Application :

Commercial
Military
Space

By End Use :

By Region :

North America
Latin America
Europe
East Asia
South Asia & Oceania
MEA
- FAQs -
The global airborne optronics market is currently valued at US$ 2 billion.
Sales of airborne optronics are predicted to increase at a CAGR of 12.7% from 2023 to 2033.
The market for airborne optronics is projected to reach US$ 6.62 billion by 2033.
Northrop Grumman Corporation, Thales SA, and Flir Systems, Inc. are some of the top players in this market.
Demand for multispectral technology is predicted to surge at a CAGR of 12.8% from 2023 to 2033.