Antineoplastic Agents Market
Antineoplastic Agents Market Analysis, By Product (Chemotherapeutic Agents, Biological/Immunotherapeutic Agents, Personalized Medicines, Hormonal Agents, Others), By End User (Hospitals, Clinics, Cancer Rehabilitation Centers, Ambulatory Surgical Centers), & Region - Global Market Insights 2023-2033
Analysis of Antineoplastic Agents Market Covering 30+ Countries Including Analysis of US, Canada, UK, Germany, France, Nordics, GCC countries, Japan, Korea and many more
Antineoplastic Agents Market Growth Outlook 2023-2033
Sales of antineoplastic agents are expected to be valued at US$ 126.71 billion in 2023, with the market expected to reach a valuation of US$ 286.49 billion by the end of 2033.
Global demand for chemotherapeutic agents and biological/immunotherapeutic agents is predicted to increase at CAGRs of 8% and 9% during the next 10 years, respectively.
Anti-neoplastic drugs are classified into chemotherapeutic agents, biological/immunotherapeutic agents, personalized medicines, alkylating and alkylating-like agents, hormonal agents, and miscellaneous agents.
Demand for biological/immunotherapeutic agents is increasing rapidly this can primarily be attributed to the recent outbreak of coronavirus and the increasing focus of several medical experts on nanotechnology to provide developed treatments to target patients.
To treat cancer while sparing healthy cells, biological therapy utilizes the immune system of the patient. Monoclonal antibodies, for example, are a type of biological medicinal therapy that works by either increasing cell death or slowing the growth of cancer.
Innovative research has led to the development of biological pharmaceuticals, which can result in novel treatments that give patients a variety of new therapy options. Additionally, improved genetic and molecular understanding has opened the door for several cutting-edge therapies.
The World Health Organization 2021 estimates that non-communicable diseases are accountable for 41 million fatalities annually. Seen between the ages of 30 and 69, more than 15 million individuals worldwide pass away annually due to non-communicable diseases. These "premature" deaths account for about 85% of all deaths in poor and developing nations.
The majority of fatalities from non-communicable diseases are caused by cardiovascular disorders (17.9 million per year), followed by cancer (9.3 million per year), respiratory conditions (4.1 million per year), and diabetes (1.5 million per year). Thus, the demand for biological agents is increasing due to the rising prevalence of chronic illnesses.
The University of Texas at Austin's College of Natural Sciences and Cockrell School of Engineering is leading a research initiative called the TXBio Pilot Grant Program that concentrates on the invention, fast development, and clinical translation of biological therapies created all through the university (UT Austin). TXBio (Texas Biologics) is backed by charitable donations that are being used to enhance UT Austin's infrastructure and intellectual climate regarding the development and translation of biologics.
The FDA approved a biologics license application (BLA) for tezepelumab, a potential first-in-class treatment for severe asthma, from Amgen's partner AstraZeneca in May 2021.
Thus, rising investments in R&D by top players and several end users are also driving sales growth.
Cytotoxic or anti-neoplastic drugs prevent the development and spread of tumours. They enter the body of the individual and eliminate the malignant cells. Along with being used in radiotherapies, surgeries, and immunotherapies for several metastatic tumours, these medications are used to treat a wide range of cancers.
With fresh cases of neoplasms being reported all over the world, the antineoplastic agents market is expected to grow quickly.
Over the coming years, the market for anti-neoplastic agents is expected to expand due to the rising demand for affordable treatments for treating neoplasms.
Report Attributes

Details

Market Size in 2023

US$ 126.71 Billion

Forecasted Market Value (2033F)

US$ 286.49 Billion

Global Market Growth Rate (2023-2033)

8.5% CAGR

China Market Growth Rate (2023-2033)

12% CAGR

Japan Market Growth Rate (2023-2033)

5% CAGR

Germany Market Growth Rate (2023-2033)

6% CAGR

Key Companies Profiled

AbbVie
Abraxis
AstraZeneca
Baekdu Mountain Pharmaceutical
Baida Pharmaceutical
Bayer
Biogen Idec
BMS
Celgene
CTTQ
Eisai
Gilead
Hainan Chang`an International Pharmaceutical
Jiangsu Haosen Pharmaceutical Group
Jiangsu Hengrui Pharmaceutical
Johnson and Johnson
Liaoning Novino Pharmaceutical
Lilly
Maanshan Fengyuan Pharmaceutical
Meiluo Pharmaceutical
MSD
Novartis
Pfizer
Qilu Pharmaceutical
Roche
Sanofi
Shandong Luoxin Pharmaceutical Group
Shandong Lvye Pharmaceutical
Shandong New Era Pharmaceutical
Sinopharm
Tesaro (GSK)
Teva
Wto-Day Order Pharmaceutical
Zhejiang Kanglaite Pharmaceutical
Zhejiang Yatai Pharmaceutical
Know thy Competitors
Competitive landscape highlights only certain players
Complete list available upon request
What is Driving the Sales of Antineoplastic Agents?
"Increasing Senior Population Suffering from Chronic Diseases"
Patients with lung, bone, and other cancers regularly utilise analgesics including acetaminophen, morphine, and nonsteroidal anti-inflammatory drugs. The cost of spending on cancer-fighting medications has significantly increased as more individuals are diagnosed with cancer. Therefore, the rising cases of cancer cases are predicted to fuel anti-neoplastic agents market growth.
The size of the senior population is increasing rapidly when compared to the younger population.
According to recent studies, there will be 95 million more Americans 65 and older by 2060 than there are now, raising the percentage of the population that is 65 and older from 16% to around 23%.
The ageing population is more prone to several chronic disorders, which is therefore expected to increase demand for cancer prevention drugs, fueling the growth of the anti-neoplastic agents market.
"Growing Investments in R&D by Leading Anti-Neoplastic Agent Companies to Develop Improved Drug Therapies"
Cancer patients are treated to cure the disease and improve health & quality of life. Immune cells play a vital role in tumour progression. Therefore, activating immune responses against malignancies is a desirable preventative and therapeutic approach.
Therefore, top market players are investing highly in immunotherapy research and development to treat a variety of cancers.
For instance, in March 2019, the National Cancer Center Japan and FUJIFILM Corporation collaboratively announced the beginning of a research project for breakthrough cancer immunotherapy utilizing a liposome formulation.
Due to its success in terms of effective treatment that leads to better patient outcomes, immunotherapy is more widely used nowadays. As a result, this is boosting the demand for anti-neoplastic agents.
"Rising Worldwide Prevalence of Cancer Disorders"
The incidence of cancer has climbed globally, overtaking cardiovascular diseases as the 2nd largest cause of death. This is caused by environmental variables such as high cigarette use, altered dietary habits, urbanisation, and prolonged post-reproductive life.
For instance, the World Health Organization (WHO) estimates that there will be 29.4 million new instances of cancer worldwide by 2040, up from 18.1 million in 2018.
Therefore, it is anticipated that throughout the projection period, the rising incidence of cancer diseases will increase the demand for anti-neoplastic agents globally.
"Oral Chemotherapy Gaining Traction"
Cancer can also be treated with oral chemotherapy, where the oral route for medication is used. Oral chemotherapy medications come in a variety of forms, including tablets, pills, and liquid. Oral chemotherapy's primary function is to both kill and retard the growth of cancer cells. Oral chemotherapy can also be administered at home.
Cancer patients who prefer oral chemotherapy must adhere to a few precautions and recommendations. Patients can also get oral chemotherapy using infusion pumps. The main aspect of the enormous growth of the oral chemotherapy market is the rising cases of cancer ailments worldwide.
Why Can Affect Production of Antineoplastic Agents?
"Strict Rules for Drug Approvals & High Cost of Production"
According to regulatory agency rules and regulations, including that from the US FDA and other organisations, anticancer drugs are developed and sold. For the product launches to be approved, manufacturers of anti-neoplastic agents must submit comprehensive clinical data that demonstrate the product's efficacy and safety.
These approval processes are frequently time-consuming and demand a large financial investment from the major businesses, which directly affects the price of the drugs they produce. The high cost of production affects the product's final price. Because of this, the demand for antineoplastic antibiotics is limited by financial toxicity, placing a heavy financial burden on cancer sufferers.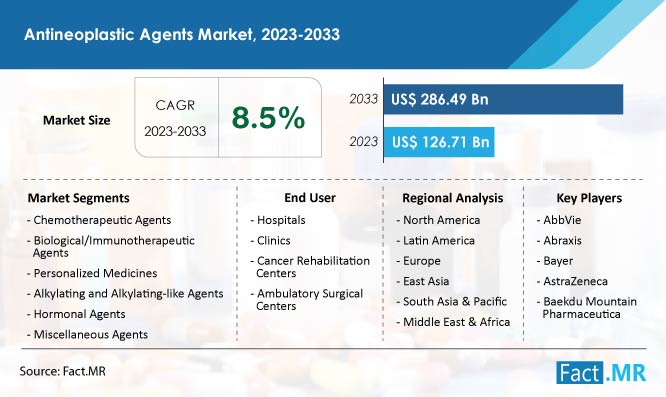 Which Potential Opportunities Await New Market Players?
"Use of Smart Technologies Will Generate New Opportunities in Antineoplastic Agents Market"
The new entrants are producing several anticancer medications and are using smart technologies to increase their field productivity and efficiency. This move is going to help start-ups to gain a profitable client base and own a strong market position.
Some of the new businesses in the antineoplastic agents industry are Voxtur Bio Ltd., RS Research, and others.
Following are some recent developments in the start-up section
Particularly since the coronavirus outbreak, biotechnology businesses have drawn increasing attention on a global scale. Numerous Turkish organizations, notably Türk Telekom, have health start-up companies on their radar.
Virasoft, a company that specializes in smart pathology technologies, has received funding from one of the top information and communication technology businesses TT Ventures in the nation. All of the private academic hospitals, three public hospitals, and 20 more private hospitals in Istanbul currently use Virasoft's Digital Pathology technologies.
With Türk Telekom's funding, municipal hospitals should also be able to use Virasoft's service as part of the government's initiative to expand the number of beds available and address the physician shortage in densely populated areas.
Nano-drugs are garnering interest in the fight against cancer, similar to how the vaccination did. Sena Nomak and Rana Sanyal formed the biotechnology start-up RS Research in 2015, and the company is getting ready to introduce the first Turkish nanotechnology medication. The next-generation pharmaceuticals business RS Research creates unique nanomedicines based on cutting-edge drug delivery systems for therapies to cure cancer patients.
More Insights, Lesser Cost (-50% off)
Insights on import/export production,
pricing analysis, and more – Only @ Fact.MR
Country-wise Analysis
What is Supporting the Increasing Sales of Antineoplastic Agents in the U.S.?
"Rising Cases of Cancer in the United States"
Demand for anti-neoplastic pharmaceutical drugs in the U.S. is expanding as a result of quickly increasing cases of cancer, rising healthcare expenditures, high rates of cancer diagnostic testing, accessibility to multiple cutting-edge cancer treatments, and a sizable presence of top manufacturers of anti-neoplastic agents.
One of the main factors driving the sales of antineoplastic agents in the United States is the presence of an established R&D infrastructure and growing awareness of cancer and related treatment. Growing public awareness of the advantages of early cancer detection has encouraged American-based businesses to spend heavily on the creation of medications for targeted therapy.
Why is the Asia Pacific Region Attracting Several Antineoplastic Drug Producers?
"Asian Countries Highly Preferred by Manufacturers of Antineoplastic Agents to Build Production Units"
Japan, South Korea, India, and China are major marketplaces in the Asia Pacific region. Major pharmaceutical companies have established units for manufacturing and R&D in the Asia Pacific region as a result of the rapid rise in worldwide antineoplastic drug demand and the quickly increasing healthcare industry in the region.
Regional market growth is expected to be boosted by efforts made by various organizations to aware the public regarding several chronic diseases and raise funds for needy patients living with target illnesses.
The quick increase is probably due to a rapidly ageing population with several disorders, changing lifestyles, and socioeconomic changes. Lung, stomach, and liver cancers are among the most prevalent disorders.
South Korea experienced a high rate of fatalities due to cancer in 2021, among which lung cancer ranked first followed by liver and colorectal. While, breast, prostate, colorectal (big bowel), stomach, and lung cancers are the most prevalent types of cancer disorders in Japan.
According to several studies, more than 90 thousand cases of breast cancer were seen in Japan in 2021.
Sales of antineoplastic agents in Japan are predicted to increase at a CAGR of 5% from 2023 to 2033. As a result, high investments are made in healthcare to build cutting-edge R&D facilities for creating high-quality oncology diagnostics, which is likely to fuel the demand for cancer immunotherapies in the Asia Pacific region through the forecast period.
How is Europe's Antineoplastic Agents Market Developing?
"Growing Number of R&D Activities in Anticancer Drug Development"
The U.K. market for antineoplastic agent suppliers and manufacturers is expanding as biological research to create efficient cancer diagnostics intensifies.
Since January 2021, several studies have been suggested to determine potential connections between serine consumption and the formation of cancer cells, according to Cancer Research UK.
As a result of some cancer cells' ability to produce their serine, particularly in patients with KRAS mutations, results to date have been inconsistent. Fortunately, scientists believe that further study will lead to a standardised result, increasing the likelihood that different cancer screening strategies will be used in the future.
In the last five years, there were over 2 million cases of cancer ailments in Germany, with over 600,000 new cases and 252 thousand fatalities, according to Globocan 2020.
The nation's increased cancer rate has been mostly attributable to binge drinking and heavy smoking.
Strong institutional frameworks, including the German Cancer Consortium and important Comprehensive Cancer Centers (CCCs) headquartered at University Medical Centers, are crucial to advancing cancer research across the nation. Top antineoplastic agent producers around the nation are being drawn in by this increased support.
Category-wise Analysis
Why Do Hospitals Make High Use of Antineoplastic Drugs?
"Hospitals Hold Dominant Position in Providing Antineoplastic Therapies"
The preferred medical settings for cancer treatment are still hospitals since these facilities have the most cutting-edge technologies for accurate diagnosis and treatment. The high adoption of cutting-edge therapeutics, diagnoses, and medical technologies, supported by private and public funding, raises the standard of Medicare provided by hospitals. By 2033, hospitals are anticipated to hold a strong market share for antineoplastic drugs.
It is anticipated that a larger patient base will choose clinic-based healthcare due to the relatively short wait times and convenience of scheduling appointments. The exponential acceptance of cancer treatments in clinics is being driven by the steadily increasing demand for high-quality cancer therapeutics, which is encouraging clinicians to concentrate on providing improved antineoplastic therapies to patients.
Don't Need a Global Report?
save 40%! on Country & Region specific reports
Competitive Landscape
Large-scale clinical trials that confirm the effectiveness of various antineoplastic therapeutic techniques, such as vaccinations and oral medications, are being conducted by prominent market participants for financial gain. Players are also investing more in research studies to identify regional patterns in cancer prevalence.
ChemoCentryx, Inc., a biopharmaceutical business focused on orally delivered medicines to treat autoimmune diseases, inflammatory disorders, and cancer, was acquired by Amgen in October 2022.
ImmunityBio, Inc. and NantKwest, Inc. merged on March 20, 2021, to form a preeminent late-stage cell therapy and immunotherapy company with a focus on cancer and infectious diseases.
Key Segments of Antineoplastic Agents Industry Research
By Product :

Chemotherapeutic Agents
Biological/Immunotherapeutic Agents
Personalized Medicines
Alkylating and Alkylating-like Agents
Hormonal Agents, Miscellaneous Agents

By End User :

Hospitals
Clinics
Cancer Rehabilitation Centers
Ambulatory Surgical Centers

By Region :

North America
Latin America
Europe
East Asia
South Asia & Oceania
MEA
- FAQs -
Global anti-neoplastic agent sales are valued at US$ 126.71 billion in 2023.
Global demand for anti-neoplastic agents is expected to increase at a CAGR of 8.5% and reach US$ 286.49 billion by 2033.
North America holds a dominating position in the global market.
Rising investments by multinational companies in cancer research due to the increasing number of cancer cases are driving the market growth.
Some of the key players in the antineoplastic agents market are Bayer, Sanofi, and ChemoCentryx, Inc.