Apple Juice Concentrate Market
Apple Juice Concentrate Market Analysis by Type (Cloudy, De-ionized, Clarified), By Application (Fruit Juices, Tea, Beverages, Food Products), By Distribution Channel (Online, Offline), By Processing Method (Cold-pressed, Extraction) & By Region – Global Market Insights 2023 to 2033
Analysis of Apple Juice Concentrate Market Covering 30+ Countries Including Analysis of US, Canada, UK, Germany, France, Nordics, GCC countries, Japan, Korea and many more
Apple Juice Concentrate Market Outlook (2023 to 2033)
The global apple juice concentrate market size stands at a valuation of US$ 7.8 billion in 2023 and is projected to top US$ 13 billion by 2033-end, expanding at a CAGR of 5.2% over the next ten years.
Concentrated juice is obtained by extracting and filtering out a significant portion of its water content through a filtration and extraction procedure. This process results in the removal of a substantial portion of the fruit's nutrients and apple fiber, leaving behind a dense syrup that is notably high in sugar content. Apple juice concentrate has been frozen and reduced in water content, resulting in a thicker and more concentrated form suitable for various applications.
Apple juice concentrate retains the natural sweetness of apples without introducing additional sugars during production. Cider apple juice concentrate is a condensed and intensified version of apple juice specifically derived from cider apples, commonly used to enhance the flavor and aroma of beverages, baked goods, and various culinary creations.
In April 2019, Tampico Beverages introduced a zero-sugar fruit concentrate targeting its budget-conscious consumer segment within the United States. This introduction has expanded the growth potential for the apple juice concentrate sector.
Apple cranberry concentrate is a concentrated blend of juices extracted from both apples and cranberries, resulting in a flavor-rich liquid that combines the sweetness of apples with the tartness of cranberries. This concentrate can be utilized for various applications in food and beverages.
Importers and exporters of apple juice concentrate are businesses involved in the international trade of this product. They facilitate the movement of apple juice concentrate across different countries, connecting producers with consumers in various markets. Importers bring apple juice concentrate into their respective countries from other regions, while exporters ship the product to foreign markets. These companies play a crucial role in ensuring a steady supply of cider apples and meeting the demand of consumers worldwide.
Diageo PLC, a prominent player in the realm of beverage alcohol, introduced a novel apple cider named Rockshore in Ireland. This cider swiftly made its way onto the shelves of off-licenses, pubs, and supermarkets, catering to a diverse consumer base. The product is available in both bottles and cans, providing consumers with a versatile choice for enjoying this refreshing apple-based offering.
Report Attributes
Details

Apple Juice Concentrate Market Size (2022)

US$ 7.4 Billion

Estimated Market Value (2023)

US$ 7.8 Billion

Forecasted Market Value (2033)

US$ 13 Billion

Global Market Growth Rate (2023 to 2033)

5.2% CAGR

Europe Market Share (2023)

44%

Clarified Apple Juice Concentrate Market Share (2023)

58%

France Market Growth Rate (2023 to 2033)

6.1% CAGR

Beverage Market Share (2023)

71%

Key Companies Profiled

Juice Generation
Hain Celestial
SUJA LIFE
CEDAR Juice
Juice Warrior
Rauch Fruit Juice
Tree Top
Huiyuan Juice
Why is There Continuous Increase in Global Apple Juice Concentrate Sales?
"Rising Awareness of Its Nutritional Benefits and Evolving Lifestyles"
Regarded as a healthful beverage with potential benefits for heart health and digestion, apple juice has attained widespread popularity worldwide. It is crafted through the maceration and extraction of apples, yielding a concoction rich in essential nutrients such as vitamin C, vitamin B, and various minerals. The global market for apple juice is experiencing an upswing primarily due to escalating demand, propelled by its diverse health advantages. This surge is further augmented by the escalating preference among consumers for organic product consumption and the evolving lifestyle landscape.
Deionized apple juice concentrate refers to concentrated apple juice from which ions and minerals have been removed through a deionization process, resulting in a product with reduced mineral content and potential for improved stability in certain applications. Green apple concentrate is a condensed form of juice extracted from green apples, often utilized for its concentrated flavor and potential applications in various food and beverage products.
"Increased Utilization in Food Preservation for Extended Product Shelf Life"
Within apple concentrate lies polyphenols, pivotal for a range of benefits. These encompass fortifying bones during menopause, alleviating respiratory ailments such as asthma, preempting Alzheimer's disease, managing cholesterol levels, mitigating cancer risks, regulating diabetes, and aiding weight loss.
The array of polyphenols found in apples, including hydroxycinnamic acids, dihydrochalcones, flavan-3-ols, flavonols, and procyanidin B2, collectively contribute to disease-fighting potential. As a result, these cumulative health advantages are expected to influence the growth trajectory of the global apple juice market throughout the projected period.
Food preservation techniques are methods or processes used to extend the shelf life and quality of food by inhibiting the growth of spoilage microorganisms and slowing down chemical and enzymatic reactions that can lead to degradation. Apple juice concentrate is widely used in food preservation. These trends help maintain the nutritional value, flavor, texture, and overall safety of food items.
Don't Need a Global Report?
save 40%! on Country & Region specific reports
What Could Hinder the Sales Growth of Apple Juice Concentrate?
"Concerns over High Sugar Content in Fruit-based Products"
One significant restraint for apple juice concentrate consumption is growing awareness and concerns about high sugar content in fruit-based products, including apple juice concentrate. Health-conscious consumers are increasingly cautious about their sugar intake, and the high natural sugar content in fruit juices, even without added sugars, can deter some individuals from purchasing these products.
Shift towards healthier lifestyles and dietary preferences has led consumers to seek alternatives to high-calorie and high-sugar products. As a result, some individuals may opt for lower-calorie beverages or those with added functional benefits, which could impact the demand for traditional fruit juice concentrates.
The beverage market is diverse, with various options such as flavored water, plant-based milk, and functional beverages. These alternatives compete for consumers' attention and can divert demand away from traditional apple juice concentrate.
"Sustainability Concerns Associated with Packaging of Apple Juice Concentrate"
With an increasing focus on sustainability and environmental responsibility, some consumers may be more inclined to choose beverages with a lower environmental footprint. Packaging innovations and transportation considerations can influence their choices, potentially affecting the market for products such as concentrated apple juice.
As consumers become more interested in whole and minimally processed foods, some might view concentrated juices as being more processed compared to fresh juices. This perception could impact their purchasing decisions.
Changing regulations related to labeling, health claims, or sugar content in food and beverages can impact the marketing and sales of apple juice concentrate. Stricter regulations require companies to adjust their messaging or reformulate their products.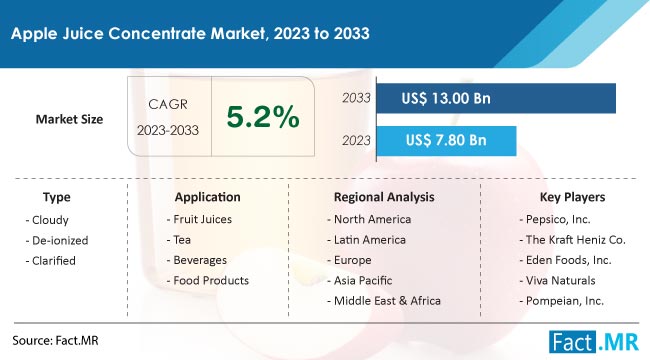 Country-wise Insights
Will Germany Be a Lucrative Market for Apple Juice Concentrate Producers?
"Growing Emphasis on Health-conscious Dietary Preferences"
Europe holds a market share of 44% in 2023. In Germany, as in many parts of the world, there's a growing emphasis on health-conscious choices and dietary preferences. Consumers are increasingly looking for beverages that offer nutritional benefits, including vitamins and antioxidants. Apple juice concentrate, with its natural source of nutrients like vitamin C, can align well with these preferences. However, the market also faces the challenge of addressing concerns about sugar content and the perception of high caloric content in fruit juices.
Germany generates a robust demand for organic and sustainably produced products. This extends to the beverage sector, including apple juice concentrate. Consumers in Germany are often willing to pay a premium for products that align with their values, such as organic and naturally sourced concentrates. This demand influences sourcing practices and production methods within the market.
What is the Demand Outlook for Apple Juice Concentrate in China?
"Rising Health Consciousness and Preference for Unique Beverage Flavors"
The Chinese beverage market is competitive, offering a wide array of options beyond traditional fruit juices. Locally produced fruit juices, herbal drinks, and teas are popular choices. Apple juice concentrate faces competition from these alternatives, which have deep cultural and regional roots. Consumers are seeking out beverages that offer both flavor and nutritional benefits. Apple juice concentrate, with its natural vitamins and antioxidants, can tap into this demand for healthful options.
China has a diverse population with varying taste preferences. While some consumers prefer sweeter beverages, others may lean towards more balanced or even tart flavors. This diversity can drive innovation in product offerings, such as blends with other fruits or unique flavor combinations.
More Insights, Lesser Cost (-50% off)
Insights on import/export production,
pricing analysis, and more – Only @ Fact.MR
Category-wise Insights
What is Leading to the Widespread Adoption of Clarified Apple Juice Concentrate?
"Improved Flavor Consistency and Enhanced Shelf Life & Stability of Clarified Apple Juice Concentrate"
Clarified apple juice concentrate accounts for a market share of 58% in 2023. This type refers to a highly processed form of apple juice that has undergone a series of filtration and clarification steps to remove impurities, solids, and cloudy particles. The process results in a transparent and clear liquid with an intensified apple flavor.
Removal of particulates and solids also contributes to the extended shelf life and enhanced stability of the concentrate. Clarified apple juice concentrate is often used in various food and beverage applications, where a clear and consistent apple flavor is desired without the presence of sediment or cloudiness.
A meticulous and advanced processing method is used to produce the clarified form. This process is designed to remove any suspended solids, impurities, and cloudiness that might naturally occur in regular apple juice. The primary goal of this process is to create a crystal-clear liquid with a more concentrated and intensified apple flavor profile.
Is the Beverage Industry Poised to Generate Lucrative Opportunities for Manufacturers of Apple Juice Concentrate?
"Market Benefitting from Role of Apple Juice Concentrate in Enhancing Flavor and Sweetness of Beverage Formulations without Need for Additional Sugar"
The beverage industry is anticipated to hold a market share of 71% in 2023. Apple juice concentrate holds a pivotal role within the expansive landscape of the beverage industry, contributing to a variety of products that appeal to the taste buds of consumers. Its significance stems from its unique attributes and versatile applications.
Apple juice concentrate serves as a concentrated essence of the natural, sweet, and slightly tangy flavor profile of apples. This concentrated form allows manufacturers to infuse beverages with a distinct apple taste that can range from subtly refreshing to boldly fruity. The versatile nature of apple juice concentrate permits its incorporation into an array of beverage categories, including juices, nectars, blends, smoothies, sodas, flavored water, and even alcoholic drinks like ciders and cocktails.
Apple juice concentrate makes an excellent ingredient for flavor and blends. It can be used to sweeten and enhance the flavor of beverages without needing to add excessive amounts of sugar. Additionally, its mild acidity can help balance the taste of sweeter fruits or ingredients in complex beverage formulations.
Competitive Landscape
The competitive landscape of the apple juice concentrate market is marked by a diverse array of players vying for market share and consumer attention. These entities, ranging from large multinational corporations to regional producers, collectively shape the market dynamics.
Recognizable brands with a long-standing presence in the beverage industry often have a strong foothold in the apple juice concentrate market. Their established reputation, distribution networks, and consumer loyalty can give them a competitive advantage.
In March 2019, Coca-Cola India, a subsidiary of the renowned beverage conglomerate Coca-Cola, unveiled an innovative sub-brand known as Minute Made Apple Sparkle. This addition was made under the overarching brand name Minute Made. The newly introduced Minute Made Apple Sparkle stands as a sparkling apple juice, meticulously crafted from the finest Kashmiri apples and apple concentrates.
Know thy Competitors
Competitive landscape highlights only certain players
Complete list available upon request
Key Segments of Apple Juice Concentrate Industry Research
By Type :

Cloudy
De-ionized
Clarified

By Application :

Fruit Juices
Tea
Beverages
Food Products

By Distribution Channel :

By Processing Method :

By Region :

North America
Latin America
Europe
Asia Pacific
Middle East & Africa
- FAQs -
The global apple juice concentrate market is valued at US$ 7.8 billion in 2023.
Worldwide demand for apple juice concentrate is set to increase at a CAGR of 5.2% from 2023 to 2033.
Global sales of apple juice concentrate are set to reach US$ 13 billion by 2033.
Europe accounts for a global market share of 44% in 2023.
Clarified apple juice concentrate accounts for 58% market share in 2023.
Sales of apple juice concentrate in France are projected to rise at 6.1% CAGR through 2033.