Organic Foods & Beverages Market Outlook (2022-2032)
The value of the global organic foods & beverages market is US$ 258 billion in 2022, which is projected to reach US$ 970 billion by 2032-end, expanding at a high-value CAGR of 14.1% through 2032.
Organic foods & beverages generally refer to agricultural products that are cultivated or produced with the use of organic farming practices. Further, organic farming includes certain practices that maintain the ecological balance, conserve biodiversity, and recycle resources.
There is rising awareness related to health among global people. In addition, growing consciousness regarding health benefits that are provided due to the intake of organic foods and beverages is likely to stimulate demand for organic beverages. Growing awareness of environmental difficulties and risks that are related to the consumption of unclean or inorganic chemicals will propel the demand for organic food products.
During the outbreak of the COVID-19 pandemic, there was a disruption in the demand and supply across underdeveloped, developed, and developing nations. The pandemic allowed people to recognize and introspect the ill effects of inorganic products. As such, in the post-pandemic period, people are resorting to living a healthier lifestyle, which includes higher consumption of organic or natural food products.
There is an increase in the number of different chronic diseases that include diabetes, cardiac issues, and cancer. This has made people focus on their diets, which is also likely to contribute to higher organic food and beverage demand. Governments across the world are increasing their involvement through initiatives to make a differentiation between false and actual labeling. This is also helpful in driving people to consume organic foods. Owing to such initiatives, people give more preference to organic food products as compared to inorganic food products. Organic products are considered better in taste, more nutritious, and safer as compared to conventional food items.
Increasing popularity of non-GMO (Genetically Modified Organisms) products across the world is expected to drive growth opportunities for organic food & beverage manufacturers over the coming years.
Report Attributes

Details

Organic Foods & Beverages Market Size (2022)

US$ 258 Billion

Estimated Market Value (2032)

US$ 970 Billion

Anticipated Growth Rate of Global Market (2022-2032)

14.1% CAGR

Projected Growth Rate of Online Distribution Channels (2022-2032)

13.8% CAGR

Expected CAGR of the Germany Market (2022-2032)

10.3%

Key Companies Profiled

Albertsons Companies, Inc.
The J.M. Smucker Co.
Belvoir Fruit Farms Ltd.
Organic Valley
Danone S.A.
Newman's Own
Hain Celestial Group, Inc.
Don't Need a Global Report?
Save 40% on Country & Region specific reports
Which Factors are Estimated to Increase Demand for Organic Food & Beverages?
"Changing Lifestyles Leading to Rising Consumption of Organic Foods"
In recent years, the lifestyle of people is constantly changing. They are becoming conscious of their health and give more preference to organic food & beverages compared to other confectionary food, for instance, there is a noticeable increase in the consumption of organic food products in France with a motive of health benefits.
The key reason for the growing use of these organic food beverages is their production with the use of natural ingredients. In addition, these products do not contain any type of preservatives. Even, animal-based products that include chicken and meat are also GMO-free.
The sales growth in the industry is reaching new heights with the emerging demand for various organic food. People have a strong desire to lead an improved lifestyle. They are becoming aware of the harmful effects of different synthetic ingredients.
There are a lot of health risks associated with the regular consumption of traditional foods as they contain synthetic chemicals including antibiotics and pesticides in plants and animals.
As per estimates by the USDA (U.S. Department of Agriculture), more than 16 million hectares or 39 million acres were under the management of organic agriculture by 2021 in the U.S.
"Increased Government Participation to Increase Awareness about Clean Label Products"
Governments around the world are participating at an increased rate to increase awareness about the difference between legitimate labeled products and false ones. Further, governments are also issuing certain guidelines to bar the use of growth hormones, pesticides, chemicals, and some other synthetic chemicals.
The government of India is also taking efforts to encourage organic farming and offers various incentives to cultivators of these organic products. To provide these facilities, the NHM (National Horticulture Mission) was also established by the Indian government. Farmers are also provided with some specific grants to encourage the farming of organic food products.
"Negative Impacts of Conventional Farming Practices Driving Adoption of Biological Farming"
There are a lot of negative effects of conventional farming practices instead of providing positive results. Further, water contamination in oceans has also been one of the after-effects of traditional farming. In addition, dead zones, expensive cleanups, rampant human diseases, degrading soil fertility, and pesticide-resistant pests are some other adverse effects of this traditional farming.
The market of organic foods & beverages is likely to experience positive influence with regulatory support for the conduction of biological farming along with regulations of supply trade over the long term. Further, the intensification of conventional farming systems has generated a requirement for the use of organic farming methodologies to maintain the health of the soil in the longer run.
How is Demand Growth for Organic Foods & Beverages Being Dented?
"High Cost of Production of Organic Foods"
Players need to invest a handsome amount for the production and operation of organic food products. Further, the high pricing of products limits the adoption of these products. In addition, the economic factors lead to limited production and innovation in the industry that further resulting in the availability of limited options for people to choose from.
The shorter shelf life of industry products further increases the requirement to spend an additional amount to extend the shelf life of these organic foods. Furthermore, the high logistics, packaging, and distribution cost of natural and organic foods and beverages is estimated to restrict the adoption of these products.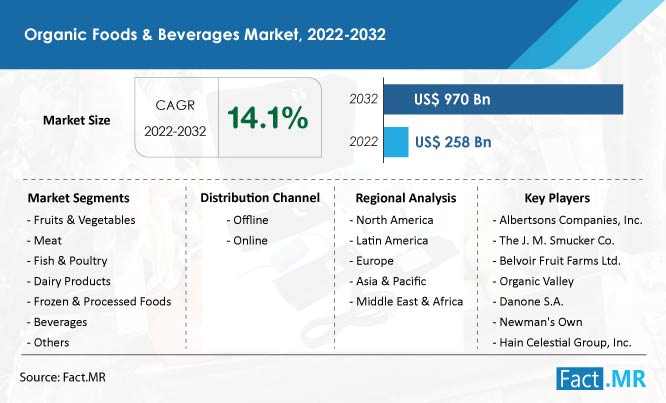 How can Start-ups Gain Profits in the Organic Foods & Beverages Space?
"Development of Sustainable Products & Services – The Way to Go"
Lots of organizations around the world are taking efforts to develop sustainable products and services owing to rising awareness about reverse climate changes that directly impact human health.
For instance :
Planet Cents, Inc. was established in 2019 in Clearlake, CA. The start-up is at its seed stage and likely to hold a noticeable share in the B2C/B2B sustainable products and services. The company provides a wide array of sustainable products & services to different businesses and individuals.
The company utilizes its sustainable purchasing against climate change while providing organizations with a measurable way to stimulate consumers, investors, employees, and partners & suppliers to adopt natural or organic products.
More Insights, Lesser Cost (-50% off)
Insights on import/export production,
pricing analysis, and more – Only @ Fact.MR
Which Regional Market Dominates the Organic Foods & Beverages Landscape?
"Asia Pacific Enjoys the Presence of Key Manufacturers"
The market in Asia Pacific is likely to grow at the fastest rate owing to the presence of key manufacturers that includes China and India in the region. Rising awareness about the health benefits of different organic food & beverages along with advancements in the techniques of biological farming is likely to stimulate organic food sales.
Per capita consumption of these organic fruits and vegetables was around 105.5 kilograms, as per the data provided by the National Bureau of Statistics of China. Further, the annual production of vegetables and fruits is more than 191.77 million metric tons, and 99.07 million metric tons respectively in India according to data provided by APEDA (Agricultural and Processed Food Products Export Development Authority).
These above-mentioned countries contribute with the highest population and have a noticeable tendency to produce organic food & beverages due to increasing demand for these products.
Country-wise Insights
Will China Provide Lucrative Business Opportunities for Organic Food & Beverage Suppliers?
"Growing Demand for Ready-to-eat Food Products among Working-Class in China"
Owing to the increasing trend of ready-to-eat food by the working-class population along with rising millennia in nations including Japan, India, and China is likely to stimulate organic foods & beverages sales. Moreover, the rising demand for frozen food due to lesser preparation and cooking time is estimated to contribute to regional market growth.
The market of Japan is anticipated to progress at a significant CAGR of 12.6% through 2032. Moreover, the China market is estimated to grow at the fastest speed with a CAGR of 13.5% during the forecast period ending in 2032.
The South Korea market is likely to grow at a significant speed in the coming years.
What's Driving Growth Opportunities in the US Organic Foods & Beverages Market?
"High Availability of Farmlands for Organic Farming in the U.S."
The valuation of the U.S. market is US$ 59 billion in 2021 due to the availability of farmlands for organic farming which has further forced regulators to adopt framing supportive policies. These policies are further helping to increase the production of organic foods.
The U.S. market is also estimated to grow at a noticeable speed with the unique advantages associated with these organic food products. Residue-free, zero chemical, eco-friendly, and healthier compared to traditional foods are some popular advantages of these products.
The market of Canada is projected to expand at a CAGR of 12% through 2032.
What is the Future of Organic Food Products in Germany?
"Rising Health Consciousness Driving Consumption of Organic Beverages & Foods"
The Europe market is estimated to grow at a noteworthy speed in the years to come with the rising adoption of natural or organic food products owing to rising health consciousness.
The market of Germany is anticipated to progress at a CAGR of 10.3% through 2032.
Category-wise Insights
Why are Fruits and Vegetables Gaining Traction in the Global Market?
"Demand for Organic Fruits & Vegetables Surging Due to Rising Health-consciousness"
Based on product, the market is classified into fruits & beverages, meat, fish & poultry, dairy products, frozen & processed foods, beverages, and other segments. Among these, fruits & vegetables have emerged as the prominent section with more than 40% share of the market revenue.
Developed regions including Europe and North America initiated the trend to adopt organic vegetables. Now, in the present time, developing economies are also inclined to use organic food products owing to rising health consciousness. In addition, growing concerns related to artificial preservatives and additives are predicted to stimulate the demand for these food products in the coming years.
Why are Offline Sales Channels Still Ruling the Global Market?
"Offline Distribution Channels Have Strong Portfolios of Branded & Domestic Products"
The industry of organic foods & beverages is classified into online and offline distribution channels. Between these two, offline channels of distribution held more than 65% share of the global market in 2021. This dominance is attributed to a broad portfolio of domestic as well as branded products. Club stores, franchisee stores, specialty stores, and hypermarkets/supermarkets are parts of offline stores.
The convenience provided by offline distribution channels and their capability to stock some popular brands are likely to supplement growth opportunities in the global market. Further, the growing number of supermarket & hypermarket chains along with the altering retail landscape, especially in developing nations are bolstering sales of organic foods & beverages through this channel.
The online channels of distribution are expected to progress at a CAGR of 13.8% through 2032. These online channels with contribute to the market growth with increasing internet penetration along with target marketing by companies to extend their reach to consumers. Moreover, the trend of online sales and subscription boxes toward online produce is likely to put positive impacts on market growth.
A significant increase in the penetration of online food delivery platforms and online groceries coupled with the rising adoption of smartphones is further predicted to trigger online distribution channels.
Competitive Landscape
Some of the key initiatives that are taken to increase the sales of organic foods & beverages include :
Danone acquired Your Heart in February 2021. Your Heart is a prominent plant-based pioneer player. The objective of this acquisition is to expand business along with the introduction of different organic products to match the rising market demand. Further, Danone is also trying to maintain its dominance in the global market.
General Mills Inc. in the year 2021 acquired Tyson Foods which is an American multinational corporation. The latter is the second-largest marketer as well as the processor of pork, beef, and chicken around the globe. Reshaping the company portfolio is one of the key strategies behind this acquisition for business expansion.
Amy's Kitchen in April 2020 launched new gluten-free pizzas that are packed with vegetables. These newly launched pizzas feature crust that is made from broccoli, sweet potato, and organic cauliflower topped with slow-simmered mozzarella cheese and tomato sauce. These pizzas are also available in spinach and cheese varieties.
Key providers of organic foods & beverages include Albertsons Companies, Inc., The J.M. Smucker Co., Belvoir Fruit Farms Ltd., Organic Valley, Danone S.A., Newman's Own, and Hain Celestial Group, Inc.
Segmentation of Organic Foods & Beverages Market
By Product :

Fruits & Vegetables
Meat
Fish & Poultry
Dairy Products
Frozen & Processed Foods
Beverages
Others

By Distribution Channel :

By Region :

North America
Europe
Asia Pacific
Latin America
Middle East & Africa