Benzyl Chloride Market
Benzyl Chloride Market Analysis by Application (Benzyl Alcohol, Benzyl Cyanide, Benzyl Quaternary Ammonium Compounds, Benzyl Phthalate, Benzyl Ester, Others), By End Use (Personal Care, Pharmaceuticals, Paints & Coatings, Agrochemicals, Others), By Region – Global Market Insights 2023 to 2033
Analysis of Benzyl Chloride Market Covering 30+ Countries Including Analysis of US, Canada, UK, Germany, France, Nordics, GCC countries, Japan, Korea and many more
Benzyl Chloride Market Outlook (2023 to 2033)
The global benzyl chloride market is valued at US$ 97 million in 2023 and is forecasted to reach US$ 140 million by the end of 2033, expanding at a CAGR of 3.5% through 2033.
Benzyl chloride (chlorotoluene) is an organic compound with a strong odor. It has an odor threshold of 0.041 ppm. Benzoic acid is a clear liquid that can cause tears in the eyes. It is utilized in the production of various products such as plasticizers, colors, medicines, resins, and cosmetics. The odor threshold of benzyl chloride can vary greatly from that of other elements.
Benzyl chloride is commonly used in the production of benzyl alcohol, which finds its way into various products such as pharmaceuticals, natural health remedies, flavorings, textile colors, solvents, and cosmetics. This increasing demand for benzyl alcohol implies a corresponding rise in the need for benzyl chloride. The benzyl chloride market size is thus crucial. The chemical compound 4-vinyl benzyl chloride is a bifunctional molecule containing functional groups for both vinyl and benzylic chloride.
The gas-phase photochemical reaction between toluene and chlorine produces benzyl chloride, which can be utilized to modify the characteristics of molecules by introducing a benzyl functionality. Benzyl chloride finds applications in various industries, including healthcare, water and wastewater treatment, food and beverages, and consumer products. It is used to produce plasticizers and sanitizing surfactants.
Benzyl chloride is an essential component of skincare products and finds widespread use in the skincare sector. It is also used in the plastics sector because of its ability to provide essential physical qualities during the manufacturing process. The expanding market for plastics is expected to drive the demand for benzyl chloride in the foreseeable future.
Benzyl alcohol is a precursor of aspartame and is utilized in agrochemicals, medicines, and epoxy hardeners. An organic ester called benzyl acetate is created when acetic acid and benzyl alcohol condense. In addition to being a precursor for benzophenone and other UV stabilizers, agrochemicals, and pharmaceutical applications, benzo trichloride is used to make benzoyl chloride.
Under the brand name AE OrganometallicsTM, American Elements produces a large number of organometallic compounds, including benzyl magnesium chloride.
The most significant use of benzoyl chloride is in the creation of benzoyl peroxide, which is utilized as an initiator in the polymer sector. Benzoyl chloride is used in the pharmaceutical industry, as a precursor for agrochemicals and benzophenone. Ortho-chlorobenzyl chloride is also a fundamental component of many agrochemical formulations.
In June 2019, Valtris Specialty Chemicals made a significant investment in the expansion of its manufacturing capacity for benzyl derivatives. The company increased production capacity at its advanced facilities located in Tessenderlo, Belgium, and Maastricht, the Netherlands.
Report Attributes

Details

Market Size in 2022

US$ 93.6 Million

Estimated Market Value (2023)

US$ 97 Million

Forecasted Market Value (2033)

US$ 140 Million

Global Market Growth Rate (2023 to 2033)

3.5% CAGR

Market Share of Benzyl Alcohol (2023)

50%

Companies Profiled

Shimmer Chemicals Pvt. Ltd.
The Chemical Company
Henan Haofei Chemical Co
LANXESS
Charkit Chemical Company LLC,
Valtris Specialty Chemicals Limited
Finar Limited
Lanxess India Private Limited
Don't Need a Global Report?
save 40%! on Country & Region specific reports
What are the Factors Driving High Demand for Benzyl Chloride?
"Increasing Utilization of Compounds Containing Benzyl Chloride as Chemical Intermediates"
The use of compounds containing benzyl chloride as chemical intermediates is increasing. Benzyl ammonium quaternary compounds are in high demand, and leading companies are expanding their production capacities in response to this demand. This presents a crucial opportunity for the market to sustain its momentum and generate higher sales during the projected period.
Benzyl derivatives are used in the production of plasticizers, sanitizers, oil extraction materials, medicines, agrochemicals, biocides, dyes and pigments, heat-exchanging fluids, tastes and scents, benzyl alcohol, and specialty compounds.
Valtris provides the chemical industry with this vital intermediate for organic synthesis reactions. The high reactivity of benzyl chloride enables its addition to various compounds.
"Benzyl Chloride - Valuable Intermediate for Pharmaceutical Manufacturing"
Benzyl chloride is a common intermediate used in the pharmaceutical industry for the synthesis of various active pharmaceutical ingredients (APIs). It is widely used in the production of benzyl alcohol, which is a key intermediate in the synthesis of many pharmaceuticals, including benzylpenicillin, cephalosporins, and carbapenems.
Benzyl chloride is also used in the production of benzyl cyanide, which is a starting material for the synthesis of the antidepressant drug, desipramine. Additionally, benzyl chloride is used in the synthesis of the antihistamine drug, pheniramine, and the local anesthetic, procaine.
Furthermore, benzyl chloride is used in the production of benzylamines, which are used as intermediates in the synthesis of various pharmaceuticals, including antihistamines, antidepressants, and antipsychotics. Overall, benzyl chloride plays an important role in the pharmaceutical industry as a versatile intermediate in the synthesis of various APIs.
What are Some Strategies that Start-ups Can Adopt to Expand Their Presence in This Market?
"Increasing Focus on Sustainable Practices for Production of Benzyl Chloride"
In recent years, there has been a surge in start-ups focusing on developing alternative and sustainable methods for producing benzyl chloride. These start-ups are exploring innovative ways to produce benzyl chloride, such as using renewable feedstocks like biomass or waste streams. They are developing novel synthetic pathways that minimize waste and reduce energy consumption.
To expand their market presence, new companies can undertake various strategies such as research and development, entering new geographic regions, diversifying their product range, forming strategic partnerships, and adopting sustainable business practices. The emergence of startups focused on producing benzyl chloride through more sustainable methods presents an opportunity for companies to offer eco-friendly and cost-effective alternatives to conventional benzyl chloride production techniques.
It is important to recognize that the benzyl chloride market is currently dominated by established players, making it challenging for new entrants to achieve scalability, comply with regulations, and gain market acceptance. With the increasing demand for benzyl chloride, there may be opportunities for innovative start-ups to establish a unique position in the market.
More Insights, Lesser Cost (-50% off)
Insights on import/export production,
pricing analysis, and more – Only @ Fact.MR
What are the Major Hindrances to the Wider Adoption of Benzyl Chloride?
"Stringent Regulations Governing Use of Benzyl Chloride Due to Its Carcinogenic Properties"
Benzyl chloride is an odorless, fuming organochlorine liquid chemical that is primarily produced by converting benzo trichloride to benzoic acid or water. The regulations surrounding its usage pose a sustainability challenge due to its carcinogenic properties. Major industry players are currently examining national regulations to modify or enhance the production of benzyl chloride products for their target markets.
"Safety Concerns Associated with Toxicity of Benzyl Chloride Hindering Adoption Its Derivatives"
According to medical experts from various countries, the use of benzyl chloride in products raises health concerns. To ensure safety for human use in cosmetics, paints, and similar applications, most products containing benzyl chloride are either banned or subjected to additional regulation and dilution. However, demand for products containing benzyl chloride may be negatively affected by their adverse effects, such as respiratory problems, throat infections, and eye irritation.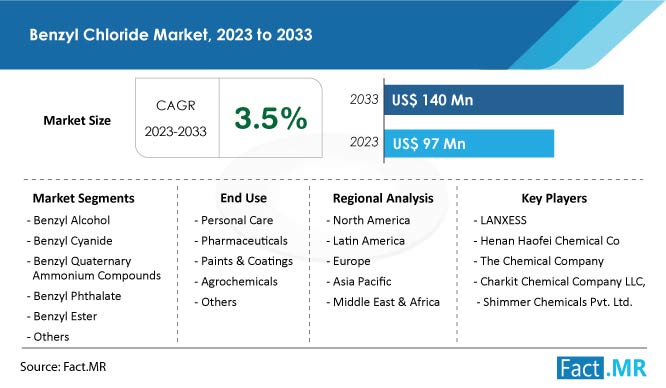 Country-wise Insights
Why are China and India Lucrative Markets for Manufacturers of Benzyl Chloride?
"Growing Demand for Benzyl Chloride-derived Benzyl Alcohol from Paints & Coatings Industry"
Asia Pacific is predicted to account for a leading share of the benzyl chloride market in 2033. India and China collectively account for 71% of the global demand for benzyl chloride in 2023. These are the two markets where consumption of benzyl chloride will increase steadily over the coming years.
There has been a significant increase in the production of benzyl alcohol using benzoyl chloride, especially in mainland China and India. Demand for benzyl alcohol is growing rapidly in mainland China for use in solvents, perfumes, flavors, and personal care items, and as a diluent for epoxy resin. The taste and fragrance industry uses Florazone to produce ozone, aquatic, and floral scents such as lily. Ethyl benzyl chloride (EBC) is utilized in the manufacturing process of Florazone.
Benzyl alcohol finds frequent usage in the production of sealants, adhesives, varnishes, paints, and other items. The paints and coating sector in China and India, which employs benzyl alcohol, is anticipated to grow at a CAGR of approximately 6% over the forecast period. This is due to the predicted substantial expansion in construction activities in China and India.
What are the Major Applications of Benzyl Chloride in the United States?
"High Demand for Biocides and Personal Care Products Containing Benzyl Quats"
The United States has the most developed personal care market in North America. To meet the rising demand, the major corporations in the country are concentrating on increasing their production capacities and creating new products.
Benzoyl chloride is also widely used in the production of quaternary benzyl ammonium chloride, commonly known as benzyl quats. This industry is significant on a global scale and is expected to continue growing, particularly in the United States, due to the increasing use of benzyl quats in biocides, oil and gas applications, personal care products, and other categories.
The high sales of benzyl chloride in North America are driven by the presence of established players in the region and the growing demand for personal care and home care products, as well as water treatment and wastewater management.
Know thy Competitors
Competitive landscape highlights only certain players
Complete list available upon request
Category-wise Insights
How is Benzyl Chloride Being Used in the Paints & Coatings Industry?
"Wide Utilization of Benzyl Chloride-Derived Benzyl Alcohol as Coalescing Agent"
The paints and coatings sector is capitalizing on the full potential of the benzyl chloride market, which is being driven by the increasing demand for benzyl alcohol, a key ingredient in various industries.
Demand for benzyl chloride is expected to grow in the projected period, driven by its wide utilization in the production of benzyl alcohol, which is in high demand from the paints and coatings sector. Benzyl alcohol is used as a solvent, viscosity reducer, and coalescing agent in the paints and coatings industry.
Benzoyl peroxide, which is derived from benzyl chloride, has been classified as an essential treatment for acne by the World Health Organization for over-the-counter use.
Benzyl alcohol accounts for a market share of 50% in 2023.
How is Benzyl Alcohol Being Utilized in the Production of Fragrances?
"High Demand for Benzyl Alcohol Due to Its Extended Shelf Life"
Sales of benzyl alcohol are expected to increase due to the growing demand for its use in essential oils derived from hyacinth, jasmine, and ylang-ylang. The use of benzyl alcohol is expected to increase in research studies conducted in laboratories and chemical research facilities.
Demand for benzyl alcohol is increasing due to its long shelf life and ability to enhance product formulations, thereby driving adoption.
Competitive Landscape
The global market for benzyl chloride is dominated by a few major players, resulting in a highly consolidated competitive landscape. Key suppliers of benzyl chloride are forming strategic partnerships to expand their product portfolios and establish a strong presence in the global market.
Leading manufacturers of benzyl chloride include Merck KGaA, Elan Chemical Company, Inc., Alfa Aesar, Valtris Specialty Chemicals Limited, and Lanxess India Private Limited.
Key Segments of Benzyl Chloride Industry
By Application :

Benzyl Alcohol
Benzyl Cyanide
Benzyl Quaternary Ammonium Compounds
Benzyl Phthalate
Benzyl Ester
Others

By End Use :

Personal Care
Pharmaceuticals
Paints & Coatings
Agrochemicals
Others

By Region :

North America
Latin America
Europe
Asia Pacific
Middle East & Africa
- FAQs -
The global benzyl chloride market is valued at US$ 97 million in 2023.
Benzyl alcohol accounts for 50% share of the global market in 2023.
Demand for benzyl chloride is set to increase at a CAGR of 3.5% from 2023 to 2033.
Worldwide sales of benzyl chloride are expected to reach US$ 140 million by 2033.
Shimmer Chemicals, The Chemical Company, and Lanxess are key manufacturers of benzyl chloride.