Bioabsorbable Implant Market
Bioabsorbable Implant Market By Product Type (Stents, Biological Meshes, Fixation Devices), By Material (Metallic, Ceramic, Polymers), By Application (Orthopedic, Cardiovascular), By End User (Hospitals, Ambulatory Surgical Centers, Specialty Clinics) and By Region - Global Market Report (2024 to 2034)
Analysis of Bioabsorbable Implant Market Covering 30+ Countries Including Analysis of US, Canada, UK, Germany, France, Nordics, GCC countries, Japan, Korea and many more
Bioabsorbable Implant Market Outlook (2024 to 2034)
The global bioabsorbable implant market size is calculated at US$ 664.8 million for the year 2024 and is forecasted to reach US$ 836.5 million by the end of 2034. Worldwide sales of bioabsorbable implants are predicted to increase at a CAGR of 2.3% between 2024 and 2034.
A bioabsorbable implant, also known as a biodegradable implant or resorbable implant, is a medical device designed to be absorbed by the body over time. These implants are typically made from materials that can naturally break down and be assimilated by the body's biological processes, eliminating the need for surgical removal once their intended purpose is served. Bioabsorbable implants are used in various medical fields, including orthopedics, cardiovascular surgery, dentistry, and tissue engineering.
Bioabsorbable implants can reduce complications associated with permanent implants, such as inflammation, infections, and the need for additional surgeries to remove the implant. With an increasing aging population globally, there is a higher demand for medical devices that address age-related health issues. Bioabsorbable implants are often used in orthopedic procedures, which are more common among older individuals.
Sales of bioabsorbable stents are estimated at US$ 180 million in 2024 and are forecasted to reach US$ 234.19 million by 2034-end, advancing at a CAGR of 2.7% over the decade.
Designed to gradually dissolve over time, bioabsorbable stents eliminate the need for permanent metallic implants. This reduces the risk of long-term complications associated with permanent stents, such as in-stent restenosis and thrombosis. Bioabsorbable stents allow for natural vessel healing. As the stent dissolves, the vessel can return to its normal function without a foreign object permanently altering the arterial structure.
Permanent metallic stents may be associated with late stent thrombosis, a rare but severe complication. Bioabsorbable stents aim to minimize this risk, contributing to improved patient outcomes. Bioabsorbable stents are particularly appealing for use in younger patients, where the long-term impact of permanent metallic stents may be a concern over their lifespan.
Ongoing advancements in materials science and stent design are also contributing to the development of bioabsorbable stents with improved mechanical properties, making them more effective in maintaining vessel patency during the healing process.
Report Attributes
Details
Bioabsorbable Implant Market Size (2024E)
US$ 664.8 Million
Forecasted Market Value (2034F)
US$ 836.5 Million
Global Market Growth Rate (2024 to 2034)
2.3% CAGR
North America Market Share (2034F)
58.5%
East Asia Market Growth Rate (2024 to 2034)
4.7% CAGR
Fixation Devices Segment Share (2034F)
38.4%
Key Companies Profiled

Boston Scientific Corporation
Johnson & Johnson (DePuy Synthes)
Medtronic Plc
Smith & Nephew Plc
Stryker Corporation
KARL STORZ
OSSIO
Corbion NV
Evonik Industries AG
Poly-Med Inc.
Foster Corp.
Abbott
KLS Martin Group
3D Biotek LLC.
Sunstar Suisse S.A.
Futerro
Don't Need a Global Report?
save 40%! on Country & Region specific reports
How are Advancements in Material Science Influencing Bioabsorbable Implant Sales?
"Enhanced Mechanical Properties and Biocompatibility of Bioabsorbable Implants"
Ongoing advancements in material science stand as a driving force behind the evolution of the bioabsorbable implant market. Researchers and manufacturers are fervently exploring and refining materials to create innovative bioabsorbable implants that exhibit enhanced mechanical properties and biocompatibility. This relentless pursuit of improved materials is crucial for addressing the diverse needs of patients and expanding the applications of bioabsorbable implants.
Advancements in material science are leading to the discovery and utilization of biocompatible materials that seamlessly integrate with the human body. These materials are carefully engineered to minimize immune responses and promote the implant's assimilation into the surrounding tissues, reducing the risk of adverse reactions.
Integration of multifunctional materials is also a noteworthy trend in material science. These materials may serve dual purposes, such as providing structural support while simultaneously releasing therapeutic agents or acting as carriers for imaging contrast agents. This multifunctionality broadens the potential applications of bioabsorbable implants and is set to drive bioabsorbable implant market growth over the coming years.
"Focus on Development of Bioabsorbable Implants with Customizable Degradation Rates"
Innovations in material science enable the customization of degradation rates for bioabsorbable implants. Researchers can now tailor the rate at which the implant breaks down based on factors such as the patient's healing process, the specific medical application, and the desired therapeutic outcome. This level of customization allows for a more precise match between the implant's lifespan and the patient's healing timeline.
"Use of Bioabsorbable Implants in Minimally Invasive Surgeries for Reduced Tissue Trauma"
Paradigm shift toward minimally invasive surgeries is becoming a cornerstone in modern healthcare, and this shift is significantly influencing the demand for bioabsorbable implants. The intrinsic compatibility between bioabsorbable implants and the objectives of minimally invasive procedures positions them as pivotal components in achieving reduced invasiveness and faster patient recovery.
Minimally invasive surgeries, including laparoscopic, endoscopic, and arthroscopic procedures, are characterized by smaller incisions, reduced tissue trauma, and the use of specialized instruments and cameras. These techniques aim to minimize disruption to surrounding tissues, decrease postoperative pain, and expedite recovery compared to traditional open surgeries.
Bioabsorbable implants are well suited for minimally invasive procedures due to their ability to provide necessary support and stabilization while gradually being absorbed by the body. This aligns with the fundamental goal of minimizing tissue trauma, as bioabsorbable implants eliminate the need for a second surgery to remove permanent implants, a common feature in traditional open surgeries. In orthopedic and cardiovascular surgeries bioabsorbable implants are gaining prominence.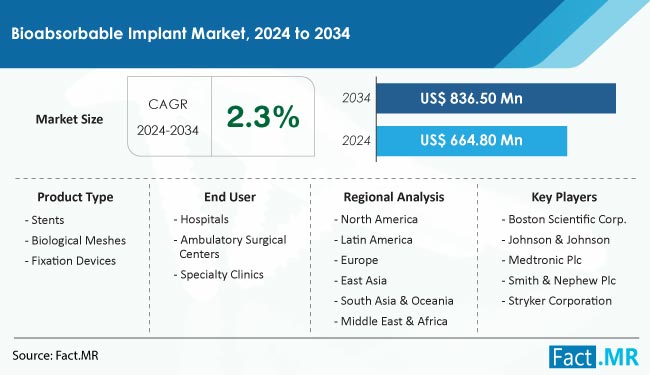 Will Affordability Issues Challenge Revenue Growth of Bioabsorbable Implant Manufacturers?
"Specialized Manufacturing Processes Increasing Cost of Bioabsorbable Implants"
While bioabsorbable implants offer several advantages, a significant challenge that looms over their widespread adoption is the substantial cost associated with their development and manufacturing. This financial burden poses hurdles for all manufacturers, patients, and healthcare systems, influencing the affordability and accessibility of these advanced medical devices.
Manufacturing processes for bioabsorbable implants are often complex and require specialized equipment and expertise. Implementing these advanced manufacturing techniques adds to the overall cost, making the production of bioabsorbable implants more resource-intensive than that of traditional implants. Patients with low budgets often refuse going undergo bioabsorbable implant surgeries due to their high costs.
More Insights, Lesser Cost (-50% off)
Insights on import/export production,
pricing analysis, and more – Only @ Fact.MR
How are New Companies Staying Competitive in This Market?
"Collaborations Facilitating Production of Innovative Bioabsorbable Implants"
Entering the market can be a rewarding endeavor for new companies, considering the increasing demand for innovative medical solutions, which is playing a key role in the realm of bioabsorbable implant market trends. To establish a foothold and maximize earning potential, new companies can adopt a comprehensive set of strategies tailored to the unique challenges and opportunities in the bioabsorbable implant space.
Partnering with established medical device manufacturers, research institutions, or healthcare providers can provide newcomers with valuable resources, expertise, and market insights. Collaborations enable the sharing of knowledge, distribution channels, and research capabilities, accelerating market entry.
New companies can prioritize investments in research and development to create bioabsorbable implants with unique features, enhanced performance, and competitive advantages. Continuous innovation can allow newcomers to differentiate their products in a competitive market and meet evolving healthcare needs.
Country-wise Analysis
As per the detailed study by Fact.MR, a market research and competitive intelligence provider, bioabsorbable implant sales in the United States, Germany, and Japan are driven by a combination of factors such as the prevalence of chronic diseases, regulatory environments, technological advancements, patient preferences, and investment in research and development. Each country's unique healthcare landscape and cultural factors contribute to the specific dynamics shaping market growth.
What is Influencing Sales of Bioabsorbable Implants in the United States?
"Growing Prevalence of Chronic Diseases and Favorable Regulatory Environment"
| Attribute | United States |
| --- | --- |
| Market Value (2024E) | US$ 292.5 Million |
| Growth Rate (2024 to 2034) | 4.3% CAGR |
| Projected Value (2034F) | US$ 443.7 Million |
The United States is witnessing a significant prevalence of chronic diseases such as cardiovascular conditions and orthopedic issues. Bioabsorbable implants, particularly in cardiovascular and orthopedic applications, are gaining traction due to their innovative nature and potential to improve patient outcomes.
The regulatory landscape in the United States is also relatively favorable for bioabsorbable implants, with clear guidelines and pathways for approvals. This facilitates the introduction of new bioabsorbable implants and technologies into the market, thus contributing to their sales.
What is the Demand Outlook for Bioabsorbable Implants in Germany?
"Market Benefiting from Strong Healthcare Infrastructure and Focus on R&D"
Germany boasts a robust healthcare infrastructure and a tradition of high-quality medical care. Demand for advanced medical technologies, including bioabsorbable implants, is supported by the country's well-established healthcare system.
Strong emphasis on research and development in the medical field and the country's commitment to innovation are driving the creation of next-generation bioabsorbable materials and implant designs, thereby positioning German manufacturers at the forefront of the global market.
How is the Market in Japan Shaping Up?
"Expanding Aging Population with Chronic Health Conditions"
| Attribute | Japan |
| --- | --- |
| Market Value (2024E) | US$ 48.6 Million |
| Growth Rate (2024 to 2034) | 5.2% CAGR |
| Projected Value (2034F) | US$ 80.6 Million |
Japan has a large proportion of elderly citizens. This is leading to a high prevalence of cardiovascular and orthopedic conditions, creating a substantial market for bioabsorbable cardiovascular and orthopedic implants as an alternative to traditional stents.
Know thy Competitors
Competitive landscape highlights only certain players
Complete list available upon request
Category-wise Analysis
The high demand for polymer-based bioabsorbable implants is driven by their biocompatibility, controlled degradation, mechanical strength, versatility, and other unique properties, which make them well suited for a wide range of medical applications.
Which Type of Bioabsorbable Implant is Gaining Traction?
"High Demand for Polymer-based Implants Driven by High Strength and Flexibility"
| Attribute | Polymer Bioabsorbable Implants |
| --- | --- |
| Segment Value (2024E) | US$ 397 Million |
| Growth Rate (2024 to 2034) | 2.5% CAGR |
| Projected Value (2034F) | US$ 505.37 Million |
Polymers play a central role in bioabsorbable implants, and ongoing research initiatives are focused on refining and developing new polymer formulations. Biodegradable polymers, such as polylactic acid (PLA), polyglycolic acid (PGA), and their copolymers, are being modified to enhance their strength, flexibility, and degradation characteristics, contributing to the overall performance of bioabsorbable implants.
The degradation rate of polymer-based bioabsorbable implants can be tailored by adjusting the composition and structure of the polymer. This customization allows healthcare professionals to choose materials that match the specific healing timeline of each patient.
Competitive Landscape
Key players in the bioabsorbable implant market are employing several strategies to enhance their market position and drive revenue growth. Partnerships, collaborations, new product offerings, technological advancements, and a deep understanding of customer needs are all crucial for them to increase their bioabsorbable implant market share.
In 2021, DePuy Synthes, a division under the umbrella of Johnson & Johnson, completed the acquisition of OrthoSpin, a notable Israel-based firm recognized for its expertise in developing a robotic-assisted external fixation system tailored for orthopedic interventions. This strategic move was orchestrated through the DePuy Synthes GmbH affiliate, underscoring the company's commitment to advancing orthopedic solutions through innovative technologies and expanding its global portfolio.
Key Segments of Bioabsorbable Implant Market Research
By Product Type :

Stents
Biological Meshes
Fixation Devices
Others

By Material :

Metallic
Ceramic
Polymers
Others

By Application :

Orthopedic
Cardiovascular

By End User :

Hospitals
Ambulatory Surgical Centers
Specialty Clinics

By Region :

North America
Latin America
Europe
East Asia
South Asia & Oceania
Middle East & Africa
- FAQs -
The global bioabsorbable implant market is estimated at US$ 664.8 million in 2024.
Sales of bioabsorbable implants in the United States are calculated at US$ 292.5 million for 2024.
Worldwide sales of bioabsorbable implants are projected to reach US$ 836.5 million by 2034-end.
The market for bioabsorbable implants is predicted to expand at a CAGR of 2.3% from 2024 to 2034.
Demand for polymer-based bioabsorbable implants is projected to reach a market value of US$ 505.37 million by 2034.