Cigarette Paper Market
Cigarette Paper Market By Type (Cigarette Tissue, Plug Wrap Paper, Tipping Paper, Rolling Papers), By Pulp Material (Flax, Wood Pulp, Hemp, Rice Straw, Esparto), By Basis Weight Range, By Refining - Global Market Insights 2021 to 2031
FACT5595MR
Mar-2021

List of Tables : 168

List of Figures : 471

170 Pages
Cigarette Paper Market Outlook
Cigarette smoking is a habit that has been prevalent across the globe even before the 19th century. Ever since, cigarette paper manufactures have managed to develop long-term supply collaborations with cigarette manufacturing companies to ensure sustainability.
This comprehensive study by Fact.MR on the global cigarette paper market is based on type of paper, pulp material, basis weight range, refining, and their respective applications, wherein, all possible elements have been taken into detailed consideration.
The foremost objective of the report is to pitch insights on the market scenario, demand generators, and technological advancements in this space. Market trends have been tracked in 20+ high-growth countries, pointing towards countries in North America, Europe, and East Asia holding bulk of the market share.
Interested to Procure The Data
Historical & Future Projections
Considering the historic period, the cigarette paper market portrayed a sluggish growth rate of 1.4% from 2016 to 2020. Elevation in demand over the decades has been due to rising number of cigarette smokers, particularly those going for roll your own cigarettes.
Nearly 6.5 trillion cigarettes are sold every year globally, which translates to approximately 18 billion cigarettes per day. Although the tobacco industry is lucrative and makes huge profits, overall consumption has declined slightly over the past few years, primarily influenced by rising health concerns among the population.
Furthermore, year-on-year growth dropped from 2.1% in 2017 to 1.3% in 2031, due to consumer predilection towards e-cigarettes for nicotine delivery as a substitute product to conventional factory-made cigarettes. Furthermore, the market saw a disruption with demand dropping by 2% in 2020 because of the COVID-19 pandemic that hindered the supply chain of cigarette paper.
Owing to these factors, demand over the long-term forecast period can be estimated by segregating the forecast timeline into three parts.
1. Short-run: Recovery growth set to be observed over this term.
2. Medium-run: Demand and price normalization set to be exhibited over this period.
3. Long-run: Economic cycles and inflation rates to affect demand and pricing of cigarette paper.
On the whole, the cigarette paper industry is projected to expand at a monotonous rate of just over 2% through 2031, providing a somewhat encouraging platform for investors in the market, particularly for roll your own cigarette paper.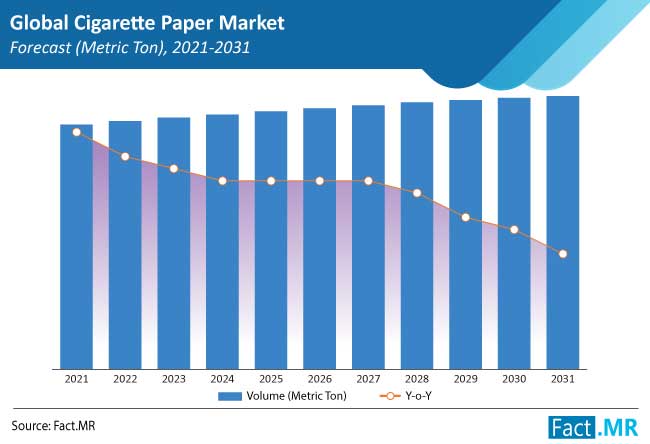 Is demand for cigarette paper increasing?
The magnitude of smoking is not only determined by the population of smokers but also by the sheer intensity and frequency of smoking. Metrics used is the average number of cigarettes consumed by smokers in a day. In the countries of North America, Asia, Eastern Europe, and Oceania, the average is in the range 20 to 25 cigarettes per day.
Although the rates in Western Europe, the Middle East & Africa, and Latin America are slightly on the lower side, there has been huge consumption rise in these regions in recent years. Bulk of the smokers are men; however, increasing female smokers, rising standard of living, and adoption of smoking as a fashion have diversified the scope for cigarette paper manufacturers.
An Adaptive Approach to Modern-day Research Needs
Will legalization of cannabis provide an opportunity for higher revenue generation?
Many countries have been legalizing the use of cannabis for both, recreational and medicinal purposes. Currently, in the U.S., 34 states (including Washington DC) have legalized cannabis for medicinal purposes, while ten states have even legalized it for recreational use.
Increasing legalization of cannabis by governments of various nations aims to prevent illegal usage, trafficking, and crime associated with cannabis, thereby promoting the growing market for legalized cannabis across the world. Increase in the consumption of cannabis will substantially raise demand for roll your own cigarette paper over the coming years.
Which socio-economic group drives demand the most?
Populations living below the poverty line and having lower education levels have a higher probability of taking up cigarette smoking as compared to the general population. People living in poverty tend to smoke cigarettes nearly twice as much when compared with the population group having a family income three times the poverty rate.
Adding to that, blue-collar workers are the most likely to start smoking at a younger age, and tend to smoke more than white-collar workers. The smoking tendency of lower-income socioeconomic groups is relatively higher as compared to high earners and elite groups, thereby increasing demand from this population for cigarette paper.
Avail customized purchase options for your needs
How is indirect marketing affecting demand for cigarette paper?
Even though there has been an active restriction on advertisements of cigarettes and related smoking products, the tobacco industry indirectly spends huge amounts of money on advertising, sponsorships, and promotion of products.
Interestingly, a cumulative sum of US$ 9.5 Bn was spent in 2018 by tobacco companies in the United States alone on advertising. Although, there has been significant reduction in smoking rates in countries such as Australia, the U.K., Brazil, and others where stringent tobacco control laws are enforced. However, this change is completely offset by mounting consumption in many other countries where such enforcements are not as strict.
Development of new brands and variants along with enriched attributes and packaging innovations plays a vital role for cigarette paper manufacturing companies to communicate with customers, promote their offerings, and build brand loyalty. Such initiatives are bolstering demand for cigarette paper as a result of increasing cigarette consumption.
What are the key challenging factors affecting the sales of cigarette paper?
The World Health Organization Framework Convention on Tobacco Control (WHO FCTC), the world's first global public health treaty, came into force in 2005, and described advertising as one of the factors that has contributed to the explosive increase in the use of tobacco.
Significant surge in taxes and prices of tobacco and other associated products is considered the most effective measure to reduce tobacco use.
High taxes and prices combined with relevant tobacco control measures such as bans on advertisements and prohibition of smoking in public have aided in reducing the consumption of cigarettes per person.
A 10% rise in the price of a packet of cigarettes is expected to reduce demand by 4% to 5% in both, high- and low-income countries. Such initiatives are providing a barrier to the growth of the cigarette paper market, while putting a question on the market's sustainability.
Which region offers great potential for cigarette paper?
East Asia, specifically China, accounts for the highest demand for cigarette paper due to extensive presence of cigarette manufacturing companies.
Further, demand for cigarettes accounts for nearly 40% of global demand, which is domestically catered to by regional players. Such a huge volume of cigarettes in China has provided an impetus to the thriving demand for cigarette paper.
Europe has been prominent in terms of volume and value, holding the second position after East Asia. Consumers in Europe have been flag barriers for roll your own cigarettes due to strict laws and higher taxation on factory-made cigarettes.
As such, the roll your own cigarette paper segment in Europe is poised to expand at a 4% CAGR during the forecast period.
However, the South Asia region is poised to be the bellwether for cigarettes and tobacco, with the consumption of more than 300 Bn cigarette sticks in Indonesia, and nearly 100 Bn in Bangladesh, India, and Vietnam respectively. Mounting consumption in these countries will bolster demand for cigarette paper over the long-term forecast period.
Country-wise Analysis
What Makes China the Growth Epicentre for Cigarette Paper?
China remains the major contributor to the growth of the market, as there is around 130-kilo tons of cigarette paper production and consumption every year. Approximately 2,400 Bn+ cigarette sticks were sold in China in the year 2019, which was fulfilled by domestic manufacturers.
Moreover, increasing population, lower tax rates, and abundance of raw material have set the stage for China as the most attractive market for cigarette paper. The cigarette paper industry in China is expected to grow 1.2X at a moderate CAGR of around 2% through 2031.
Why is Indonesia a Huge Market for Cigarette Paper?
Indonesia is second on the list in terms of cigarette consumption. Nearly 310 Bn cigarette sales were recorded in 2019, which has been the driving force for the growth of the cigarette paper market in the country.
Cigarette manufacturers have set up their facilities for spontaneous demand fulfilment, providing the market a substantial growth platform for Indonesia. Indonesia is expected to create an absolute $ opportunity of nearly US$ 37 Mn over the forecast period.
Will Demand for Cigarette Paper Keep Increasing in Russia?
As cigarette sales have been adversely affected by tobacco bans and strict laws across Europe, there has been a complete shift in consumer sentiment from factory-made cigarettes to roll your own cigarettes.
Russia has been topping the table in the European region due to a higher percentage of smokers and comparative lower average price of a pack of cigarettes. Russia is projected to maintain its dominance in the European market, expanding at a steady CAGR of 1.6% over the forecast period.
Category-wise Insights
Which Pulp Material Accounts for the Highest Demand for Cigarette Paper?
Pulp material is a differentiating factor when considered for cigarette paper. Abundant availability of wood pulp marks its position on top as a primary pulp material for cigarette paper manufacturing. Also, rice straw and hemp are gaining consensus again with the alteration of added flavours and low ignition propensity property.
Wood pulp is leading in cigarette paper manufacturing, projected to create an absolute $ opportunity of nearly US$ 185 Mn during the forecast period. Extensive use of wood pulp in cigarette manufacturing allows it to account for more than half of the market share.
How Big is the Opportunity for Bleached Cigarette Paper?
If there is any cigarette paper that is made from wood pulp and is white, it is bleached cigarette paper. Bleaching chemicals such as calcium carbonate and chlorine are extensively used in factory-made cigarettes. However, the market is moving towards developing a more sustainable method for roll your own cigarette paper.
These RYO papers are bleached with substances such as ozone, hydrogen peroxide, and oxygen in replacement of chlorine, and are gaining popularity in the rolling paper market. The global bleached cigarette paper segment is expected to rise at a CAGR of 2%, projected to grow 1.2X over the forecast period.
Will the Roll Your Own Cigarette Trend Aid Demand Growth?
With the cost of cigarettes constantly moving upwards, there has been an increase in the number of people making their own cigarettes. Usually, smokers use tobacco, cannabis, herbs, or hash in rolling paper.
The trend of roll your own cigarettes is most popular in European and North American countries, as the price of tobacco is surging with higher import fees and taxes. Since pre-rolled cigarettes are taxed even more heavily than loose tobacco in most countries, many smokers roll their own smokes.
Rising trend for roll your own cigarettes will enable the market to sustain in the future course of time. This leads to promising market growth projections for this segment at a CAGR of close to 4%, while gaining 403 BPS over the forecast period.
How has COVID-19 Impacted the Sales of Cigarette Paper?
Natural disasters and pandemics such as COVID-19 are unforeseen, and affect all economies across the globe. COVID-19 has also resulted in impacting the demand for cigarette paper, backed by the imposition of lockdowns, and demand drop from cigarette manufacturing companies who happen to be the prime consumers of cigarette paper.
Moreover, decreased demand and fluctuating industrial output have negatively impacted the market. However, it is anticipated that, industrial output will rekindle its previous size by the third quarter of 2021, and so will cigarette paper demand during the forecast period.
What is the Pricing Equilibrium in the Cigarette Paper Space?
Cigarette paper prices have been steadily increasing over the past half-decade. Key players present in regions such as East Asia and Europe are seen as major contributors to market growth.
The explicit nature of tobacco-related papers requires exclusive papermaking equipment, technical expertise, and R&D capabilities to meet demanding customer specifications. These factors have limited the number of competitors capable of servicing global cigarette manufacturers.
Apart from the above-mentioned factors, foreign trade tariffs amongst powerful economies have played a major role in deciding the global average price. Therefore, prices are expected to increase at a nominal rate over the coming years.
Competitive Landscape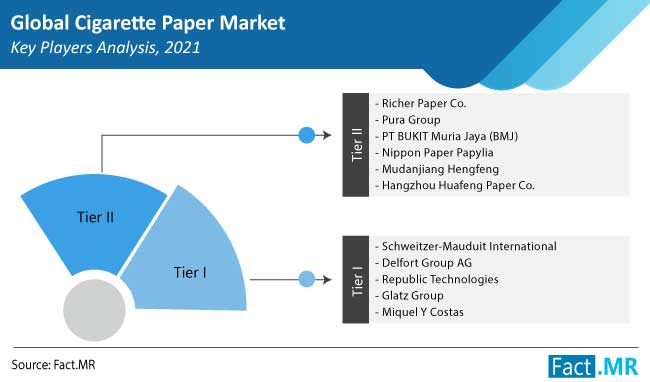 Aforementioned players rely on a blend of organic and inorganic strategies to increase penetration across lucrative markets. These strategies include product launches, collaborations and partnerships with prominent cigarette manufacturers, acquisitions, and strengthening of regional and global distribution networks.
SWM, Delfort, and Republic Technologies have been striving hard to create a differentiating factor for their product offerings. For instance, SWM recently patented its LIP cigarette paper manufacturing technology, and has exchanged its expertise for royalty. This has led to capturing of more than 70% market share in Europe, wherein, nearly 25-30% revenue generation is from royalty of patented technologies.
Republic Technologies star brand OCB has been modified with enriched with higher quality material and enhanced aesthetics, driving higher sales of its products.
Similarly, recent developments related to companies manufacturing cigarette paper have been tracked by the team at Fact.MR, which is available in the full report.
Report Scope
Attribute

Details

Forecast Period

2021-2031

Historical Data Available for

2016-2020

Market Analysis

US$ Mn for Value, Metric Tons for Volume

Key Regions Covered

North America
Latin America
Europe
East Asia
South Asia
Oceania
Middle East & Africa

Key Countries Covered

U.S.
Canada
Germany
France
Italy
U.K.
Russia
India
Indonesia
Thailand
China
Japan
South Africa

Key Segments Covered

Type
Pulp Material
Basis Weight Range
Refining
Application
Region

Key Companies Profiled

Schweitzer-Mauduit International, Inc.,
Delfort Group AG
Republic Technologies International
Richer Paper Co., Ltd.,
Glatz Group
Pura Group
Hangzhou Huafeng Paper Co., Ltd.
Miquel Y Costas
NIPPON PAPER PAPYLIA CO., LTD.
Mudanjiang Hengfeng Paper Co., Ltd.
PT BUKIT Muria Jaya (BMJ)
Key Market Segments Covered
Type
Cigarette Tissue

1 ¼
1 ½
Single Wide
Double Wide
King Size

Plug Wrap Paper
Tipping Paper
Rolling Papers
Pulp Material
Flax
Wood Pulp
Hemp
Rice Straw
Esparto
Mixed
Basis Weight Range
23 - 40 gsm
17 - 28 gsm
28 - 40 gsm
12 -27 gsm
Refining
Application
Cigarette Manufacturing
Roll Your Own
Region
North America
Latin America
Europe
East Asia
South Asia
Oceania
Middle East & Africa
- FAQs -
Market to register a CAGR of more than 2% by value across the 2021-2031 assessment period. Higher penetration of roll your own cigarettes will bolster demand over the coming years.
China is expected to hold a pivotal role in driving demand for cigarette paper. Surge in demand from cigarette manufacturing companies and roll your own (RYO) paper are set to be observed across the country.
Prominent players manufacturing cigarette paper include Schweitzer-Mauduit International, Inc., Delfort Group AG, Republic Technologies International, Richer Paper Co., Ltd., Pura Group, Glatz Group, Hangzhou Huafeng Paper Co., Ltd., Miquel Y Costas, N
Need an Exclusive Report for your Unique Requirement?
- Our Clients -