Circular Polymers Market
Circular Polymers Market Analysis By Material (PET, PE, PP, Nylon 6, Nylon 6,6), By Form (Flakes, Pellets,), By End Use - Global Forecast 2022 to 2032
Analysis of Circular Polymers market covering 30 + countries including analysis of US, Canada, UK, Germany, France, Nordics, GCC countries, Japan, Korea and many more
Circular Polymers Market Outlook (2022-2032)
The global circular polymers market is projected to reach US$ 163.9 billion by 2032, accounting for nearly 12.5% share of the global polymers market. This is because consumption of recycled polymers is projected to surge at a CAGR of 9.1% over the decade.
Report Attributes

Details

Circular Polymer Market Size (2021A)

US$ 63.57 Billion

Estimated Market Value (2022E)

US$ 68.42 Billion

Forecasted Market Value (2032F)

US$ 163.9 Billion

Global Market Growth Rate (2022-2032)

9.1% CAGR

North America Market Share (2021)

~25.4%

North America Growth Rate (2022-2032)

8.9% CAGR

U.S. Growth Rate (2022-2032)

9.1% CAGR

Market Share of Top 5 Companies

~15%

Key Companies Profiled

Circular Polymer
Quality Circular Polymers
Advanced Circular Polymers
Total Energies
SABIC
Plastic Energy
Close the Loop
Borealis
Enerkem
Lehigh Technologies
TriCiclos
Jindal Films
ExxonMobil
Chevron Phillips Chemical
LyondellBasell
Suez
Fact.MR's circular polymers market analysis reveals that global demand for recycled polymers enjoyed year-on-year (YoY) growth of 1.7% in 2021 to reach US$ 63.57 billion. The PET material segment grew 2% to reach a valuation of US$ 15.13 billion in 2021.
Know thy Competitors
Competitive landscape highlights only certain players
Complete list available upon request
Circular Polymer Demand Analysis (2017-2021) Vs. Market Outlook (2022-2032)
As per detailed industry analysis by Fact.MR, a market research and competitive intelligence provider, the market value for circular polymers over the past half-decade increased at a CAGR of around 2.9%. In 2021, the circular polymers market stood at a valuation of around US$ 63.57 billion.
Circular polymer consumption in packaging and construction accounts for a major share, mainly attributed to the recycling methodologies and output in the respective forms of the thickness of plastic films.
Circular polymers, or recycled polymers, have been gaining popularity as more consumers are seeking environmentally-friendly solutions. Plastic waste has degraded the environment and also polluted nature by releasing harmful. This waste plastic, when consumed by wildlife, can affect their life and also the entire ecosystem.
Hence, there is a need for recycling existing polymers. For some polymers that cannot be recycled, manufacturing should be stopped and alternate solutions need to be found by introducing new plastic materials that can be recycled easily.
Over the past years, there has been a move towards a recyclable and sustainable product lifecycle, more so in Europe and America. Consumption of circular polymers in these regions is projected to see significant increase. This can be attributed to rapidly rising awareness of the importance of environment-friendly, recyclable, efficient products, and the overall changing trend of adopting alternatives to non-recyclable and hazardous plastic materials.
Demand for circular polymers in packaging and construction is poised to drive the market size over the coming years. Overall, the worldwide circular polymers market is expected to expand at a high 9.1% CAGR through 2032.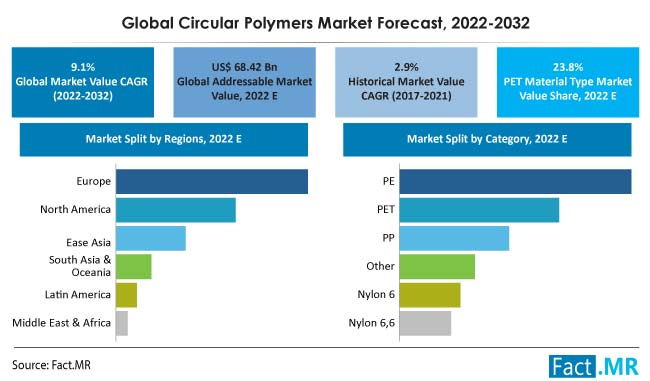 Why is Demand for Circular Polymers Expected to Increase Rapidly Going Forward?
"High Demand from Packaging Industry Due to Ever-rising Consumer Product Consumption"
The packaging industry is growing fast with the ever-rising demand for consumer products. Also, there is rising demand for sustainable products as a result of changing consumer preferences. As such, to meet the present expectations of consumers, market players are collaborating to innovate new technologies.
For instance, TotalEnergies, in collaboration with Plastic Energy, plans to set up an advanced plastic recycling plant in France to convert waste plastic into packaging material.
Moreover, with consumer products seeing high growth over the past decade, it can act as the most lucrative end-use industry for circular polymer manufacturers. Owing to these factors, the packaging industry is set to propel the demand for polymers over the coming years.
"Need to Reduce Non-biodegradable Waste"
The need for circular polymers is also driven by the fact that non-biodegradable waste contaminates the soil and water resources, since they cannot be degraded by microorganisms. When these compounds are mistakenly consumed by wildlife, they can cause injury and even death.
In oceans and estuaries, such plastics can harm marine life as well. Micro-plastics, which are microscopic particles of polypropylene or polyethene that float in the water, are also a danger. Marine animals are harmed when they become entangled in plastic nets or other debris in the sea.
Non-biodegradable waste may not even make it into landfills when people litter on land. Instead, it might end up in parks, farms, and even in the sea. Styrofoam, commonly known as foamed polystyrene, is a non-biodegradable material, which, when littered, can cause environmental issues. When temperatures rise, styrene, a neurotoxic at large levels can seep out of polystyrene materials and harm the environment. Even an excessive amount of biodegradable trash in a water supply system can diminish oxygen levels.
"Plastic Waste Affecting Tourism across Region"
Another crucial factor that interests the implementation of circular polymers is that the circular economy is being pushed forward by changing economic conditions. There are many perspectives when it comes to economic growth.
A country having a long coastline and specializing in tourism can see plastic waste from a different perspective. If the coast and city are littered with plastic waste, it is obvious that tourism will be hit, which can further affect the economic condition of the country. This also dents the sales of circular polymers, polymer surfactants and related products.
More Insights, Lesser Cost (-50% off)
Insights on import/export production,
pricing analysis, and more – Only @ Fact.MR
Country-Wise Analysis
Why is Europe a Leading Producer of Circular Polymers?
Between 2020 and 2021, the overall European recycling rate for plastic packaging increased by 9.5% and settled at 46%, The Netherlands, Germany, Spain, Belgium, and the Czech Republic already have a recycling rate of more than 50% for post-consumer plastics packaging trash.
Plastic packaging waste must be recycled 50% by 2025 and 55% by 2030, according to the European Commission's Packaging and Packaging Waste Directive (PPWD).
This directive's new point of calculation for plastic package recycling (items entering palletization, extrusion, and moulding operations) will dramatically reduce present recycling rates.
The Compound Annual Growth Rate (CAGR) over the period 2006-2021 was approximately 5.6%. According to estimates, the rate of packaging recycling must increase by over 10% per year to fulfil PPWD targets (i.e., almost doubling the current pace).
The highest recycling rates are seen in plastic packaging waste and garbage from agriculture, farming, and gardening. These applications have likewise had the greatest rise in recycling share during 2020.
A good trend towards greater circularity evolved from 2018 to 2021. The output of plastics (polymerisation) has declined by 10.3%. Simultaneously, the amount of post-consumer plastic waste sent to recycling has increased by 8.5%.
For the first time since 2006, the amount of waste sent to landfills reduced (-4.3%), while energy recovery remained the same. As a result, compared to 2018, the supply of post-consumer recycled plastics climbed by 11%, and their application in new and recycled plastic products increased by 15%, from around 4 million tonnes to 4.6 million tonnes. This illustrates an initial trend toward a higher percentage of recycled plastics in new product manufacturing (from 7.2% in 2018 to 8.5% in 2020).
As a result, the Europe circular polymers market is poised to provide a high absolute dollar opportunity worth US$ 43.4 billion over the period 2022-2032.
Will Consumption of Circular Polymers Remain High in the U.S.?
The U.S. market for circular polymers has been growing at a rapid pace, owing to the high presence of a population with high-income levels, along with high awareness about the deteriorating environment.
Collaborations and collective efforts are required to create a more circular economy for plastics and a need for correct recycling infrastructure and technology to get there. Companies that invest in and manufacture recycled plastics, as well as brands that can use the end products, are required. Consumers must seek out products created from recycled plastic.
North America, especially the U.S., is expected to be a lucrative market for polymers, thanks to growing consumer awareness of sustainable products and shifting customer tastes. Furthermore, market players are being compelled to invest in procedures that promote a circular economy; thereby increasing demand for circular products.
The United States is a major market for packaged goods, providing lucrative opportunities for sustainable polymer manufacturers. As such, the U.S. is one of the leading consumers of circular polymers, accounting for more than 15% of global consumption. The already established plastic industry in the U.S. has remained the primary consumer of circular polymers to produce less plastic waste.
The U.S. circular polymers market is predicted to expand at a CAGR of 9.1% over the decade.
Category-Wise Analysis
Which End-use Sector is Projected to Account for a Huge Chunk of Circular Polymer Consumption?
With rising consumer product consumption, the packaging industry is expanding at a high rate. In addition, demand for sustainable products is increasing, which can be related to shifting customer preferences. As a result, market players are partnering to develop better technologies to match current consumer demands.
Total Energies, for example, aims to build an innovative plastic recycling plant in France in conjunction with Plastic Energy, to turn waste plastic into packaging material.
Furthermore, consumer products have experienced rapid expansion over the last decade, making them the most attractive end-use sector for circular polymers. Companies such as Jindal Films are manufacturing plastics, particularly for packaging.
Production of thin-filmed recyclable packages made of PP is on the rise. Even giant companies are researching new recyclable materials that can be used for packaging on a larger scale and can also be a cost-effective and durable solution.
Owing to the aforementioned factors, the packaging sector is projected to provide a high absolute dollar opportunity worth US$ 1.4 billion over the 2022-2032 forecast period.
Will Circular Polymer Suppliers Benefit from the Petrochemical Sector?
Plastic production necessitates a vast quantity of resources, mostly fossil fuels, with plastics accounting for 8% of global yearly fossil fuel production. Many companies are attempting to make a variety of products out of plastic trash, and biofuel is one of the most promising products from plastic waste.
Biofuel is an engine alternative fuel. The method of catalytic pyrolysis is used to transform waste plastic into biofuel, with dry wood and ash powder as the major catalysts. Catalyst addition improves conversion and fuel quality.
Turning waste plastic into 65% usable liquid hydrocarbon fuels while generating no emissions is the idea in place. It would also deal with dangerous plastic trash and lower the imports of crude oil. Plastic fuel and its many blends emit far less carbon monoxide and unburned hydrocarbons than diesel fuel; however, emissions are higher for nitrogen oxide. Large-scale manufacture of plastic fuel from various plastics can be economically profitable.
As such, the petrochemicals sector is projected to provide a high absolute dollar opportunity worth US$ 49.4 billion over the forecast period for circular polymers and polymers seals.
Don't Need a Global Report?
save 40%! on Country & Region specific reports
Competition Landscape
TotalEnergies, Advanced Circular Polymers, Quality Circular Polymers, SABIC, Borealis, Plastic Energy, Jindal Films, Enerken, Lehigh Technologies, ExxonMobil, Chevron Phillips Chemical, LyondellBasell, and Suez are key suppliers of circular polymers.
Quality Circular Polymers LLC is planning to increase its plastic material recycling production capacity by approximately 55,000 tons/yr. The company has a tie-up with Samsonite for the production of the first circular PP suitcase from Moplen QCP.
SABIC has recently acquired a 50% stake in Clariant, a company that specializes in scientific designs. Considering the current global scenario for plastic pollution, the company presented 'RE Globalize' for sustainable development at the 2022 Annual Conference of the Boao Forum for Asia (BFA).
Plastic Energy and TotalEnergies have announced a new partnership to boost advanced plastic recycling development. Plastic energy's TACOIL, a patented product, will be utilized by TotalEnergies and will transform this raw material into virgin-quality polymers suitable for food packaging.
Fact.MR has provided detailed information about the overall strategies adopted by circular polymer manufacturers, along with their detailed overviews, including SWOT analysis and revenue generated from targeted circular polymers manufacturers positioned across geographies, in addition to providing sales growth information, production capacity, and speculative production expansion, in the recently published report.
Segmentation of Circular Polymers Industry Research
Circular Polymers Market by Material :

PET
PP
PE
Nylon 6
Nylon 6,6
Other

Circular Polymers Market by Form :

Circular Polymer Flakes
Circular Polymer Pellets
Others

Circular Polymers Market by End Use :

Packaging
Construction
Automotive
Electrical and Electronics
Agriculture
Consumer Products (Household)
Petrochemicals
Other

Circular Polymers Market by Region :

North America
Latin America
Europe
East Asia
South Asia & Oceania
Middle East & Africa
- FAQs -
Currently, the global circular polymers market is pegged at US$ 68.4 billion.
Circular polymer consumption is anticipated to increase rapidly at a CAGR of around 9.1% through 2032.
Circular polymers market size expanded at a CAGR of around 2.9% during the 2017-2021 historical period.
Key producers of circular polymers are investing in R&D to reduce overall production complexity and are focussing on price stabilization to gain a competitive advantage in the market.
Top companies manufacturing circular polymers are TotalEnergies, circular polymers, Advanced circular polymers, Quality circular polymers, SABIC, Borealis, Plastic Energy, Jindal Films, Enerkem, Lehigh Technologies, ExxonMobil, Chevron Phillips Chemical,
The U.S. is estimated to hold around 19% share of the global circular polymers market value.