Medical Polymers Market
Medical Polymers Market Analysis Report By Polymer Material (Commodity Polymers, Engineering Thermoplastics), By Application (Packaging, Implants), By Processing Method (Blow Fill Seal, Injection Stretch Blow Molding), By Region - Global Insights 2018 to 2028
FACT1801MR
Oct-2021

List of Tables : 84

List of Figures : 141

170 Pages
Medical Polymers Market Outlook
The medical polymers market is projected to surge at a CAGR of 8.2% over the period of 2021 to 2031. Higher anticipated surge in demand is primarily due to rise in spending of regional governments to strengthen their healthcare infrastructure, post COVID-era.
To cash-in on the rising demand for polymers from the healthcare sector, especially for pharmaceutical packaging and medical devices, prominent manufacturers such as LyondellBasell, Sinopec, Borealis, and ExxonMobil have expanded their medical polymer production facilities. This has, in turn, had a cascading effect and normalized price growth over Q3 and Q4 of FY2020.
Consumption of medical polymers surpassed 5 MMT in 2020, and this statistic is anticipated to burgeon at a pace of 6.7% CAGR through 2031.
Avail customized purchase options for your needs
Medical Polymers Industry Report Scope
Attribute
Details
Medical Polymers Market Size Value in 2020
USD 8.19 Bn
Medical Polymers Market Size Value by 2031
USD 20.1 Bn
Global Growth Rate
CAGR 8.2%
North America Market Size in 2020
USD 2.8 Bn
Latin America Market Size in 2020
USD 511 Mn
Europe Market Size in 2020
USD 2,672 Mn
East Asia Market Size in 2020
USD 1.3 Bn
South Asia & Oceania Market Size in 2020
USD 644 Mn
Middle East and Africa Market Size in 2020
USD 256 Mn
Forecast Period
2021-2031
Historical Data Available for
2016-2020
Market Analysis
Value in US$ Mn, Volume in KT

North America
Latin America
Europe
East Asia
South Asia
Oceania
Middle East Africa

Key Regions Covered

U.S.
Canada
Mexico
Brazil
Mexico
Argentina
Germany
Italy
France
U.K
Nordic
Spain
Japan
China
India
Malaysia
Thailand
Australia
GCC Countries
South Africa
Turkey

Key Market Segments Covered

Polymer Material
By Processing Method
By Application
Region

Key Companies Profiled

Exxon Mobil Corporation
Formosa Plastics
Hyosung Chemicals
Ineos
LG Chem
LOTTE Chemical Corporation
LyondellBasell
Others
SABIC
SIBUR
Simona America
Sinopec
Total Plastics

Pricing
Available upon Request
Consumption Analysis of Medical Polymers for 2016-2031
Over the past half-decade, medical polymer prices grew at a pace higher than conventional commodity polymers due to exclusivity of product application and cost of the product produced.
In FY2020, medical grade polymer prices surged to new heights, opening up avenues for manufacturers to enhance and retrofit existing facilities to capture higher short-term absolute $ opportunity. Anticipated short-run (2021-2024) absolute dollar opportunity created in the business is valuated at more than US$ 2.5 Bn.
Over medium-run to long-run, demand growth is set to normalize owing to lower price rise speculation and cyclical changes in the healthcare sector. Moreover, rate of adoption and cost curves also play a prime role in assessing demand over the long-run
Below points summarize the over the long-run forecast period:
Currently, medical polymers capture nearly 2% of overall global polymer industry in terms of volume. Despite holding minimal share, the market generates higher revenue on the back of exclusive price points of polymers.
Medical devices is the most prominent application with expected market growth of 6.9% through 2031.
LyondellBasell, SABIC, Lotte Chemicals, ExxonMobil, and Formosa Plastics hold the pricing throne to some extent.
An Adaptive Approach to Modern-day Research Needs
How are Medical Polymer Manufacturers Mitigating the Risk of Investment?
To moderate the existing risk of pharmaceutical packaging, such as extensive approval cycle of polymer batch for their utilization in aseptic packaging of medical solutions, coupled with dynamic changes in FDA rules, is forcing polymer producers to redraft their medium- and long-run business strategies.
Polymer producers are inclining towards providing exclusive commodity polymers and engineering thermoplastics to medical device manufacturers owing to the static nature of regulatory bodies over medical devices.
Moreover, low interest rates and high profit margins have motivated suppliers of medical polymers to scale up their production.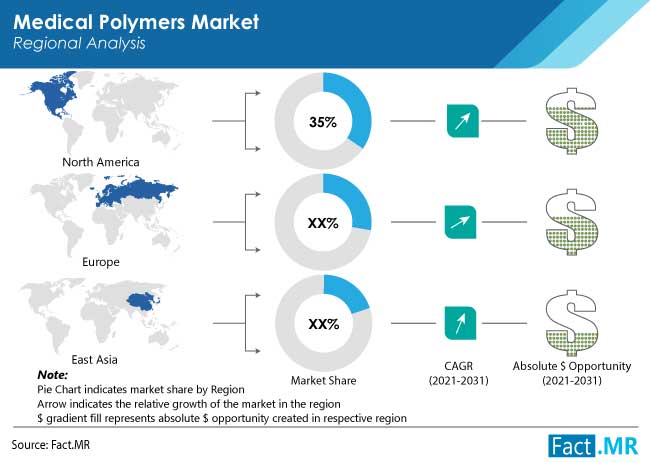 Country-wise Analysis
What Makes the U.S. a Prominent Market for Medical Polymers?
The United States is currently the flag bearer in terms of medical polymer consumption, on the back of extensive utilization of polymers in pharmaceutical packaging and medical device manufacturing. In 2020, the country surpassed the demand bar of 2 MMT, and this number is set to double by the end of 2031.
According to CMS, U.S. healthcare spending was valued at US$ 3.8 Tn in 2019, and around US$ 200 Bn added to the succeeding year. This incline in spending in 2020 has provided an impetus to medical polymer demand for various applications, ranging from packaging, implants, medical wear, and medical devices.
What was the Scenario of the Market in Germany for Medical Polymers Over the Past Half-decade?
Germany is known for its technological prowess in the healthcare sector in terms of innovation. Over the past-half decade, bundle of medical devices have been restructured, modified, and newly built to suffice growing demand from the healthcare sector. This has opened up avenues for research institutes in the country to scale up production and cash in on the deficit of exclusive medical devices.
This phenomenon has provided a positive impact on driving demand for medical polymers, especially engineering plastics, in the country. Demand for engineering thermoplastics is anticipated to grow 2X by 2031 as compared to 2021.
How Has Medical Polymer Demand been Shaping across Established & Evolving Markets?
China: In 2020, China held the top spot in medical wear and diagnostic kits exports. Comprehending the opportunistic scenario in the pandemic era, its government has motivated regional producers with incentives over the production of medical wear. This has cascaded a positive impact on medical polymers, and demand is anticipated to expand at 9.9% CAGR over the forecast period. In 2020, medical polymer sales surpassed US$ 875 Mn
India: India is primarily dependent on imports with more than 75% of medical devices consumed in the country. Currently, the country is extensively investing in restructuring and expanding the healthcare sector, and sales of medical grade polymers are anticipated to increase at 6.4% CAGR over 2021-2031.
Interested to Procure The Data
Category-wise Analysis
How Has Circular Economy Assisted Growth of Medical Elastomers and Polymers?
The fundamental processes of a circular economy for medical-grade polymers include initial separation, clarity, treatment, and separate or combined processing of plastic in plants. Building a recycling factory is just as difficult as starting a new medical polymer production line.
Despite a recycling plant's high startup costs, long-term operating costs, capacity utilization, and plant depreciation play a significant influence in determining the comparative margins and costs generated.
Over the past half-decade, leading manufacturers have reaped the benefits of using a circular economy for polymers, such as polyethylene, polypropylene, PEEK (Polyetheretherketone), etc., and have been effective in lowering manufacturing costs while simultaneously ensuring higher margins.
Around 5% of medical polymers were recycled of the 6 MMT consumed in 2020. This share of recycled polymers is anticipated to surpass 10% by the end of 2031.
Why Does Choice of Material Play a Prominent Role in Compatibility of Devices?
Material durability is one of the most important factors to consider in the long-term, life-critical, and implantable devices such as defibrillators, pacemakers, and neurostimulator systems where parts cannot be easily serviced or replaced.
As per the recent Food and Drug Administration (FDA) report, materials were identified as the primary root cause of device failure for ∼40% of medical device recalls. Polymers were implicated in two-thirds of the top ten medical device recalls (failures attributed to a material root cause) over the last five years.
Medical device including surgical instruments failure is frequently caused by poor material selection. Due to this, OEMs may face major penalties, including costly warranty claims, legal battles, and product recalls. Choosing the wrong polymer might lead to serious product problems, which is especially true in chemical attack and environmental stress cracking applications.
When it comes to medical polymer failure, design is another factor to consider after material selection. A product must be created not just with its function in mind but also with the qualities of the chosen polymer. By carefully considering a material's mechanical, thermal, environmental, electrical, and chemical aspects, manufacturers can select a material that will serve its appropriate function.
Considering the aforementioned factors, medical packaging manufacturers choose commodity polymers that are available at low price and are compatible with norms of utilization. Therefore, ease of formability and compatibility provided a magnificent share of 87% to commodity medical grade polymers in 2021. Consumption of these polymers over the same year stood at 5.3 MMT.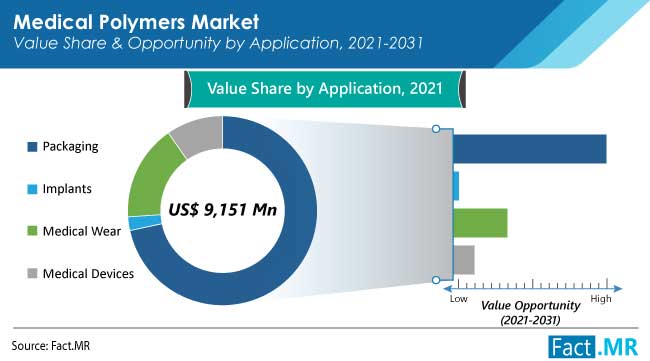 How Has Covid-19 impacted the Medical Polymers Business?
The COVID-19 pandemic was at its worst in 2020, and the world is still fighting to recover from its impact on global public health. The role played by medical-grade polymers, with plastics as the main material, in medical devices and personal protective equipment for healthcare workers, is sizeable. Advantageous possibilities for sterilization, lower costs, and easier disinfection of polymeric materials gave them significant importance in the healthcare sector.
The pandemic has altered the landscape of medical equipment and device demand around the world. In the third and fourth quarters of 2020, hospitals across both, developed and developing countries suffered from critical medical equipment shortages. This cascaded the demand for medical polymers over the same quarters and pushed prices up by nearly 7%.
In Q3, commodity medical polymer prices stabilized at 3% points, whilst soaring prices of engineering thermoplastics was observed on the back of rising production of medical devices and equipment.
Competitive landscape
Top manufacturers of medical polymers include
LyondellBasell
Lotte Chemical Corporation
LG Chem
Exxon Mobil Corp
Hyosung Corporation
SABIC
Ineos
Total Plastics
Sinopec
Formosa Plastics
SIBUR.
Of these manufacturers, prominent companies are LyondellBasell, ExxonMobil, Sinopec, and SABIC, who control nearly 20% of the global supply of medical polymers across the globe.
Medical Polymers Industry Key Segments
Polymer Material

Commodity Polymers

Medical Grade Polypropylene
Medical Grade Polyvinyl Chloride
Medical Grade Polyethylene
Medical Grade Polyesters

Engineering Thermoplastics

Polyvinyl Pyrrolidone (PVP)
PEEK
Polycarbonate
Others

By Application

Packaging

Injections
Medical Bags
Medical Tubes
Pharmaceutical Blisters and Trays
Microplates
Vials
Blister Packs
Others

Implants

Breast Implants
Orthopedic Implants
Spinal Implants
Others

Medical Wear

Gloves
Face Shields
Masks & Gowns
Others

Medical Devices

Pacemakers
Dental & Orthodontic Devices
Catheters
Contact Lenses
Others

By Processing Method

Blow Fill Seal
Injection Stretch Blow Molding
Extrusion Blow Molding
Others