Coffee Shops Market
Coffee Shops Market Size, Share, Growth, Forecast Analysis, By Product Type (Coffee, Other Products), By City Size (Metropolitan, Urban, Rural) & By Region – Global Market Insights 2022 to 2032
Coffee Shops Market Outlook (2022-2032)
The valuation of the global coffee shops market is US$ 169 billion in 2022, which is estimated to increase to US$ 243 billion by 2032-end, expanding at a CAGR of 3.7% over the next ten years.
Coffee is a popular beverage among consumers across the world. Vietnam, Colombia, and Brazil are the top countries that produce green coffee. Several developing nations highly depend on coffee to sustain their local economies. However, the U.S. holds a significant position as a provider of green coffee beans and its population is the largest consumer of coffee in the world.
The people from the Northeast U.S. are the largest consumers of coffee where around 60% of the total population consumes coffee regularly, according to data provided by the National Coffee Association.
Per capita consumption of coffee is comparatively higher in the Central U.S. where people consume an average of 3.7 cups of coffee daily.
Complementary food items and beverages are other major products that are being sold by coffee shops in recent years. Juices, soft drinks, bottled water, cold blended beverages, espresso drinks (café lattes, cappuccinos), and brewed coffee and tea are generally widely available at coffee outlets. Moreover, some other food products that are provided by cafes include candy, sandwiches, desserts, bakery items, and pastries.
There are various coffee shops that sell ground or whole coffee beans for consumption. Further, some coffee shops also sell mugs, grinders, espresso or coffee-making equipment, and some other accessories. A majority of coffee shops serve premium or high-quality coffee, known as specialty coffee.
The most committed and typical coffee drinkers are 25 to 45-year-old and educated & affluent adults. Although baby boomers are majorly responsible for the success of coffee shops, specialty coffee appeals to different adult demographics that include young adults and college students. There are some larger companies that sell coffee beans through wholesale platforms to commercial customers such as restaurants and grocery stores.
Report Attributes

Details

Coffee Shops Market Size (2022)

US$ 169 Billion

Estimated Market Value (2032)

US$ 243 Billion

Growth Rate of Global Market (2022-2032)

3.7% CAGR

Valuation of U.S. Coffee Shops Market (2021)

US$ 36 Billion

Estimated CAGR for Market in Germany (2032)

3.2%

Key Companies Profiled

Costa Coffee
Café Coffee Day
Starbucks Corporation
CaffeRitazza
Caribou Coffee Company
Coffee Republic
Dutch Bros Coffee
Know thy Competitors
Competitive landscape highlights only certain players
Complete list available upon request
What are the Demand Opportunities in the Coffee Shops Market?
"Opening of Company-Operated Stores at High Visibility and High-Traffic Locations"
A noticeable driver responsible for the growth opportunities in the coffee shops industry is in the form of international and domestic expansion. The distribution channels in this industry are the stores that are company-operated and are located at high-visibility and high-traffic centers. The competition in the industry is structured to gain industry share through opening new shops in the retail coffee industry across the globe.
For instance,
Starbucks opens on average three stores in a single day. The company has started to make significant inroads into nations like Latin America, the Middle East, Australia, the UK, and Japan. These expansions are likely to serve as noticeable drivers for the company which is planning to grow from 12,000 stores to 30,000 stores in a period of 10 years.
Dunkin Donuts has responded to the challenge of Starbucks with its planning to grow from 4,400 stores to 15,000 stores in the same duration.
Caribou Coffee also confronted Starbucks across the international arena and currently has its store in Dubai.
"Product Innovation Will Provide Numerous Options for Coffee Lovers"
Product innovation is the second noticeable driving force that is predicted to bolster growth avenues in the global market. Serious coffee shop contenders are currently providing the option for product selection to their consumers. Various national chains and some local coffee shops also boast menus that include bottled water, pastries, hot chocolate, teas, coffees, and even sandwiches.
The extensive R&D abilities of Starbucks is a vital factor that is assisting the group to surpass early coffee house entrants that include Gloria Jeans.
For instance,
Starbucks is able to grow and sustain itself in the present competitive world. It is able to attract a new consumer base by launching one new seasonal drink every year. The company's US$ 400 million bottled drink business is also helping it to gain a competitive edge in the market.
In addition, product innovation at Starbucks also includes factors related to customer acceptance and the extent the product can fit into the "ergonomic flow" of the store.
The role of service innovation is equally critical to the structure of the coffee industry. The introduction of store value cards (SVCs) is one such example of successful innovation in the coffee industry. In addition, the introduction of chewable coffee cubes and mushroom coffee is also gaining traction in the coffee market.
Peet's Coffee, Caribou Coffee, and Starbucks provide consumers with pre-paid cards that are helpful to shorten the transaction times for consumers. These companies also bring new customers through gifting cards as well as supply stores with some valuable consumer data. The CEO of Starbucks, Schultz, has called the innovation "the most significant product innovation since Frappuccino".
Service innovation is also putting impacts on the industry where companies need to provide a diverse set of services that include newspapers, drive-through services, and music to stay competitive.
For instance,
Caribou offers free wireless Internet access to its consumers to compete with the alliance of Starbucks with T-Mobile. This internet service is provided for up to an hour.
"Consumer Perception of Brands to Shape Growth Opportunities in Industry"
The opportunities in the coffee shops market are impacted by the perception of consumers about any brand and its stand.
For instance,
The vision of the Starbucks CEO was the creation of a "third place" for Americans. The population of the U.S. spends a noticeable time at work and at home. So, he worked with a vision to provide a third place for these people to spend personal time as well as to drink coffee.
Thus the marketing efforts in the industry have closely tied to the lifestyle that is projected by a certain chain. In an attempt to differentiate themselves, market competitors are taking efforts to gain a competitive edge in the market. These competitors attempt to differentiate themselves from stores that are "upscale, pseudo-European" while projecting different brands of lifestyle.
Caribou Coffee projects a rugged image through its wooden interiors that give a feel like "an Alaskan lodge".
"Technological Advancements in Coffee Machinery"
Technology plays a vital role to drive growth opportunities for coffee shops. Line management is a noticeable issue for the coffee houses as the majority of demand is concentrated during morning timings. For example, Starbucks can achieve consumer service effectiveness with the introduction of automatic espresso machines.
Dunkin Donuts has experienced lesser resistance to its technological innovations because of the economical nature of its products. The brands of the company are tied to simplicity. For instance, instead of relying on baristas for the creation of the new line of drinks for espresso, Dunkin' Donuts hired experts for designing a machine that can make cappuccinos in a time of less than a minute, and that too at an economical price as compared to its market competitors.
Which Factors Can Restrict Expansion Opportunities for Coffee Shops?
"High Up-Front Investment Required for New Market Entrants"
A major problem that is encountered by different cafes is quality consistency, satisfactory service, and staff management. They need to invest a handsome amount for customer retention, premium locations, equipment, shops, and marketing that include brand recognition and brand awareness. In addition requirement for high capital investment to rent a place, remodel it, and install the equipment is also predicted to impact the expansion avenues for coffee shops.
High rent at premium locations makes it difficult for many independent cafes to sustain for a longer duration. Thus, these factors are predicted to put a negative impact on the expansion opportunities for coffee shops.
"Strong Brand Recognition of Key Players Limiting Business Opportunities for Start-ups"
The popularity of strong brands, especially Starbucks, Café Coffee Day, and others can limit the expansion opportunities for new entrants in the market. Further, partnerships with international and large companies can serve as a potential barrier to the entry of new competitors, for instance, the partnership of Starbucks with Jim Beam or Pepsi and Caribou Coffee with Apple.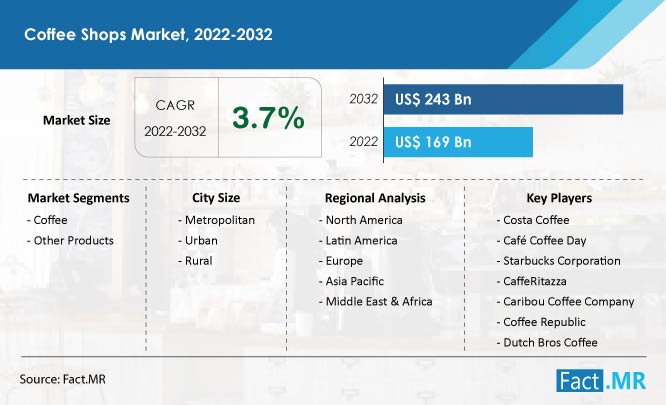 How Can New Market Entrants Acquire a Share in the Coffee Shops Business?
"Collaborations & Partnerships May Create Opportunities for New Companies"
Starbucks was the first one to realize the benefits of establishing partnerships with others, and the company reached various powerhouse brands such as Kraft and Unites Airlines, Nordstrom, Barnes and Noble, and Pepsi for the creation of new products. In addition, this initiative was also helpful for Starbucks to enter into new distribution channels like the airline industry, cruise lines, and grocery stores.
Caribou also followed suit and entered into a partnership with General Mills for the production of a breakfast bar. The company recently established a partnership with Coca-Cola to compete with the ready-to-drink iced coffees of Starbucks.
New companies trying to enter this difficult market landscape can similarly look to partner with other market players to make a space for themselves in this market.
More Insights, Lesser Cost (-50% off)
Insights on import/export production,
pricing analysis, and more – Only @ Fact.MR
Which Regional Market Dominates the Industry of Coffee Shops?
"Presence of Prominent Coffee Chains in North America"
Among the regional markets, the North American industry of coffee shops is likely to hold a dominating position in the coming years owing to a noticeable count of coffee shops that are present in the regional market.
The region is working as the largest importer of coffee and fulfilling its demand from producing countries. Starbucks is serving as one of the largest coffee-selling chains in the world whose headquarter is in Seattle, Washington.
Further, the European market is estimated to grow at a noticeable speed with the rapid growth in the coffee culture across the region.
Country-wise Insights
Which European Nations are Predicted to Be Lucrative Markets?
"Rapidly Increasing Consumption of Coffee in Germany and Surrounding Countries"
Germany, Italy, Belgium, Spain, Switzerland, and France are the key countries from the European region that are contributing to an increased demand for coffee in recent years. Europe is the largest importer of green coffee beans. This increased demand for coffee is attributed to the rising consumption of coffee by the regional population.
The market in Germany is likely to progress at a CAGR of 3.2% through 2032. This steady growth is due to the rising consumption of coffee by its people at coffee shops, their homes, and cafes. Moreover, these factors also lead to an increased demand for coffee machines in Europe.
How is the Coffee Shops Industry Faring in North America?
"Busy Lifestyle Driving Demand for Cafes in the U.S. & Canada"
The U.S. market reached a valuation of over 36 million in 2021. Further, the market in Canada is estimated to progress at a CAGR of 3.6% through 2032. This growth is attributed to the rising consumption of coffee due to long working hours and the busy lifestyles of people that increases the requirement for a refreshing beverage such as coffee.
Category-wise Insights
Why is Coffee as a Product Gaining Popularity across the World?
"Increasing Demand for Coffee in Raw Form by Cafes, Grocery Stores, and Restaurants"
Based on product, the market is bifurcated into coffee and other products. Between these two, coffee is likely to hold a dominating position in the global market owing to rising demand for it by grocery stores, restaurants, and cafes in raw form. In addition, the majority of consumers around the world can afford to spend on this product.
The specialty coffee shops come at the premium end and with the high price range, they provide exotic coffee options while targeting a niche consumer base. However, the trend of specialty coffee shops is picking up various companies with an affordable price range for global penetration.
Which Type of Cities Account for a Leading Market Share?
"Metropolitan Cities with Presence of Various Cafes Lead in Industry"
Metropolitan, urban, and rural are divisions of the global market based on city size. Among these, metropolitan cities are likely to hold a dominating position in the global industry due to the presence of numerous cafes that include chain and independent cafes and restaurants.
Café chains such as CCD, Dunkin' Donuts, and Starbucks match the specific requirements of the population and launch their outlets across cities.
Don't Need a Global Report?
save 40%! on Country & Region specific reports
Competitive Landscape
Companies owning coffee shop chains are incorporating various strategies and developing many new methods and techniques to increase their customer base.
For instance, state-of-the-art technology is serving as a pivotal factor in coffee shops to serve differentiated and high-quality products. The advantages related to high-level machines and technology are shorter waiting times for consumers. In addition, this high-level technology can create various unique, new, and fresh flavors.
Key companies in the coffee shops market include Costa Coffee, Café Coffee Day, Starbucks Corporation, CaffeRitazza, Caribou Coffee Company, Coffee Republic, and Dutch Bros Coffee.
Segmentation of Coffee Shops Industry Research
By Product:

By City Size:

By Region:

North America
Europe
Asia Pacific
Latin America
Middle East & Africa
- FAQs -
The global coffee shops market is valued at US$ 169 billion in 2022.
The market in Germany is likely to expand at a CAGR of 3.2% from 2022 to 2032.
Revenue from the coffee shops industry is likely to reach US$ 243 billion by 2032.
Worldwide demand for coffee shops is expected to increase at a CAGR of 3.7% through 2032.
Worldwide demand for coffee is likely to reach US$ 130 billion by the end of 2032.
The U.S. market for coffee shops reached US$ 36 billion by 2021 end.
Leading companies in the coffee shops market include Costa Coffee, Café Coffee Day, Starbucks Corporation, CaffeRitazza, Caribou Coffee Company, Coffee Republic, and Dutch Bros Coffee.