Desalination Technologies Market
Desalination Technologies Market Analysis By Technology (Reverse Osmosis (RO), Multi-Stage Flash (MSF), Multi-Effect Distillation (MED)), By Application (Municipal, Industrial) & By Region - Global Market Insights 2023 to 2033
Analysis of Desalination Technologies Market Covering 30+ Countries Including Analysis of US, Canada, UK, Germany, France, Nordics, GCC countries, Japan, Korea and many more
Desalination Technologies Market Outlook (2023 to 2033)
The desalination technologies market size in terms of revenue is valued at US$ 16.87 billion in 2023, and is projected to reach US$ 47.9 billion by 2033-end, growing at double digit CAGR (Compound Annual Growth Rate) of 11% during the forecast period from 2023 to 2033.
Desalination technologies encompass a range of processes designed to extract salt, contaminants, and other minerals from water sources. Feedwater origins include seawater, brackish water, as well as groundwater and surface water. Desalination technology plays a crucial role in addressing water scarcity issues in regions where access to freshwater is limited.
Key Trends in Desalination Technologies Industry
Innovations in membrane technology are leading to more efficient and selective salt removal, further improving water recovery rates and energy efficiency.
Water desalination equipment is increasingly being coupled with renewable energy sources such as solar power to reduce environmental impact and operational costs.
Adoption of IoT (Internet of Things) and AI (Artificial Intelligence) technologies for real-time monitoring and predictive maintenance is enhancing the operational reliability and performance of desalination solutions.
Among the most prominent desalination methods is reverse osmosis (RO), a commercially significant process that employs semipermeable membranes to separate salt and impurities from water molecules. Other methods include multi-stage flash (MSF), multi-effect distillation (MED), membrane distillation, thermal desalination, electrodialysis desalination, capacitive deionization desalination, and forward osmosis, each with its unique mechanism and application.
Demand for reverse osmosis (RO) desalination technologies is estimated to rise at a robust CAGR of 12% over the next 10 years.
Reverse osmosis is highly effective in removing a wide range of impurities, including salts, minerals, contaminants, and microorganisms from water. This results in the production of high-quality and potable water that meets stringent standards for consumption. RO systems have a relatively high water recovery rate as they produce less brine compared to other desalination methods.
Compared to other desalination methods such as thermal distillation, RO produces lower environmental impacts in terms of greenhouse gas emissions and heat discharge, making it an environmentally friendly choice. Water scarcity is becoming a pressing global issue and to overcome this, demand for reliable and sustainable freshwater distillation systems is increasing. RO desalination is providing a practical solution to supplement existing water supplies and address water shortages.
Report Attributes
Details
Desalination Technologies Market Size (2023E)
US$ 16.87 Billion
Forecasted Market Value (2033F)
US$ 47.9 Billion
Global Market Growth Rate (2023 to 2033)
11% CAGR
United States Market Value (2022)
US$ 1.8 Billion
Canada Market Growth Rate (2023 to 2033)
7.6% CAGR
Germany Market Growth Rate (2023 to 2033)
6% CAGR
Japan Market Growth Rate (2023 to 2033)
8% CAGR
China Market Growth Rate (2023 to 2033)
11.5% CAGR
Key Companies Profiled

DuPont de Nemours, Inc.
Hitachi Ltd.
Danfoss A/S
Evoqua Water Technologies LLC
Keppel Offshore & Marine Ltd
Ampac USA
Aqualyng
Keppel Seghers Pte Ltd
Komax Systems Inc.
Abengoa SA
Doosan Enerbility Co Ltd
SUEZ SA
Acciona SA
Webuild SpA
Veolia Environnement SA
Guangzhou KangYang Seawater Desalination Equipment Co., Ltd
Ferrovial
Koch Separation Solutions
Biwater
IDE Technologies
Xylem Inc.
Aquatech International LLC
Advanced Watertek
Genesis Water Technologies
Don't Need a Global Report?
save 40%! on Country & Region specific reports
Which Market Dynamics are Leading to Higher Revenue for Desalination Technology Providers?
"Growing Need for Freshwater Driving Up Number of Desalination Projects"
Freshwater is a fundamental cornerstone of human health. The scarcity of clean water is a big problem all over the world, challenging global economic growth, ecological well-being, and water safety.
The United Nations World Water Development Report reveals, nearly 2 billion people worldwide lack access to unpolluted and secure drinking water, while an approximate 3.6 billion individuals, accounting for 46% of the global population, remain devoid of sufficient sanitation provisions.
The Wildlife Federation estimates that by 2025, about two-thirds of the world's population might not have enough water and by 2030, demand for freshwater might go up by 40%. Also, due to economic problems, people in the Sub-Saharan region of Africa are facing scarcity of water.
In response to mounting water demands, the past decade has witnessed a burgeoning trend in wastewater recycling and recovery. The rejuvenation of wastewater serves to reduce both volume and environmental hazards associated with discharged wastewater, concurrently alleviating the strain on ecosystems caused by freshwater extraction. Water desalination system is becoming helpful and important for wastewater management due to tighter rules on the wastage of water, rising costs for wastewater disposal, and the rising value of freshwater production.
"Hybrid Desalination Lowering Carbon Footprints and Offering High-quality Water"
Hybrid desalination involves the strategic integration of two or more distinct desalination techniques. This integration aims to capitalize on the complementary aspects of each desalination method, resulting in improved overall system efficiency, higher water recovery rates, and enhanced water quality.
The fusion of reverse osmosis (RO) and electrodialysis (ED), two well-established desalination methods, creates a synergistic and harmonious water treatment process. RO excels at removing dissolved salts and contaminants from water, while ED utilizes electric fields to selectively remove ions. By combining these processes, hybrid desalination systems can achieve better water recovery rates, less energy consumption, and high salt removal efficiency. This is resulting in a more sustainable and cost-effective approach to large-scale freshwater production.
Hybrid desalination technologies not only enhance efficiency but also contribute to improved water quality. Hybrid desalination also plays a pivotal role in promoting sustainability, by reducing energy consumption and increasing water recovery rates. Thus, the introduction of hybrid desalination technologies is driving the market's growth.
"AI and IoT Enhancing Efficiency of Desalination Solutions"
Adoption of Internet of Things (IoT) and Artificial Intelligence (AI) technologies is playing a transformative role in enhancing the efficiency and reliability of desalination technologies through real-time monitoring and predictive maintenance. IoT involves connecting physical devices such as sensors and actuators to the internet, enabling them to collect and exchange data in real time.
In the context of desalination technologies, IoT-enabled sensors can be strategically placed throughout the desalination plant and its components such as pumps, pipelines, and membranes. These sensors continuously gather data on various parameters such as flow rates, pressure, temperature, and chemical composition. This proactive approach to monitoring ensures that potential issues are addressed before they escalate, thereby enhancing operational reliability and minimizing downtime.
Artificial Intelligence, particularly machine learning algorithms, plays a crucial role in predictive maintenance. By analyzing historical and real-time data collected through IoT sensors, AI algorithms can identify patterns and trends that indicate potential equipment failures or maintenance needs.
For desalination technologies, AI can predict when components such as pumps, valves, or membranes are likely to malfunction based on their usage patterns, operating conditions, and wear and tear. Thus, the integration of smart technologies is uplifting the desalination technologies market growth.
What is Restraining the Demand Growth for Desalination Technologies?
"Desalination Plant – High Investment Projects"
Establishment of desalination plants represents a pivotal solution to address water scarcity and ensure a reliable freshwater supply, particularly in regions facing acute water stress. However, the implementation of desalination plants such as seawater desalination, brackish water desalination, or river water desalination requires substantial capital investment for infrastructure, equipment, and advanced technology. Thus, financial barriers can act as a major challenge before desalination projects, impacting the speed of implementation and the scope of these vital initiatives.
"Scaling and Fouling Diminishing Membrane's Flow Rate, Affecting Desalination"
Demand for water desalination is increasing rapidly due to the growing need for clean drinking water. Reverse osmosis (RO) is gaining popularity for both seawater desalination and recycling wastewater. However, the challenges of scaling and fouling are posing significant hurdles.
Fouling of membranes particularly impacts the efficiency and economic viability of the entire process. It diminishes the membrane's flow rate and lifespan, ultimately resulting in low desalination efficiency.
More Insights, Lesser Cost (-50% off)
Insights on import/export production,
pricing analysis, and more – Only @ Fact.MR
How Can Desalination the Technology Business Be Profitable for New Companies?
"Development of Innovative and Sustainable Desalination Technologies"
New players entering the desalination market are exploring several opportunities and adopting various strategies to boost their revenue growth. The development of novel desalination technologies offers high efficiency, low energy consumption, and enhanced water quality, which provides a competitive edge to start-ups. Focusing on water desalination innovations attracts the attention of potential customers and investors.
Emphasizing environmentally friendly practices and sustainable solutions aligns with the growing consumer and regulatory demands for eco-conscious technologies. New players are developing desalination methods with low environmental impacts such as minimized brine production or integration with renewable energy sources. Also, collaborations with established players, research institutions, and governmental bodies provide start-ups with wide access to resources, expertise, and market reach.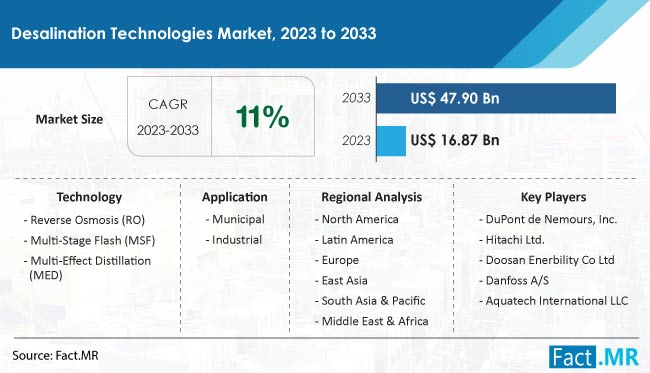 Country-wise Analysis
Why are Sales of Desalination Systems Increasing Rapidly in the United States?
"Rising Need of Desalination Systems in Arid Regions of the Country"
Sales of desalination technologies in the United States were valued at US$ 1.8 billion in 2022. Increasing water scarcity concerns, particularly in arid regions such as California and Texas, are boosting the adoption of desalination technologies.
Reverse osmosis (RO) is the predominant desalination technology in the United States, accounting for the majority of installations. It is favoured for its efficiency and relatively lower energy consumption. The United States government is actively investing in research and development initiatives to improve desalination technologies, aiming to reduce costs and environmental impacts associated with the process.
What is Stimulating the Demand for Desalination Solutions in Germany?
"Membrane Desalination Sustainable Way to Improve Water Resource Management"
As per industry analysis by Fact.MR, a market research and competitive intelligence provider, demand for desalination equipment in Germany is estimated to increase at a CAGR of 6% from 2023 to 2033.
Germany is popular for its advanced and sustainable solutions of various kinds, including desalination. Membrane desalination and forward osmosis are gaining attention in the country due to their potential to reduce energy consumption.
Government and non-government bodies are exploring ways to integrate renewable energy sources into desalination processes, aligning with the country's strong commitment to reduce carbon emissions, promote sustainability, and improve overall water resource management.
Why are Desalination Technologies Gaining Popularity in Japan?
"Public-Private Partnerships Developing Advanced Desalination Technologies to Save Eroding Beaches"
The Japan desalination technologies market size is projected to expand at a CAGR of 8% through 2033.
Advanced membrane technologies and energy-efficient desalination processes are widely popular in Japan to reduce environmental impact. The Japanese government is concentrating on partnerships between public and private sectors to enhance desalination research, development, and deployment, particularly in response to water supply challenges in coastal areas.
Know thy Competitors
Competitive landscape highlights only certain players
Complete list available upon request
Category-wise Analysis
What's Increasing the Use of Desalination Systems in Municipalities?
"Desalination Technologies Helping Municipalities Meet Growing Demand for Freshwater"
Several developed and developing regions around the world, including coastal municipalities, face water scarcity due to factors such as rapidly increasing population, climate change, and droughts. Desalination provides a reliable source of freshwater, alleviating water shortages.
Desalination technologies allow municipalities to tap into new and abundant sources of water such as seawater or brackish water, diversifying their water supply portfolio and reducing dependence on traditional freshwater sources. Desalination plants also serve as critical infrastructure during emergencies such as natural disasters or contamination events, providing a rapid and secure supply of clean water to affected communities.
Competitive Landscape
Top companies in the desalination technologies market are focusing on innovations and investing heavily in R&D activities to produce sustainable, advanced, efficient, and cost-effective solutions. This move is aiding them to increase their product offering and reach a wider customer base.
In April 2022, Veolia Water Technologies, a prominent water treatment specialist and subsidiary of the Veolia group, introduced Barrel – an innovative, all-in-one reverse osmosis (RO) technology in Asia Pacific. This cutting-edge solution generates high-quality freshwater that fully adheres to water quality standards, effectively catering to the requirements and aspirations of the desalination sector.
Key Segments of Desalination Technologies Industry Research
By Technology :

Reverse Osmosis (RO)
Multi-Stage Flash (MSF)
Multi-Effect Distillation (MED)

By Application :

By Region :

North America
Latin America
Europe
East Asia
South Asia & Oceania
MEA
- FAQs -
The global desalination technologies market stands at US$ 16.87 billion in 2023.
By 2033, sales of desalination technologies are estimated to reach US$ 47.9 billion.
Demand for desalination technologies is set to rise at a CAGR of 11% from 2023 to 2033.
Sales of desalination equipment in Germany are forecasted to increase at a CAGR of 6% during the next 10 years.
The market for desalination technologies in Japan is projected to rise at a CAGR of 8% through 2033.