Driving Apparel Market
Driving Apparel Market Analysis By Product Type (Clothing, Footwear, Protection Gear), By Material (Leather, Synthetic, Natural Fibre), By Vehicle Type (Two- Wheelers, Four-Wheelers), By Application (Athlete, Leisure Sports), By Distribution Channel (e-Commerce, Supermarkets/Hypermarkets, Brand Outlets, Discount Stores) & By Region – Global Market Insights 2023 to 2033
Analysis of Driving Apparel Market Covering 30+ Countries Including Analysis of US, Canada, UK, Germany, France, Nordics, GCC countries, Japan, Korea and many more
Driving Apparel Market Outlook (2023 to 2033)
The global driving apparel market stands at a value of US$ 15.2 billion in 2023 and is projected to reach US$ 30 billion by 2033-end, expanding at a noteworthy CAGR of 7.1%. Driving apparel includes gloves, headgear, pants, shields, and other security accessories. These are expressly designed to protect riders from harm in the case of an accident. Leather is widely used to make motorcycle jeans and jackets.
Driving Jackets offer thick shoulder, elbow, and spine padding. Knuckle-protecting gloves are often made from calf skins and carbon fibers. These driving clothes are expensive because they have been synthetically treated to withstand the effects of an accident.
The market serves varied demands of people who drive for a variety of reasons, such as daily commuters, motorsport fans, and off-road adventurers. Due to several trends and factors that represent shifting consumer tastes and market dynamics, this market has exhibited rapid expansion in recent years.
The automotive racewear market has grown substantially in recent years, fueled by a combination of factors that cater to the needs of motorsport enthusiasts, professional racers, and even everyday drivers who prioritize safety and performance.
In May 2022, Alpinestars, an Italian manufacturer of riding wear, and Royal Enfield worked together to develop a line of high-performance riding apparel.
Demand for motorsport clothing has increased significantly in recent years, driven by the ever-expanding popularity of motorsports, technological advancements, and changing consumer preferences.
Anticipated rapid growth of the market is primarily attributed to stringent government regulations, escalating concerns regarding road safety, and the surging popularity of motorsports. Furthermore, the increased availability of protective accessories like boots, gloves, caps, and other items in various retail outlets is expected to stimulate consumers' interest, further fostering market expansion.
Driving attire would be incomplete without protective gear, which acts as a vital first line of protection against accidents and injuries. The role of protective gear remains crucial in delivering safer and more enjoyable driving experiences as safety continues to be a top priority in the driving community.
Sales of protective gear are expected to rise at 4% CAGR through 2033.
In addition to improving safety, protective gear such as helmets, racing suits, gloves, boots, and jackets also helps riders and drivers feel more at ease and perform better.
Report Attributes
Details
Driving Apparel Market Size (2022A)
US$ 14.2 Billion
Estimated Market Value (2023E)
US$ 15.2 Billion
Forecasted Market Value (2033F)
US$ 30 Billion
Global Market Growth Rate (2023 to 2033)
7.1% CAGR
China Market Growth Rate (2023 to 2033)
5.2% CAGR
Clothing Segment Growth Rate (2023 to 2033)
3.7% CAGR
Germany Market Growth Rate (2023 to 2033)
4.3% CAGR
Europe Growth Rate (2023 to 2033)
7.5% CAGR
China Market Growth Rate (2023 to 2033)
6.6% CAGR
Key Companies Profiled

Puma SE
Racing Force S.p.A
ASICS India Pvt. Ltd.
Adidas AG
SCOTT Sports SA
VF Corporation
Nike, Inc.
STUDDS Accessories Ltd.
Leatt Corporation
Don't Need a Global Report?
save 40%! on Country & Region specific reports
Why is Adoption of Driving Apparel Rising Rapidly Across Regions?
"Increased Awareness of Road Safety Fueling Demand for High-quality Protective Gear"
Performance driving gear has undergone significant transformation in recent years, evolving to meet the demands of professional racers, motorsport enthusiasts, and even everyday drivers who prioritize safety, technology, and style. Safety remains the paramount concern for consumers in the driving apparel market. Demand for high-quality protective gear, such as helmets, gloves, armored jackets, and reinforced footwear, continues to rise. This trend is driven by increased awareness of road safety, government regulations, and the desire to minimize injury risk in case of accidents.
Consumers are increasingly seeking driving apparel that not only provides safety but also offers superior comfort and performance. Manufacturers are responding by incorporating innovative materials and designs that enhance comfort while maintaining the necessary protective features. Breathable fabrics, moisture-wicking technology, and ergonomic designs are becoming more prevalent in driving apparel.
"Focus on Producing Sustainable Racing Suits for Motorsports and Racing"
Environmental concerns are influencing the driving apparel market. Consumers are increasingly looking for sustainable apparel and eco-friendly options, prompting manufacturers to explore recycled materials and environmentally responsible production processes. Sustainability is becoming a key selling point for driving apparel brands. Racing suits have seen significant evolution in recent years, with a focus on enhancing safety, performance, and style for both professional racers and motorsport enthusiasts.
The popularity of motorsports and racing events, including Formula 1, NASCAR, and motorcycle racing, continues to drive demand for specialized driving apparel. Professional racers and enthusiasts alike seek gear that not only meets safety standards but also enhances performance. This segment of the market often features cutting-edge technology and materials.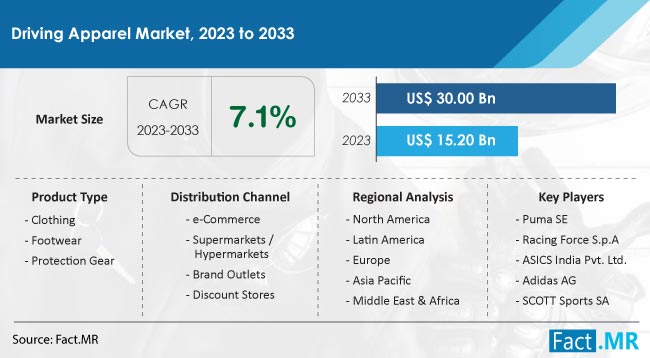 What are the Challenges Manufacturers of Driving Apparel Need to Tackle?
"Economic Uncertainties Leading to Reduced Discretionary Spending"
Fluctuations in the global economy can have a significant impact on consumer spending. During periods of economic uncertainty or recession, consumers may reduce discretionary spending, including purchases of driving apparel. Economic downturns can affect the overall demand for non-essential products in this market.
Demand for driving apparel can be seasonal, depending on factors such as climate and motorsport events. In regions with harsh winters, demand for certain types of driving gear may be lower during colder months. Similarly, motorsport events are often held seasonally, which can lead to fluctuations in sales of racing-specific apparel.
"High Cost of Specialized Gear and Limited Consumer Awareness"
Performance and safety-focused driving apparel can be expensive. The high cost of specialized gear, such as professional-grade racing suits or high-end motorcycle gear, can be a barrier for some consumers, especially those on a tight budget.
Not all consumers may be aware of the importance of driving apparel for safety and performance. Educating the broader consumer base about the benefits of wearing proper gear while driving or participating in motorsports can be a challenge, potentially limiting market growth.
More Insights, Lesser Cost (-50% off)
Insights on import/export production,
pricing analysis, and more – Only @ Fact.MR
Country-wise Insights
China and the United States hold significant market shares, as per the assessment by Fact.MR. These countries are poised to create profitable prospects for market players going forward.
What are the Reasons for Increased Demand for Driving Apparel in China?
"Stringent Road Safety Regulations Necessitating Use of Protective Gear"
The market in China is forecasted to expand at a CAGR of 6.6% from 2023 to 2033. China, as one of the world's largest automotive markets, has witnessed significant growth in the driving apparel sector. China's automotive industry has exhibited exponential growth over the years. With millions of vehicles on the road, there is a burgeoning demand for driving apparel to enhance safety and comfort for drivers and passengers alike.
The Chinese government has been actively promoting road safety. Stringent safety regulations mandate the use of protective gear, such as helmets and gloves, for motorcyclists and other drivers. This has driven the demand for compliant driving apparel. China's rapid urbanization has led to increased commuting and city driving. As a result, urban residents are recognizing the importance of driving apparel for personal safety, especially in congested traffic conditions.
What Opportunities Await Manufacturers of Driving Apparel in the United States?
"Vibrant Motorsports Culture Fueling Sales of Driving Gear for Enhanced Track Performance"
The United States boasts a diverse driving culture, encompassing everything from daily commuting to motorsports. As a result, the market in the United States is robust and continually evolving.
The country has a thriving motorsports culture, with NASCAR, IndyCar, drag racing, and various off-road events drawing large audiences. This passion for motorsports drives sales of specialized driving gear, including racing suits, helmets, gloves, and boots.
The United States has a significant motorcycle culture, with enthusiasts taking to open roads on two-wheelers. This has led to a consistent need for motorcycle-specific driving gear, including helmets, jackets, and riding boots. e-Commerce has revolutionized the way Americans shop for driving apparel. Online platforms offer a wide range of products, competitive pricing, and convenience, contributing to the growth of the market.
Category-wise Insights
According to Fact.MR's evaluation, the clothing and leather segments are poised to provide favorable market opportunities to players over the coming years.
Why Does the Clothing Segment Account for Higher Sales?
"High Sales of Driving Clothing Driven by Their Enhanced Safety Features"
The clothing segment is projected to advance at a CAGR of 3.7% through 2033. The market encompasses a wide range of clothing types designed to cater to the diverse needs of drivers, riders, and motorsport enthusiasts. Racing suits are specialized outfits designed for motorsport participants, providing a high level of protection and performance. These suits are typically one-piece and constructed from flame-resistant materials. They are essential for professional racers and motorsport enthusiasts.
Driving gloves are designed to offer enhanced grip and control while driving. They are crucial for motorsport participants and everyday drivers seeking better control of the steering wheel and optimal hand protection. Jackets and vests come in various styles and serve different purposes. For example, motorcycle jackets protect against wind and abrasion, while high-visibility vests enhance visibility during nighttime or adverse weather conditions.
What Has Led to High Usage of Leather in Making Driving Apparel?
"Wind and Abrasion Resistance of Leather Driving Use in Racing Apparel Production"
Leather is typically used in the production of both one- and two-piece motorcycle suits, designed to enhance aerodynamics for racing while ensuring comprehensive protection, including the incorporation of armor inserts. Leather is the material of choice for racing boots. In the event of contact with hot engine components, leather racing boots offer heat resistance, ankle support, and protection.
Due to its distinctive blend of design, comfort, and protection, leather occupies a dominant position in the driving apparel market. Leather jackets provide a classic fusion of flair and defense. Motorcycle riders frequently wear leather jackets because they provide abrasion resistance and defense against wind and weather. Protective apparel and accessories are not the only components made of leather. Casual clothing and fashion items inspired by driving culture also use leather.
Advantages of Leather
Durability: Leather is highly durable and can withstand the rigors of driving, making it suitable for protective gear.
Abrasion Resistance: Leather provides excellent abrasion resistance, crucial for protecting the skin during accidents or slides.
Style: Leather exudes a classic and stylish look, making it a popular choice for both protective and fashion-oriented driving apparel.
Comfort: Leather is known for its comfort and ability to adapt to the wearer's body shape over time.
Know thy Competitors
Competitive landscape highlights only certain players
Complete list available upon request
Competitive Landscape
To gain a competitive edge, leading companies continually diversify their product offerings. They manufacture a variety of driving apparel items, including racing suits, helmets, gloves, jackets, and pants, catering to a broad spectrum of driving enthusiasts and professionals.
Leading brands invest in research and development to incorporate advanced materials, safety technologies, and smart clothing into their driving apparel. This constant innovation aims to enhance both safety and performance.
In November 2022, the power sports apparel company 509 launched a new product line specifically for street motorcycle riders. The "Mach V" helmet is built for speed and has an aerodynamic form, a large field of view, and a Venturi ventilation system (patent pending) that helps riders focus on the road when riding aggressively during warmer weather. The helmet includes Fidlock, Spot, and ECE 22.06 certification.
Key Segments of Driving Apparel Industry Research
By Product Type :

Clothing
Footwear
Protection Gear

By Material :

Leather
Synthetic
Natural Fiber

By Vehicle Type :

Two-Wheelers
Four-Wheelers

By Application :

By Distribution Channel :

e-Commerce
Supermarkets/Hypermarkets
Brand Outlets
Discount Stores

By Region :

North America
Latin America
Europe
Asia Pacific
Middle East & Africa
- FAQs -
The global driving apparel market is valued at US$ 15.2 billion in 2023.
Worldwide sales of driving apparel are set to increase at a CAGR of 7.1% from 2023 to 2033.
Sales of driving apparel are projected to reach US$ 30 billion by 2033.
Sales of clothing are forecasted to increase at a CAGR of 3.7% from 2023 to 2033.
The market in China is set to expand at a CAGR of 6.6% through 2033.
Sales of driving apparel in Germany are projected to rise at 4.3% CAGR through 2033.
Nike is a leading manufacturer of driving apparel in the market.