Electric Truck Market
Electric Truck Market Analysis By Propulsion (Battery Electric Trucks, Hybrid Electric Trucks, Plug-in Hybrid Electric Trucks, Fuel Cell Electric Trucks), By Vehicle Type (Light-duty Trucks, Medium-duty Trucks, Heavy-duty Trucks), By Range (Up to 150 Miles, 151 to 300 Miles, Above 300 Miles), By End Use (Last-mile Delivery, Long Haul Transportation, Refuse Services, Field Services, Distribution Services) & By Region – Global Market Insights 2023 to 2033
Analysis of Electric Truck Market Covering 30+ Countries Including Analysis of US, Canada, UK, Germany, France, Nordics, GCC countries, Japan, Korea and many more
Electric Truck Market Outlook (2023 to 2033)
The global electric truck market stands at US$ 19.5 billion in 2023 and is projected to reach US$ 78 billion by 2033-end, expanding at a noteworthy CAGR of 14.5% from 2023 to 2033.
Electric cargo trucks refer to commercial vehicles designed for the transportation of goods that are powered by electric propulsion systems. These trucks rely on electric motors and battery packs to provide the necessary power for propulsion, replacing the conventional internal combustion engines that run on diesel or gasoline. Electric cargo trucks are a significant part of the electric vehicle revolution aimed at reducing emissions and promoting sustainability in the transportation sector.
Government incentives aimed at promoting adoption have led to a shift where electric trucks now outnumber their diesel counterparts. The surge in market growth is attributed to heightened logistics service requirements, reduced fuel expenditures, and maintenance outlays. Additionally, the allure of utilizing zero-emission vehicles has gained momentum.
Electric commercial vehicles encompass a range of electrically powered vehicles designed for various business and industrial purposes. These vehicles are equipped with electric propulsion systems, utilizing electric motors and battery packs instead of conventional internal combustion engines fueled by gasoline or diesel. Electric commercial vehicles contribute to the ongoing transformation of the transportation industry by offering environmentally friendly and economically viable solutions for various business needs.
In 2023, within the domain of propulsion, battery electric trucks hold a leading share of the market.
Battery-powered trucks refer to commercial vehicles that utilize electric propulsion systems powered by batteries for their operation. These trucks replace traditional internal combustion engines fueled by gasoline or diesel with electric motors and battery packs, resulting in zero tailpipe emissions and reduced environmental impact. Automated trucks are a significant component of the electric vehicle revolution, offering a cleaner and more sustainable alternative for various transportation needs.
Report Attributes
Details

Electric Truck Market Size (2022)

US$ 17 Billion

Estimated Market Value (2023)

US$ 19.5 Billion

Forecasted Market Value (2033)

US$ 78 Billion

Global Market Growth Rate (2023 to 2033)

14.5% CAGR

Asia Pacific Market Growth Rate (2023 to 2033)

23% CAGR

Light-duty Trucks Segment Growth Rate (2023 to 2033)

6% CAGR

Leading Regional Market

Asia Pacific

Key Companies Profiled

BYD Company Limited
AB Volvo
Daimler AG
Foton Motors Inc.
Volkswagen AG
Hino Motors Ltd
Toyota Motor Corporation
Dongfeng Motor Corporation
Navistar, Inc.
What are the Key Factors Driving the Sales of Electric Trucks?
"Rising Need for Clean and Environment-friendly Commercial Transportation"
Electric truck adoption refers to the process by which commercial fleets and businesses transition from traditional internal combustion engine (ICE) trucks to electric trucks powered by electric propulsion systems. This adoption is driven by the need to reduce emissions, lower operating costs, comply with environmental regulations, and embrace sustainable transportation solutions. Electric truck adoption is a significant step in the broader shift toward cleaner and more environmentally friendly commercial transportation.
Innovations and advancements focused on developing and improving electric propulsion systems for commercial trucks are driving market growth. These developments aim to address various challenges associated with electric trucks, such as range limitations, charging infrastructure, and overall performance. Electric truck technology is a crucial component of the broader shift toward cleaner and more sustainable transportation solutions.
"Regulations Governing Safety, Sustainability, and Standardization of Electric Truck Production"
Electric truck regulations established by governments and regulatory bodies govern the design, manufacturing, operation, and safety of electric trucks. These regulations play a crucial role in ensuring the safe and environmentally responsible adoption of electric trucks in the transportation industry. Electric truck regulations encompass various aspects, including vehicle specifications, emissions standards, safety requirements, and incentives.
Given stringent emission regulations applicable to commercial vehicles, manufacturers face the imperative of significant investments in electric truck production to stay aligned with the mounting market demand. To cater to this escalating need, manufacturers are obligated to commit substantial financial resources.
Don't Need a Global Report?
save 40%! on Country & Region specific reports
What's Hindering the Growth of the Market for Electric Trucks?
"Inadequate Range for Long-haul Operations and Limited Charging Infrastructure"
One of the primary challenges for electric trucks is their range limitations compared to traditional internal combustion engine (ICE) trucks. While battery technology is advancing, electric trucks may still have a limited range, particularly for long-haul operations. This can hinder their adoption for industries and applications that require extensive travel without frequent charging infrastructure.
Availability and accessibility of charging infrastructure play a pivotal role in the adoption of electric trucks. Inadequate charging infrastructure, especially for heavy-duty trucks, can limit their operational flexibility and increase downtime for charging. The establishment of a reliable and comprehensive charging network is crucial to support the widespread adoption of electric trucks.
"High Upfront Cost of Advanced Battery Technology and Long Charging Time"
Electric trucks often have higher upfront costs compared to their traditional counterparts due to the cost of advanced battery technology. While the total cost of ownership over the vehicle's lifespan may be lower, the initial investment can be a significant deterrent for fleet operators, especially small businesses.
Although advancements have been made in fast-charging technology, electric trucks still require longer refueling times compared to refilling a traditional fuel tank. This can impact operational efficiency, especially for businesses that rely on quick turnarounds for deliveries. The weight of battery packs in electric trucks can impact their payload capacity. Heavier batteries can reduce the amount of cargo a truck can carry, affecting the economic viability of electric trucks for certain applications.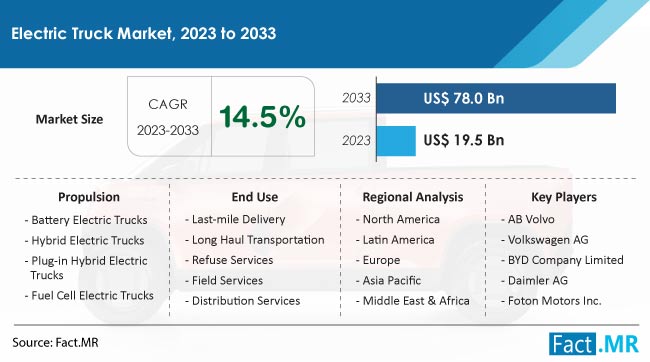 Country-wise Insights
Which Key Trends are Influencing the Demand Growth for Electric Trucks in China?
"Rapid Infrastructure Development and Increasing Investments by Market Players"
The Asia Pacific market is projected to expand at a CAGR of 23% from 2023 to 2033. China leads the Asia Pacific electric truck market, propelled by industrialization, automotive industry advancements, and urbanization. Contributing factors encompass stringent pollution and global warming regulations, substantial investments by prominent market players and the government, and heightened environmental awareness.
China's rapid growth in charging infrastructure has provided the necessary foundation for the widespread adoption of electric trucks. Charging stations, including fast-charging networks, are expanding across urban and highway areas, addressing range anxiety and enhancing the practicality of electric trucks for various operations.
Major automakers and technology companies are investing heavily in the development and production of industrial trucks in China. This influx of investment not only leads to product diversification but also stimulates healthy competition and innovation within the market.
What Opportunities Await Electric Truck Manufacturers in the United States?
"Focus on Cost Savings, Federal Fleet Electrification, and Corporate Sustainability Goals"
The electric truck market in the United States is undergoing a transformative shift as the push for sustainability and cleaner transportation gains momentum. While electric trucks have higher upfront costs, their lower operational and maintenance costs can make them financially attractive over the vehicle's lifespan. Electric trucks have fewer moving parts and require less maintenance compared to internal combustion engine (ICE) trucks.
The federal government's commitment to electrifying its fleet of vehicles provides a significant push for the electric truck market. The transition to electric trucks in government fleets serves as a showcase for the technology's viability and encourages private-sector adoption.
Many businesses and corporations are incorporating sustainability into their operational strategies. Switching to electric trucks aligns with their commitment to reducing their carbon footprint and adopting environmentally friendly practices.
More Insights, Lesser Cost (-50% off)
Insights on import/export production,
pricing analysis, and more – Only @ Fact.MR
Category-wise Insights
Why is There Widespread Adoption of Light-duty Electric Trucks?
"Quieter Operation and Low Operational Cost of Light-duty Electric Trucks"
Adoption of light-duty electric trucks is projected to advance at a CAGR of 6% until 2033. Light-duty electric trucks represent a pivotal advancement within the realm of commercial transportation, as the global shift towards sustainable mobility gains traction. These vehicles, characterized by their electric propulsion systems, are designed to fulfill a range of urban and suburban delivery needs while adhering to environmental sustainability goals.
The surge in urbanization and the proliferation of e-commerce have led to increased demand for efficient last-mile delivery solutions. Light-duty electric trucks are well-suited for short-distance urban operations, offering benefits such as reduced emissions, quieter operation, and lower operational costs.
Changing consumer preferences towards sustainable products and services extend to commercial transportation. Businesses that prioritize environmental responsibility are more likely to opt for lift trucks to align with consumer expectations.
Why Do Battery Electric Trucks Account for Higher Sales?
"Zero Emissions and Capability to Reduce Noise Pollution"
Battery electric vehicles (BEVs) represent a groundbreaking paradigm shift in the realm of mobility, propelled by electric propulsion systems that rely solely on high-capacity batteries to power the vehicle. This innovative approach to transportation offers a multitude of benefits that address environmental, economic, and technological concerns, making BEVs significant in the future of sustainable mobility.
One of the most compelling aspects of BEVs is their complete elimination of tailpipe emissions. Unlike internal combustion engine vehicles that rely on fossil fuels, BEVs generate zero emissions during operation. This crucial attribute aligns with global efforts to combat air pollution, reduce greenhouse gas emissions, and mitigate the impacts of climate change.
Battery electric trucks operate with significantly lower noise levels compared to traditional vehicles with internal combustion engines. This characteristic enhances the quality of urban environments by reducing noise pollution, making BEVs particularly well-suited for densely populated areas.
Competitive Landscape
The market for electric trucks is undergoing a dynamic transformation, driven by the global push towards sustainable transportation solutions. This evolution reflects a paradigm shift in the commercial vehicle industry, as electric trucks gain traction as viable alternatives to traditional internal combustion engine (ICE) vehicles.
Key players in the automotive and transportation sectors, including established manufacturers and newcomers, are collaborating to develop and commercialize electric trucks. These collaborations facilitate the sharing of expertise, resources, and technologies, accelerating the growth of the electric truck market.
Dongfeng Motor Corporation unveiled the introduction of the Dongfeng Rich 6 electric vehicle, an electric pickup truck developed in collaboration with Nissan. The vehicle is equipped with an electric motor generating 160 horsepower and 420 Nm of torque.
Know thy Competitors
Competitive landscape highlights only certain players
Complete list available upon request
Key Segments of Electric Truck Industry Research
By Propulsion :

Battery Electric Trucks
Hybrid Electric Trucks
Plug-in Hybrid Electric Trucks
Fuel Cell Electric Trucks

By Vehicle Type :

Light-duty Trucks
Medium-duty Trucks
Heavy-duty Trucks

By Range :

Up to 150 Miles
151 to 300 Miles
Above 300 Miles

By End Use :

Last-mile Delivery
Long-haul Transportation
Refuse Services
Field Services
Distribution Services

By Region :

North America
Latin America
Europe
Asia Pacific
Middle East & Africa
- FAQs -
The global electric truck market is valued at US$ 19.5 billion in 2023.
Worldwide sales of electric trucks are set to increase at a CAGR of 14.5% from 2023 to 2033.
Global sales of electric trucks are expected to reach US$ 78 billion by 2033.
Sales of light-duty electric trucks are forecasted to increase at a CAGR of 6% from 2023 to 2033.
The Asia Pacific market, set to expand at a CAGR of 23% through 2033, accounts for high revenue.
Sales of light-duty electric trucks are projected to rise at a CAGR of 6% through 2033.