Farm Tractors Market
Farm Tractors Market Size, Share, Growth, Forecast Analysis, By Power Output (Up to 30HP, 31HP to 100HP, 101HP to 200HP, Above 200 HP), By Drive Type (Two-Wheel Drive (2WD), Four-Wheel Drive (4WD)) & Region - Global Market Insights 2022 to 2032
Farm Tractors Market Outlook (2022-2032)
Worldwide sales of farm tractors are projected to increase at a CAGR of 5.3% from 2022 to 2032. At present, the global farm tractors market is valued at US$ 71 billion and is likely to reach a market size of US$ 120 billion by 2032.
Tractors play an important role in farm mechanization, allowing farmers to increase productivity and overall yield. Farm tractors are used to pull implements across the field for numerous farming operations such as tilling, planting, and harvesting crops.
Farm tractors are also employed for soil preparation and are the most versatile piece of farm machinery. Farm tractors have useful features such as power and accessories that can be mounted to them. Tillers, front-end loaders, spreaders, plows, box blades, and trailers are some of the most frequent accessories.
Increasing demand for safe and high-quality food items necessitates the use of modern agricultural technology, such as farm tractors. Farm tractors are also benefiting from advantageous lending arrangements for farmers, which allow them to invest in high-end agricultural machinery to boost farm output.
Moreover, greater emphasis on technological innovation, such as autonomous and electric tractors, which have led to more environmentally friendly and efficient farm tractors, is a major aspect supporting the sales growth of farm tractors.
Furthermore, the advent of alternative fuel tractors is a significant development that is expected to help manufacturers increase profitability. Tractors can now run on compressed natural gas, liquefied natural gas, vegetable oil, kerosene, diesel, and propane, thanks to the ongoing improvement in tractors and fuel technology.
Several key manufacturers of farm tractors are investing in research & development to develop cutting-edge equipment and maintain a strong market presence.
Deere & Company introduced a new 8 Family Tractor lineup in 2020, which featured 8R wheel tractors, 8RT two-track tractors, and the industry's first four-track fixed-frame tractors. These new tractors are outfitted with cutting-edge agriculture technologies and allow users to select the options, machine design, and horsepower that best suit their needs.
The outbreak of COVID-19 in 2020 had a tremendous influence on the sales of farm tractors. The pandemic hindered product demand and sales by temporarily suspending production and disrupting the supply chain. Nevertheless, demand for farm tractors rebounded considerably in 2021, with double-digit growth in major markets such as the United States, Canada, the United Kingdom, Germany, India, and China. Furthermore, increasing crop production in these areas, together with the need to replace aged equipment, fueled product sales in 2021.
Report Attributes

Details

Farm Tractors Market Size (2022)

US$ 71 Billion

Projected Market Value (2032)

US$ 120 Billion

Global Market Growth Rate (2022-2032)

5.3% CAGR

Asia Pacific Market Share (2021)

73.5%

North American Market Growth Rate (2022-2032)

3.3%

European Market Growth Rate (2022-2032)

4.1%

Key Companies Profiled

Argo Tractors S.p.A
AGCO Corporation
Escorts Limited
CLAAS KGaA mbH
CNH Industrial N.V
Deere & Company
Kubota Corporation
CNH Industrial Österreich GmbH (Steyr Traktoren)
Tractors and Farm Equipment Ltd. (TAFE)
Mahindra and Mahindra Ltd
SDF S.p.A
Know thy Competitors
Competitive landscape highlights only certain players
Complete list available upon request
Why is Demand for Farm Tractors Increasing at a Brisk Pace?
"Increasing Popularity of Precision Farming Methods"
Precision farming and the growing use of farm technologies to increase output are driving the demand for farm tractors. The agricultural tractors market is also benefitting from the rising number of farm training programs that promote the use of agricultural machinery on a large scale.
Precision farming is gaining popularity among farmers who want to produce more with fewer resources. Precision farming technology makes better use of seeds, water, fertilizers, soil, and agricultural equipment, culminating in greater yields and better quality. This farming technology has the potential to tackle the problem of global food scarcity efficiently.
Moreover, precision farming also enables farmers to increase productivity and boost operating effectiveness, thereby narrowing the supply-demand gap for agricultural products.
"Strong Government Initiatives to Promote Usage of Agricultural Machinery"
Governments worldwide provide generous subsidies for buying farm tractors to promote modernized farming. Furthermore, governments in several nations have encouraged the use of agricultural machinery. As a result, mechanical procedures are increasingly preferred over traditional agrarian approaches. Consequently, demand for farm tractors is expected to rise during the forecast period.
India has a lower level of mechanization than other emerging economies; however, mechanization is fast increasing in the country.
The Indian government is supporting 'Balanced Farm Mechanization' by offering farm tractor subsidies, which are projected to strengthen the demand for farm tractors throughout the projection period. The government's purpose with its Rashtriya Krishi Vikasa Yojana (RKVY) is to support the growth of the farming sector. The project is being carried out across India with 100% central aid to enhance farm mechanization in the agricultural sector.
Similarly, the Canadian government has developed the 'Canadian Agricultural Loans Act' (CALA) scheme, which offers farmers a loan of up to US$500,000 to buy land or farm machinery.
During the projected period, all of these variables are expected to increase the sales of farm tractors.
What Challenges are Faced by Farm Tractors Manufacturers?
Easy Availability of Rental Farm Tractors Denting Sales Growth
Farm equipment purchases, such as harvesters and tractors, are a huge investment. Farm machinery costs include all the procedures associated with developing, manufacturing, and distributing the equipment. Farm equipment adoption in developing countries is poor due to small farmers' reluctance to invest large sums of money.
Farmers rent farm equipment to increase output and turnaround time, which increases their business's profitability and efficiency. Renting farm equipment is less expensive than purchasing farm equipment with a traditional loan from a banking institution.
The worldwide scarcity of agricultural workers, combined with rising labor wages, has fueled the expansion of the farm equipment rental market. Modern agricultural equipment rental technology is becoming more important for operational profitability and efficiency. It enables small-scale farmers to rent expensive farming equipment to enhance their production.
These factors are expected to present significant challenges for farm tractor manufacturers.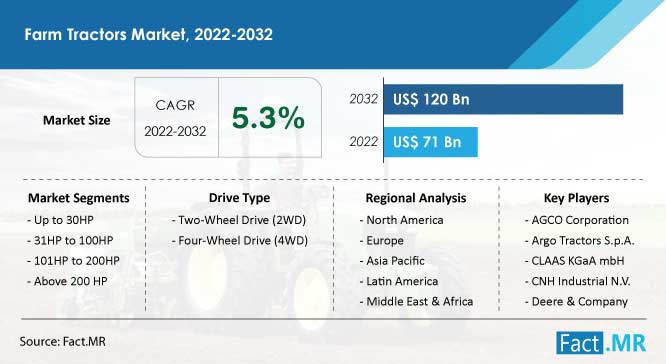 Country-wise Insights
Which Countries are Supporting Market Growth in Asia Pacific?
Asia Pacific held 73.5% share of the global market in 2021. Asia Pacific is regarded as one of the fastest-growing markets since labor costs have been rising at an alarming rate, and farm labor costs are directly linked to production costs.
Consequently, rising labor wages and a scarcity of farm workers have resulted in higher rates of mechanization in the region. This is a major factor bolstering the demand for farm tractors in Asia Pacific.
Moreover, Japan and South Korea are greatly supporting market growth in Asia Pacific.
According to the Japan Agricultural Machinery Manufacturers Association, overall agriculture machinery production in 2021 was US$ 3734.78 million. In the same year, farm tractors accounted for 57% of the overall value of agricultural machinery.
Why is the United States a Major Contributor to the North American Market?
Sales of farm tractors in North America are estimated to increase at a CAGR of 3.3% during the forecast period.
The United States is projected to make significant contributions to the North American market. Government incentives are crucial in a nation's agriculture sector.
For example, the United States Farm Service Agency (FSA) provides assured and direct farm ownership and loans to family-size farmers who struggle to obtain credit facilities through a farm credit system institution, financial institution, or other lenders. FSA loans can be used to purchase cattle, land, tractors, equipment, seed, feed, and supplies.
The United States also launched several lending schemes, including a direct farm ownership down payment program. Such aspects are projected to assist market growth in the United States.
What is Germany's Position in the European Market?
The European market for farm tractors is expected to expand at a CAGR of 4.1% during the forecast period.
Europe is a major market for farm tractors due to the vast agricultural areas in many European nations such as Germany, Spain, the Netherlands, and Hungary. Farmland accounts for around 38% of the total land area in Europe. Moreover, prominent farm tractor manufacturers like CLAAS KGaA mbH and CNH Industrial promote regional market expansion.
Germany, a country recognized for its engineering prowess, is also using its technical acumen to enhance its agricultural industry. Germany has produced a very skilled and well-trained staff to handle its state-of-the-art agricultural machinery, which allows the employment of advanced technology in crop fields.
Germany was also a prominent global exporter of farm tractors in 2021. AGCO Corporation is a renowned company in the German tractor market, selling brands such as Massey Ferguson and Valtra Inc.
Category-wise Insights
Why are 4-Wheel Drive (4WD) Farm Tractors Most Preferred?
Demand for 4-wheel drive (4WD) farm tractors is anticipated to skyrocket during the forecast period. The demand for high-power agricultural tractors to execute the agriculture-related task effectively is likely to fuel the demand for 4 -wheel drive (4WD).
For example, 4WD tractors can effectively execute strong agricultural operations like tilling and sowing. The engine powers all four wheels of the tractor in 4-wheel drive. 4WD tractors offer improved performance, increased speed, and less slippage. All these reasons are expected to boost the sales of 4-wheel drive (4WD) during the forecast period.
Don't Need a Global Report?
save 40%! on Country & Region specific reports
Competitive Landscape
The global farm tractors market is highly concentrated, with a few tractor makers having the lion's share. Leading market players have the potential to accelerate growth by implementing newer technology. Key players' principal tactics include mergers and acquisitions and product range expansion.
In August 2021, Deere & Business acquired Bear Flag Robotics, an AgTech company. This acquisition would assist the former company in meeting consumer needs and growing its customer base.
In July 2021, New Holland North America introduced the T7 Heavy-duty Tractor with PLM Intelligence to their farm tractor portfolio. The new tractor is designed to help farmers be more efficient by enabling them to multitask in a range of fields and transport applications.
In February 2021, TAFE (Tractors and Farm Equipment), the maker of Massey Ferguson tractors, launched its new DYNATRACK Series, which is a modern variety of tractors that provide advanced technologies, dynamic performance, unparalleled utility, and flexibility, all concocted into a single powerful tractor.
Key Segments in Farm Tractors Industry Research
By Power Output:

Up to 30 HP
31HP to 100 HP
101HP to 200 HP
Above 200 HP

By Drive Type:

Two-wheel Drive (2WD)
Four-wheel Drive (4WD)

By Region:

North America
Latin America
Europe
APAC
MEA
- FAQs -
The global farm tractors market is valued at US$ 71 billion in 2022.
Global sales of farm tractors are projected to increase at a CAGR of 5.3% from 2022 to 2032.
Demand for farm tractors is likely to hit US$ 120 billion by 2032.
The North American market is projected to grow at a CAGR of 3.3% over the decade.
The European market is expected to expand at a CAGR of 4.1% through 2032.
Asia Pacific held 73.5% share of the global farm tractors market in 2021.